For Immediate Release
Contact:
Tel: +1-212-216-1832,Email:,hrwpress@hrw.org
Sri Lanka: Tamil Tigers Abuse Civilians in Stronghold
Forced Recruitment, Restrictions on Movement Put Lives at Risk
NEW YORK
Sri Lanka's separatist Tamil Tigers are subjecting ethnic Tamils in their northern stronghold, the Vanni, to forced recruitment, abusive forced labor, and restrictions on movement that place their lives at risk, Human Rights Watch said in a report released today.
The 17-page report, "Trapped and Mistreated: LTTE Abuses against Civilians in the Vanni," details how the Liberation Tigers of Tamil Eelam (LTTE), which have been fighting for an independent Tamil state for 25 years, are brutally abusing the Tamil population in areas under their control.
"The LTTE claims to be fighting for the Tamil people, but it is responsible for much of the suffering of civilians in the Vanni," said Brad Adams, Asia director for Human Rights Watch. "As the LTTE loses ground to advancing government forces, their treatment of the very people they say they are fighting for is getting worse."
In the face of an ongoing government military offensive, the LTTE has increased the pressure on the civilian population under its control. Having long used a coercive pass system to prevent civilians from leaving areas it controls, the LTTE has now completely prohibited movement out of the Vanni, except for some medical emergencies. By refusing to allow displaced persons to leave for government-held territory, the group has severely restricted their access to essential humanitarian relief. Only about a thousand people have managed to flee the conflict zone since March 2008.
"By refusing to allow people their basic rights to freedom of movement, the LTTE has trapped hundreds of thousands of civilians in a dangerous war zone," said Adams.
The LTTE has a long history of forced recruitment. There has been a dramatic increase in the practice of compelling young men and women, including children, to join their forces. The group has recently gone beyond its long-standing "one person per family" forced recruitment policy in the territory it controls and now sometimes requires two or more family members to join its ranks.
"Trapped in the LTTE's iron fist, ordinary Tamils are forcibly recruited as fighters and forced to engage in dangerous labor near the front lines," said Adams.
While increased international pressure and other factors had led to a decrease in its recruitment of children, recent reports indicate that the group has stepped up child recruitment in the Vanni. LTTE cadres have urged 14- to 18-year-olds at schools to join. The group often sends 17-year-olds for military training, apparently calculating that by the time such cases are reported to protection agencies, the youths will have turned 18 and no longer be considered child soldiers.
"Last year they were taking the people born in 1990 - now those born in 1991," a humanitarian official from the Vanni told Human Rights Watch. "They look at the family identity cards and take the young ones. If people of military age go into hiding, they will take younger children or the father, until they get the boys or girls they want."
During the past 25 years, the LTTE has killed large numbers of civilians, committed political assassinations in Sri Lanka and abroad, and carried out suicide bombings. It has systematically eliminated most political opposition within the minority Tamil community and is responsible for killing many journalists and members of rival organizations. In the areas under its control, the LTTE has ruled through fear, denying basic freedoms of expression, association, assembly, and movement.
In "Trapped and Mistreated," Human Rights Watch calls upon the LTTE to:
Stop preventing civilians from leaving areas under its control; respect the right to freedom of movement of civilians, including the right of civilians to move to government-controlled territory for safety;
Stop all forced recruitment into the LTTE; end all abductions and coercion;
End all recruitment of children under the age of 18; cease the use of children in military operations; release all child combatants currently in its ranks, as well as all persons who were recruited when children but are now over the age of 18;
Stop all abusive or unpaid forced labor, including labor it characterizes as "voluntary"; cease demanding that all families provide labor to the LTTE; stop forcing civilians to engage in labor directly related to the conduct of military operations, such as constructing trenches and bunkers;
Provide humanitarian agencies and UN agencies safe and unhindered access to areas under the LTTE's control, and guarantee the security of all humanitarian and UN workers, including Vanni residents working as humanitarian or UN staff.
Human Rights Watch is one of the world's leading independent organizations dedicated to defending and protecting human rights. By focusing international attention where human rights are violated, we give voice to the oppressed and hold oppressors accountable for their crimes. Our rigorous, objective investigations and strategic, targeted advocacy build intense pressure for action and raise the cost of human rights abuse. For 30 years, Human Rights Watch has worked tenaciously to lay the legal and moral groundwork for deep-rooted change and has fought to bring greater justice and security to people around the world.
LATEST NEWS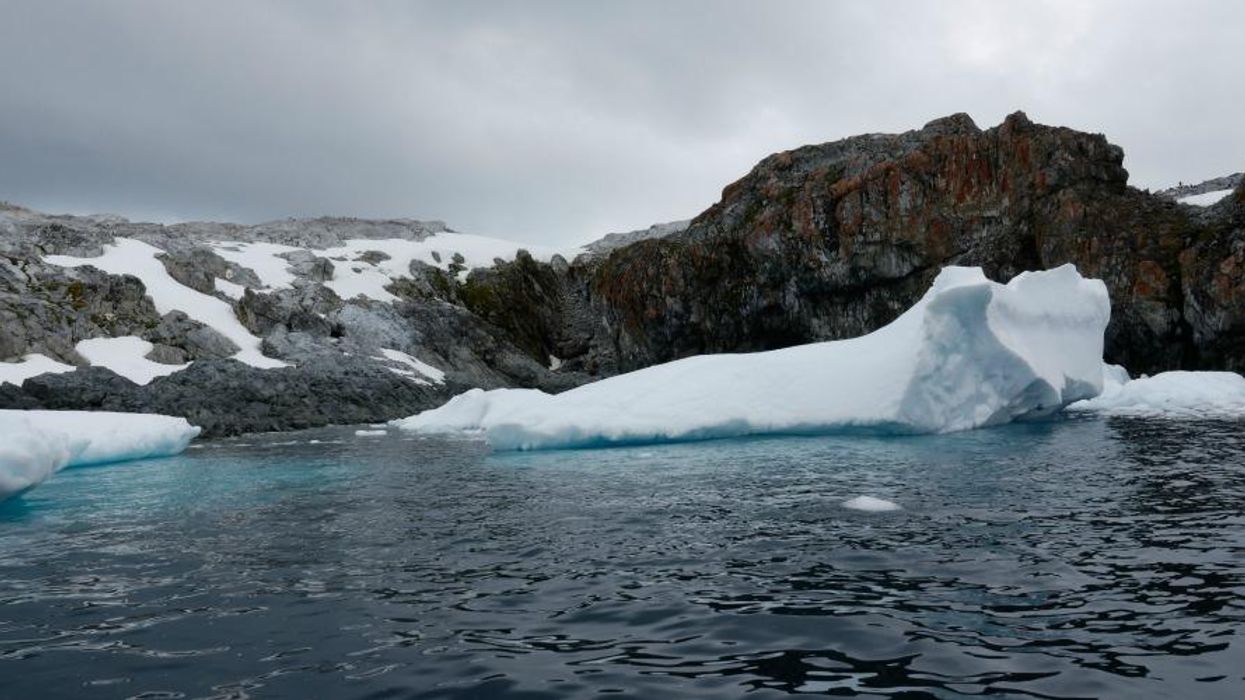 "It's way faster than we thought these circulations could slow down," said one researcher. "We are talking about the possible long-term extinction of an iconic water mass."
Scientists from the United States and Australia on Wednesday warned in
a new study
that the current rate of greenhouse gas emissions and the resulting rapid melting of Antarctic glaciers is placing a vital deep ocean current "on a trajectory that looks headed towards collapse" in the coming decades.
As
Common Dreams
has
reported
, Antarctic ice is melting at an unprecedented rate, and the melting is causing fresh water to enter the ocean—reducing the salinity and density which is needed to drive the "overturning circulation" of water deep in the world's oceans.
Normally, dense water flows toward the ocean floor and helps transport heat and and vital nutrients through the planet's oceans. The circulation helps support marine ecosystems and the stability of ice shelves.
With carbon emissions continuing to rise despite clear warnings from energy and climate experts about the urgent need to draw down emissions, the deep ocean current is projected to slow by 40% by 2050, according to the study, which was published in Nature.

The current slowdown would "profoundly alter the ocean overturning of heat, fresh water, oxygen, carbon, and nutrients, with impacts felt throughout the global ocean for centuries to come," according to the study.
The researchers, who study at the Massachusetts Institute of Technology, Australian National University, and Australia's Commonwealth Scientific and Industrial Research Organization (CSIRO), examined models and simulations over two years to determine how fast the deep ocean current more than 13,000 feet below the surface is expected to slow down as fresh water rapidly enters the ocean.
Circulation deep in the ocean could weaken twice as fast as the Atlantic Meridional Overturning Circulation (AMOC), which carries warm water from the tropics to the North Atlantic Ocean. The collapse of the AMOC has previously been identified as "one of the planet's main potential tipping points," as Common Dreams reported in 2021, but the Antarctic overturning circulation has been less studied until now.
The deep ocean current allows nutrients to rise from the bottom of the ocean, supporting about three-quarters of phytoplankton production and forming the basis of the global food chain.
"If we slow the sinking near Antarctica, we slow down the whole circulation and so we also reduce the amount of nutrients that get returned from the deep ocean back up to the surface," Stephen Rintoul, a fellow at CSIRO and co-author of the study, told Al Jazeera.
The ocean would also be left with a limited ability to absorb carbon dioxide due to the stratification of its upper layers, and warm water could increasingly intrude on the western Antarctic ice shelf, creating a feedback loop and even more melting of glaciers.

The study is "actually kind of conservative" in that it doesn't go into detail regarding that "disaster [scenario]," Alan Mix, a co-author of the latest Intergovernmental Panel on Climate Change (IPCC) report who was not involved in Wednesday's study, toldAl Jazeera.
Matthew England, another co-author of the study, toldThe Guardian that deep ocean circulations have "have taken more than 1,000 years or so to change, but this is happening over just a few decades."
"It's way faster than we thought these circulations could slow down," England added. "We are talking about the possible long-term extinction of an iconic water mass."
The study is the latest sign that action to reduce planet-heating fossil fuel emissions is happening far too slowly, said climate scientist Bill McGuire.
\u201cMore absolutely horrendous news on the global heating front.\n\nOur climate is falling apart in front of our eyes.\n\nNet zero in 2050 is nowhere near enough and far, far, too late.\n\nhttps://t.co/BvjXqX9cft\u201d

— Bill McGuire (@Bill McGuire) 1680123140
"It seems almost certain that continuing on a high greenhouse gas emission pathway will lead to even more profound effects on the ocean and the climate system," John Church, an emeritus professor at University of New South Wales in Australia, told Al Jazeera. "The world urgently needs to drastically reduce our emissions to get off the high-emission pathway we are currently following."

News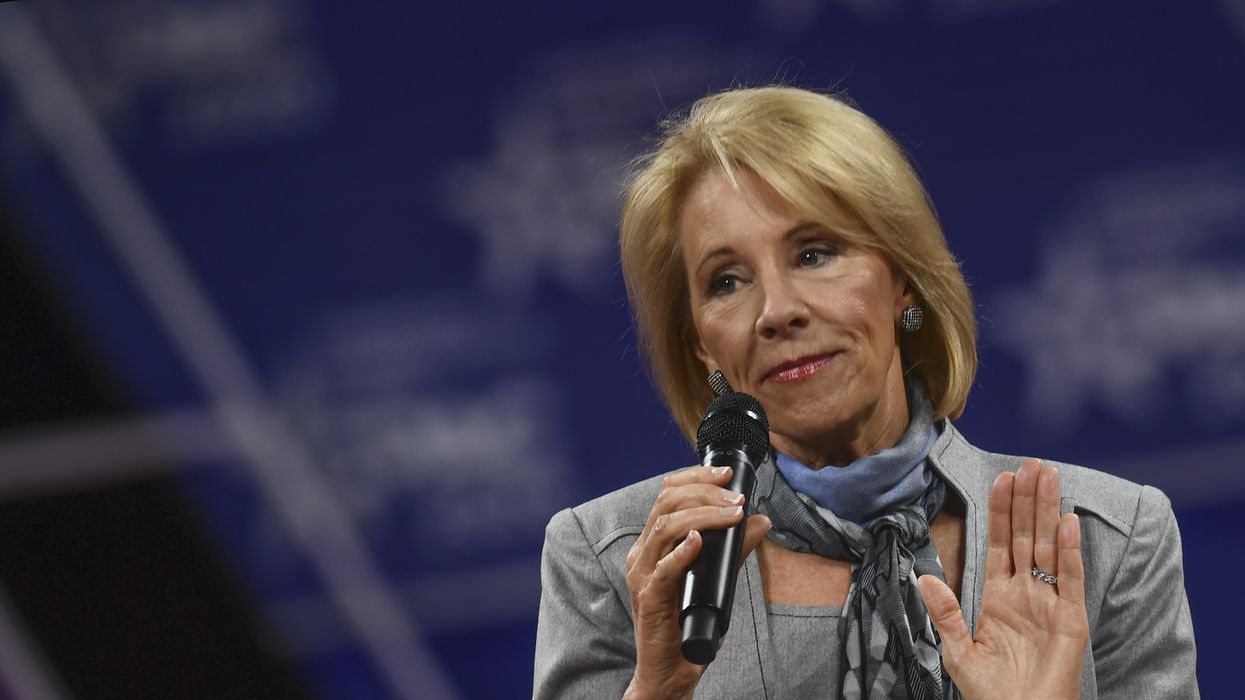 "Chicago voters should know that DeVos supports Vallas' candidacy, and that there is no daylight between DeVos and Vallas' education agendas," said Illinois Families for Public Schools.
A super PAC with close ties to former Education Secretary Betsy DeVos—one of the nation's most fervent supporters of school privatization—has taken an interest in Chicago's April 4 mayoral runoff, spending nearly $60,000 in support of notorious school privatizer Paul Vallas as the contest heads into its final stretch.
Vallas, a right-wing Democrat who previously served as the head of Chicago Public Schools (CPS), is taking on Cook County Commissioner Brandon Johnson, a longtime educator and public school champion whose campaign has been endorsed by prominent national progressives including Sen. Bernie Sanders (I-Vt.).
The Illinois Federation for Children PAC, which is bankrolled by the DeVos-backed American Federation for Children Action Fund, recently spent $59,385 on digital media supporting Vallas, according to new campaign finance disclosures.
The Illinois super PAC's bare-bones website states that "families should have the choice to enroll their children in the best school to meet their needs, whether it's a district-assigned public school, homeschool, public charter, private, virtual, or blended-learning school," adding that "this election cycle will be one of the most important in the history of Illinois' school choice movement."
The group has received $465,000 from the American Federation for Children Action Fund, including a recent donation of $65,000. (The American Federation for Children Action Fund is an affiliate of the DeVos-founded American Federation for Children.)

Spotlighting the super PAC's outlay in Chicago's mayoral race, the advocacy group Illinois Families for Public Schools (IFPS) said in a statement that while "DeVos has not endorsed Vallas, Vallas' education plans for Chicago's school system are directly aligned with the DeVos agenda of school privatization, one she supported as secretary of education and promotes through her national network of advocacy organizations and PACs: defunding and dismantling public school systems and redirecting public funds via programs like vouchers to private schools."
"Vallas voices his support for 'a reconstituted system in which parents get to direct the per-pupil public dollars to the school (or education model) of their choosing'... The education platform on Vallas' website calls for 'dismantling the central administration' of CPS," the group continued. "These are exactly the policy goals that DeVos and American Federation for Children are advocating for: 'fund students not systems' and 'dollars must follow students.'"
"As secretary of education, DeVos' education policies were harmful to public schools on a national scale," IFPS added. "Chicago voters should know that DeVos supports Vallas' candidacy, and that there is no daylight between DeVos and Vallas' education agendas."
Johnson, by contrast, has pledged to strengthen Chicago's underfunded public schools. The progressive candidate's top donors are the Chicago Teachers Union PAC and the American Federation of Teachers' Committee on Political Education.

\u201cAnd just like that...\n\nWe find out the truth about #PaulVallas. \n\nToday, Vallas received an almost $60,000 contribution from Trump's former Education Secretary Betsy DeVos's Super PAC. \n\nDon't believe the hype, a "lifelong Democrat" would never take $$ from DeVos.\u201d

— Chicago Teachers Union (@Chicago Teachers Union) 1680135527
The Illinois Federation for Children PAC's intervention in Chicago's mayoral race is part of a broader assault on public education financed in part by DeVos, a billionaire who has used her fortune to erode public education in her home state of Michigan and nationwide.
NBC Newsreported Thursday that DeVos' American Federation for Children "poured about $9 million into state elections last year, backing nearly 200 candidates."
"Now, some of those candidates are pushing a wave of legislation boosting DeVos' longtime goal: subsidizing private schools with public dollars," the outlet continued. "Using at least $2.5 million from DeVos and her husband, the American Federation for Children has played a pivotal role in getting what supporters call 'school choice' policies passed into law in at least three states and introduced in several more."
The American Federation for Children's board includes infamous political figures such as former Wisconsin Gov. Scott Walker and former Sen. Joe Lieberman (I-Conn.), both of whom are outspoken supporters of school privatization.
Lieberman—a former Democrat-turned-Independent who is widely reviled by progressives for his role in tanking the prospects of a public option in healthcare more than a decade ago—introduced DeVos at her Senate confirmation hearing in 2017, praising the Trump nominee as a "purpose-driven team builder."

News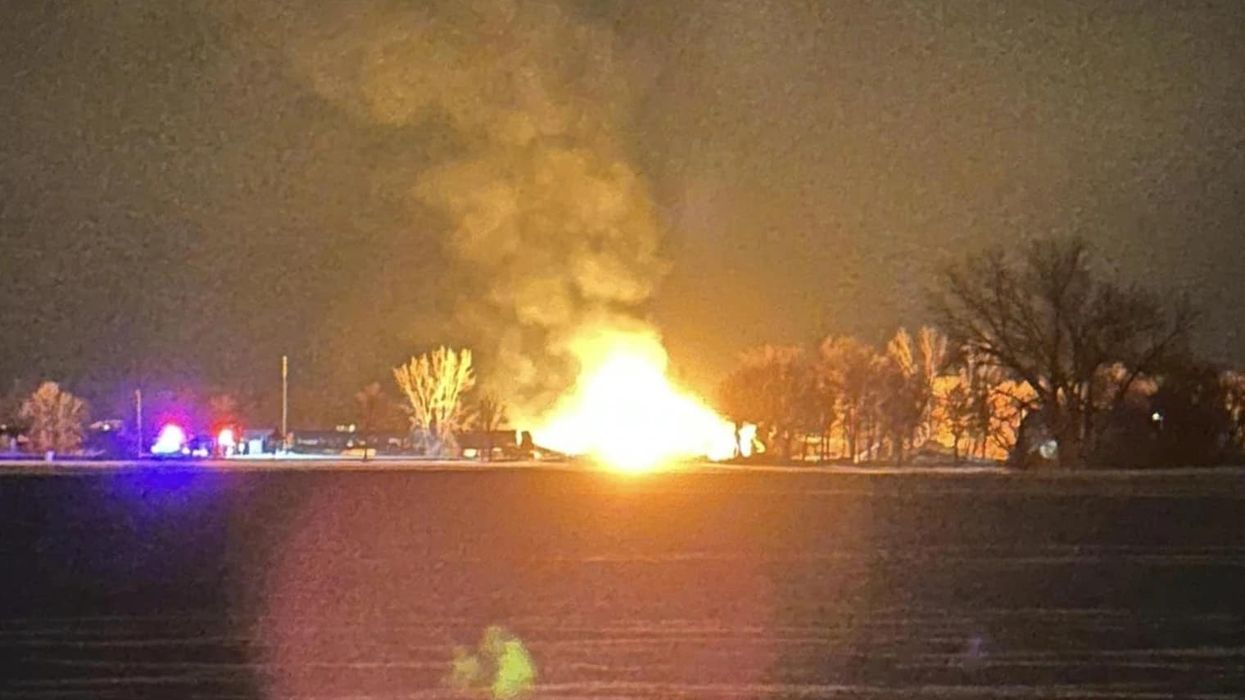 The train was operated by BNSF, which has lobbied aggressively against safety regulations in recent years.
This is a developing news story... Check back for possible updates...

A BNSF train carrying ethanol derailed and caught fire early Thursday morning in Raymond, Minnesota, forcing residents living near the crash site to evacuate.
U.S. Transportation Secretary Pete Buttigieg, who has faced backlash for responding inadequately to the disaster in East Palestine, Ohio, said the Federal Railroad Administration is "on the ground' in Raymond following the derailment.
"At present no injuries or fatalities have been reported," said Buttigieg. "We are tracking closely as more details emerge."
\u201cSome video coming out of a firery train derailment that occured in Raymond, Minnesota about 1:00 am this morning. \n\nSeveral tankers were carrying a form of ethanol & corn syrup that caught fire and has caused a 1/2 mile evacuation to the surrounding area.\n\nVideo by Ashely Lucas\u201d

— Rebecca Brannon (@Rebecca Brannon) 1680170887
BNSF, which is controlled by Warren Buffett's Berkshire Hathaway, has lobbied aggressively against enhanced rail safety regulations at the state and federal levels in recent years.
An OpenSecrets analysis published earlier this month found that BNSF has spent nearly $13 million on state-level lobbying since 2003. BNSF's parent company is also among the rail industry's top federal lobbying spenders over the past two decades, according to federal disclosures.
BNSF said in a statement that more than 20 train cars "carrying mixed freight including ethanol and corn syrup" derailed in Raymond on Thursday.
The wreck and resulting blaze forced local authorities to issue evacuation orders for people living within a half-mile of the site. The Minnesota Department of Transportation said a nearby highway was also closed due to the fire.
The local sheriff's department said in a press release that "no travel is advised to the city of Raymond" as emergency workers attempt to contain the fire.

News
SUPPORT OUR WORK.
We are independent, non-profit, advertising-free and 100%
reader supported.