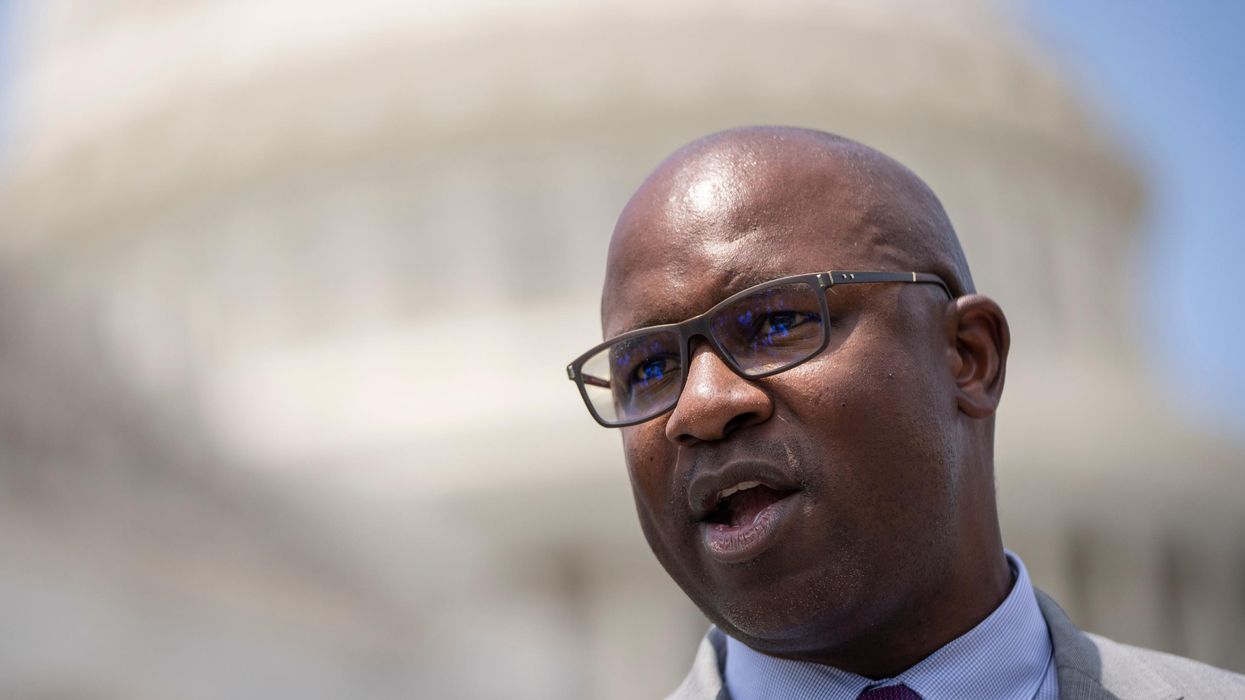 While Latimer has said Israel will be a "big issue" but "not the whole issue," one observer predicted that the contest "is going to be the ugliest Democratic proxy war of the 2024 cycle."
After visiting Israel last week, Westchester County Executive George Latimer on Monday filed paperwork to launch a primary challenge against Democratic New York Congressman Jamaal Bowman, a critic of the Israeli government and its devastating war on the Gaza Strip.
The 70-year-old county executive, who previously served in the New York State Senate and Assembly, has been openly considering a run for the 16th Congressional District—which Bowman has represented since 2021, after successfully primarying former Democratic Rep. Eliot Engel.
Latimer suggested toThe Washington Post early last month that if he ran against Bowman, "it might be that this becomes a proxy argument" between "the left and the far left." He later toldPolitico that Israel would be a "big issue" but "not the whole issue," and his campaign would focus on his record as "the most progressive" county official in the state.
Bowman is the fourth "Squad" member to face a serious primary challenger for 2024, joining Reps. Cori Bush (D-Mo.), Summer Lee (D-Pa.), and Ilhan Omar (D-Minn.). They are all among the eight progressives who in October voted against a bipartisan House resolution expressing unconditional support for Israel's government as it waged war on Gaza.
The four of them also support a resolution demanding a cease-fire in Gaza. While the number of House members calling for a cease-fire has grown to more than four dozen as Israeli forces have killed thousands of Palestinians over the past two months, as The Intercepthighlighted last week, "a closer look at some lawmakers' statements raises questions about whether they are truly pushing for an end to the violence."
Latimer does not support a cease-fire. As Politico reported on his trip:
The county executive and former state lawmaker said that his time with Israelis, such as meeting with President Isaac Herzog, taught him that there is "no animosity directed toward the Palestinian people."

"There's people that are protesting that they're pro-Palestine, as if the Israeli position is anti-Palestinian," he said in an interview while waiting to board his return flight at Ben Gurion Airport.

"There wasn't a 'let's go get those bastards' kind of mindset," he said. "The anger and fear is directed at Hamas as the terrorist organization that runs the country and that's a differentiation you don't often pick up."
Since declaring war in retaliation for a Hamas-led attack on October 7, Israel has killed nearly 15,900 Palestinians in Gaza and wounded another 42,000 in airstrikes and raids, according to health officials in the besieged enclave. At least hundreds of those killings have come after the seven-day pause in fighting that ended late last week.
Responding to Latimer's filing on Monday, Slate's Alex Sammon said, "There it is: after weeks of unnecessary hemming and hawing (during which he stockpiled an extra helping of cash from the Israel lobby), George Latimer is challenging Jamaal Bowman, aiming to [replace] one of the party's rising stars as a 70-year-old white freshman congressman."

It was Sammon who reported in mid-November that the lobby group American Israel Public Affairs Committee (AIPAC) is set to "spend at least $100 million in 2024 Democratic primaries, largely trained on eliminating incumbent Squad members" including Bowman, Bush, Omar, Lee, and Reps. Alexandria Ocasio-Cortez (D-N.Y.) and Rashida Tlaib (D-Mich.), who had a U.S. Senate candidate reject an offer of $20 million if he instead primaried her, the only Palestinian American in Congress.

Ocasio-Cortez's 2024 campaign said in a Monday email that "AIPAC's top recruit to challenge Jamaal Bowman officially filed his candidacy" and asked supporters to "please chip in right now to help us defend Jamaal and our progressive values."

Along with stressing his support for a cease-fire in Gaza, her campaign pointed out that Bowman is "his district's first Black representative" and "one of the only members of Congress with actual experience working in public education."

Westchester's News 12reported Monday that while Latimer "is preparing a video announcement over the next 24 hours and will formally launch his campaign by Wednesday," he is not Bowman's only challenger—Democratic "Dobbs Ferry investment banker Martin Dolan also plans to run."

While the contest is considered a test of whether politicians can survive criticizing Israel, some observers noted Monday that in March 2021, as many elected officials—including Bowman and Ocasio-Cortez—called on then-Democratic New York Gov. Andrew Cuomo to resign over outrage about his Covid-19 pandemic response and sexual misconduct allegations, Latimer said the claims should be taken seriously but also drew a comparison to Emmett Till, which he later retracted.

Who wins the next primary for New York's solidly Democratic 16th District could depend on an effort to replace the GOP-friendly map drawn by a court-appointed expert for the 2022 election cycle. City & Statereported last month that a new order could mean "the Independent Redistricting Commission—which is led by Latimer's deputy, Ken Jenkins—will have the opportunity to change the boundaries."

"The district currently includes much of Westchester and a sliver of the northern Bronx and is home to many Jewish voters who have turned against Bowman," the outlet explained. "Should the district lines change, it will change the dynamics of the race."

News