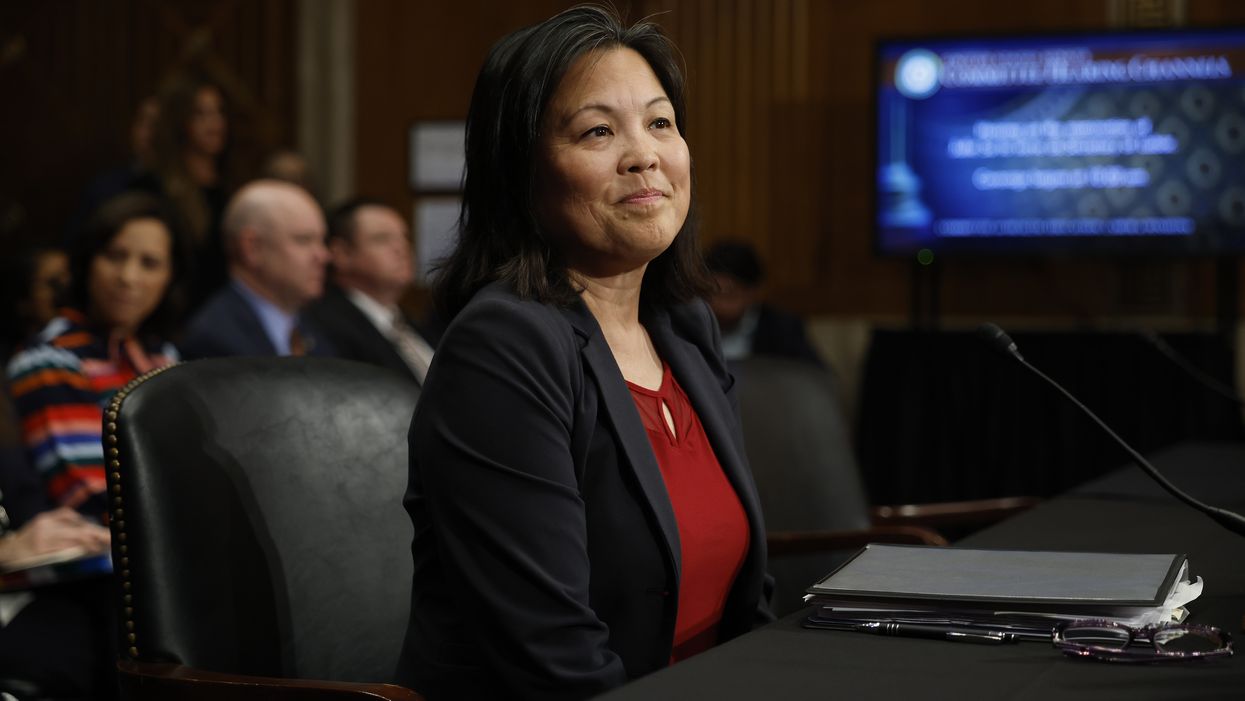 "Su possesses deep expertise in civil rights and workplace rights and is exceedingly qualified to serve as secretary of labor," said one group. "We urge all senators to support her confirmation."
Labor rights advocates on Wednesday renewed calls for the U.S. Senate to swiftly confirm Julie Su, President Joe Biden's next pick for labor secretary and "a champion for working families," after an 11-10 panel vote.
The Senate Committee on Health, Education, Labor, and Pensions (HELP) vote fell along party lines, with Chair Bernie Sanders (I-Vt.) and Democratic members supporting Su—who is facing an intense corporate-led opposition campaign.
"Working families have been struggling for the last many decades while we have massive income and wealth inequality," Sanders said in his opening remarks to the committee.
"Julie Su is the best candidate for secretary of labor. Everywhere she goes, workers win."
"The working families of this country, in the Labor Department, are entitled to have a secretary who is gonna stand up and fight for them," he continued, "who understands that we've gotta raise the minimum wage, that we need paid family and medical leave like every other major country on Earth does, that... we need strong overtime rules so that when people are working 50 or 60 hours a week, they get the time-and-a-half that they need, that workers have a right to join unions and not be subject to illegal anti-union activities."

From working as a civil rights lawyer to leading the California Labor and Workforce Development Agency to serving as deputy secretary at the U.S. Department of Labor, Su "has made it clear she is prepared to stand up for working families," he added, later noting that the candidate is backed by not only organized labor and workers but also the Los Angeles Area Chamber of Commerce.
Ahead of the HELP Committee vote, the International Brotherhood of Teamsters said that "Su is the ally that workers need at the helm of the agency" and urged the panel to support her.
After the panel advanced the candidate, the Teamsters called on Senate Majority Leader Chuck Schumer (D-N.Y.) "to bring Su's nomination to the floor immediately."
AFSCME president Lee Saunders said in a statement Wednesday that "Julie Su is the best candidate for secretary of labor. Everywhere she goes, workers win."
"Her tenacity, her experience, and her ability to engage all stakeholders means she has what it takes to expand on the progress made for working people under the Biden administration," Saunders added. "We applaud the Senate HELP Committee for advancing Julie Su's nomination, and we urge senators to confirm her without delay."
Liz Schuler, president of the AFL-CIO, tweeted that "Julie Su is one of the most accomplished, hardworking, and brilliant nominees this nation has ever seen for secretary of labor."
The conference and various other groups showed their support on social media with the hashtags #ConfirmSu and #StandWithSu.
The Labor Department "was founded to protect American workers and retirees," tweeted the American Federation of Teachers. "Julie Su has the experience, passion, and leadership to lead it."
Given the current divisions in the chamber and Sen. Dianne Feinstein's (D-Calif.) extended absence, Su's confirmation is far from guaranteed. All eyes are on the other two Independents—Sens. Kyrsten Sinema (Ariz.) and Angus King (Maine)—and a small handful of more right-leaning Democrats: Sens. Mark Kelly (Ariz.), Joe Manchin (W.Va.), and Jon Tester (Mont.).
Citing a Biden administration official, CNNreported Wednesday that "the White House has been engaging in a number of high-level efforts to galvanize support for Su. That includes holding nightly war room calls to track real-time updates and 15-20 external check-in calls per day across labor and business groups."
The network noted that "along with assembling together a diverse slate of supporters—which includes a long list of major union groups, stakeholder groups, and lawmakers—the White House has also enlisted Marty Walsh, who left his role as Biden's labor secretary earlier this year, to help get Su's confirmation across the finish line."
News