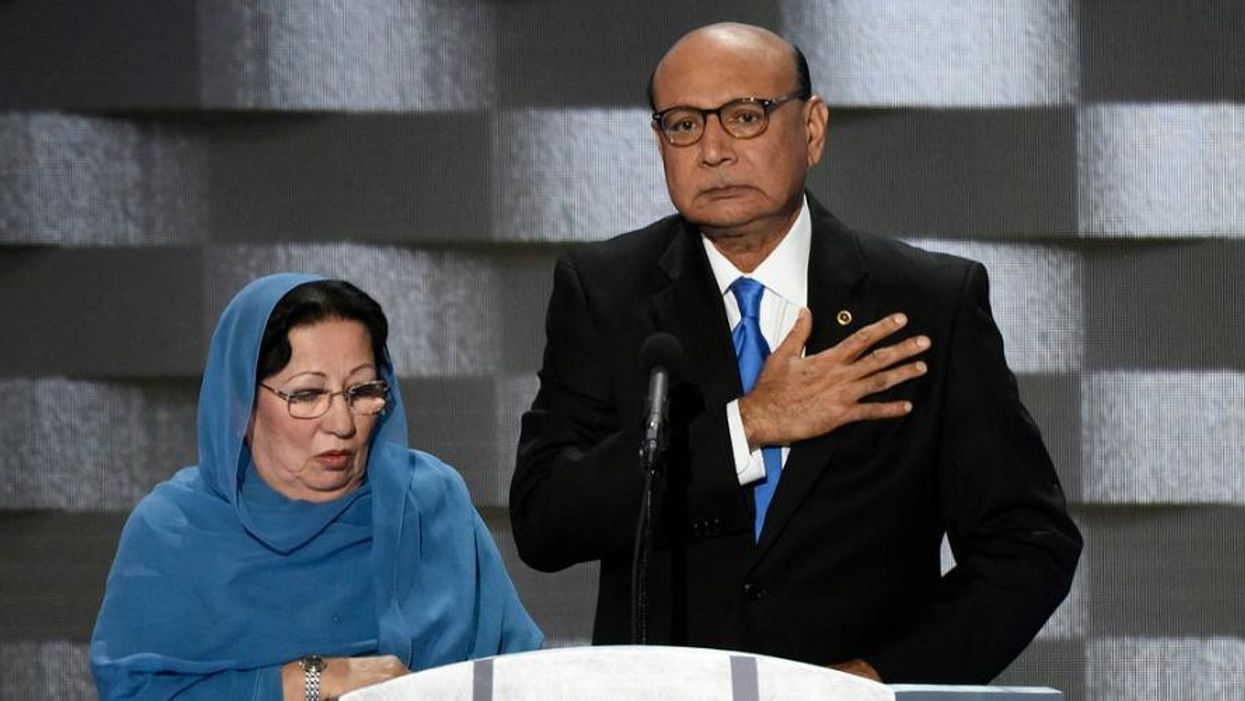 Fresh interview comes as US expands its bombing campaign in Libya
As the United States this week expands its bombing campaign against the Islamic State (ISIS) to Libya, Khizr Khan, the Gold Star father who gave a powerful anti-Donald Trump speech at the Democratic National Convention (DNC), has criticized U.S. wars in Muslim nations as leaving us in a "quagmire," "more vulnerable," and creating "chaos for ourselves." But Khan's take on the war on terror is unlikely to be amplified by corporate media, as one political writer points out.
Khan, a Muslim, Pakistani-American, and father of a U.S. Army captain who was killed in Iraq in 2004, made waves last week for his speech at the DNC. Standing beside his wife, Ghazala, he directed his criticism at the Republican presidential nominee, and said, "You have sacrificed nothing and no one," and asked, "Have you even read the United States Constitution?"
As the New Yorker's Amy Davidson wrote, "Khan, though his speech centered on the loss of his son, had made the case against Trump more powerfully than almost any other speaker."
Since the convention, Khan "has become something of a media celebrity," writes Ben Norton, politics staff writer at Salon. The portrayal often used in these accounts, Norton continues, focuses on patriotism. One such example can be seen here, as posted on CNN Money on Tuesday:
Here was an in-the-flesh example of Muslim assimilation--a man who had lost his son, yet who espoused patriotism to the point of literally brandishing a pocket-sized copy of the Constitution. Not only was the couple's grief universal and relatable, but the Khans put a face on Muslims who are pursuing the American Dream just as countless other ethnicities have done.

On Monday, the same day the U.S. started its new campaign in Libya--a move one antiwar group said will only further "entrench divisions and intensify violence" in the region--the Khans gave an interview on MSNBC's "Hardball."
Asked by host Chris Matthews, "What do you think when you, or feel, when you see us attack Iraq or go into Afghanistan after Osama bin Laden, or we go attack with bombs Libya? We're bombing Syria now--all Islamic countries. What do you feel as an Islamic man?"
Khizr Khan replied, "As a Muslim-American, not just as Islamic man--as a Muslim American, I feel that these policies are not in the interest of United States of America, and we see the result of it. We are more vulnerable now. We have created a chaos and--for ourselves."
"Well, you know you're speaking to the choir," Matthews responded. (In fact, "Matthews' record isn't entirely consistent" on being against either the war in Iraq or on avoiding a military approach to confronting ISIS, Norton notes.)
"I wish this country would have listened to Chris Matthews when he was talking, when he was preaching," Khan said, "we could have saved ourselves from this quagmire."
This section of the interview, Norton points out, "is not included in the isolated clips for the episode on MSNBC's website. One has to watch the full episode to see it."
The situation may remind some of how the corporate media chose to portray Malala Yousafzai, the Nobel laureate and children's education advocate who was attacked by the Taliban. She met with President Barack Obama at the White House and told him that "drone attacks are fueling terrorism." Yet, as Peter Hart wrote at FAIR in 2013, that "didn't register in a corporate media that followed Malala's visit, and her story, very closely." Hart continued:
This is in keeping with other media patterns we've seen. Earlier this year, Farea al-Muslimi, a Yemeni writer and activist, came to Washington to deliver moving testimony to the Senate Judiciary Committee about the effect of drone strikes on his country: "What the violent militants had previously failed to achieve, one drone strike accomplished in an instant. There is now an intense anger against America." His words received scant coverage in the US media (FAIR Blog, 4/24/13).

If Americans wish to understand how US wars are experienced by those on the other side of the military attacks, it is important to hear these voices. But will US media allow these voices to be heard?

Meanwhile, the U.S.-led coalition's strikes on ISIS continue with deadly consequences. According to the transparency group Airwars, July 2016 had the highest number of reported civilian deaths in Syria from coalition strikes since the bombing campaign began nearly two years ago.
Also this week, the U.S. has said it will begin, based on credible evidence, a second probe into whether its strikes near Manjib, Syria killed civilians.
The second formal investigation centers around a July 28 strike, which, according to the U.K.-based Syrian Observatory for Human Rights, left at least 28 civilians dead.
The first formal investigation, which the Pentagon announced last week, will look into a July 20 strike which, according to the monitoring group, may have killed scores.
News