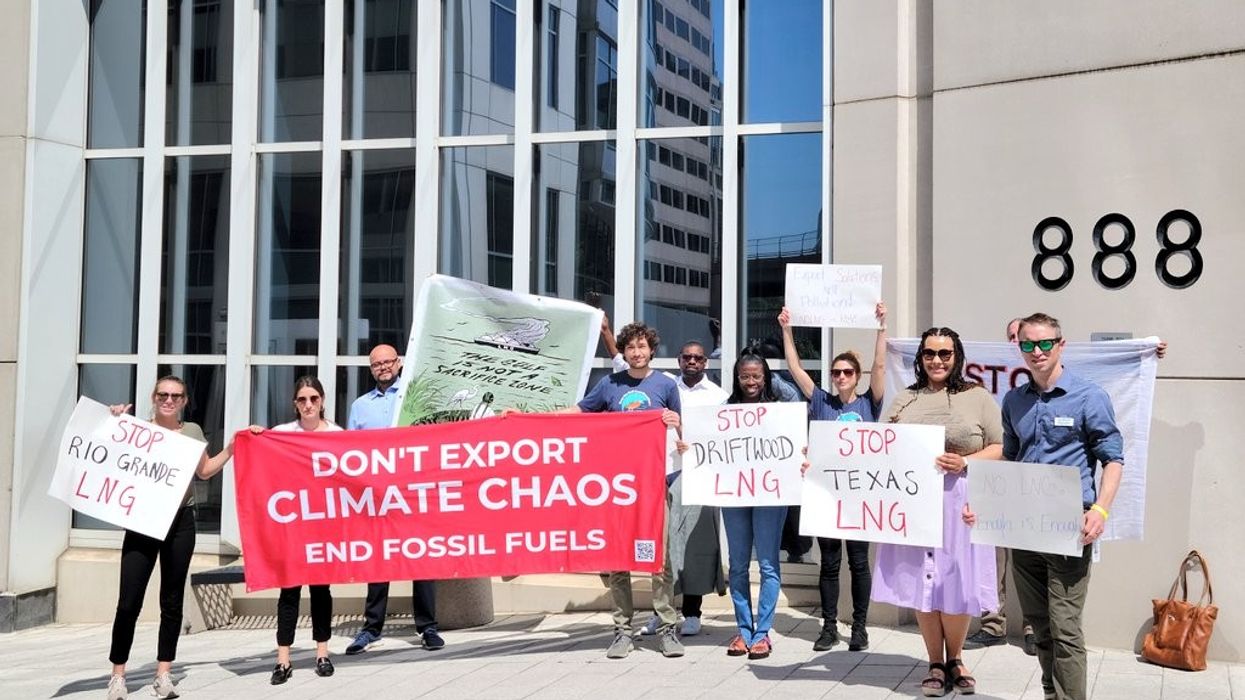 "The stunning amount of new LNG export deals being approved underscores the climate hypocrisy of the Biden administration."
Climate groups called out U.S. President Joe Biden's administration on Thursday after a federal agency gave a green light to three liquefied natural gas projects in Texas despite local opposition and scientists' calls to swiftly transition away from fossil fuels.
The Federal Energy Regulatory Commission (FERC)—which has two Democrats, two Republicans, and one vacancy—issued orders on Glenfarne's Texas LNG project, NextDecade's Rio Grande LNG export terminal, and Enbridge's related Rio Bravo Pipeline.
"This president has the gall to say he cares about environmental justice and the climate emergency."
In response to the moves, Greenpeace USA campaigner Destiny Watford pointed to the Intergovernmental Panel on Climate Change (IPCC) report released last month as well as projections from the International Energy Agency (IEA).
"Someone needs to show President Biden the latest IPCC report, where it clearly says that we need to move away from dirty energy sources like LNG if we want to keep our planet livable," Watford declared. "U.S. LNG export capacity is on track to exceed the IEA's net-zero emissions estimate for global LNG trade by 2030."
"This is a level that we cannot overstep if we want to avoid the worst impacts of climate change—and the U.S. could pass that mark by itself," she stressed. "The stunning amount of new LNG export deals being approved underscores the climate hypocrisy of the Biden administration. This president has the gall to say he cares about environmental justice and the climate emergency while continuing to sanction limitless production and export of oil and gas."
\u201cWe're here on HWY 48 near Port Isabel, TX protesting the @FERC approving Rio Grande LNG, Texas LNG, and the Rio Bravo Pipeline. We're calling attention to the destruction our community and sacred lands face from LNG & SpaceX.\n @VocesUnidasRGV https://t.co/sfD3MLZCnp\u201d

— Another Gulf Is Possible (@Another Gulf Is Possible) 1682022540
FERC's moves follow the Biden administration's recent approval of an LNG project in Alaska, which came on the heels of allowing ConocoPhillips' controversial Willow oil project in the state. The president is also under fire for last weekend's Group of Seven statement that leaves the door open to future gas investments.
Oil Change International U.S. program co-manager Allie Rosenbluth argued Thursday that "the approval of any new fossil fuel project is a failure of the Biden administration's stated commitment to take action on both climate change and environmental justice."
"It's bad for the communities in Brownsville and the Rio Grande Valley who will suffer the worst consequences of this massive industrial plant on their health and well-being, it's bad for our country as laggards to climate commitments, and it's bad for our planet, as the clock is ticking to stave off the worst climate disasters," she said of FERC's new orders.
"Industry false solutions, such as carbon capture and certified gas, are making these projects even more dangerous," Rosenbluth continued, highlighting that "the company behind Rio Grande LNG claims it will 'certify' the greenhouse gas intensity of LNG to be sold from the proposed export terminal."
Citing a new report from Oil Change International and Earthworks on gas certifiers, the campaigner explained:
The investigation uncovered failures with monitoring technology, documented the concerns of methane emissions experts, revealed an absence of data transparency, and exposed conflicts of interest. Furthermore, the report detailed how the gas and LNG industry cannot rely on simply cleaning up to align with climate goals. They must also plan for a phaseout [of] gas production. This evidence calls into question the degree to which the gas certification process is misleading gas markets, giving consumers and investors a false sense of security about the environmental impacts of methane gas.
In Texas, "the fight is far from over," Rosenbluth said. "This March, after years of trans-Atlantic organizing, French bank Société Générale withdrew from Rio Grande LNG and no final investment decision on the LNG terminal has been made. People around the world will continue to fight these projects and demand a just transition to renewable energy."
\u201cA new report from @Earthworks and @PriceofOil shows how the gas industry is selling "certified gas" as a solution to its out of control methane pollution.\n\nI spoke with authors @JoshEisenfeld and @LorneStockman about this new form of industry deception \u2b07\ufe0f\nhttps://t.co/50UmK1Yw8Q\u201d

— Emily Sanders (@Emily Sanders) 1681913140
The Houston Chroniclereported Thursday that Glenfarne's LNG project "has less financial traction" than NextDecade's terminal.
The newspaper also flagged a disagreement between FERC's two Democratic commissioners:
In August, the D.C. Circuit Court of Appeals ruled FERC needed to more closely examine Rio Grande LNG's impact on climate change and local communities. Commissioner Allison Clements said the commission had failed to do what was requested of it and that moving forward without doing so creates "a lose-lose situation" that would invite more legal challenges and deprive potentially impacted communities of the chance to comment on the developments.

"This procedural corner-cutting represents a gobsmacking departure, frankly, from the lessons I took away from the environmental justice roundtable we held just a month ago," Clements said.

FERC Chairman Willie Phillips, viewed as more moderate on climate issues than his predecessor Richard Glick, said he thought the commission had reached "an appropriate middle ground."

"Importantly, today's order takes an unprecedented and bipartisan step to protect environmental justice communities from potential concerns about the project's effect on air quality," Phillips said. "The commission is for the first time on its own accord, requiring that the project sponsors ensure that the overlapping construction and operation of a project do not cause any significant air quality impacts on environmental justice communities."
Phillips is notably a Biden appointee. When the president selected him in September 2021, green groups sounded the alarm, given his record in government and as a private attorney, and branded the candidate as "a crony of the fossil fuel industry."
Carrizo Comecrudo Tribal Chairman Juan Mancias said Thursday that "the court sent Rio Grande LNG and Texas LNG back to FERC for a review because these gas projects are cutting corners to try and build on our sacred lands. FERC did a piss-poor job, once again, of reviewing the dangers that LNG will bring to our people: pollution, risks of explosions, and destruction of our sacred sites."
"Neither FERC nor the LNG companies have ever consulted with the Carrizo Comecrudo Tribe of Texas," Mancias added. "FERC is promoting and perpetuating the sacrifice zones that come with short-sighted colonialism."
"We are disappointed, but unfortunately not surprised, that FERC has failed us again."
The tribe is far from alone in opposing the projects. Sierra Club Gulf Coast campaign representative Rebekah Hinojosa said that "for nearly a decade, our community has made it clear to FERC that we oppose Rio Grande LNG, Rio Bravo Pipeline, and Texas LNG because this is environmental racism," but the agency and industry "are forcing dangerous gas plants on the Rio Grande Valley that do nothing to help our community so fossil fuel corporations can profit."
"We are disappointed, but unfortunately not surprised, that FERC has failed us again by conducting a haphazard review of Texas LNG and Rio Grande LNG and by deciding to move forward with these destructive gas projects that will destroy some of our remaining wildlife habitat, be the biggest polluters in our poor community, and raise energy prices for families across the country," she said.
"We're not backing down," Hinojosa vowed. "FERC will hear our outrage."
News