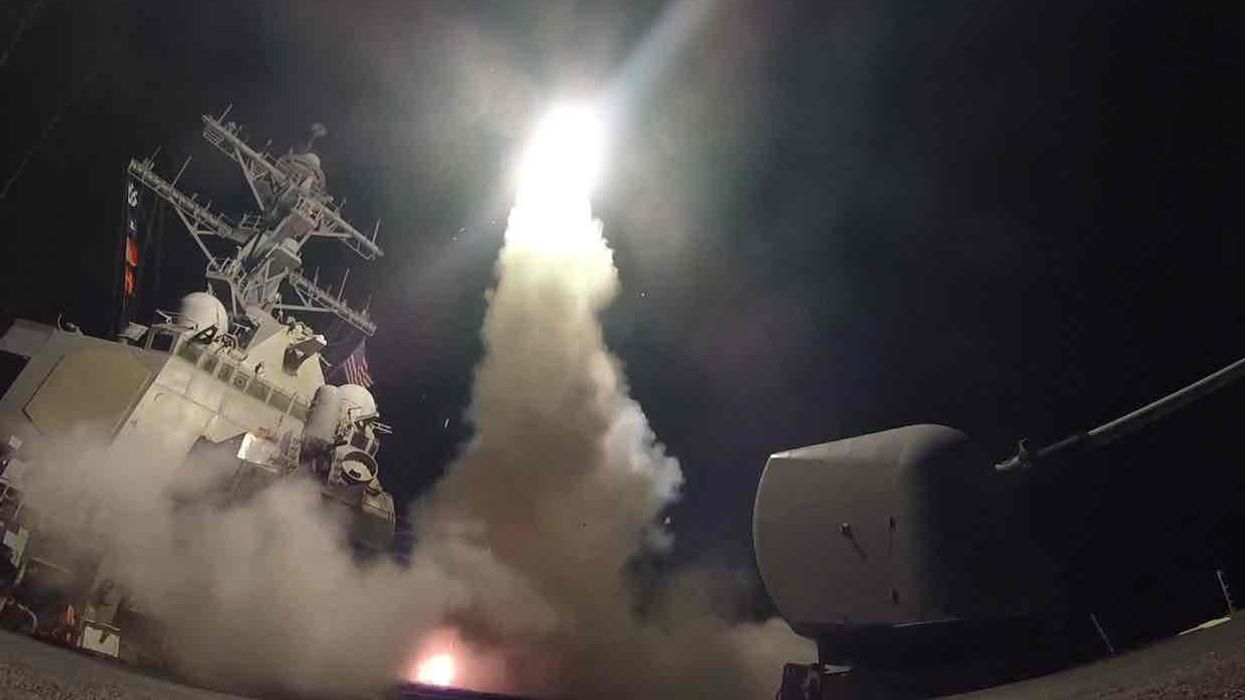 Amidst growing calls for greater military action in Syria in response to an alleged chemical attack, the United States military launched more than fifty Tomahawk missiles at the al-Shayrat airfield near Homs. Democrats along with neoconservatives, who long pushed for U.S. military forces to topple President Bashar al Assad's regime, advocated for military force in response to alleged chemical attack.
Amidst growing calls for greater military action in Syria in response to an alleged chemical attack, the United States military launched more than fifty Tomahawk missiles at the al-Shayrat airfield near Homs. Democrats along with neoconservatives, who long pushed for U.S. military forces to topple President Bashar al Assad's regime, advocated for military force in response to alleged chemical attack.
Former Democratic presidential nominee Hillary Clinton called for strikes on airfields in Syria. "Assad had an air force and that air force is the cause of most of the civilian deaths as we've seen over the years and as we saw again in the last few days."
"I really believe we should have and still should take out his airfields and prevent him from being able to use them to bomb innocent people and drop sarin gas on them," Clinton added.
David Wade, who was the chief of staff for John Kerry when he was secretary of state, also called for airstrikes on "Assad regime targets" that "could inject urgency into the struggling international effort to bring about a political solution to the Syrian crisis through peace talks."
"Russia and Iran have stubbornly stuck with Assad, but Assad is a burden in their balance sheets, and they might be willing to engage in a diplomatic process that creates safe zones or humanitarian corridors or maybe over time builds towards some kind of managed transition," Wade suggested.
Colin Kahl, former deputy assistant to President Barack Obama, asserted the "upside of a strike" would be "that it rattles Assad and encourages the regime and its backers to move toward a ceasefire or a settlement out of fear of additional strikes. But that will only work if the administration is willing to conduct additional strikes as necessary, and if it has a comprehensive diplomatic play ready to go capitalize on the opportunity." But Kahl acknowledged there was a "non-trivial risk" of mission creep and Trump would need a plan that went beyond "discrete military action."
Like Clinton, Jessica Ashooh, a scholar with the pro-intervention think tank, the Atlantic Council, wrote an op-ed for the Washington Post urging "targeted, punitive strikes against the Assad regime to degrade his capability to harm his own people." The strikes could be used to reignite the "stalled peace process."
Democratic lawmakers reacted to the attack by complaining that Trump did not consult Congress first. However, the objection did not include any statements against the missile attack itself.
Neoconservative Elliott Abrams, a former official in President George W. Bush's administration, said, "Obama did nothing at all year after year to save the lives of Syrians. Now Trump has to match his rhetoric with something concrete."
"If President Trump takes appropriate action against Assad, this #NeverTrumper will of course support him. He's the president, not merely 'Trump,'" Bill Kristol, a neoconservative and editor at large for The Weekly Standard, proclaimed on Twitter.
Neoconservative James Woolsey, a former CIA director, said on CNN, "Assad is kind of Iran's poodle in this whole world, and I think it would be really important to plan--whether they carry it out is another serious matter--but to plan for a major military strike against the parts of the Iranian infrastructure that are headed toward nuclear weapons."
"On their way in or their way out, if our forces do use airpower against Iran, it would be possible to use airpower to knock out some of the Syrian facilities, too," Woolsey added.
Woolsey would have Trump seize the moment to opportunistically engage in the kind of attack neoconservatives have been dreaming about since they launched their Project for a New American Century (PNAC) in the late 1990s and openly advocated for global U.S. military domination.
Few were as pleased to see Trump attack Assad as Republican Senators John McCain and Lindsey Graham were. They said, "We salute the skill and professionalism of the U.S. armed forces who carried out tonight's strikes in Syria. Acting on the orders of their commander-in-chief, they have sent an important message: the United States will no longer stand idly by as Assad, aided and abetted by [Vladimir] Putin's Russia, slaughters innocent Syrians with chemical weapons and barrel bombs."
Earlier, Graham said he did not think Trump should seek authorization from Congress. He said he did not want Congress to "screw it up" like they did in 2013. "My advice to the president is: 'Just do it.'"
But as journalist Vijay Prashad documented, how does the world definitively know what happened in Khan Shaykhun?
Nearly all media reports source claims related to the origin of the attack to "opposition activists," who are against Assad and have wanted the U.S. to take more significant measures to overthrow Assad for years.
There are multiple instances in the war, where concerns have been raised about al Qaida affiliates possessing chemical weapons. When Syrian military have claimed to be hit with toxic gas, the world has shrugged because they have no sympathy for regime soldiers. They neglected to grapple with the stark problem of jihadist groups with chemical weapons in Syria.
"The international community must urge a thorough investigation of these events before rushing either to a forensic judgment about what happened and to a response--particularly a military response--in retaliation," Prashad urged. "Sober heads need to prevail. War is rarely the answer. Particularly when we don't as yet know the question."
However, despite an investigation in its nascent stages, world leaders have determined there is no dispute. Assad did it, even if it makes no sense from a strategic standpoint to gas civilians when winning a war and give the opposition a massive propaganda victory.
The Obama administration, along with Democrats and Republicans, faced a similar moment on August 21, 2013, when a sarin attack occurred just outside of Damascus. The administration believed the attack was committed by the Syrian government. Obama was forced to confront remarks he made about a "red line" that, if crossed, would change U.S. policy.
But in 2015, journalist Seymour Hershexposed the flaws in the official narrative around the attack and linked the sarin back to Turkish intelligence, which shipped chemical weapons components to "anti-government rebels."
Former CIA analyst Ray McGovern wrote:
In Antakya, senior Turkish, Qatari and U.S. intelligence officials were said to be coordinating plans with Western-sponsored rebels who were told to expect an imminent escalation in the fighting due to "a war-changing development." This, in turn, would lead to a U.S.-led bombing of Syria, and rebel commanders were ordered to prepare their forces quickly to exploit the bombing, march into Damascus, and remove the Assad government.

A year earlier, The New York Times reported that the Antakya area had become a "magnet for foreign jihadis, who are flocking into Turkey to fight holy war in Syria." The Times quoted a Syrian opposition member based in Antakya, saying the Turkish police were patrolling this border area "with their eyes closed."
A bill, the Authorization for the Use of Military Force Against the Government of Syria to Respond to Use of Chemical Weapons, was drafted and pushed by the Obama administration in the Senate and the House. Overwhelmingly, citizens were opposed to increased intervention. Representative Alan Grayson estimated the "margin among Democrats right now in the House [was] four-to-one against. The margin among Republicans [was] over 10-to-one against."
There was opposition across party lines with Democrats like Senator Tom Udall contending pursuing this policy would move the U.S. toward "greater involvement in the Syrian civil war and an increasing regional conflict."
"This is a very complicated sectarian civil war. Some of the rebels share our values and want an open society. Many others are allied with al Qaida and a greater threat to the United States than President Assad ever was. U.S. military involvement, no matter the limits at this point, will likely only pull us towards greater involvement, and with no clear endgame," Udall stated.
A deal negotiated by the U.S. and Russia to turn over chemical weapons stockpiles for destruction and to sign on to the Chemical Weapons Convention averted proposed military operations. It also spared Obama defeat in the House.
The same arguments against intervention, which moved the public to oppose war in 2013, remain valid. In fact, the public should want to know for certain that al Qaida-linked militants, which control the area where the attack occurred, were not responsible before the U.S. further retaliates against Assad and draws the U.S. deeper into the Syrian conflict.
Opinion