VIDEO: CAP Unveils 'Boom Without Boundaries' Video Narrated by Winthrop Roosevelt
Today the Center for American Progress released the short documentary video, "Boom Without Boundaries," which explores the Bakken oil boom's negative, industrial-scale impacts on Theodore Roosevelt National Park in North Dakota. The film is narrated by Winthrop Roosevelt, great-great grandson of President Theodore Roosevelt.
WASHINGTON
Today the Center for American Progress released the short documentary video, "Boom Without Boundaries," which explores the Bakken oil boom's negative, industrial-scale impacts on Theodore Roosevelt National Park in North Dakota. The film is narrated by Winthrop Roosevelt, great-great grandson of President Theodore Roosevelt.
Theodore Roosevelt National Park--often described as the birthplace of the American conservation movement--is already experiencing the undesirable consequences associated with oil and gas drilling, including disruptions from truck traffic, the sound of diesel-generated pump jacks reverberating in the campgrounds, and the dozens of lights from drilling rigs and cell towers ruining the park's deep night skies. This is just the beginning, however, as tens of thousands of oil wells are expected to be drilled over the next 20 years. While the Bakken oil boom has brought much-needed jobs to North Dakota, the community would be better served if the oil and gas industry would slow down the breakneck pace of development, especially on public lands, and take measured action to protect the national park's treasured resources.
"This video is a case study of how the oil and gas industry is winning the race to gain access to America's public lands," Christy Goldfuss, Director of CAP's Public Lands Project, said. "This fight is at the front door of the few places we have set aside for future generations, and in some cases, it has even reached inside the boundaries of our national parks. We must take steps to put conservation on equal ground with drilling on our public lands. Otherwise, we risk losing this truly American idea."
The encroaching development on Theodore Roosevelt National Park is only one example of how energy development and land conservation are out of balance on our public lands. Over the past four years, the Obama administration has leased two-and-a-half times more acres of public lands to oil and gas companies than it has permanently protected. It's time for the administration to increase its support for policies that protect and conserve our public lands and national parks for future generations.
Watch the video here.
Read Winthrop Roosevelt's op-edhere.
To speak with CAP experts about the video, please contact Anne Shoup at 202.481.7146 or ashoup@americanprogress.org.
The Center for American Progress is a think tank dedicated to improving the lives of Americans through ideas and action. We combine bold policy ideas with a modern communications platform to help shape the national debate, expose the hollowness of conservative governing philosophy and challenge the media to cover the issues that truly matter.
LATEST NEWS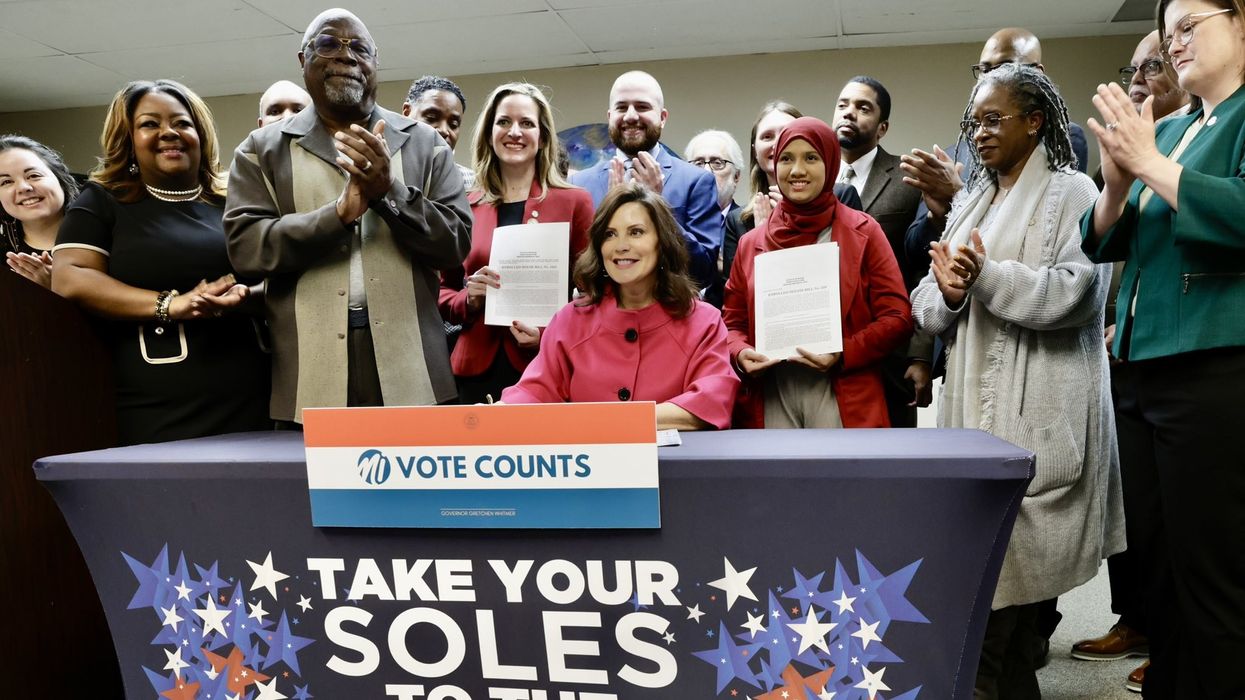 "Today is a good day for democracy in Michigan because more people will have a voice at the polls, in how our state is governed, and how our tax dollars are spent," said one campaigner.
On the heels of approving a clean energy package to combat the climate emergency, Democratic Michigan Gov. Gretchen Whitmer on Thursday signed a series of bills to tackle another urgent issue: voting rights.
"In Michigan, we're proving through our actions that we stand for fundamental American values of freedom and democracy," Whitmer said on social media. "Let's keep working to protect our democracy and ensure our elections are free, fair, and safe."

The governor held a signing ceremony at the NAACP building in Detroit, where she was joined by local leaders, voting rights advocates, and Democratic Secretary of State Jocelyn Benson, who said that "we are here today to protect the people who protect democracy."
The package includes legislation to create criminal penalties for intimidating an election official or preventing them from performing their duties; allow 16-year-olds to preregister to vote when they turn 18; and expand Michigan's automatic voter registration (AVR) process, according toMichigan Advance, which published a roundup of the bills.
"The job of election officials has increasingly become politicized. It's critical that we step up to protect their safety and their ability to do their jobs," asserted state Rep. Kara Hope (D-74), who led some of the bills. "These basic safeguards are critical to addressing the threats to our democracy as we head into 2024."
Aquene Freechild, co-director of Public Citizen's Democracy Campaign, said that "we applaud Michigan for prioritizing protecting election officials, and we're proud to support Rep. Hope and Secretary of State Benson in their efforts to address this threat to Michigan elections. We hope more states follow suit to protect these essential workers of American democracy."
As part of the AVR expansion, Michigan's secretary of state will now be required to coordinate with the state Department of Corrections to register people to vote when they are released from prison—a first for the country, according to Common Cause.
"Today is a good day for democracy in Michigan because more people will have a voice at the polls, in how our state is governed, and how our tax dollars are spent," said Common Cause Michigan executive director Quentin Turner. "Voting rights are under attack in many parts of our country, but today Michigan takes a step forward to expand access to the ballot. The right to vote is a cornerstone of our democracy, and our democracy is stronger when more of us [are] able to cast a ballot."
The National Voting in Prison Coalition—founded by Common Cause and allied groups—plans to champion similar bills during other states' 2024 legislative sessions. Common Cause justice and democracy manager Keshia Morris Desir stressed Thursday that "federal and local laws must allow more voices to participate, be heard, and ultimately be represented."
Whitmer also signed legislation to "regulate political ads that use artificial intelligence and tighten the election certification process that former President Donald Trump tried to disrupt following his 2020 loss," reported Bridge Michigan.
State Rep. Penelope Tsernoglou (D-75), who chairs the Michigan House Elections Committee, declared that "Michigan has sent a strong message that it rejects any attempts to deceive voters through the use of artificial intelligence."
Public Citizen said that Michigan is the fifth state to regulate artificial intelligence in election communications, and the legislation effectively bans "deepfakes," which are AI-generated images, audio, or video of people that appear real.
"Thank you Michigan for showing that we don't have to stand helplessly aside as political deepfakes threaten to destroy voters' ability to distinguish authentic content from fraudulent audio, video, and pictures," said Public Citizen president Robert Weissman. "Michigan's requirement that political deepfakes be labeled is an example for the rest of the nation—one we expect states across the country to follow."
As Bridge Michigan detailed:
The new law governing election certification aligns Michigan with the federal Electoral Count Reform Act, which was introduced in Congress with a handful of GOP co-sponsors and signed last year by Democratic President Joe Biden.

Among other things, the federal law makes clear that the vice president has a "ministerial" duty to count electoral votes that states send to Congress, contradicting Trump's claim that former Vice President Mike Pence could and should have blocked certification of the 2020 presidential election.

The new Michigan law similarly states that partisan election canvassers at both the county and state levels have a "ministerial, clerical, and nondiscretionary duty" to certify results based on results compiled by local clerks.

Biden is seeking reelection next year and could face Trump—despite the Republican's various criminal cases and arguments that he is constitutionally disqualified from holding office again after inciting the January 6, 2021 insurrection.
A year into Biden's presidency, Democratic right-wing Sen. Joe Manchin (W.Va.) and Sen. Kyrsten Sinema (Ariz.)—who switched from Democrat to Independent last December—worked with Republicans in Congress to block a federal voting rights and election reform megabill that included the Freedom to Vote Act and the John R. Lewis Voting Rights Advancement Act.
Democrats have reintroduced both of those bills this year, but they are highly unlikely to pass the split Senate or GOP-controlled House.

News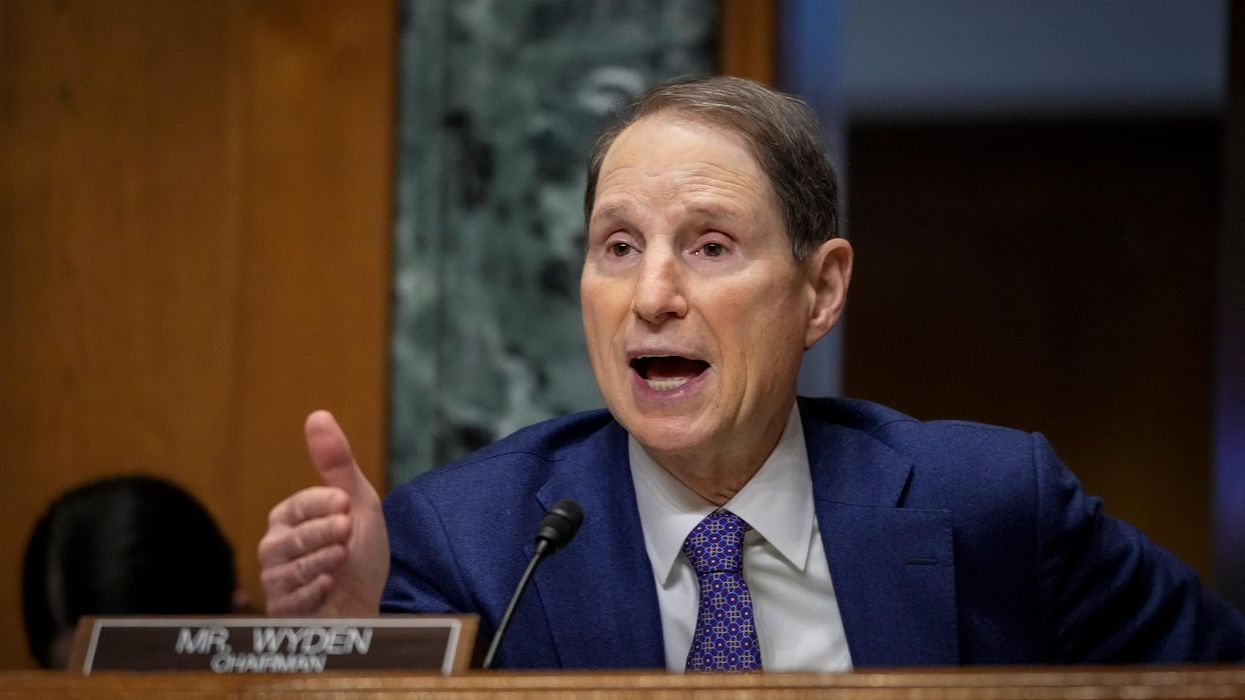 "Working people don't get to play by the same rules as billionaires. They don't get to call up an army of high-priced lawyers and accountants every time they don't feel like paying their taxes."

In a bid to "restore fairness to the tax code and level the playing field for working families," U.S. Sen. Ron Wyden on Thursday led 15 Senate colleagues in introducing the Billionaires Income Tax Act, legislation the Oregon Democrat said would "ensure billionaires start paying their fair share in taxes."
"Right now, the average billionaire can wriggle their way into a measly 8% tax rate while a nurse or firefighter making $45,000 is paying a 22% tax on their wages," Wyden, who chairs the Senate Finance Committee, said on the upper chamber floor.
"Tax laws simply don't apply to billionaires in the same way they do to everybody else," the senator continued. "They're optional, while everybody else's tax rules are mandatory."
"Working people don't get to play by the same rules as billionaires," he added. "They don't get to call up an army of high-priced lawyers and accountants every time they don't feel like paying their taxes."
That unjust disparity, Wyden said, boils down to three words: "Buy, borrow, die."
"Here's how it works: A billionaire buys a business, and then borrows against its growing, untaxed value to fund their extravagant lifestyle," he explained. "Everything from superyachts, to luxurious vacations, expensive art deals, you name it. It goes up and up in value all while not paying a dime in tax."
"And when they die," the lawmaker added, "their assets are passed to their kids—often entirely tax-free—and the cycle continues."
Wyden said his bill "will put a stop to" buy, borrow, die, "one of the most common schemes billionaires use to avoid paying their fair share."
The measure would raise an estimated $560 billion over 10 years from less than 1,000 of the wealthiest U.S. households.
Sen. Sheldon Whitehouse (D-R.I.), one of the bill's co-sponsors, said in a statement that "teachers and firefighters shouldn't be paying higher tax rates than the ultrawealthy. It's that simple."
Co-sponsor Sen. Elizabeth Warren (D-Mass.) asserted that "for too long, billionaires have rigged the rules to cut their taxes to the bone, all while working families struggle to make ends meet."
"We should be investing in American families, not letting billionaires off the hook—and the Billionaires Income Tax takes an important step to make our tax system fairer," she added.
The Billionaires Income Tax Act is supported by more than 100 organizations.
Earlier this year, U.S. President Joe Biden unveiled a plan to raise taxes on wealthy individuals and corporations to 25%.
"A billionaire minimum tax of just 25% would raise $440 billion over the next 10 years," the president said on social media on Thursday. "Imagine what we could do if we just made billionaires pay their taxes like everyone else."

Wyden's bill was introduced on the same day that the advocacy group Americans for Tax Fairness—which supports the legislation—reported that "the collective fortune of America's 741 billionaires has grown to $5.2 trillion at the end of November 2023, the highest amount ever recorded."
Also on Thursday, UBS published a report revealing that in the 12-month period between April 2022 and April 2023, newly created billionaires around the world acquired more wealth through inheritance than entrepreneurship for the first time since the Swiss bank began studying trends of the ultrawealthy in 2015.
News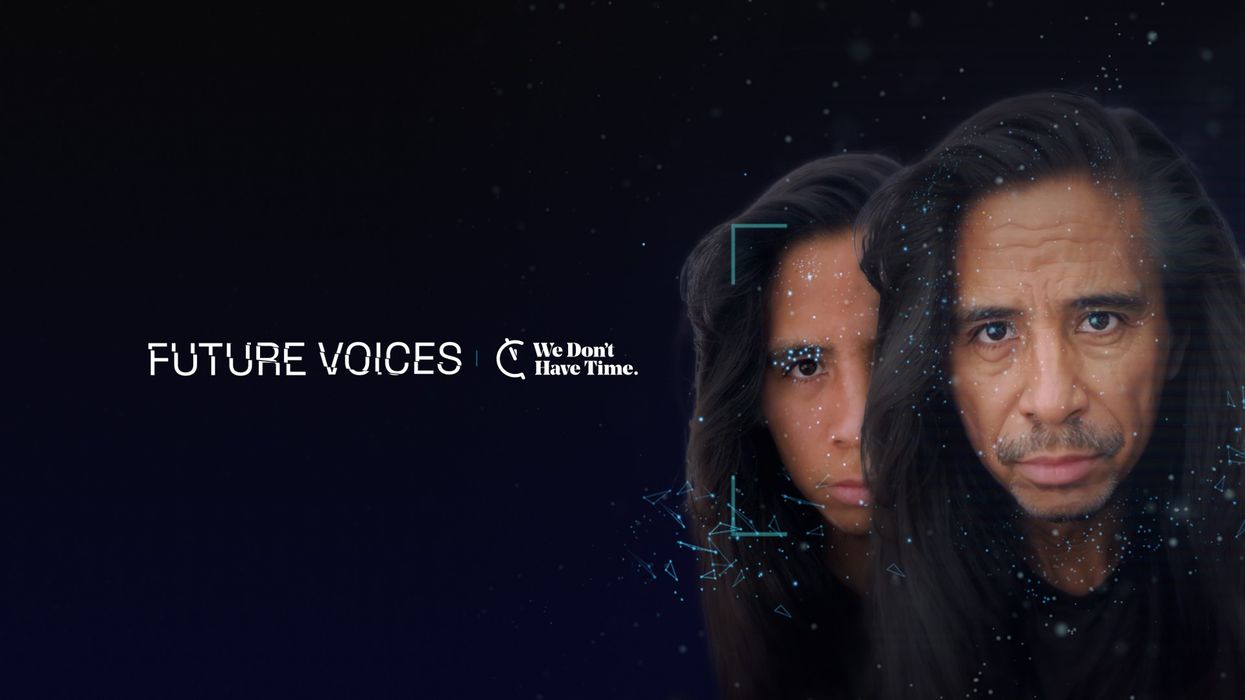 "World leaders are not listening to the younger generation, so what if we turn young climate advocates into older versions of themselves—into their future voices?"

With help from generative artificial intelligence, We Don't Have Time turned over a dozen young climate campaigners into future versions of themselves to stress to world leaders the necessity of bolder action to tackle the climate emergency.
We Don't Have Time, the world's largest social network for climate solutions, launched the "Future Voices" initiative on Thursday, as the United Nations Climate Change Conference (COP28) began in the United Arab Emirates and scientists warned that after months of devastating heat and extreme weather events, 2023 is "virtually certain" to be the warmest year on record.
"World leaders are not listening to the younger generation, so what if we turn young climate advocates into older versions of themselves—into their future voices?" said David Olsson of We Don't Have Time. "Then the demand for ending fossils and accelerating solutions can't be ignored. We encourage everyone to support this message."
The Future Voices website highlights that current children and young adults will suffer the consequences of the fossil fuel-driven climate emergency "to a much higher degree than previous generations," and already, youth worldwide are enduring the impacts of heating the planet and reporting that the crisis is taking a toll on their mental health.
The website features an interactive globe through which users can view video testimonies from campaigners around the world (also included below). One of them stars Swedish Fridays for Future and Climate Live campaigner Andreas Magnusson, who said in a statement that "in the fight against the climate crisis, including and listening to young people is crucial."
Speaking from Sweden in 2050, the AI-aged Magnusson says in his video that "in my hometown, Mockfjärd, I've seen landslide after landslide hit, caused by the heavy raining. And yet, I am not the one who suffers most. I come from a great place of privilege. I come from a part of the world that is not affected by nature's fury like other parts of the world are."
Activists from other parts of the world, in their own video messages from 2050, speak of "vast droughts causing water shortage," more frequent hurricanes, rising sea levels, and "floods and plagues."

Near the end of Magnusson's video, the 2023 version of him warns: "Time is running out. The choices world leaders make today will determine the kind of world we will live in tomorrow. The future is now."

In addition to the AI videos, the Future Voices initiative includes an online hub to help young activists who can't make it to Dubai still participate in COP28. Organizers are planning daily broadcasts with climate leaders and decision-makers.
"We are very proud and happy to be able to offer this opportunity for young people to get access to the most important climate negotiations of the year and deliver their messages to world leaders," said Olsson. "It would not have been possible without our incredible community of youth climate advocates."
Magnusson said that "Future Voices and the youth hub make the discussions at COP28 more inclusive."
"World leaders hold not only our future in their hands, they also hold our present, because we are already today affected by the climate crisis," the campaigner added. "And, frankly, it is youth who most of the time bring bold ideas and the unfiltered truth to the discussions about the future of humanity. Discussions that for 30 years haven't been able to even mention 'oil' in their agreements."
Watch more of the Future Voices videos below:

Nikka Gerona of the Philippines is co-chair of the United Nations Children's Fund (UNICEF) Regional Young People's Action Team in East Asia and the Pacific.
Isaias Hernandez of the United States is an environmental justice educator and public speaker who created QueerBrownVegan.
Valeria Horton of Mexico founded Green Reconnection and was the Mexican lead negotiator for loss and damage at COP27.
Sophia Mathur of Canada is a climate advocate with Fridays for Future and recipient of the 2021 Action for Nature International Award.
Agustín Ocaña of Ecuador is the founder and chairperson of the Global Youth Coalition.
Anita Soina of Kenya is a climate advocate, politician, and global youth champion for the U.N.-hosted partnership Sanitation and Water for All.
Other featured activists include Farzana Faruk Jhumu of Bangladesh, an advocate with Fridays for Future and Feminist Action Coalition for Climate Justice; Denzel James of Australia, a UNICEF young ambassador; and Madina Kimaro of Tanzania, a UNICEF youth advocate and climate advocacy champion for the Tanzania Girl Guides Association.
There are also videos from Emma Kroese of the Netherlands, a climate advocate with Fridays for Future; Ashley Lashley of Barbados, a UNICEF youth advocate and CARICOM youth ambassador; Geoffrey Mboya of Kenya, a humanitarian, sustainability advocate, and youth adviser of the WeDontHaveTime Foundation; and Joaquín Salinas Atenas of Chile, a socioenvironmental artivist and UNICEF COP26 youth delegate.
News