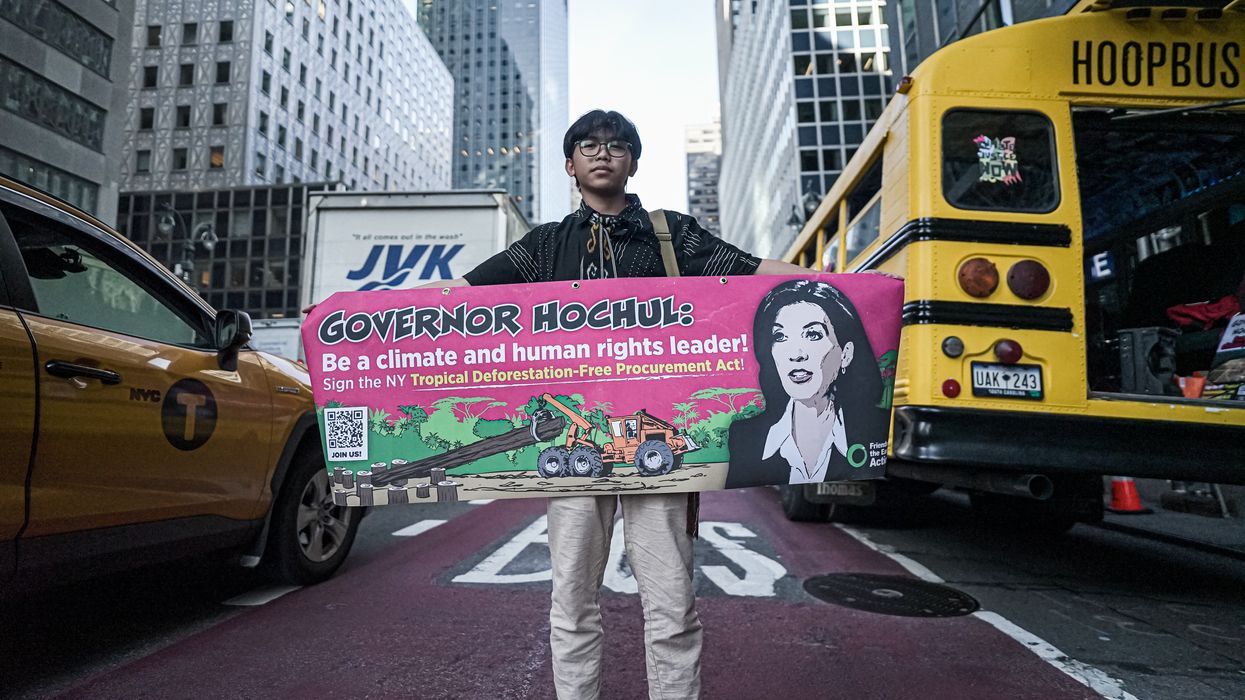 An act awaiting Gov. Hochul's signature would require any company that supplies state agencies with "forest-risk commodities" to know and show that its entire supply chain is not linked to tropical deforestation.
When confronting the climate emergency, rampant consumption of fossil fuels is top of mind—and rightly so—as tens of thousands of activists recently reminded us in the streets of New York City. But the second leading driver of the climate crisis is the rapid destruction of our planet's forests. Global deforestation is also a major cause of the extinction crisis and is linked to a wave of violence against Indigenous and local land defenders across the tropics. That's why a powerful group of Indigenous leaders and climate justice organizers recently used the stage of New York's Climate Week to build momentum for the New York Tropical Deforestation-Free Procurement Act.
With this groundbreaking piece of legislation, New York Governor Kathy Hochul has the chance to lead the state, and the entire country, down a historic path towards climate justice. The bill already passed both houses in the state legislature and now simply awaits the governor's signature. If signed into law, any company that supplies New York state agencies with products that contain "forest-risk commodities"—palm oil, soy, paper, beef, coffee, and others—will be required to know and show that its entire supply chain is not linked to tropical deforestation, forest degradation, or human rights abuses in the tropical countries where most of these commodities are produced.
The time we have left to mitigate that risk is running out; urgent action is needed at all levels.
The bill's lead sponsor, State Senator Liz Krueger, recently co-authored an op-ed in the New York Daily News alongside Amazonian Indigenous leader Juan Carlos Jintiach, highlighting that deforestation has catastrophic impacts on frontline communities while also driving the climate emergency: Some 15% of greenhouse gas emissions are caused by converting natural forests to industrial farmland. Conversely, and not coincidentally, the regions with intact tropical forests are also home to the world's greatest biocultural diversity. This means not only that demarcating Indigenous territories is critical to protecting forests, but that Indigenous peoples and local communities in the world's forested regions are—still—under constant threat of violence for protecting the very lands and forests we all need to maintain climate stability. That's why the Indigenous leaders in this video have expressly called for Gov. Hochul to sign the bill.
As part of our efforts during Climate Week, a group of climate activists from Borneo to Brazil to the Bronx hopped onto the Hoop Bus, a school bus decked out with a basketball hoop, murals, and colorful banners, for a tour around Manhattan—including a stop at Governor Hochul's office. There, we delivered over 650,000 petition signatures urging her to sign the bill. After about an hour of waiting (and several calls to political insiders), the governor's office sent down a representative to collect the signatures and meet with representatives of the Global Alliance of Territorial Communities, which brings together some of the world's most powerful federations of Indigenous peoples.
Earlier in the week, I also participated in a press conference in front of the New York Stock Exchange to warn Wall Street to avoid buying stock in JBS, the world's largest meat company, and a notorious perpetrator of both deforestation and massive methane emissions. To forge a food system that can move us away from climate emergency, it's critical to understand the intersection of agriculture—especially monoculture plantations and industrial livestock—and deforestation. Land cleared for cattle grazing accounts for 40% of deforestation worldwide; as The New York Timesreported a few days ago, one study found that JBS alone produces more emissions each year than all of Italy. That's why we hit the streets of New York to tell Wall Street to steer clear of JBS—and yet another reason this piece of legislation sitting on Governor Hochul's desk is so important.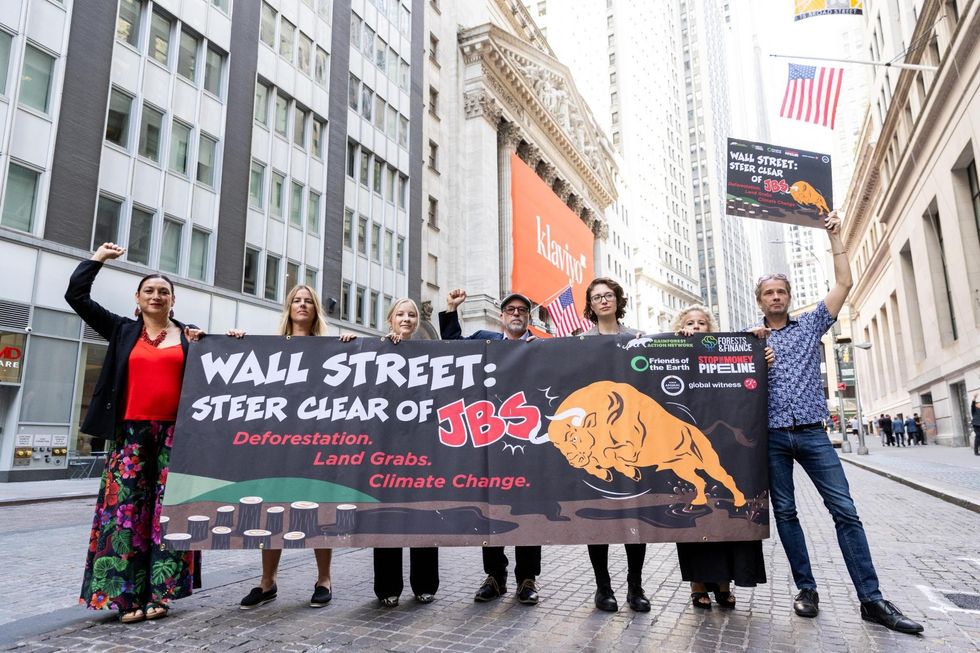 Protesters call on Wall Street to stop investing in JBS.(Photo: Friends of the Earth)
Legislation similar to the New York Tropical Deforestation-Free Procurement Act has already passed in the European Union, so multinational companies are already facing the need to shift their practices to meet new legal frameworks. In a sign of how serious E.U. lawmakers are about advancing this regulation, Manuel Carmona Yebra, counselor for Environment and Oceans for the Delegation of the E.U. to the U.S., published an op-ed in the Albany Times Union voicing strong support for the NY bill: "By aligning our approach to deforestation across the Atlantic and globally, we can become trailblazers of a healthier, innovative, and more competitive green economy," the E.U. policymaker wrote.
With every new climate disaster that floods the subways of New York or incinerates the forests of Canada or California, its clear that the short and long-term costs of inaction are far greater than the cost of re-deploying state tax dollars to deal with the crisis at its roots. Even Wall Street—the engine of the New York economy—now understands that climate risk is economic risk. To drive that point home, earlier this year, 72 global investors representing $2.5 trillion in assets delivered a letter to the NY legislature and the governor supporting the bill.
The time we have left to mitigate that risk is running out; urgent action is needed at all levels. Governor Hochul herself recently signed legislation she called "a monumental step forward in our mission to protect New Yorkers from the impacts of climate change and extreme weather events." But such legislation only mitigates the damage; Governor Hochul has yet to take any action to actually prevent the massive storms to come. The New York Tropical Deforestation-Free Procurement Act would do precisely that.
The legislation would hold businesses, big and small, accountable for their environmental practices, ensuring they do not contribute to tropical forest degradation, while also mobilizing resources to help smaller and women- and minority-owned companies make their supply chains greener and more resilient. The bill also closes a loophole in an existing state law that would ban state purchasing of precious tropical hardwood timber, which is still used in New York's boardwalks, railroad ties, and marine pilings, despite the increased availability of more durable and cost-effective materials. As the world's 10th largest economy, and a true microcosm of the world's diversity, it's past time for New York to step up to the challenge.
With this piece of legislation, Governor Hochul has the opportunity not only to forge a sensible climate action pathway for the rest of the country, but also to score a huge political win. After all, what's more popular than saving the rainforest?
Opinion