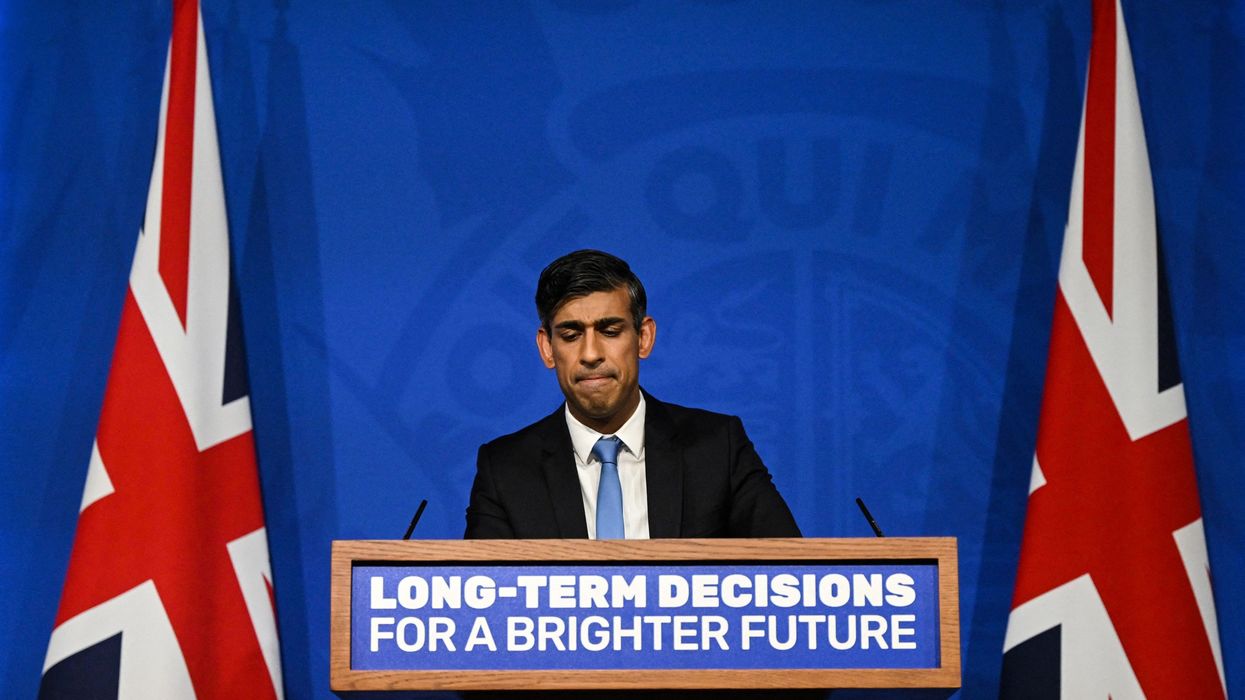 "Sunak's U-turn today will be devastating for the people of the U.K. and for the planet we call home," warned one Scottish Green. "It's nothing short of evil."
Critics across the political spectrum—from Conservative members of Parliament and corporations to Greens and climate campaigners—reacted with anger and resolve Wednesday following the announcement by U.K. Prime Minister Rishi Sunak that his Tory government would retreat from some of its key net-zero commitments.
Speaking Wednesday at the Downing Street Press Briefing Room in London, Sunak said his government is still committed to reaching net-zero by 2050, but in a "more proportionate way" that would bring a "greener planet and a more prosperous future."
The rollback will reportedly include delaying a ban on the sale of petrol- and diesel-powered vehicles from 2030 to 2035, pushing back the phaseout of gas boilers, scrapping energy efficiency targets for some homes, dropping recycling plans, and canceling a planned air travel tax.
"This is a U-turn that will leave the Tories facing in the opposite direction of almost everyone, and finally end their hopes of reelection."
"No one can deny climate change is happening," Sunak said, adding that the county needs "sensible green leadership" instead of false choices that "never go beyond a slogan."
However, Conservative peer Lord Zac Goldsmith—who resigned his ministerial post earlier this summer due to what he called Sunak's climate "apathy"—called the prime minister's reversal "a moment of shame."
"His short stint as PM will be remembered as the moment the U.K. turned its back on the world and on future generations," he added.
Shadow Climate Secretary Ed Miliband led Labour condemnation of the reversal, which he called "a complete farce from a Tory government that literally does not know what they are doing day to day."

Brighton Pavilion Green MP Caroline Lucas slammed what she called Sunak's "coordinated, calculated, and catastrophic rollback."
"What this all reveals is that Sunak really doesn't seem to care about the climate in the slightest—it's little more than an afterthought," Lucas wrote in a Guardian opinion piece published Wednesday.
Sunak must call a general election by January 2025, and his Tories are trailing the opposition Labour Party in opinion polls amid persistently high inflation, slow economic growth, and rising inequality.
"If Sunak mistakenly thinks the climate is merely a political device to draw dividing lines between his party and Labour, he will fail on his own terms," wrote Lucas. "All it will do is draw an ever-greater divide between him and the people he seeks to govern."
Climate campaigners roundly condemned Sunak's decision.
"The government needs to double down now, not U-turn," Kennedy Walker, a U.K. organizer with the climate action group 350.org, said in a statement. "We have the opportunity to show what a transition to a greener economy that works for people and the planet can look like; we need to hold leadership to account to make sure it happens and they follow through on their own promises."
Riffing on the government's "long-term decisions for a brighter future" slogan, Extinction Rebellion U.K. wrote on the social media site X: "Short-term decisions for a shitter future. Remember, this government took £3.5 million in donations from Big Oil and other industries before licensing new gas and oil."
Many companies including automaker Ford and energy giant E.ON joined in criticism of the rollback.
"Our business needs three things from the U.K. government: ambition, commitment, and consistency. A relaxation of 2030 would undermine all three," Ford U.K. chair Lisa Brankin said Wednesday. "We need the policy focus trained on bolstering the EV market in the short term and supporting consumers while headwinds are strong: infrastructure remains immature, tariffs loom, and cost-of-living is high."
Some critics noted that Sunak's announcement came on the same day the leaders of many nations—but not Britain or the world's two top carbon polluters, China and the United States—gathered in New York for the United Nations Climate Ambition Summit.
"We're in a climate emergency. The deadly impacts of climate change are here now and we have to act urgently," Labour London Mayor Sadiq Khan—the only U.K. speaker at the summit—toldThe Guardian Wednesday. "We have seen record high temperatures in London earlier this month and the hottest ever July. Over the last two years, we have experienced unprecedented wildfires and flash floods, destroying homes and livelihoods."
"This government's response flies in the face of common sense and shows they are climate delayers," Khan added. "It beggars belief that not only are they watering down vital commitments, but they are also passing up the opportunity to create green jobs, wealth, and lower energy bills—as well as failing to give investors the certainty they need to boost the green economy."
Sunak's reversal also infuriated many people in Scotland.

"Rishi Sunak has blood on his hands," National Union of Students Scotland president and Scottish Young Greens co-convener Ellie Gomersall toldThe National. "His excuse? It's too costly. Well then all the more kudos to the Scottish government who are still moving forward with net-zero policies like low-emission zones, phasing out gas boilers, cheaper public transport, all the while on a budget severely restrained by the confines of devolution."
"And of course when the Scottish government does try to implement simple yet effective measures like a deposit return scheme, Westminster comes along and blocks it," she added. "Sunak's U-turn today will be devastating for the people of the U.K. and for the planet we call home. It's nothing short of evil."
Alistair Heather, a Scottish writer and TV presenter, told The National that he was "almost pleased" by Sunak's announcement.
"This is a U-turn that will leave the Tories facing in the opposite direction of almost everyone, and finally end their hopes of reelection," he explained. "For mainstream voters, who understand that a clear, urgent movement of travel towards a green future is the best chance we have of mitigating the worst effects of the climate collapse, the Tories have made themselves completely unelectable. Good... Fuck the Tories. Mon the independence."
"With the Left AWOL, our species is being quick-marched to extinction."
The outrage was felt far beyond U.K. shores.
"At a time when the U.K. should be providing global leadership in transitioning off fossil fuels, especially in recognition of the impact its historical emissions have had in bringing about the climate crisis, the U.K. government is considering backtracking on already insufficient commitments," 350.org Europe regional director Nicolò Wojewoda said in a statement.
Yanis Varoufakis, a former Greek finance minister who heads the left-wing MeRA25 party, wrote on X that "Sunak's U-turn is a reflection of the total Europe-wide collapse of the market-based, neoliberal consensus on how to tackle the climate crisis. It marks the center‐right's new path."
"And with the Left AWOL," he added, "our species is being quick-marched to extinction."
News