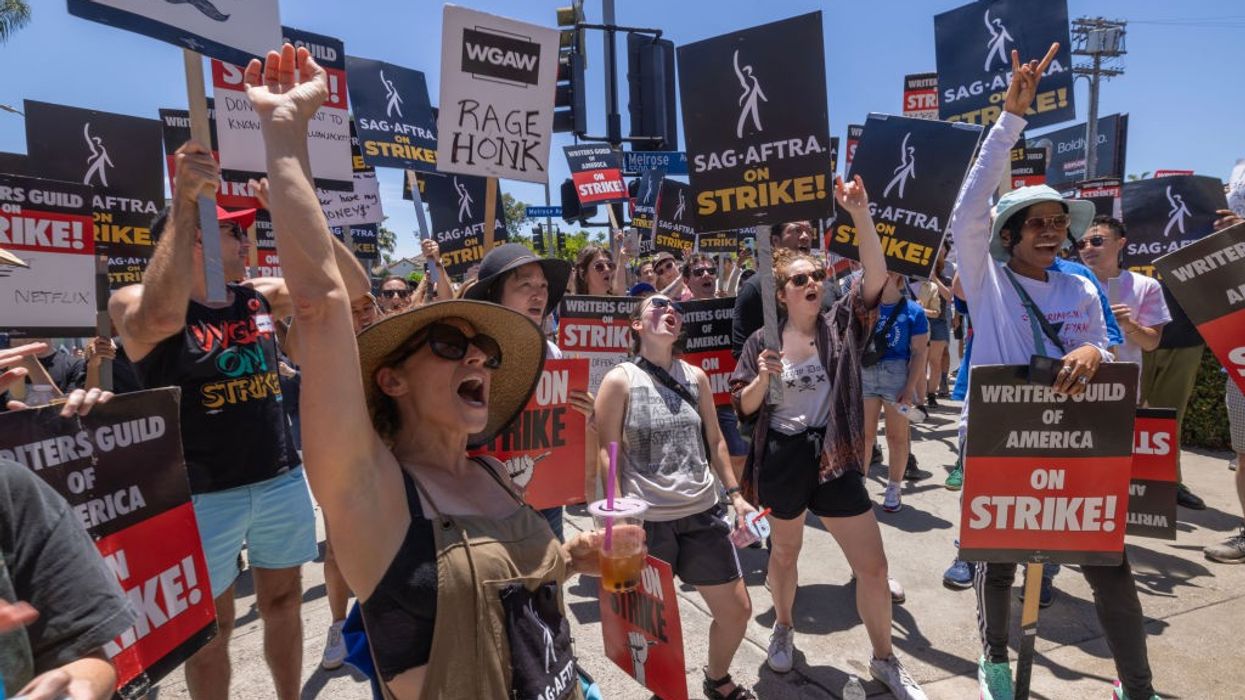 "Workers stood up to Hollywood executives and held their ground to reach this agreement," said the president of the AFL-CIO. "ANYTHING is possible when we organize."
The union representing actors across the television and film industries announced late Wednesday that it reached a tentative contract deal with major studios, bringing to an end a monthslong strike that—combined with a simultaneous writers strike—shut down much of Hollywood's production.
In a statement, the Screen Actors Guild-American Federation of Television and Radio Artists (SAG-AFTRA) said the contract agreement is valued at over $1 billion and has "extraordinary scope," including significant pay increases, "unprecedented provisions for consent and compensation that will protect members from the threat of AI," and a "streaming participation bonus."
The tentative deal also includes pension and healthcare improvements and compensation boosts for background performers, according to SAG-AFTRA.
The union said full details of the tentative agreement—which must be ratified by members—won't be released until it is reviewed by the SAG-AFTRA National Board.
"We also thank our union siblings—the workers that power this industry—for the sacrifices they have made while supporting our strike and that of the Writers Guild of America," SAG-AFTRA added. "We stand together in solidarity and will be there for you when you need us. Thank you all for your dedication, your commitment, and your solidarity throughout this strike. It is because of YOU that these improvements became possible."
The tentative agreement was announced days after SAG-AFTRA rejected what the Hollywood studios described as their "last, best, and final offer" over a so-called "zombie" clause that critics said would allow studios to use the AI likenesses of dead actors without consent. It's unclear exactly how or whether that language was changed in the tentative agreement.
With a contract deal in hand after the longest strike in its history—nearly four months—SAG-AFTRA formally suspended the work stoppage just after midnight on Thursday and announced that "all picket locations are closed."
Dear #SagAftraMembers:

We are thrilled & proud to tell you that today your TV/Theatrical Negotiating Committee voted unanimously to approve a tentative agreement with the AMPTP. As of 12:01 a.m. PT on Nov. 9, our strike is officially suspended & all picket locations are closed. pic.twitter.com/FhvSRJQXFE
— SAG-AFTRA (@sagaftra) November 9, 2023
The Alliance of Motion Picture and Television Producers (AMPTP), which represents the studios, said in a statement that the tentative agreement "gives SAG-AFTRA the biggest contract-on-contract gains in the history of the union, including the largest increase in minimum wages in the last forty years; a brand new residual for streaming programs; extensive consent and compensation protections in the use of artificial intelligence; and sizable contract increases on items across the board."
"The AMPTP is pleased to have reached a tentative agreement and looks forward to the industry resuming the work of telling great stories," the statement added.
The SAG-AFTRA strike came to a close weeks after Hollywood writers reached a deal to end their work stoppage after nearly 150 days. Writers Guild of America members ratified the agreement last month.
Liz Shuler, president of the AFL-CIO, applauded SAG-AFTRA's tentative deal, writing on social media that "workers stood up to Hollywood executives and held their ground to reach this agreement."

"The SAG-AFTRA actors and performing artists showed the world the true power of collective action," Shuler wrote. "ANYTHING is possible when we organize."

News