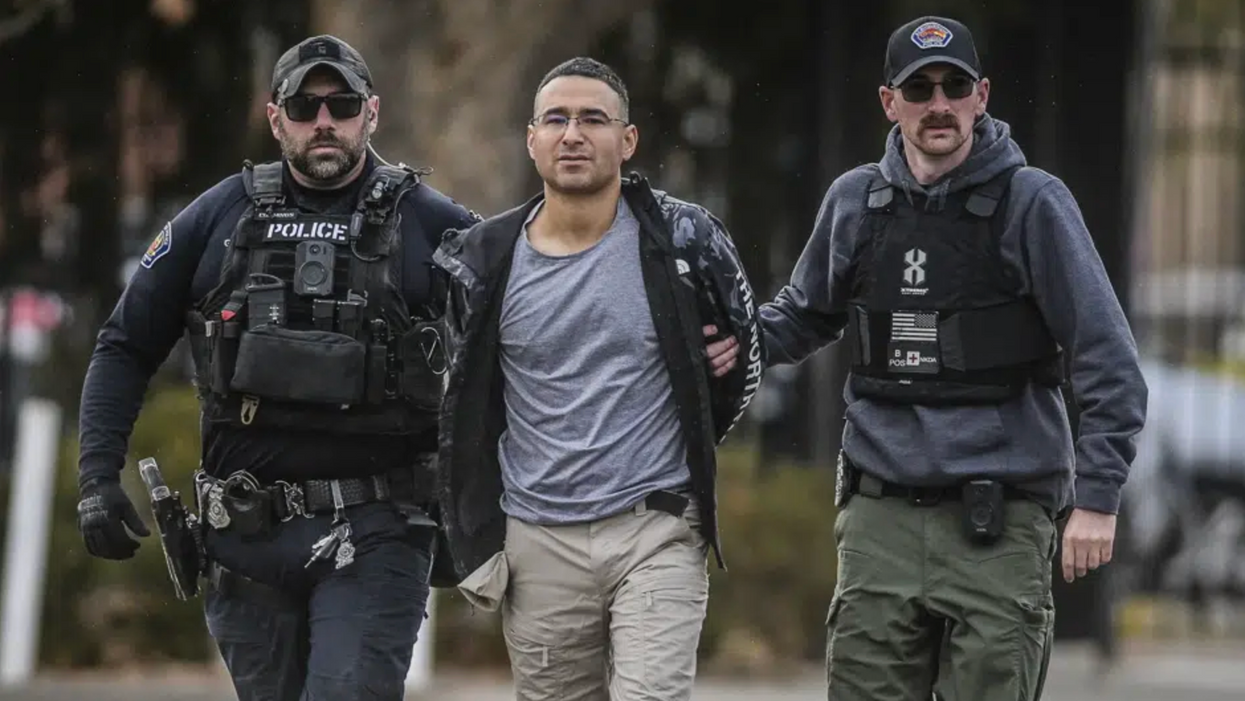 Republican Solomon Peña is suspected of hiring gunmen to help carry out drive-by shootings targeting the homes of Democratic lawmakers in the state.
Solomon Peña, a Republican former candidate for New Mexico's state House, was arrested by Albuquerque police on Monday in connection with a string of recent drive-by shootings targeting the homes of Democratic lawmakers.
Peña, who lost his November race by an overwhelming margin of 26% to 74%, is suspected of orchestrating the four shootings that began in early December. Local authorities accused Peña of hiring four men to help carry out the attacks, and Peña himself "pulled the trigger" in one of the shootings.
An outspoken supporter of former President Donald Trump, Peña "has made repeated claims that the election was rigged and appears to have attended the January 6, 2021 riot in Washington, D.C.," the Albuquerque Journalreported Monday.
"He also visited three of the targeted officials' homes unannounced in November complaining the election was fraudulent and should not be certified," the newspaper added.
The Democratic lawmakers targeted were Bernalillo County Commissioner Adriann Barboa, State House Speaker Javier Martinez, Bernalillo Commissioner Debbie O'Malley, and state Sen. Linda Lopez. No one was injured in the attacks but, as the Associated Pressreported, three bullets "passed through the bedroom" of the state senator's 10-year-old daughter.
At a press conference following Peña's arrest, which came after a standoff with police, Albuquerque Mayor Tim Keller (D) said that police "essentially discovered what we had all feared and what we had suspected—that these shootings were indeed politically motivated."
"They were dangerous attacks not only to these individuals," Keller added, "but, fundamentally, also to democracy."
\u201cThank you to our @ABQPOLICE officers and partners in law enforcement who worked tirelessly to make this arrest. \n\nThis radicalism is a threat to our city, our state, and our nation. We will continue to push back against hate in all forms and stop political violence.\u201d

— Mayor Tim Keller (@Mayor Tim Keller) 1673916021
New Mexico Gov. Michelle Lujan Grisham said in a statement that "there is no place in our society or our democracy for violence against any elected official or their families, and I trust the justice system will hold those responsible for such attacks to full and fair account."

NBC News reported Monday that "a key to the investigation, police said, was a traffic stop early January 3 of Peña's Nissan Maxima, driven by a man named Jose Trujillo, who was arrested based on a felony warrant."
The outlet continued:
The arrest triggered an "inventory search" of the vehicle, a sweep allowed under law in order to impound it safely, and authorities discovered more than 800 fentanyl pills in the center console, police said.

More crucial to the case were the two handguns found in the Nissan, one of which appeared to have fired shots outside the home of state Sen. Linda Lopez roughly 40 minutes before the traffic stop and 4 miles away, according to the latest police statement.

One of the guns matches the description of one police allege Peña took to one of the four shootings with plans to join in the gunfire, according to the statement. The gun malfunctioned, and he left the shooting to one of the men he hired, police alleged. "Another shooter fired more than a dozen rounds from a separate handgun," police said in their statement Monday night.
Speaking to reporters on Monday, Albuquerque police spokesperson Gilbert Gallegos said of Peña, "He was an election denier—he doesn't want to accept the results of his election."
News