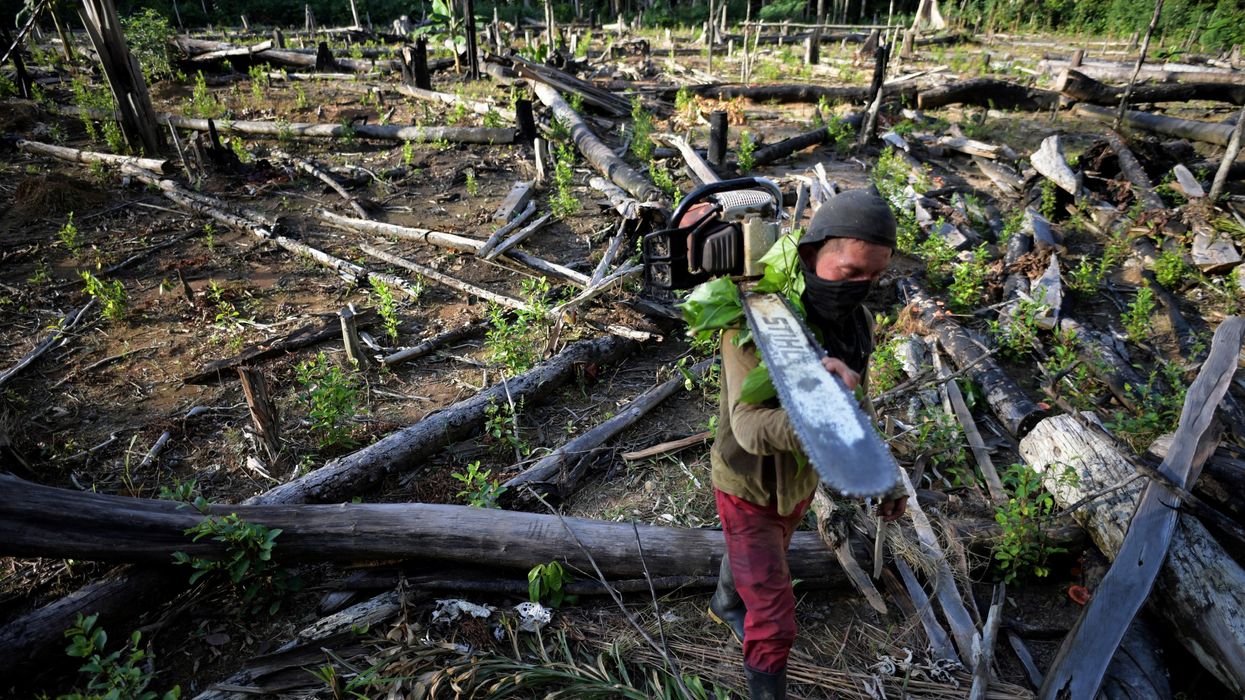 "These carbon credits are essentially predicting whether someone will chop down a tree, and selling that prediction," said one study author. "If you exaggerate or get it wrong, intentionally or not, you are selling hot air."
Most carbon offset schemes significantly overestimate their impact on reducing deforestation, with many of the carbon credits purchased by polluting corporations amounting to little more than "hot air," according to a researcher behind a study released Thursday that could portend billions of dollars in losses for speculators.
"Reducing emissions from deforestation and forest degradation (REDD) projects are intended to decrease carbon emissions from forests to offset other carbon emissions and are often claimed as credits to be used in calculating carbon emission budgets," explains the study, which was published in the journal Science.
However, according to the study:
We examined the effects of 26 such project sites in six countries on three continents using synthetic control methods for causal inference. We found that most projects have not significantly reduced deforestation. For projects that did, reductions were substantially lower than claimed...

Methodologies used to construct deforestation baselines for carbon offset interventions need urgent revisions to correctly attribute reduced deforestation to the projects, thus maintaining both incentives for forest conservation and the integrity of global carbon accounting.
"Carbon credits provide major polluters with some semblance of climate credentials. Yet we can see that claims of saving vast swathes of forest from the chainsaw to balance emissions are overblown," study co-author Andreas Kontoleon, from the University of Cambridge's Department of Land Economy, said in a statement.
"These carbon credits are essentially predicting whether someone will chop down a tree, and selling that prediction," he added. "If you exaggerate or get it wrong, intentionally or not, you are selling hot air."
Kontoleon added that overestimations of forest preservation have driven an increase in the number of carbon credits on the market, resulting in artificial price suppression.
"Potential buyers benefit from consistently low prices created by the flood of credits," he said. "It means that companies can tick their net-zero box at the lowest possible cost."
This could mean that carbon speculators stand to lose billions of dollars in the future as offsets become stranded assets.
"It's currently a buyer's market and buyers are, rightly, prioritizing quality. There are over a billion tons of issued but not retired credits in the market—this suggests lots of credits can be written off, and there will remain a large supply for buyers to tap into," Anton Root, head of research at AlliedOffsets, toldThe Guardian Thursday.
"A correction like that could help to orient the market toward fundamental supply-demand dynamics, which we don't currently tend to see, and drive up the price for credits that are deemed to be above the quality threshold," he added.
The new research follows other scientific research and journalistic investigations, including a January study by The Guardian, Die Zeit, and SourceMaterial that concluded that over 90% of the rainforest carbon offsets sold by Verra, the nonprofit organization that sets the world's leading sustainability standard, "are largely worthless and could make global heating worse."

While some scientists argue that CO2 extraction, either via natural or technological means, is needed in order to meet the goals of the Paris climate agreement, opponents call the technology a "false climate solution."
Green groups including Extinction Rebellion and Food & Water Watch have for years warned against carbon capture and storage, which critics call a "scam" and "greenwashing."
"Carbon offset markets are widely discredited," Food & Water Watch policy director Jim Walsh said earlier this year. "Their only benefit lies in enriching the middlemen charged with selling the lie."
Despite this, the Biden administration is pushing ahead with a plan to invest $2.5 billion in a pair of major carbon capture and storage projects, which it claims will "significantly reduce carbon dioxide emissions from electricity generation and hard-to-abate industrial operations" as part of the "effort critical to addressing the climate crisis and meeting the president's goal of a net-zero emissions economy by 2050."
News