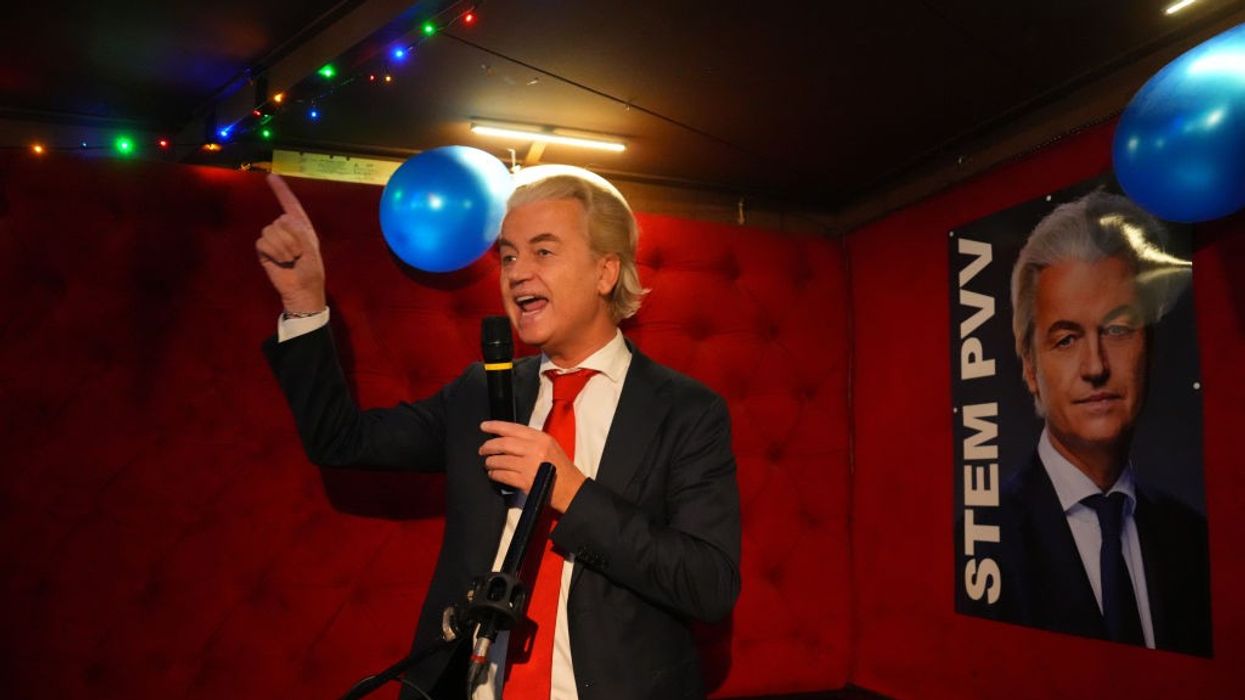 The outspoken Dutch xenophobe often compared to Donald Trump is poised to become the next prime minister of the Netherlands if he can cobble together enough support to form a coalition government.

National election results in the Netherlands on Wednesday sent shockwaves across Europe as "hateful far-right Islamophobe" Geert Wilders and his party have won the most seats in parliament and positioned Wilders himself to become the nation's next prime minister.
Wilders, a xenophobic nationalist who is regarded as the "Dutch Donald Trump—but worse" by many of his critics, has for years spewed anti-immigrant rhetoric and speaks openly about making the Netherlands a home only for those he considers pure Dutchmen.

In his victory remarks to supporters following the results, Wilders vowed to end the "tsunami of immigration" he claims is ruining the country and make sure "the Netherlands is for the Dutch again" as his Party for Freedom (PVV)—which won 35 seats in the 150-seat lower house of parliament—would deliver "hope" once again to Holland.
Miqdaad Versi, a spokesperson for the U.K.-based Muslim Council, said in a series of posts overnight that it's important to understand just how noxious Wilders' ideological positions are and the threat he poses.
"Wilders is not merely 'anti-Islam' as described by the BBC, Reuters, LBC & The Telegraph," said Versi, referring to prominent coverage of the election results. "This implies he's just a critic of the teachings of Islam. Actually he's a hateful far-right Islamophobe who targets ordinary Muslims."
In his victory remarks late Wednesday, Wilders immediately called for immigration restrictions and an end to protections for asylum-seekers. As an appeal to less stridently anti-Muslim parties in the political center, which he must try to win over to form a government, Wilders said he would not be targeting—at least for now—mosques, Islamic schools, or other institutions that he has previously said pose a threat.

In a sign that the PVV's win in the Netherlands and Wilders' ascendance was being well received by Europe's other xenophobic reactionary leaders, Hungary's far-right President Viktor Orbán responded to the news by declaring, "The winds of change are here."
Progressives in the Netherlands, Europe, and beyond, meanwhile, shuttered.
"Yesterday, human rights lost in the Netherlands with the victory of Geert Wilders' Freedom Party (PVV), known for promoting racist policies, undermining the rule of law and the constitution," said Agnes Callamard, secretary general of Amnesty International, on Thursday. "We will continue to fight for human rights. For everyone."
"The distress and fear are very great," said Habib el-Kaddouri, a member of a Dutch-Moroccan association in Holland, told local Dutch media. "Wilders is known for his ideas about Muslims and Moroccans. We are afraid that he will portray us as second-class citizens."
Wajahat Ali, a columnist for The Daily Beast in the U.S., responded by saying that after tracking his' political career and rhetoric for over a decade, he knows Wilders as a person who "espouses all the hateful and bigoted talking points of the far right both here and in Europe. He's been their darling, ditto for white Christian nationalists. His ascendancy is a disaster for multicultural democracies."
Despite the concerns and fears, Wilders' ability to actually form a ruling coalition with other parties is far from assured.
"While Geert Wilders' PVV have the highest number of individual seats, let's be real," said Julian Hoez, a political consultant in the E.U. "They won't be able to form a government, and they'll have limited influence over Dutch politics with 37 seats out of 150, which is far from the decisive, apocalyptic victory everyone is claiming."
News