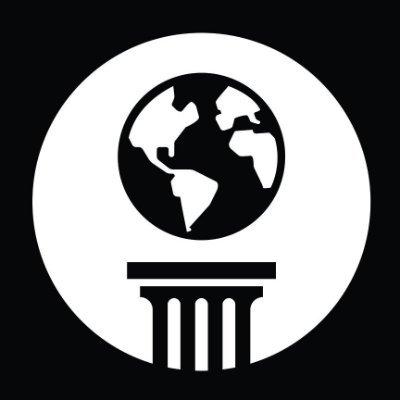 Earthjustice Applauds the Historic Nomination of Judge Ketanji Brown Jackson to the U.S. Supreme Court
When confirmed, Judge Jackson will be the first Black woman to serve on the U.S. Supreme Court.
WASHINGTON
Today, President Biden will announce the nomination of Judge Ketanji Brown Jackson to the U.S. Supreme Court. If confirmed, Judge Jackson will be the first Black woman to serve on the U.S. Supreme Court. In response to the nomination announcement, Earthjustice Senior Vice President of Programs Sam Sankar issued the following statement:
"With this historic nomination, President Biden is making a bold statement that our courts matter, and that they must represent the diversity of our country. Judge Jackson has the legal expertise and judicial temperament we need in a Supreme Court Justice, along with the personal and professional experience that will help her uphold the law with empathy, fairness, and equality. Judge Jackson has a sterling record as a fair, impartial jurist during her more than eight years on the federal bench and demonstrates a strong commitment to administrative and constitutional law. Her years of experience representing the most vulnerable as a public defender and working to address disparities in federal criminal sentencing on the U.S. Sentencing Commission will be a welcome addition to the court.
"This nomination comes at a critical time. The Supreme Court's new Conservative supermajority is on the precipice of overturning decades of long-settled precedents in a way that furthers a political agenda at the expense of basic rights and protections. We need fair-minded Justices who decide cases based on facts, science, and settled law, and who understand the Court's proper place in our system of government. If you care about safeguarding clean air and water, protecting our wild places and wildlife, and making sure that Congress and the President have the authority to combat climate change and protect public health, you must care about this nomination and the integrity of our federal courts.
"We are confident that Judge Jackson will bring a much-needed perspective to one of our democracy's most critical institutions. The Senate must act to confirm Judge Jackson as swiftly as possible."
Sam Sankar is available to speak on Judge Jackson's nomination, the current trajectory of the Supreme Court, and the upcoming oral arguments of West Virginia v. EPA.
Earthjustice is a non-profit public interest law firm dedicated to protecting the magnificent places, natural resources, and wildlife of this earth, and to defending the right of all people to a healthy environment. We bring about far-reaching change by enforcing and strengthening environmental laws on behalf of hundreds of organizations, coalitions and communities.
800-584-6460
LATEST NEWS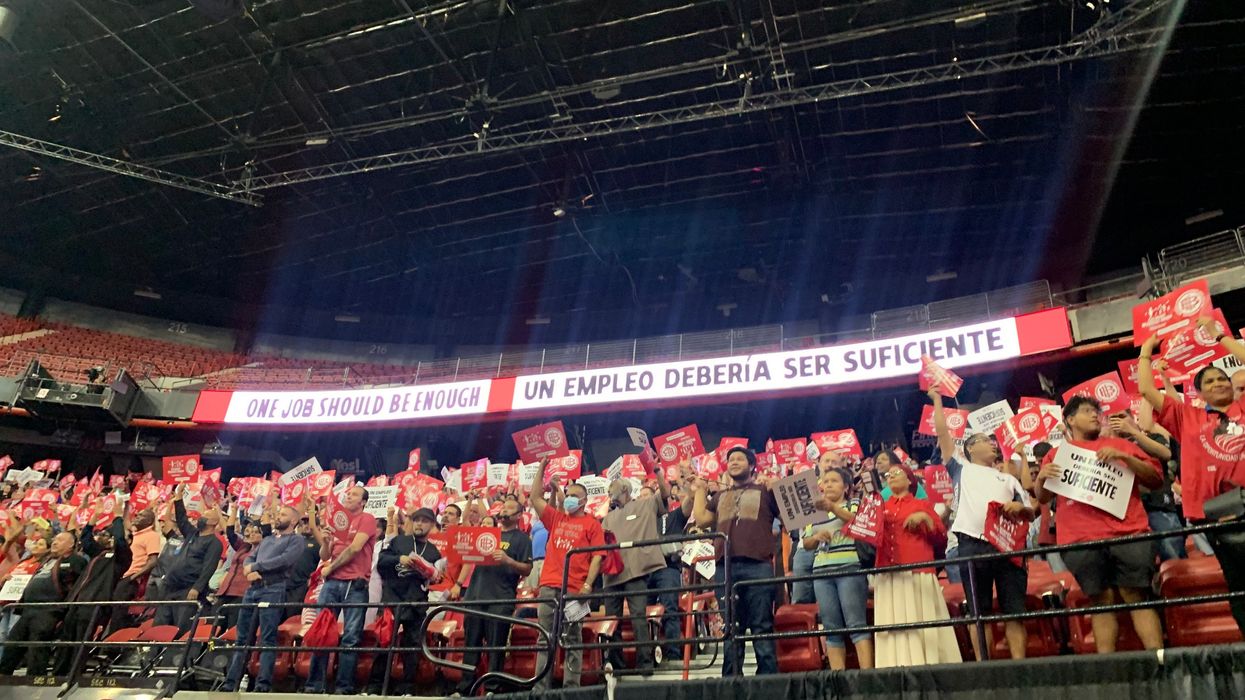 "Companies are generating record profits and we demand that workers aren't left behind and have a fair share of that success," said one Culinary Union leader.
Members of two Nevada labor unions—including the state's largest—on Tuesday overwhelmingly voted to authorize a citywide strike at 22 Las Vegas casinos, while continuing to negotiate a new contract "in good faith" with gaming companies.
Chanting "one job should be enough," tens of thousands of cocktail and food servers, bartenders, cooks, porters, and other non-gaming hotel employees in the Culinary Union Local 226 and Bartenders Union Local 165—affiliates of the Unite Here—packed the Thomas and Mack Center at the University of Nevada, Las Vegas, where they voted by 95% during two sessions to approve a work stoppage at Las Vegas Strip properties owned by MGM Resorts, Caesars Entertainment, and Wynn/Encore Resorts.

The affiliated unions—which represent 60,000 Nevada workers, including 53,000 in Las Vegas—can now call a strike at any time. It would be the first citywide strike in the resort industry in nearly 40 years.
Since September 15, 40,000 union members have been working under an expired contract. The Culinary Union said it remains in "active negotiations" with employers over a new five-year contract.
"Today, Culinary and Bartenders union members have sent the strongest message possible to the casino industry to settle a fair contract as soon as possible," Culinary Union secretary-treasurer Ted Pappageorge said in a statement. "We have negotiations scheduled next week with MGM Resorts, Caesars Entertainment, and Wynn/Encore Resorts and it's up to the three largest employers in Las Vegas to step up and do the right thing."
"If these gaming companies don't come to an agreement, the workers have spoken and we will be ready to do whatever it takes—up to and including a strike," Pappageorge added. "Companies are generating record profits and we demand that workers aren't left behind and have a fair share of that success."
Las Vegas set an all-time record for gaming revenue for the second straight year last year, despite the Covid-19 pandemic. The city's casino resorts reported $14.8 billion in 2022 revenue, a 10.5% increase over the previous year.
The unions' objectives include:
Winning the largest wage increases ever negotiated in Culinary Union history;
Reducing workload and steep housekeeping room quotas, mandating daily room cleaning, and establishing the right for guest room attendants to securely work in set areas;
Providing the best on-the-job safety protections;
Tracking sexual harassment, assault, and criminal behavior by customers;
Ensuring advanced notification when new technology is introduced which would impact jobs and requiring training for new jobs created by technology;
Guaranteeing healthcare and severance pay for workers who are laid off because of new technology; and
Extending recall rights so that workers have more job security and have the right to return to their jobs in the event of another pandemic or economic crisis.
"I voted yes to authorize a strike because I'm fighting for my family and for our future," said Maria Sanchez, a Culinary Union member who works as a guest room attendant at the Bellagio. "The workload since the pandemic has been intense and when I get home I'm so tired and I don't have energy to take my two kids to the park or play with them. I feel sad like I'm just living to work and it's not right."
"I feel sad like I'm just living to work and it's not right."
"I was thinking about getting a second job, but I'm already doing more than one job at work right now and I believe that one job should be enough," she added. "I voted yes to win the best contract ever so that I can work one job and come home to spend time with my children."
In 2018, members of the Culinary and Bartenders unions voted to authorize a strike. A new contract was negotiated shortly after the vote, averting a work stoppage.

Last year, members of the Local 54 chapter of the Unite Here union—which represents hospitality industry employees in Atlantic City, New Jersey—negotiated new contracts that included the workers' largest-ever raise.
News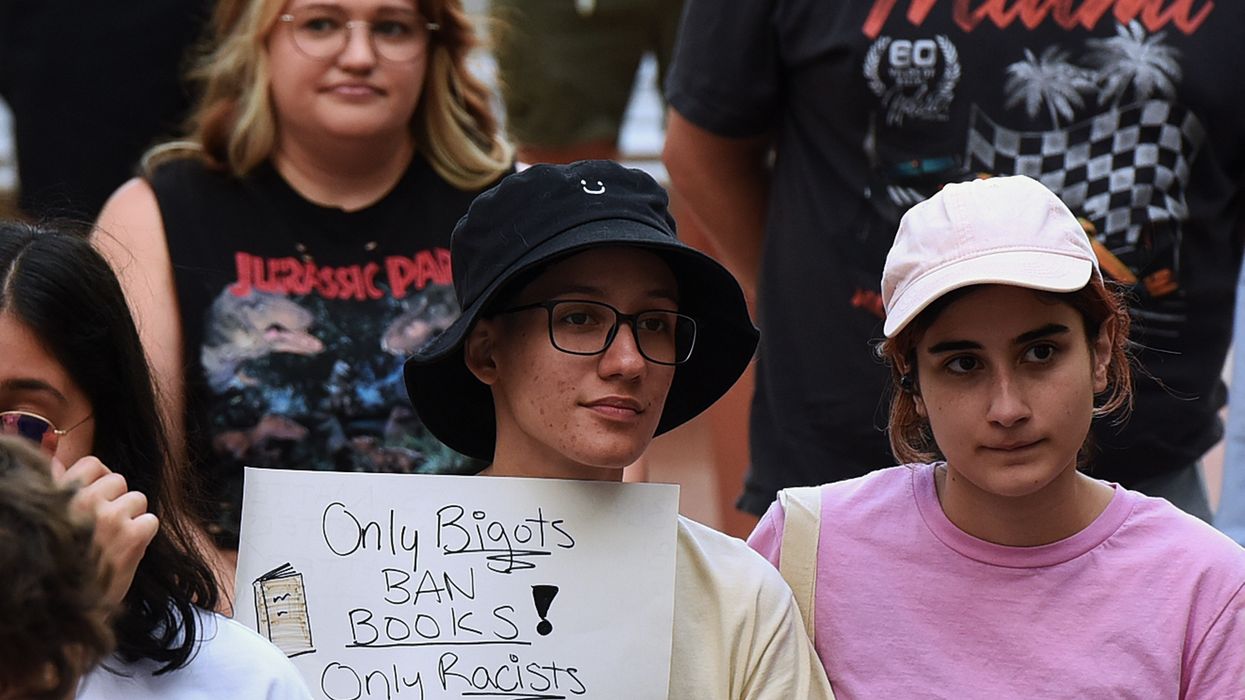 "This report sheds light on the perceptions of parents regarding public libraries and the current issues they face," said John Chrastka, EveryLibrary Institute executive director.
As the right-wing book-banning movement justifies its crusade against U.S. libraries and classrooms with claims of "parental rights," survey data released Wednesday shows that 74% of parents agree or somewhat agree that book bans for public libraries infringe on their right to make decisions for their children.
"This report sheds light on the perceptions of parents regarding public libraries and the current issues they face," said EveryLibrary Institute executive director John Chrastka, whose think tank and professional network partnered with the website Book Riot for a survey conducted this month, as the 2023-24 academic year got underway.
"Together with Book Riot, we are dedicated to empowering libraries to provide exceptional services that meet the unique needs of parents," Chrastka continued. "The results of this survey can be used to improve library services and address parents' concerns, ultimately leading to better experiences at the library for parents and their children."
"Our ultimate goal is to foster an open dialogue around these issues and to support libraries and their users in navigating this challenging landscape."
EveryLibrary Institute and Book Riot aimed to "gather insights from parents and guardians about their opinions on book bans; their trust in libraries and their understanding of librarians' book selection process; and their opinions on sensitive subjects in children's books, such as sex, LGBTQ+ characters and themes, race, and social justice issues."
The organizations found that 92% of respondents feel their children are safe at the library, 67% believe that "banning books is a waste of time," and 58% think librarians should be primarily responsible for what is available at a public library—even though 53% do not know how librarians decide what works should be in a collection.
Additionally, 87% of respondents agree or somewhat agree that "characters in books should be diverse and reflect multiple communities," 82% support teens having access to content on "controversial subjects and themes," 67% believe libraries should carry children's books that discuss topics such as racism and sex, and nearly 61% think collections should include kids' titles with LGBTQ+ characters and stories.
Respondents also want a role in decision-making: 95% believe parents should be involved in helping their children decide what to read; 90% agree or somewhat agree that they should make decisions about what their child reads; and 53% think parent groups should be involved in collection development choices.
Two-thirds of respondents said "no" when asked if their child has ever been uncomfortable with a book they checked out, and about the same share said "no" when asked if a book their child checked out made them, the parent, uncomfortable.
"By gathering insights from parents, we hope to generate a body of informative and thought-provoking material that sheds light on the complex issues surrounding book bans and censorship," said Book Riot's Kelly Jensen. "Our ultimate goal is to foster an open dialogue around these issues and to support libraries and their users in navigating this challenging landscape."

The findings follow a pair of reports from last week that highlighted right-wing efforts to ban books in libraries and schools.
As of August 31, the American Library Association's Office for Intellectual Freedom documented 695 attempts this year to remove a total of 1,915 titles from public and school libraries—an increase from last year, which broke the overall record for book challenges since data collecting began over two decades ago.
During the 2022-23 academic year, PEN America recorded a 33% increase in book bans at K-12 public schools from 2021-22. The group tracked 3,362 instances, which cut off student access to 1,557 unique titles. Over 40% of bans occurred in Florida, where public education is under attack from Republican Gov. Ron DeSantis, a 2024 presidential candidate.
"Those who are bent on the suppression of stories and ideas are turning our schools into battlegrounds, compounding post-pandemic learning loss, driving teachers out of the classroom, and denying the joy of reading to our kids," said PEN America CEO Suzanne Nossel. "By depriving a rising generation of the freedom to read, these bans are eating away at the foundations of our democracy."
News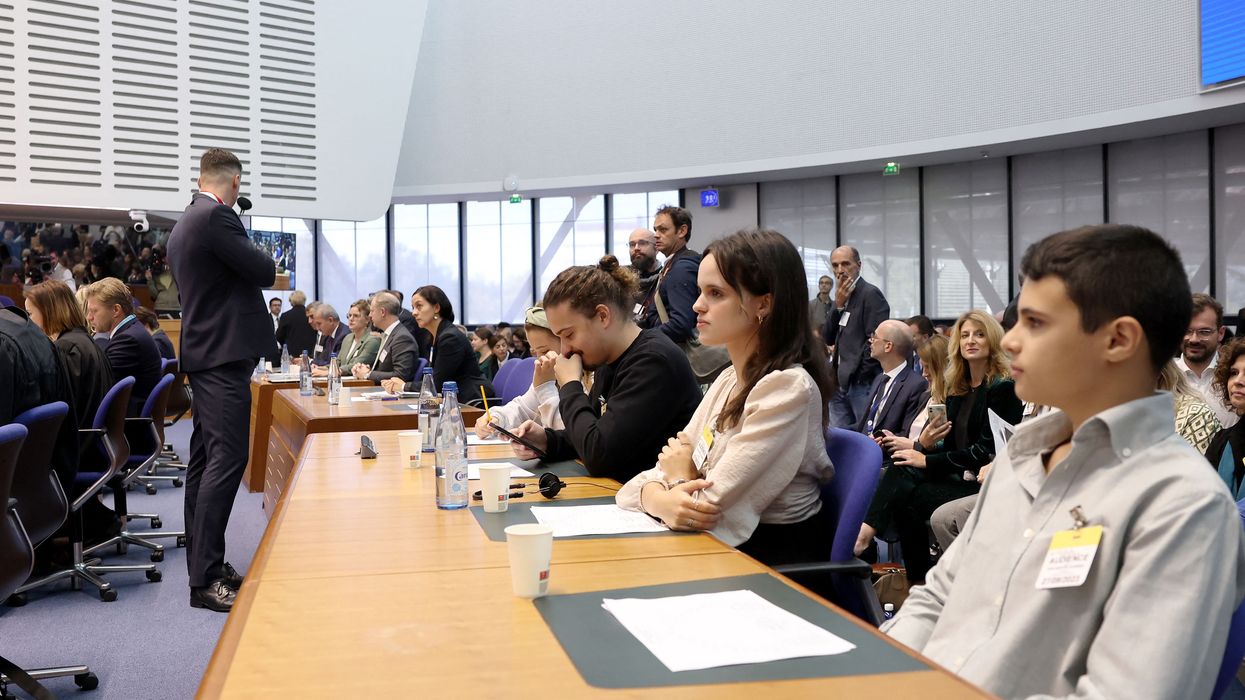 Six Portuguese young people are suing the governments of 33 countries, arguing their human rights have been violated by a widespread failure to mitigate the climate crisis.
Lawyers for six Portuguese children and young adults on Wednesday expressed hope that their unprecedented climate case, brought to the European Court of Human Rights three years after it was first filed, will ultimately be a "game-changer" that forces governments in Europe and across the globe to take decisive action to address the climate emergency.

Ranging in age from 11 to 24, the six plaintiffs sat on Wednesday before nearly two dozen human rights judges and attorneys representing nearly three dozen nations, determined to prove to the court that countries across Europe have violated their fundamental rights by allowing greenhouse gas emissions to continue heating the planet despite warnings from energy experts and scientists.
In Duarte Agostinho v. Portugal and 32 Others, the plaintiffs are seeking not financial relief but a ruling from the court that would compel the governments of the 27 E.U. member-nations as well as Russia, the United Kingdom, Switzerland, Norway, and Turkey to speed up their efforts to keep planetary heating below 1.5°C above preindustrial levels.

Because the human rights court's rulings are legally binding for E.U. members, a decision in favor of the young plaintiffs "would act like a binding treaty imposed by the court on the respondents, requiring them to rapidly accelerate their climate mitigation efforts," Gerry Liston of the U.K.-based Global Legal Action Network (GLAN), told the Associated Press.

"In legal terms, it would be a game-changer," Liston told the outlet.

Four of the plaintiffs live in central Portugal, where wildfires killed at least 66 people in 2017. The country faced more blazes this summer—the hottest on record—as well as a record-breaking heatwave which saw the temperature in the central region of the country rise to 46.4°C (115.5°F), which at least one plaintiff said had interfered with schoolwork, and which climate scientists said would not have happened without planetary heating and fossil fuel extraction.

"Without urgent action to cut emissions, [the place] where I live will soon become an unbearable furnace," 20-year-old Martim Agostinho, one of the plaintiffs, said in a statement.

Lawyers for the defendants claimed the group should have litigated the case in the domestic court system, with Belgian legal expert Isabelle Niedlispacher arguing before the court that the plaintiffs did not make an attempt "to invoke, let alone exhaust domestic remedies."

But GLAN, which says it "pursues innovative legal actions across borders," dismissed the claims, noting that the fossil-fueled climate emergency and the extreme weather it's causing have no respect for countries' boundaries and are placing the entire planet at risk.

"It cannot be within a state's discretion whether or not to act to prevent catastrophic climate destruction," said Alison MacDonald, another attorney representing the young people.

Sébastien Duyck, a senior attorney at the Center for International Environmental Law, called the case "truly historic" because the governments of dozens of countries have been compelled to respond.
"These governments are forced to lay out a legal defense justifying the gap between their climate policies and what science says is needed to avoid climate breakdown," said Duyck. "In the broader context of global litigation, this case wields remarkable influence, given that the European Court of Human Rights holds a prominent role in setting legal precedents within Europe and beyond."
The case was brought to the court a month after a state judge in Montana sided with 16 young residents who argued that the state had violated their rights by promoting fossil fuel extraction. The United Nations Environment Program released a report in July showing that climate litigation has emerged as an important driver of far-reaching, concrete action by governments to reduce emissions.
Gearoid O'Cuinn, another lawyer for GLAN, said defendants resorted to "climate denialism" when they argued, as Greece did, that the "effects of climate change, as recorded so far, do not seem to directly affect human life or human health."

Greece has faced both deadly wildfires and flooding in recent weeks.

"European governments' climate policies are consistent with a catastrophic 3° of global heating this century," said Liston. "For the brave youth-applicants, that is a life sentence of heat extremes which are unimaginable even by today's rapidly deteriorating standards."
"The European Court of Human Rights was set up following the horrors of World War II to hold European governments to account for failing to protect human rights," Liston added. "Never has there been as urgent a need for the court to do so than in this case."
News
Independent, nonprofit journalism needs your help.
Please Pitch In
Today!