Over Five Hundred Indigenous Women of the Amazon and Allies March for Climate Justice, Indigenous Rights on International Women's Day
PUYO, Ecuador
In recognition of International Women's Day, Indigenous Amazonian women leaders of seven nationalities including: Andoa, Achuar, Kichwa, Shuar, Shiwiar, Sapara and Waorani nationalities and their international allies took action in Puyo, Ecuador, in a forum and march in defense of the Amazon, Mother Earth and for climate justice. Specifically, they came together to denounce a newly signed oil contract between the Ecuadorian government and Chinese oil corporation Andes Petroleum.
By plane, foot, canoe, and bus, some five hundred women mobilized from deep in their rainforest territories and nearby provinces marching through the streets of the Amazon jungle town of Puyo.
Chanting, "Defend the forest, don't sell it!" and carrying signs reading "No more persecution against women defenders of Mother Earth," the march culminated in a rally in which each nationality denounced the new oil threat and shared traditional songs and ceremonies. The women spoke of other methods for protecting and defending the Amazon and its vital living systems, making it known that the women of the Amazon are not just victims of environmental and cultural genocide, but rather are vital solution bearers.
In addition to highlighting the grave social and ecologic implications of this new contract and the Ecuadorian government's plans to tender several more oil blocks in the pristine, roadless southern Amazon, the women and allies brought light to their struggles and the ongoing criminalization faced as they stand to protect and defend their territories and lifeways based upon living in harmony with the natural world. A tribute was held in honor of Berta Caceres, the Honduran indigenous environmental leader who was killed last week for her years of work defending rights and territories from privatization, plantations, and most recently, a mega dam project.
The women of the Amazon were also joined by Casey Camp Horinek, WECAN delegation member and Indigenous leader of the Ponca Nation of Oklahoma, who shared her traditional songs and stories of how her people have been impacted by fracking activity.
"Right now the oil company is trying to enter our territory. That is our homeland, this is where we have our chakras (gardens), where we feed our families. We are warriors, and we are not afraid. We will never negotiate," explained Rosalia Ruiz, a Sapara leader from the community of Torimbo, which is inside the Block 83 oil concession.
"Although we are from three different provinces, we are one territory and one voice," Alicia Cahuiya, Waorani leader declared.
As the march unfolded, the Ecuadorian government and Andes Petroleum held a meeting in the nearby town of Shell to organize an illegal entry into Sapara territory, knowing that key leaders would not be present. Outraged, a delegation of Sapara delivered a letter to the meeting, underscoring their peoples' opposition to the oil project and government tactics to divide the community. They successfully thwarted the government and company plans, and returned to the streets, victorious.
International allies including the Women's Earth and Climate Action Network, Amazon Watch and Pachamama Alliance shared messages of solidarity and calls for immediate action to keep fossil fuels in the ground in the Amazon.
"On this International Women's Day we are reaching across borders and standing together as global women for climate justice to denounce oil extraction in the Amazon and call for attention to the struggles and solutions of local women land defenders," explained Osprey Orielle Lake, Executive Director of the Women's Earth and Climate Action Network, "We all depend on the flourishing of these precious rainforests, the lungs of the planet. Now is the time to keep the oil in the ground and stand with the women who have been putting their bodies on the line for years to protect the forest, their cultures, and the health and well being of all future generations."
"Today was a historic day for indigenous Amazonian women! It was the first time that hundreds of women and their allies marched for the Amazon, Mother Earth and Climate Justice. And the power of women was so strong that plans for oil companies entering Sapara territory today were halted. This is is a signal that the collective call to defend rights and territories by keeping fossil fuels in the ground is working," says Leila Salazar-Lopez, Executive Director of Amazon Watch.
Belen Paez from Pachamama Alliance declared: "It's a unique and historical moment to have the experience of solidarity and connection between indigenous women and activists from all over the world standing up for the rights of the Amazon rainforest and its people, we have all been waiting for this moment for so long, and that moment is now."
The March 8 forum, action and press conference will be followed by a March 9 event and report back, "Women of Ecuadorian Amazon and International Allies Stand For Protection of the Amazon Rainforest" to be held on March 9 at 17:00 at the Biblioteca FLASCO, Universidad FLACSO, Quito.
A solidarity action was also held at the Chinese consulate in San Francisco, CA, to denounce the new oil contracts on Sapara and Kichwa territory and support women's rights in Ecuador and around the world.
For more information:
www.amazonwatch.org
www.wecaninternational.org
www.pachamamaalliance.org
Amazon Watch is a nonprofit organization founded in 1996 to protect the rainforest and advance the rights of indigenous peoples in the Amazon Basin. We partner with indigenous and environmental organizations in campaigns for human rights, corporate accountability and the preservation of the Amazon's ecological systems.
LATEST NEWS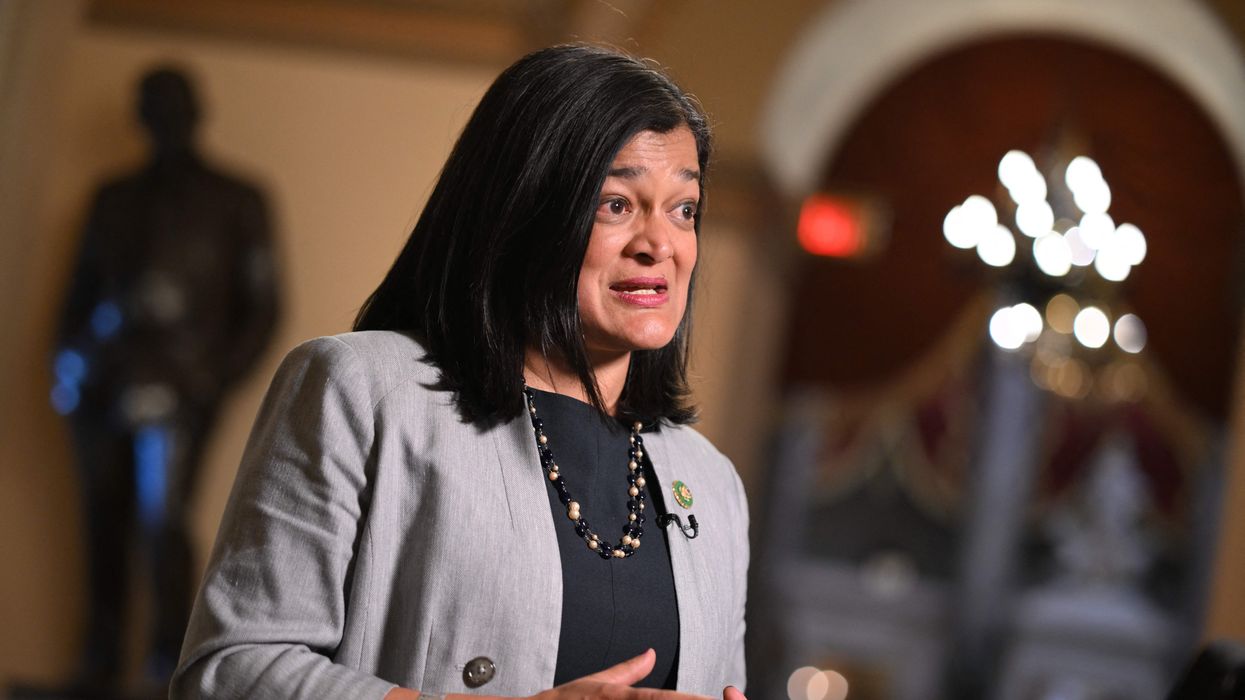 "House Republicans cannot move their extreme, cruel, unworkable anti-immigrant agenda through the regular legislative process, so they're trying to make an end-run around Congress and hold the American people hostage to force it into law."
The Democratic chairs of leading congressional caucuses said late Thursday that they oppose any last-minute effort to cram immigration policy changes into government funding legislation as House and Senate Republicans consider doing just that, with a shutdown less than 48 hours away.
"It is not appropriate to establish new immigration and border policy in a bill to keep the government funded," the chairs of the Congressional Progressive Caucus, Congressional Hispanic Caucus, Congressional Asian Pacific American Caucus, and Congressional Black Caucus said in a joint statement.
"House Republicans cannot move their extreme, cruel, unworkable anti-immigrant agenda through the regular legislative process, so they're trying to make an end-run around Congress and hold the American people hostage to force it into law," they continued. "Even Minority Leader Senator McConnell has said, 'Shutting down the government isn't an effective way to make a point.' We couldn't agree more."
The Democrats' statement came in the wake of news that members of the House and Senate—with the reported backing of some Democrats in the upper chamber—are discussing the possible addition of immigration and border measures to a short-term government funding bill in a bid to win the votes of intransigent House Republicans.
Earlier this week, as the chaos-ridden House failed to make progress, the Senate advanced a legislative vehicle for a continuing resolution that would keep the government through November 17—an attempt to buy time for both chambers to approve full-year funding measures.

Citing two unnamed Republican aides, The Washington Postreported that "by Thursday evening, Senate Republicans were considering an amendment to the continuing resolution that would include $6 billion in funding for border security but no new immigration policy."
According to the Post, Sens. Chris Murphy (D-Conn.), James Lankford (R-Okla.), Susan Collins (R-Maine), Thom Tillis (R-N.C.), and Kyrsten Sinema (I-Ariz.) "appeared to be involved in the talks."
On Friday, House Speaker Kevin McCarthy (R-Calif.)—who is facing a potential removal plot by far-right House Republicans—is expected to put on the floor a Republican stopgap funding measure that includes major federal spending cuts and border policies.
The Wall Street Journalreported late Thursday that the GOP package includes changes that "House lawmakers passed earlier this year in a broader bill that orders construction to resume on the Trump administration's border wall." That bill was dead on arrival in the Senate.
"The border measures, which have broad backing in the conference, would also make it harder for people to remain in the U.S. under the protection of asylum rules," the Journal noted.
House Republicans' latest effort to move ahead with a short-term funding package will come after they passed several appropriations bills Thursday night, including measures to fund the Pentagon and State Department.
But the House voted down the GOP-authored agriculture appropriations bill, which included steep cuts to food aid for low-income families and a rollback of abortion pill access.
Rep. Rosa DeLauro (D-Conn.), the top Democrat on the House Appropriations Committee, said in a statement that lawmakers "should have spent this week working together to prevent the government from shutting down."
"Instead, we spent it watching House Republicans in chaos, loading up their 2024 funding bills with deeper cuts and dangerous policies that harm the economy and raise the cost of living for American families," said DeLauro. "Another day of Republican dysfunction, two days until they shut the government down."
News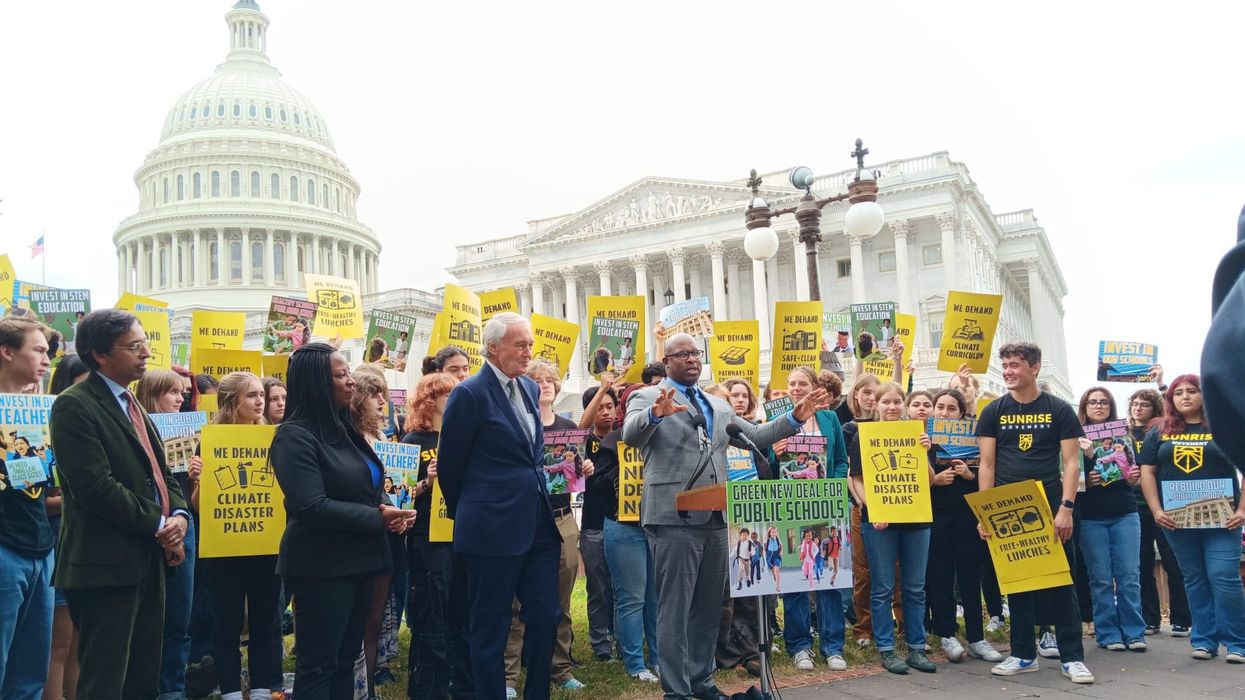 "Let's build a green future where every student can learn and thrive," said Sen. Ed Markey while introducing the proposed legislation.
Climate and education advocates on Thursday cheered the introduction in the U.S. Congress by Sen. Ed Markey and Rep. Jamaal Bowman of the Green New Deal for Public Schools Act, which the lawmakers said would invest $1.6 trillion to transform the nation's education system while "creating 1.3 million jobs and eliminating 78 million metric tons of carbon emissions over 10 years."
A statement promoting the proposed legislation says it would "fund green upgrades that remove all health harms and carbon pollution fromevery public school in the nation while taking on environmental and racial inequities."
"It will unleash the potential of safe and inspiring public education for 50 million K-12 students in every neighborhood across the country," the statement added. "And, it willadd essential staff to vulnerable schools, create 1.3 million good-paying jobs annually, and reduce carbon emissions by 78 millionmetric tons each year—that's the same as taking 17 million gas-powered cars off the road!"
The measure is currently co-sponsored by 74 House lawmakers and is endorsed by advocacy groups including the Sunrise Movement; American Federation of Teachers; Gen Z for Change; Working Families Party; Sierra Club; Institute for Policy Studies; GreenLatinos; March for Our Lives; Progressive Democrats of America; and the American Federation of State, County, and Municipal Employees.
"The United States of America should have the best public education system in the world—our students, parents, teachers, staff, and administrators are doing their part, but Congress is failing them at every turn," Markey (D-Mass.) said in a statement. "School buildings are falling apart, educators and staff are creating makeshift air conditioners from window units, aging infrastructure is making our kids and our planet sick—it's a disgrace."

"The Green New Deal for Public Schools Act delivers climate justice, health justice, social justice, economic justice, and racial justice so that students—no matter their zip code—can learn in a safe and healthy environment, and one that is contributing to a healthier planet for the next generation," Markey added. "It is long past due for the United States to invest in schools what schools invest in us."
Bowman (D-N.Y.)—the founder and former principal of the Cornerstone Academy for Social Action, a public middle school in the Bronx—said that "it's time to revolutionize our public schools."
"As we face the devastating impacts of the climate crisis and confront the harms of underinvestment in redlined communities and inequities in our education system, we must center our kids and their futures," he asserted. "Education can change the world."
Bowman continued:

Schools should be the centers of our communities, places of joy and self-discovery where students feel safe to grow, thrive, and explore their passions and curiosity. Right now, they're crumbling, leaving our students, educators, and communities behind. We must take advantage of this moment by putting them first and facing the climate crisis head-on with bold investments in our schools focused on environmental, educational, economic, and racial equity.
"It's time for us to provide our kids with the resources they need to unlock their brilliance and have a livable planet by passing the Green New Deal for Public Schools Act and making urgent and necessary investments to revitalize our public education system," Bowman added.
The proposed legislation comes three days after students at more than 50 high schools across the U.S.—led by the Sunrise Movement—launched the Green New Deals for Schools campaign. The campaign is demanding that education officials provide school buildings powered by renewable energy; free, healthy, local, and sustainable meals; support for finding well-paying, unionized green careers; plans for extreme weather events; and instruction about the climate crisis.
News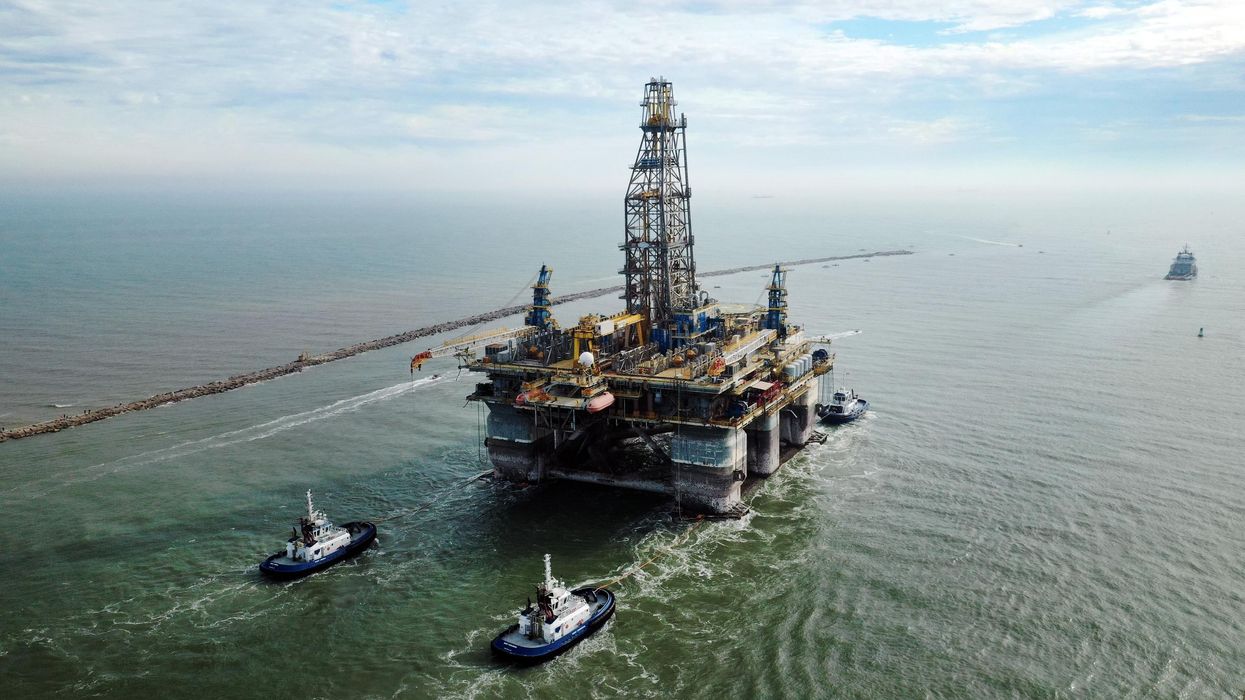 "President Biden says that climate change is an existential threat," said one campaigner. "Unfortunately, this decision is yet another sign that his administration is not willing to take actions that would match that rhetoric."
Climate and environmental defenders on Thursday condemned the Biden administration's imminent plan to sell offshore oil and gas drilling rights in the Gulf of Mexico over the next five years.
Bloombergreported Deputy Interior Secretary Tommy Beaudreau told a Senate panel on Thursday that the Biden administration's five-year offshore drilling rights plan will be released on Friday. Beaudreau said the plan was "definitely informed" by the Inflation Reduction Actction Act, which–while allocating hundreds of billions of dollars in clean energy investments—mandates fossil fuel drilling, a move made to gain the support of corporate Democrats including Sen. Joe Manchin of West Virginia.
"The only way to avert the worst impacts of the climate crisis is by stopping new fossil fuel projects."
The previous drilling plan expired last year. The new one will include details regarding drilling rights in Alaska and the Gulf of Mexico. Congress will have 60 days to review the proposal.
"The only way to avert the worst impacts of the climate crisis is by stopping new fossil fuel projects. The Biden administration knows this, and yet is making the outlandish and irresponsible decision to increase oil production for decades to come," Wenonah Hauter, executive director of the advocacy group Food & Water Watch—which warned the drilling plan would be a "climate nightmare"—said in a statement.
"This decision is yet another reminder that thanks to Sen. Joe Manchin, the Inflation Reduction Act requires oil and gas drilling on public lands in order to develop clean energy sources like wind and solar," she added. "This short-sighted political dealmaking will continue to have grave consequences."
Biden was praised by green campaigners earlier this month for canceling existing oil and gas drilling leases in the Arctic National Wildlife Refuge in Alaska and for banning drilling on 13 million acres of the National Petroleum Reserve.
However, the president—who campaigned on a pledge to phase out fossil fuel extraction on public lands and waters—has been criticized for approving new drilling permits ata faster rate than his predecessor, former President Donald Trump, and for approving major fossil fuel infrastructure including the Willow Project in Alaska, the Mountain Valley Pipeline in West Virginia, and for green-lighting liquefied natural gas export terminals in Alaska and along the Gulf of Mexico.
Numerous green groups also sued the U.S. Interior Department earlier this year over its plan to offer more than 73 million acres in the Gulf of Mexico in a lease sale.
"Approving new offshore drilling is an unconscionable betrayal of future generations who will be forced to live through an intensifying planetary emergency, and will pose direct and severe threats to healthy oceans and marine life," said Hauter.
"President Biden says that climate change is an existential threat," she added. "Unfortunately, this decision is yet another sign that his administration is not willing to take actions that would match that rhetoric."
Last week, the Biden administration and green groups said they would appeal a Louisiana federal judge's ruling blocking the administration from exempting 6 million acres in the Gulf of Mexico from a drilling lease sale initially scheduled for Wednesday but postponed by the Interior Department's Bureau of Ocean Energy Management after the judge's decision.
News
Independent, nonprofit journalism needs your help.
Please Pitch In
Today!