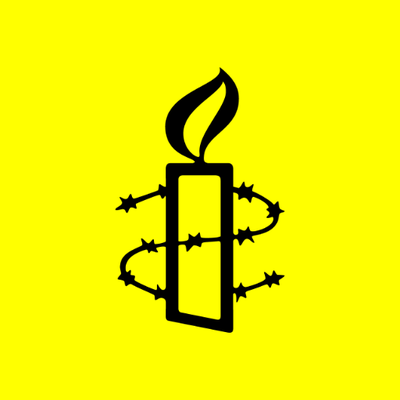 Amnesty International Reveals Details of Deadly Raid on Political Party Headquarters in Ivory Coast, Leaving One Dead and 16 Wounded
Political Allies of Alassane Ouattara Say Security Forces Fired Live Bullets Inside Headquarters in Abidjan
LONDON
Amnesty International today called on Cote d'Ivoire security forces to stop attacks on political opponents as new information was revealed about a deadly raid on political allies of Alassane Ouattara, the internationally recognized winner of the presidential election.
Amnesty International was told that one person was killed, 16 wounded and 63 arrested by several dozen security forces loyal to Laurent Gbagbo, in a 5:00 am raid Tuesday of the Abidjan headquarters of the Democratic Party of Cote d'Ivoire (PDCI), the country's former ruling party.
Eyewitnesses told Amnesty International that security forces fired live bullets at those inside the building and several people were beaten. Amnesty International received a credible report today that none of the wounded people detained during the raid had yet received medical treatment.
Outgoing president Laurent Gbagbo has agreed on unconditional negotiations to resolve the political stalemate following December's election.
"No political solution to the current crisis in Cote d'Ivoire can be lasting unless it ensures full respect for human rights and the restoration of the rule of law" said Salvatore Sagues, Amnesty International's West Africa researcher. "Security forces should be called to account for carrying out enforced disappearances, arbitrary detentions and extrajudicial executions of their political opponents,"
A female eyewitness to the raid told Amnesty International: "Some of us were praying when we heard security forces enter the room. They looked everywhere and found nothing. Then they asked some of our young leaders to leave the room and accompany them outside where they were beaten with clubs. Some people protested, and security forces entered. I went to hide myself in a corner and saw security forces throwing tear grenades in the room and firing at us."
One party member, Karim Sidibe, was killed as a result of the gunfire. A person who was beside him, who cannot be identified for security reasons, said: "They fired point blank at us, they hit me on the foot and hit Karim on the stomach. The bullet went through him. I went to see him but he was already dead."
Officials from the Ministry of the Interior loyal to Laurent Gbagbo said on Ivorian TV yesterday that the raid followed reports of complaints from neighboring residents of "acts of vandalism and theft" by activists close to Alassane Ouatarra. They also said that one person had been killed but "was dressed in a traditional hunter outfit and carried a knife," and that he had threatened police officers before being killed.
Those arrested are set to be presented today to a investigating judge to face five different charges including robbery, assault and destruction of private property.
Amnesty International is calling for the unconditional release of these detainees and for immediate access to medical care for those who have been ill-treated and wounded, said Sagues.
Amnesty International is a global movement of millions of people demanding human rights for all people - no matter who they are or where they are. We are the world's largest grassroots human rights organization.
(212) 807-8400
LATEST NEWS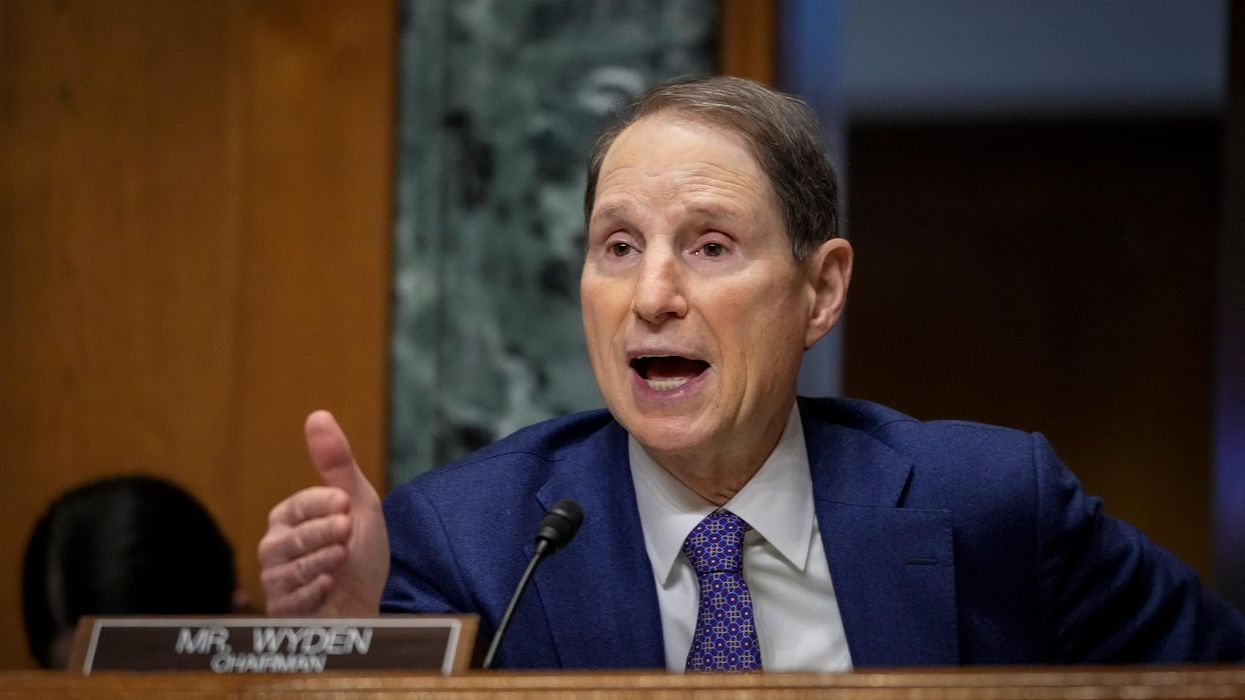 "Working people don't get to play by the same rules as billionaires. They don't get to call up an army of high-priced lawyers and accountants every time they don't feel like paying their taxes."

In a bid to "restore fairness to the tax code and level the playing field for working families," U.S. Sen. Ron Wyden on Thursday led 15 Senate colleagues in introducing the Billionaires Income Tax Act , legislation the Oregon Democrat said would "ensure billionaires start paying their fair share in taxes."
"Right now, the average billionaire can wriggle their way into a measly 8% tax rate while a nurse or firefighter making $45,000 is paying a 22% tax on their wages," Wyden, who chairs the Senate Finance Committee, said on the upper chamber floor.
"Tax laws simply don't apply to billionaires in the same way they do to everybody else," the senator continued. "They're optional, while everybody else's tax rules are mandatory."
"Working people don't get to play by the same rules as billionaires," he added. "They don't get to call up an army of high-priced lawyers and accountants every time they don't feel like paying their taxes."
That unjust disparity, Wyden said, boils down to three words: "Buy, borrow, die."
"Here's how it works: A billionaire buys a business, and then borrows against its growing, untaxed value to fund their extravagant lifestyle," he explained. "Everything from superyachts, to luxurious vacations, expensive art deals, you name it. It goes up and up in value all while not paying a dime in tax."
"And when they die," the lawmaker added, "their assets are passed to their kids—often entirely tax-free—and the cycle continues."
Wyden said his bill "will put a stop to" buy, borrow, die, "one of the most common schemes billionaires use to avoid paying their fair share."
The measure would raise an estimated $560 billion over 10 years from less than 1,000 of the wealthiest U.S. households.
Sen. Sheldon Whitehouse (D-R.I.), one of the bill's co-sponsors, said in a statement that "teachers and firefighters shouldn't be paying higher tax rates than the ultrawealthy. It's that simple."
Co-sponsor Sen. Elizabeth Warren (D-Mass.) asserted that "for too long, billionaires have rigged the rules to cut their taxes to the bone, all while working families struggle to make ends meet."
"We should be investing in American families, not letting billionaires off the hook—and the Billionaires Income Tax takes an important step to make our tax system fairer," she added.
The Billionaires Income Tax Act is supported by more than 100 organizations.
Earlier this year, U.S. President Joe Biden unveiled a plan to raise taxes on wealthy individuals and corporations to 25%.
"A billionaire minimum tax of just 25% would raise $440 billion over the next 10 years," the president said on social media on Thursday. "Imagine what we could do if we just made billionaires pay their taxes like everyone else."

Wyden's bill was introduced on the same day that the advocacy group Americans for Tax Fairness—which supports the legislation— reported that "the collective fortune of America's 741 billionaires has grown to $5.2 trillion at the end of November 2023, the highest amount ever recorded."
Also on Thursday, UBS published a report revealing that in the 12-month period between April 2022 and April 2023, newly created billionaires around the world acquired more wealth through inheritance than entrepreneurship for the first time since the Swiss bank began studying trends of the ultrawealthy in 2015.
News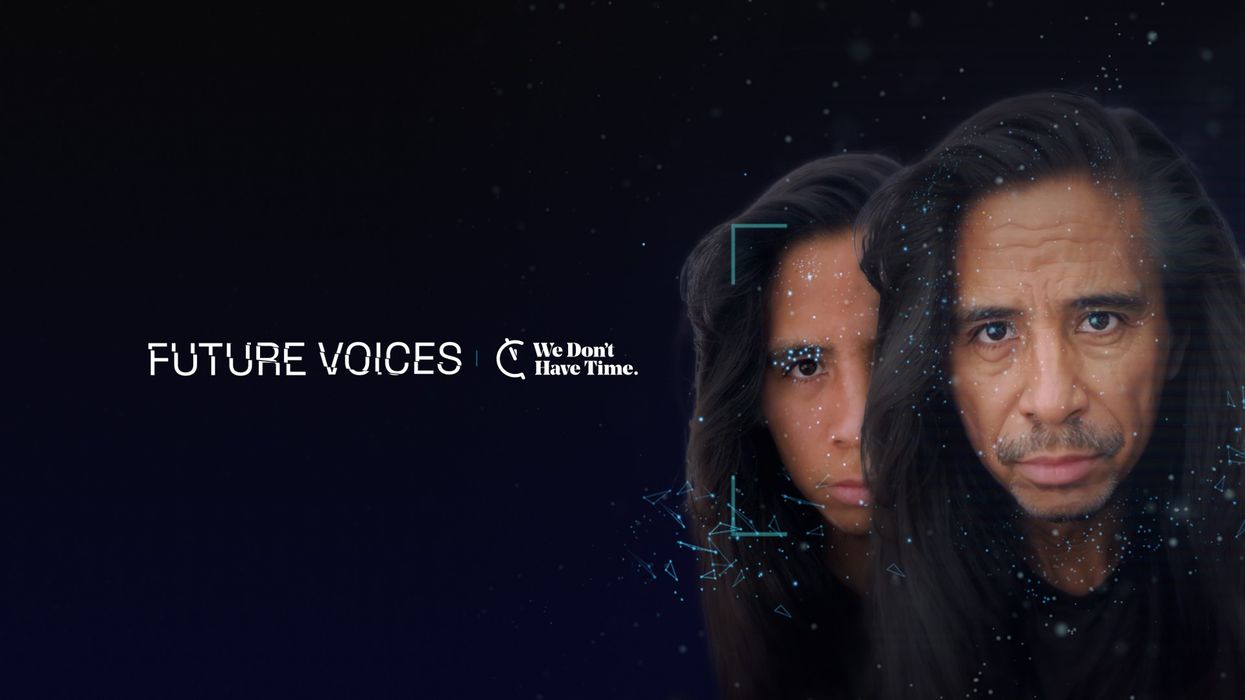 "World leaders are not listening to the younger generation, so what if we turn young climate advocates into older versions of themselves—into their future voices?"

With help from generative artificial intelligence, We Don't Have Time turned over a dozen young climate campaigners into future versions of themselves to stress to world leaders the necessity of bolder action to tackle the climate emergency.
We Don't Have Time, the world's largest social network for climate solutions, launched the "Future Voices" initiative on Thursday, as the United Nations Climate Change Conference (COP28) began in the United Arab Emirates and scientists warned that after months of devastating heat and extreme weather events, 2023 is "virtually certain" to be the warmest year on record.
"World leaders are not listening to the younger generation, so what if we turn young climate advocates into older versions of themselves—into their future voices?" said David Olsson of We Don't Have Time. "Then the demand for ending fossils and accelerating solutions can't be ignored. We encourage everyone to support this message."
The Future Voices website highlights that current children and young adults will suffer the consequences of the fossil fuel-driven climate emergency "to a much higher degree than previous generations," and already, youth worldwide are enduring the impacts of heating the planet and reporting that the crisis is taking a toll on their mental health.
The website features an interactive globe through which users can view video testimonies from campaigners around the world (also included below). One of them stars Swedish Fridays for Future and Climate Live campaigner Andreas Magnusson, who said in a statement that "in the fight against the climate crisis, including and listening to young people is crucial."
Speaking from Sweden in 2050, the AI-aged Magnusson says in his video that "in my hometown, Mockfjärd, I've seen landslide after landslide hit, caused by the heavy raining. And yet, I am not the one who suffers most. I come from a great place of privilege. I come from a part of the world that is not affected by nature's fury like other parts of the world are."
Activists from other parts of the world, in their own video messages from 2050, speak of "vast droughts causing water shortage," more frequent hurricanes, rising sea levels, and "floods and plagues."

Near the end of Magnusson's video, the 2023 version of him warns: "Time is running out. The choices world leaders make today will determine the kind of world we will live in tomorrow. The future is now."

In addition to the AI videos, the Future Voices initiative includes an online hub to help young activists who can't make it to Dubai still participate in COP28. Organizers are planning daily broadcasts with climate leaders and decision-makers.
"We are very proud and happy to be able to offer this opportunity for young people to get access to the most important climate negotiations of the year and deliver their messages to world leaders," said Olsson. "It would not have been possible without our incredible community of youth climate advocates."
Magnusson said that "Future Voices and the youth hub make the discussions at COP28 more inclusive."
"World leaders hold not only our future in their hands, they also hold our present, because we are already today affected by the climate crisis," the campaigner added. "And, frankly, it is youth who most of the time bring bold ideas and the unfiltered truth to the discussions about the future of humanity. Discussions that for 30 years haven't been able to even mention 'oil' in their agreements."
Watch more of the Future Voices videos below:

Nikka Gerona of the Philippines is co-chair of the United Nations Children's Fund (UNICEF) Regional Young People's Action Team in East Asia and the Pacific.
Isaias Hernandez of the United States is an environmental justice educator and public speaker who created QueerBrownVegan.
Valeria Horton of Mexico founded Green Reconnection and was the Mexican lead negotiator for loss and damage at COP27.
Sophia Mathur of Canada is a climate advocate with Fridays for Future and recipient of the 2021 Action for Nature International Award.
Agustín Ocaña of Ecuador is the founder and chairperson of the Global Youth Coalition.
Anita Soina of Kenya is a climate advocate, politician, and global youth champion for the U.N.-hosted partnership Sanitation and Water for All.
Other featured activists include Farzana Faruk Jhumu of Bangladesh, an advocate with Fridays for Future and Feminist Action Coalition for Climate Justice; Denzel James of Australia, a UNICEF young ambassador; and Madina Kimaro of Tanzania, a UNICEF youth advocate and climate advocacy champion for the Tanzania Girl Guides Association.
There are also videos from Emma Kroese of the Netherlands, a climate advocate with Fridays for Future; Ashley Lashley of Barbados, a UNICEF youth advocate and CARICOM youth ambassador; Geoffrey Mboya of Kenya, a humanitarian, sustainability advocate, and youth adviser of the WeDontHaveTime Foundation; and Joaquín Salinas Atenas of Chile, a socioenvironmental artivist and UNICEF COP26 youth delegate.
News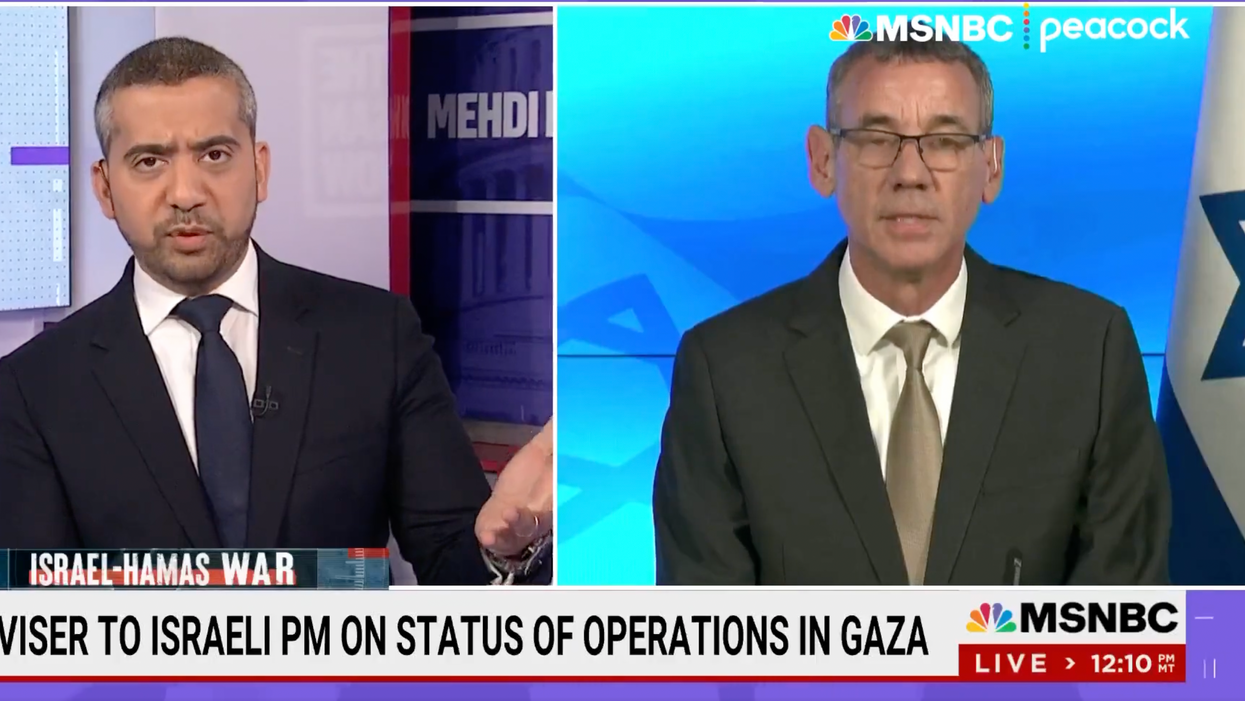 "Mehdi Hasan's program has felt like an oasis on air and more needed than ever," said one Palestinian American advocate of the journalist's Gaza coverage.
Progressives on Thursday said the American public was losing a vital voice that for nearly two months has offered rare critical coverage of the U.S.-backed Israeli assault on civilians in Gaza, as MSNBC announced it was canceling "The Mehdi Hasan Show."
The show began on the streaming service Peacock in 2020 and Hasan has hosted the weekend program on the network since 2021. He has gained recognition in the past for his incisive interviews of former Blackwater CEO Erik Prince and GOP presidential candidate Vivek Ramaswamy .
More recently he has provided viewers with commentary on the war in Gaza, in which more than 15,000 Palestinians have been killed so far, while also condemning Hamas' attack against civilians in southern Israel on October 7 as "undeniably, a vicious act of terror."
"How many more innocent people are going to die, and what will be achieved?" asked Hasan in one segment last month. "Does killing innocent Palestinians in Gaza, and not just members of Hamas, killing a Palestinian child every 15 minutes since October 7... Does that help defeat Hamas?"
Guardian columnist Owen Jones said there is "no better interviewer than Mehdi Hasan: forensic, razor-sharp, an encyclopedic knowledge."

"So MSNBC has now canceled his show," Jones said. "The few mainstream voices who challenge Israel's mass slaughter of Gaza are under attack."
As the cancellation of Hasan's show was announced, Palestinian American human rights lawyer Noura Erakat pointed to his recent interview with Mark Regev, an adviser to Israeli Prime Minister Benjamin Netanyahu, as "a whole class on journalistic method."
In the interview, Hasan implored Regev to admit Israel's onslaught has led to a high death toll of Palestinians, pushed back against his claim that Israel has targeted Hamas members, and demanded he address misinformation from his own government about the war.
"They canceled Mehdi Hasan for interviews like this—evidence-based and willing to challenge power," said author Sarah Kendzior of the Regev segment, "and it is doubtful he will be the only journalist pushed out for daring to practice journalism."
The Progressive Change Campaign Committee (PCCC) pointed out that on Wednesday evening Hasan appeared on "The Daily Show" to promote his program.
"To be clear, there was no instigating outrage. No shocking new thing," said the group. "He was acceptable (and cool) enough for 'The Daily Show,' and MSNBC let him go out and promote the network, and then they blindside one of their best hosts?"
"It's a huge programming mistake to kick voices like Mehdi Hasan off the air instead of asking: Why are they resonating with the public as they challenge power and question conventional wisdom?" the PCCC added.
MSNBC president Rashida Jones reportedly told staffers that the network was reshuffling its weekend programming—cutting Hasan's show and adding a program with hosts including Democratic strategist Symone Sanders-Townsend and former Republican National Committee Chair Michael Steele—"to better position ourselves as we head into the presidential election."
In canceling Hasan's show, noted journalist David Sirota, MSNBC is eliminating not only one of its most vocal critics of Israel, but also "one of the only people in cable TV news who has been willing to report critically on both parties."

"Canceling him," said Sirota, "is another step in the deliberate homogenization of news content into pure red-vs-blue infotainment" ahead of the election.
News