For Immediate Release
Contact:
Tel: +1-212-216-1832,Email:,hrwpress@hrw.org
Cambodia: Close Compulsory Drug Detention Centers
Respect Rights and Expand Voluntary, Community-Based Treatment
WASHINGTON
People who use drugs in Cambodia are at risk of arbitrary detention in centers where they suffer torture, physical and sexual violence, and other forms of cruel punishment, Human Rights Watch said in a report released today. Detention centers, mandated to treat and 'rehabilitate' drug users, instead subject them to electric shocks, beatings with electrical wire, forced labor, and harsh military drills.
In the 93-page report, "Skin on the Cable," Human Rights Watch documents detainees being beaten, raped, forced to donate blood, and subjected to painful physical punishments such as "rolling like a barrel" and being chained while standing in the sun. Human Rights Watch also reported that a large number of detainees told of receiving rotten or insect-ridden food and symptoms of diseases consistent with nutritional deficiencies.
"Individuals in these centers are not being treated or rehabilitated, they are being illegally detained and often tortured," said Joseph Amon, director of the Health and Human Rights division at Human Rights Watch. "These centers do not need to be revamped or modified; they need to be shut down."
According to the report, people are frequently arbitrarily arrested without a warrant or without reasonable cause, often on the request of a relative or as part of periodic police round-ups of people considered "undesirable." They are often lied to - or simply not informed - about the reasons of their arrest. They have no access to a lawyer during their period in police custody or during the subsequent period of detention in the centers.
Military drills, sweating while exercising, and laboring are the most common means used to "cure" drug dependence in these centers, which are operated by various government entities, including military police and civilian police forces. "Vocational training" activities which take place in some centers appear motivated by benefits to the center staff as opposed to detainees. The report highlighted the large number of children and individuals with mental illnesses also detained within the centers. Both groups, according to the report, were subject to similar physical abuses.
Human Rights Watch called on the Royal Cambodian Government to permanently close its drug detention centers and conduct a thorough investigation of acts of torture, ill treatment, arbitrary detention, and other abuses occurring in them. Torture and inhuman treatment are prohibited by both the government's international human rights obligations and the Constitution of Cambodia.
"The government of Cambodia must stop the torture occurring in these centers" said Amon. "Drug dependency can be addressed through expanded voluntary, community-based, outpatient treatment that respects human rights and is consistent with international standards."
Selected accounts from individuals interviewed for "Skin on the Cable":
"I think this is not a rehab center but a torturing center." - Kakada, former detainee
"[A staff member] would use the cable to beat people...On each whip the person's skin would come off and stick on the cable..." - M'noh, age 16, describing whippings he witnessed in the Social Affairs "Youth Rehabilitation Center" in Choam Chao
"[After arrest] the police search my body, they take my money, they also keep my drugs...They say, 'If you don't have money, why don't you go for a walk with me?...[The police] drove me to a guest house.... How can you refuse to give him sex? You must do it. There were two officers. [I had sex with] each one time. After that they let me go home." - Minea, a woman in her mid 20's who uses drugs, explaining how she was raped by two police officers
"[Shortly after arrival] I was knocked out. Other inmates beat me....They just covered me with a blanket and beat me...They beat me in the face, my chest, my side. I don't know how long it lasted...The staff had ordered the inmates to beat me. The staff said, 'The new chicken has arrived, let's pluck its feathers and eat it!'" - Duongchem, former detainee
This press release also available in: Khmer
Human Rights Watch is one of the world's leading independent organizations dedicated to defending and protecting human rights. By focusing international attention where human rights are violated, we give voice to the oppressed and hold oppressors accountable for their crimes. Our rigorous, objective investigations and strategic, targeted advocacy build intense pressure for action and raise the cost of human rights abuse. For 30 years, Human Rights Watch has worked tenaciously to lay the legal and moral groundwork for deep-rooted change and has fought to bring greater justice and security to people around the world.
LATEST NEWS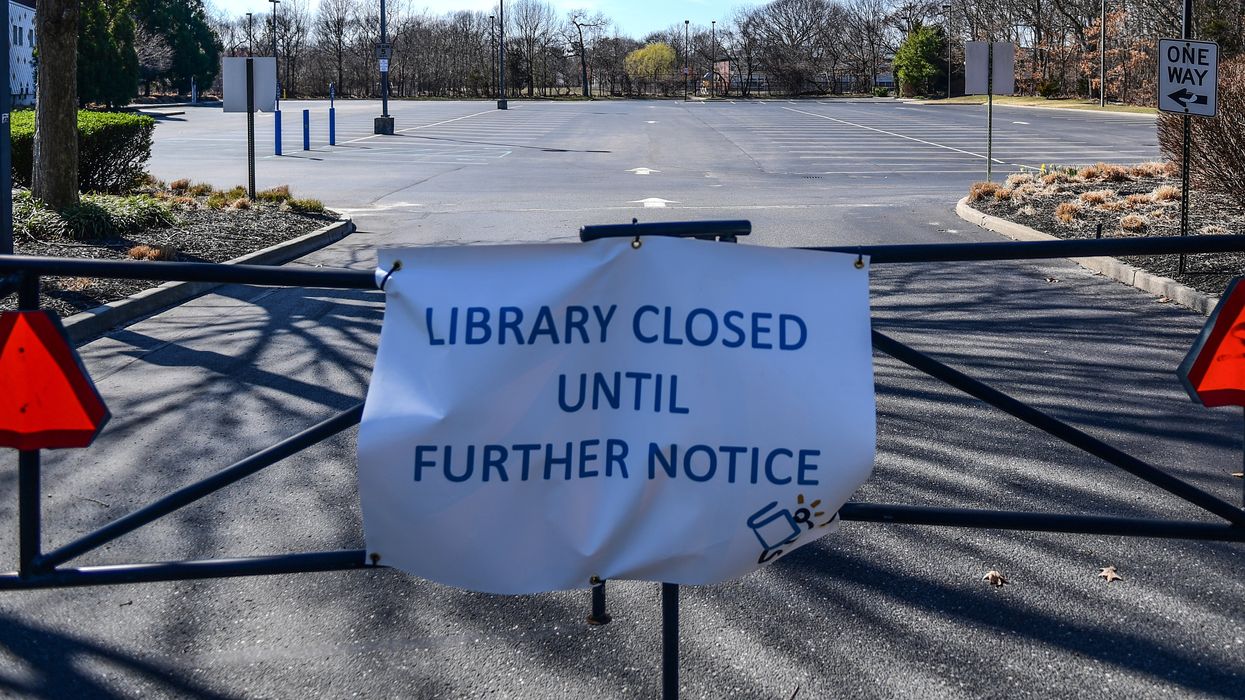 "For democracy to thrive at global scale, libraries must be able to sustain their historic role in society—owning, preserving, and lending books," said Internet Archive founder Brewster Kahle. "This ruling is a blow for libraries, readers, and authors."
Internet Archive vowed to appeal after a U.S. district court judge on Friday sided with four major publishers who sued the nonprofit for copyright infringement.
Prior to the Covid-19 pandemic, Internet Archives operated a controlled digital lending system, allowing users to digitally check out scanned copies of purchased or donated books on a one-to-one basis. As the public health crises forced school and library closures, the nonprofit launched the National Emergency Library, making 1.4 million digital books available without waitlists.
Hachette, HarperCollins, John Wiley & Sons, and Penguin Random House sued Internet Archive over its lending policies in June 2020. Judge John G. Koeltl of the Southern District of New York on Friday found in Hachette v. Internet Archive that the nonprofit "creates derivative e-books that, when lent to the public, compete with those authorized by the publishers."
A future in which libraries are just a shell for Big Tech's licensing software and Big Media's most popular titles would be awful—but that's where we're headed if this decision stands.
Internet Archive "argues that its digital lending makes it easier for patrons who live far from physical libraries to access books and that it supports research, scholarship, and cultural participation by making books widely accessible on the Internet," the judge wrote. "But these alleged benefits cannot outweigh the market harm to the publishers."

In a statement responding to the ruling, Internet Archive founder Brewster Kahle pledged to keep fighting against the publishers.
"Libraries are more than the customer service departments for corporate database products. For democracy to thrive at global scale, libraries must be able to sustain their historic role in society—owning, preserving, and lending books," Kahle said. "This ruling is a blow for libraries, readers, and authors and we plan to appeal it."
Internet Archive's supporters have shared similar warnings throughout the ongoing court battle, including after the ruling Friday.
"In a chilling ruling, a lower court judge in New York has completely disregarded the traditional rights of libraries to own and preserve books in favor of maximizing the profits of Big Media conglomerates," declared Lia Holland, campaigns and communications director at the digital rights group Fight for the Future.
"We applaud the Internet Archive's appeal announcement, as well as their steadfast commitment to preserving the rights of all libraries and their patrons in the digital age," they said. "And our admiration is shared—over 14,000 people having signed our pledge to defend libraries' digital rights at BattleForLibraries.com this week alone."
Holland continued:
From a basic human rights perspective, it is patently absurd to equate an e-book license issued through a surveillance-ridden Big Tech company with a digital book file that is owned and preserved by a privacy-defending nonprofit library. Currently, publishers offer no option for libraries to own and preserve digital books—leaving digital books vulnerable to unauthorized edits, censorship, or downright erasure, and leaving library patrons vulnerable to surveillance and punishment for what they read.

In a world where libraries cannot own, preserve, or control the digital books in their collections, only the most popular, bestselling authors stand to benefit—at the expense of the vast majority of authors, whose books are preserved and purchased by libraries well after publishers have stopped promoting them. Further, today a disproportionate number of traditionally marginalized and local voices are being published in digital-only format, redoubling the need for a robust regime of library preservation to ensure that these stories survive for generations to come.

A future in which libraries are just a shell for Big Tech's licensing software and Big Media's most popular titles would be awful—but that's where we're headed if this decision stands. No book-lover who wants an equitable and trustworthy written world could find such a future desirable. Accordingly, we plan to organize an in-person action to demand robust ownership and preservation standards for digital books and libraries. For updates on when and where, check BattleForLibraries.com.
More than 300 authors last September signed an open letter led by Fight for the Future calling out publishers and trade associations for their actions against digital libraries, including the lawsuit targeting Internet Archive.
"Libraries saved my life as a young reader, and I've seen them do as much and more for so many others," said signatory Jeff Sharlet. "At a time when libraries are at the frontlines of fascism's assault on democracy, it is of greater importance than ever for writers to stand in solidarity with librarians in defense of the right to share stories. Democracy won't survive without it."
Fellow signatory Erin Taylor asserted that "the Internet Archive is a public good. Libraries are a public good. Only the most intellectually deprived soul would value profit over mass access to literature and knowledge."
Koeltl's ruling came just two days after the American Library Association released a report revealing that in 2022, a record-breaking 2,571 titles were challenged by pro-censorship groups pushing book bans, a 38% increase from the previous year.
Meanwhile, Republicans in the U.S. House of Representatives on Friday passed the so-called Parents Bill of Rights Act, which education advocates and progressive lawmakers argue is intended to ban books and further ostracize marginalized communities.

News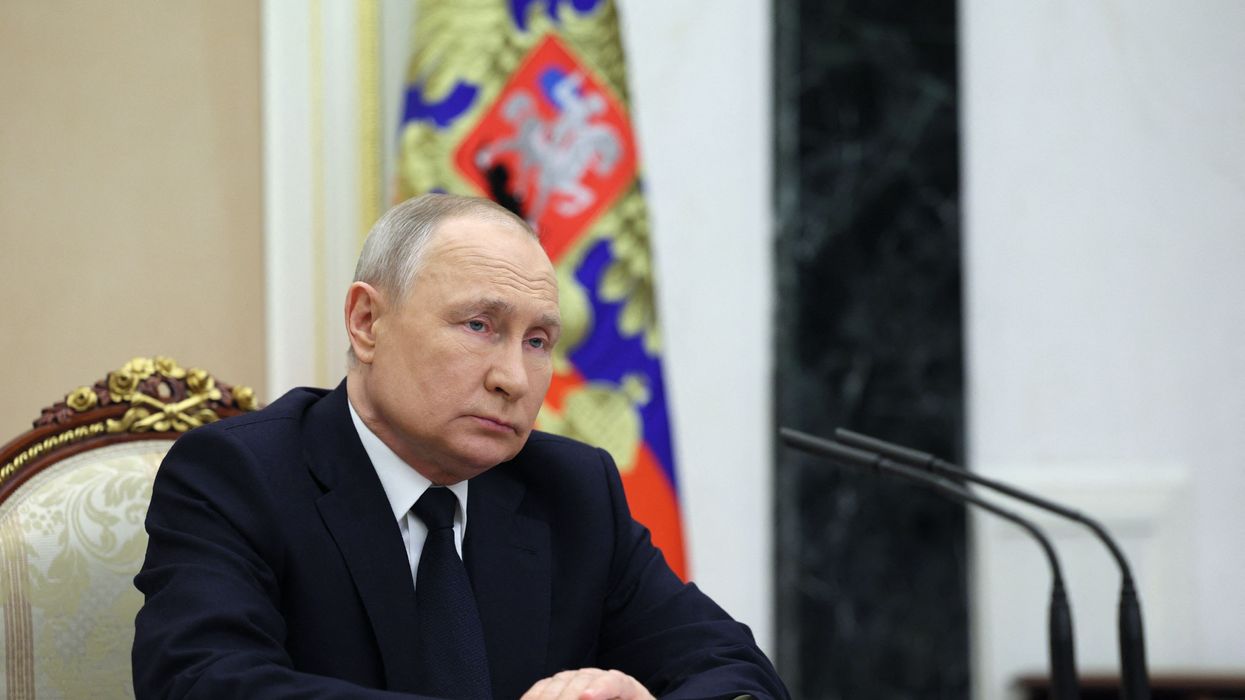 "Putin's nuclear provocations are dangerous and unacceptable. U.S. and NATO must resist calls to respond in kind and avoid injecting nuclear weapons deeper into this war," said Global Zero's Derek Johnson.

Russian President Vladimir Putin announced on state television Saturday plans to station tactical nuclear weapons in Belarus—an escalation anti-war campaigners had been warning about and that alarmed disarmament advocates and experts.
The International Campaign to Abolish Nuclear Weapons (ICAN) "condemns this extremely dangerous escalation which makes the use of nuclear weapons more likely," the group declared in a series of tweets.
"In the context of the war in Ukraine, the likelihood of miscalculation or misinterpretation is extremely high," ICAN added. "Sharing nuclear weapons makes the situation much worse and risks catastrophic humanitarian consequences."
"Sharing nuclear weapons makes the situation much worse and risks catastrophic humanitarian consequences."
The deployment decision comes 13 months into Russia's invasion of Ukraine and after the United Kingdom this week revealed plans to provide the invaded nation with armor-piercing rounds containing depleted uranium (DU).
Putin said the U.K.'s announcement "probably served as a reason" why Belarusian President Alexander Lukashenko agreed to the plan and argued that it won't violate Russia's international nonproliferation treaty obligations, according to a BBC translation.
As Reutersexplained, "The Treaty on the Nonproliferation of Nuclear Weapons, signed by the Soviet Union, says that no nuclear power can transfer nuclear weapons or technology to a nonnuclear power, but it does allow for the weapons to be deployed outside its borders but under its control—as with U.S. nuclear weapons in Europe."
The United States, which has the world's second-largest nuclear arsenal after Russia, "long ago deployed their nuclear weapons on the territory of their allies, NATO countries, in Europe," the Russia leader noted. "We are doing the same thing that they have been doing for decades."
Russia "will not hand over" nuclear arms to Belarus, Putin insisted, explaining that his country has already given its ally an Iskander missile complex that can be equipped with weapons, plans to start training crews in early April, and aims to complete construction of a special storage facility for the nukes by the beginning of July.
The Soviet Union collapsed in 1991 and in the five years that followed, nuclear weapons based in Belarus, Kazakhstan, and Ukraine were transferred to Russia—where they have remained since.
"It's a very significant move," Nikolai Sokol, a senior fellow at the Vienna Center for Disarmament and Nonproliferation, toldReuters of the deployment decision. "Russia had always been very proud that it had no nuclear weapons outside its territory. So, now, yes, they are changing that and it's a big change."
Hans Kristensen, director of the Federation of American Scientists' Nuclear Information Project, told Reuters that "this is part of Putin's game to try to intimidate NATO... because there is no military utility from doing this in Belarus as Russia has so many of these weapons and forces inside Russia."
Global Zero managing partner Derek Johnson said that "Putin's nuclear provocations are dangerous and unacceptable. U.S. and NATO must resist calls to respond in kind and avoid injecting nuclear weapons deeper into this war."

In addition to his nuclear announcement, Putin pointed out during the Saturday interview that Russia also has depleted uranium shells. As he put it: "I must say that certainly, Russia has something to respond. Without exaggeration, we have hundreds of thousands, namely hundreds of thousands of such shells. We are not using them now."
A U.K. Ministry of Defense official had confirmed earlier this week that "alongside our granting of a squadron of Challenger 2 main battle tanks to Ukraine, we will be providing ammunition including armor-piercing rounds which contain depleted uranium," which swiftly generated concerns about not only Russian nuclear threats but also public health and environmental impacts.
"DU shells have already been implicated in thousands of unnecessary deaths from cancer and other serious illnesses," stressed Kate Hudson, general secretary of the U.K.-based Campaign for Nuclear Disarmament, which has advocated for a moratorium on such arms. "Sending them into yet another war zone will not help the people of Ukraine."
This post has been updated with new comments from Derek Johnson.

News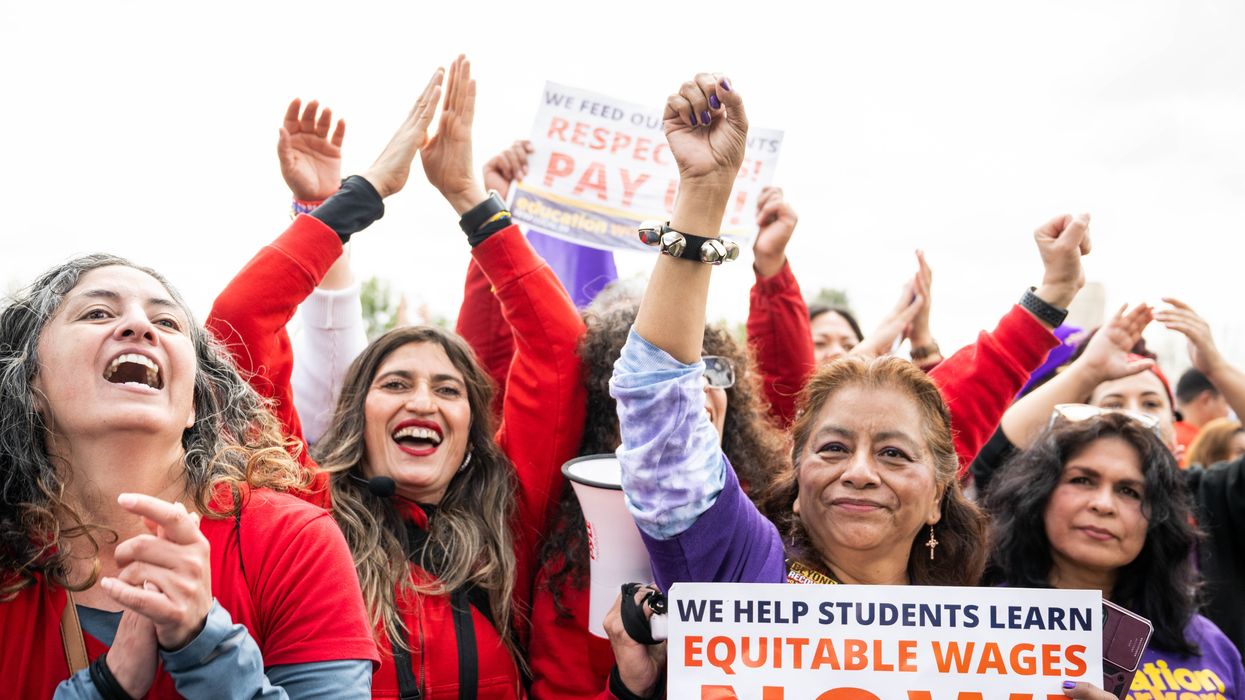 "The agreement addresses our key demands and sets us on a clear pathway to improving our livelihoods and securing the staffing we need to improve student services," said SEIU Local 99.
Union negotiators for about 30,000 school support staffers in California's Los Angeles County struck a historic deal with the second-largest district in the United States on Friday after a three-day strike.
Members of Service Employees International Union (SEIU) Local 99, including bus drivers, cafeteria workers, special education assistants, teaching aides, and other school staff—backed by about 35,000 educators of United Teachers Los Angeles (UTLA)—walked off the job on Tuesday and continued to strike through Thursday.
The tentative contract agreement, which must still be voted on by SEIU Local 99 members, was reached with the Los Angeles Unified School District (LAUSD) after mediation from Democratic Mayor Karen Bass.
The deal would increase the average annual salary from $25,000 to $33,000, raise wages by 30%, boost the district minimum wage to $22.52, provide a $1,000 Covid-19 pandemic bonus, secure healthcare benefits for part-time employees who work at least four hours a day, and guarantee seven hours of work for special education assistants.
"The agreement addresses our key demands and sets us on a clear pathway to improving our livelihoods and securing the staffing we need to improve student services," SEIU Local 99 said in a statement. "It was members' dedication to winning respect from the district that made this agreement possible."
The Los Angeles Times reports that during a Friday news conference at City Hall with Bass and Alberto Carvalho, the LAUSD superintendent, Local 99 executive director Max Arias declared that "here in California this agreement will set new standards, not just for Los Angeles, but the entire state."
"I want to appreciate the 30,000 members that sacrificed three days of work, despite low income, to raise the issue to society, that we as a society need to do better for all workers, all working people, for everyone," Arias added.
While the strike meant about 400,000 K-12 students weren't in classes for three days this week, "many parents stood in support of union employees," according toKTLA, with one local parent saying that "it's obvious all over the schools that we're really not putting the support where it's needed and our children are suffering because of that."
In a series of tweets, Local 99 thanked people from across the country for their solidarity this past week and stressed that the LA mayor, who has no formal authority over LAUSD, "was instrumental to getting the district to finally start hearing our demands."
Bass, in a statement, thanked Arias and Carvalho "for working together with me to put our families first" and emphasized that "we must continue working together to address our city's high cost of living, to grow opportunity, and to support more funding for LA's public schools, which are the most powerful determinant of our city's future."
Carvalho said Friday that "when we started negotiating with SEIU, we promised to deliver on three goals. We wanted to honor and elevate the dignity of our workforce and correct well-known, decadeslong inequities impacting the lowest-wage earners. We wanted to continue supporting critical services for our students. We wanted to protect the financial viability of the district for the long haul. Promises made, promises delivered."
Contract talks with district teachers are ongoing. When announcing support for Local 99's strike earlier this month, UTLA president Cecily Myart-Cruz said that "despite LAUSD having one of the largest school budgets and largest reserves in the nation—teachers and essential school workers are struggling to support their own families and live in the communities they work for."
The strike and pending deal in California come amid a rejuvenated labor organizing movement across the United States, with employees of major corporations including Amazon and Starbucks fighting for unions.
News
SUPPORT OUR WORK.
We are independent, non-profit, advertising-free and 100%
reader supported.