For Immediate Release
November, 18 2009, 12:52pm EDT
Contact:
Phone: 202-332-9110
Bipartisan Food Safety Bill Poised for Floor Vote
Food Safety Reform Legislation Clears HELP Committee
WASHINGTON
Americans may soon be able to enjoy their peanuts, peppers, spinach
and cookie dough with greater confidence that those foods are safe to
eat if the full Senate passes the food safety legislation that cleared
a key committee today. The FDA Food Safety Modernization Act (S. 510),
offered by Senators Richard Durbin (D-IL) and Tom Harkin (D-IA), was
passed unanimously in the Health, Education, Labor, and Pensions (HELP)
Committee.
Food safety advocates are calling on the full body to pass
the bill before the end of the year. Similar legislation passed the
House in July.
"Americans expect the businesses that grow, fish, process and
handle our food are following the best practices to ensure it is safe,"
said CSPI food safety
director Caroline Smith DeWaal. "This bill gives FDA needed new
authorities to manage food safety from farm to table, through improved
standards and more frequent inspections."
The bill calls on food processors to register with the
government periodically, implement food safety plans, meet FDA
performance standards, and verify that the food they import complies
with U.S. law. The House-passed bill
also requires more frequent risk-based inspections of food processing
facilities and microbial testing for dangerous pathogens like
Salmonella or E. coli O157:H7. Under the current system, food
manufacturing facilities might only receive visits from an FDA
inspector once every five or 10 years. Both bills also give the FDA
authority to issue mandatory recalls of contaminated foods.
"Senator Durbin and Senator Harkin have been championing food
safety for years, and they deserve enormous credit for crafting a bill
with such broad bipartisan support," said DeWaal. "We're also grateful
for the cosponsorship of Ranking Member Mike Enzi and Senators Judd
Gregg and Richard Burr and the rest of the Republicans who joined the
Democrats in advancing this legislation."
The bill is widely supported by a diverse coalition of
consumer and health groups, including the American Public Health
Association, Consumer Federation of America, Consumers Union, Safe
Tables Our Priority, the Pew Charitable Trusts, and Trust for America's
Health. The Make Our Food Safe coalition
will continue to seek some strengthening amendments to the legislation,
but urge rapid passage in order to restore consumer confidence, which
has been shaken by numerous outbreaks of food-borne illness.
Since 1971, the Center for Science in the Public Interest has been a strong advocate for nutrition and health, food safety, alcohol policy, and sound science.
LATEST NEWS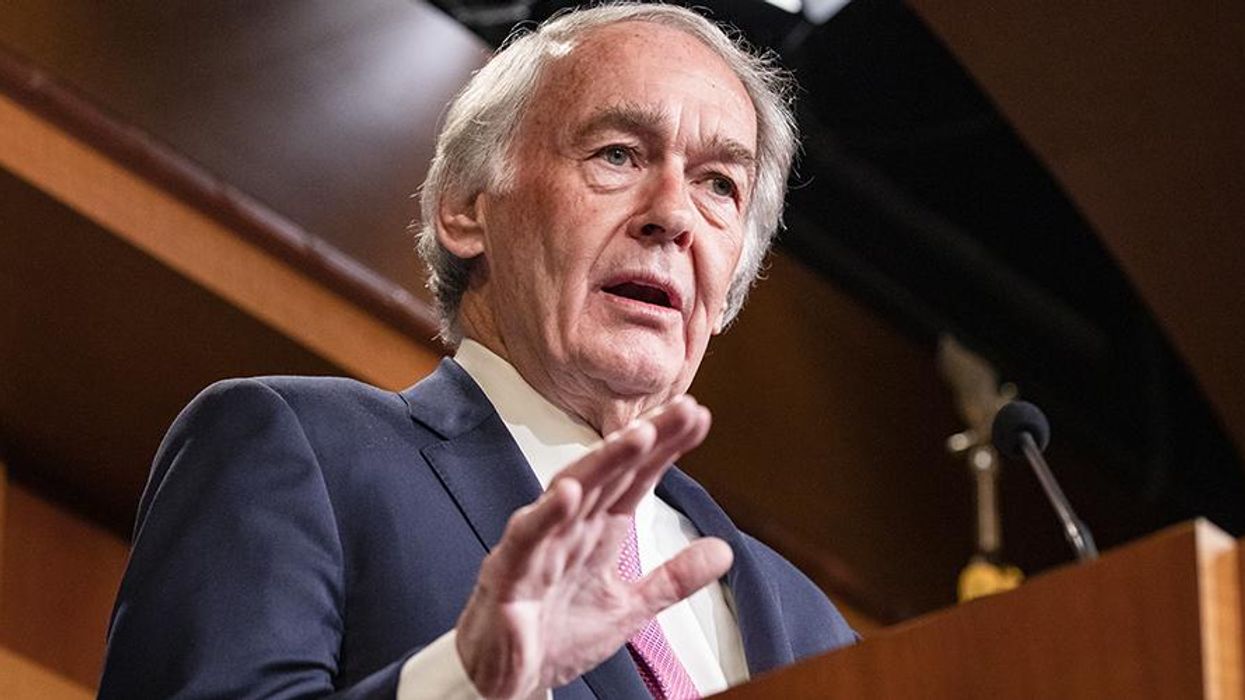 The senator noted the organization acknowledged it received funding from oil giant Chevron as recently as 2020.

U.S. Sen. Ed Markey on Friday joined thousands of scientists from across the globe in demanding that the American Geophysical Union answer for its decision in December to expel two climate researchers from its Fall Meeting after they staged a brief, peaceful protest urging their colleagues to engage in climate activism.
In a letter to the AGU, the Massachusetts Democrat denounced the organization's "gross overreaction" and warned that it could "have a chilling effect on scientifically informed activism by climate scientists."
As Common Dreamsreported last month, Rose Abramoff and Peter Kalmus walked on stage in between speakers at the meeting on December 15 in Chicago, and displayed a banner reading, "Out of the lab and into the streets."
The protest lasted roughly 30 seconds, but officials responded by ripping the banner out of the scientists' hands and, according to Kalmus, taking their badges and removing them from the meeting.
"It is as baffling as it is disappointing that AGU apparently paired its important efforts to promote global understanding of climate change with efforts to suppress actions taken in furtherance of it."
HEATED reported in late January that Kalmus and Abramoff were threatened with arrest if they returned and were told that their workplaces would be contacted. On January 3, Abramoff was fired from Oak Ridge National Laboratory in Tennessee.
"A source with knowledge of the AGU ethics process implied [an organization official] had not contacted [Oak Ridge], and that the tip off had come from a colleague at Oak Ridge," HEATED reported. "But AGU would not confirm that on the record, citing the ongoing investigation."
Markey noted in his letter on Friday that, "discordantly," the conference welcomed comments by former Costa Rican President Carlos Alvarado Quesada about the "ethical and moral responsibility" scientists have to place their research and knowledge at the "center of political action," even though it may be "very unpopular."
"Sadly, AGU's response to Drs. Abramoff and Kalmus appears to have validated former President Quesada's prescient warning," wrote Markey. "It is as baffling as it is disappointing that AGU apparently paired its important efforts to promote global
understanding of climate change with efforts to suppress actions taken in furtherance of it."
The senator, who co-sponsored Green New Deal legislation with Rep. Alexandria Ocasio-Cortez (D-N.Y.), called on the AGU to answer a number of questions about their actions, calling for clarification about whether officials threatened the scientists and contacted their workplaces as well as asking about potential conflicts of interest at the organization.
"AGU acknowledged funding from Chevron as recently as 2020, and previously voted to continue receiving money from Exxon," wrote Markey. "Does AGU currently accept sponsorship or any other form of funding from fossil fuel companies for the annual Fall Meeting or any other activities? If not, when did AGU stop taking such funding? If yes, what safeguards are in place to ensure that AGU is not influenced by such funding in how it responds to climate protest?"
More than 2,300 scientists have signed a separate letter condemning AGU's actions.

News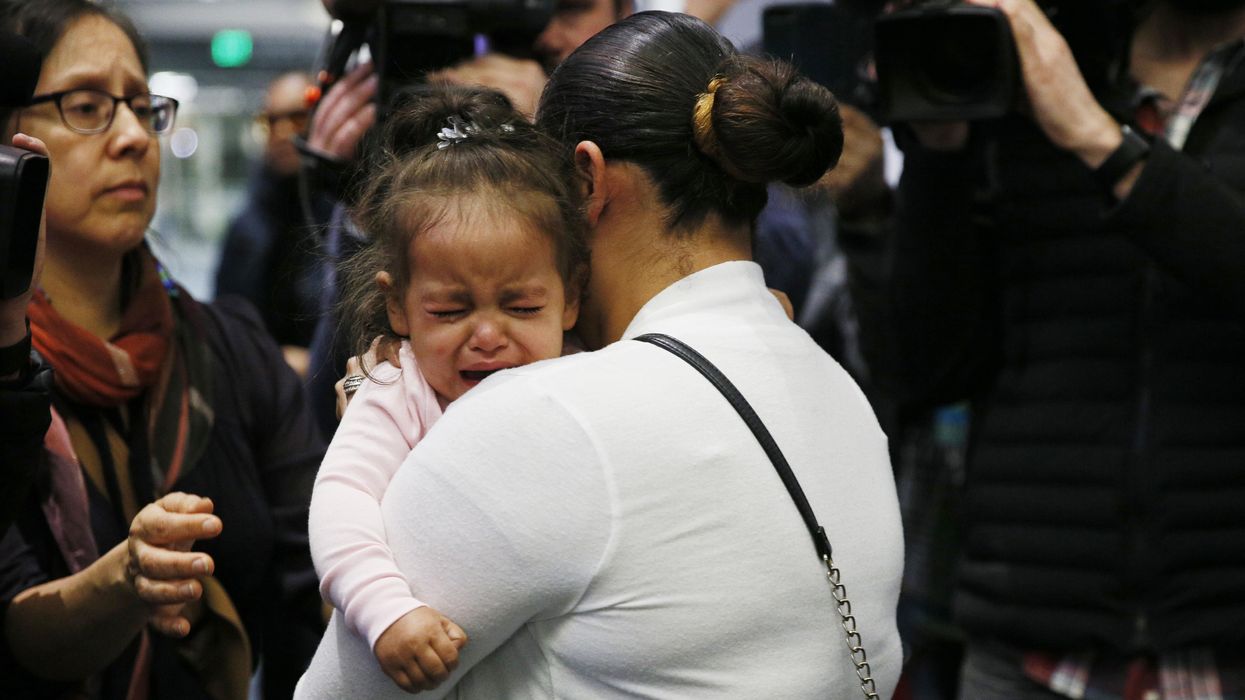 "This cruelty happened nearly five years ago," said one advocate. "That's an unimaginably long time for children to go without their parents."
As some families seek restitution for the suffering caused by former President Donald Trump's family separation policy, the U.S. Department of Homeland Security on Thursday acknowledged that nearly five years after the policy was first enforced, 998 children have yet to be reunited with their relatives.
On the two-year anniversary of the establishment of President Joe Biden's Interagency Task Force on the Reunification of Families, the DHS said it has reunited more than 600 children who were taken from their families under Trump's so-called "zero tolerance" policy, which called for the prosecution of anyone who attempted to cross the U.S.-Mexico border without going through official immigration channels.
Many children were reunited through a court process before Biden took office, but of the nearly 4,000 children who were taken from their families and sent to locations across the country with recordkeeping about their identities and whereabouts that was "patchwork at best," according to DHS, roughly a quarter of them are still separated.
"This cruelty happened nearly five years ago," said Krish O'Mara Vignarajah, president and CEO of the Lutheran Immigration & Refugee Service. "That's an unimaginably long time for children to go without their parents."
\u201cThis cruelty happened nearly 5 years ago. That\u2019s an unimaginably long time for children to go without their parents. Tragically, when they reunite, it often takes even longer to heal from the trauma. Without a doubt, the Family Separation policy will forever be a stain on the US.\u201d

— Krish O'Mara Vignarajah (@Krish O'Mara Vignarajah) 1675363540
Many of the children who were separated arrived at the border from Central American countries, with their parents traveling to the border to seek asylum from violence and conflict—exercising a protected human right under international and domestic law.
The DHS noted that the number of families coming forward to identify themselves as having been forcibly separated continues to grow.

"We understand that our critical work is not finished," Homeland Security Secretary Alejandro Mayorkas said in a statement. "We remain steadfast in our commitment to fulfill President Biden's pledge to reunify all children who were separated from their families under the 'zero tolerance' policy to the greatest extent possible, and we continue to work diligently to incorporate the foundational principle of family unity in our policies and operations."
"The real world human impact of the Trump administration's depravity still reverberates today."
The agency is currently in the process of reuniting 148 children with their families, and has contacted 183 additional families regarding reunification.
Aside from the attempting to reunite families, the Biden administration said it is also meeting with recently reunified families "to hear directly from them and better understand their experiences and current needs," including support for the trauma the federal government inflicted on them.
On Wednesday, the day before the DHS made its announcement, Selvin Argueta and his son, who is now 21, filed a federal lawsuit seeking monetary damages for the forced separation they suffered in 2018 under the policy. Argueta's son, Selvin Najera, was 16 when they arrived at the border from Guatemala, where they had faced threats from gangs.
Argueta was deported while Najera was sent to a detention center where, the lawsuit alleges, he faced physical and emotional abuse.

Father and son were reunited in January 2020 after a federal judge ruled that Argueta's deportation was unlawful. Their lawsuit seeks restitution for "intentional infliction of emotional distress, negligence, abuse of process, and harboring a minor."

"The real world human impact of the Trump administration's depravity still reverberates today," said journalist Ahmed Baba.
Rights advocates have condemned the Biden administration for continuing other anti-immigration polices including Title 42, under which families are still being separated. The Texas Observerreported in November that between January 2021, when Biden took office, and August 2022, at least 372 cases of family separation were documented by the government.
"Though family separation is no longer explicitly used as a weapon in U.S. immigration policy," wrote Erica Bryant at Vera Institute of Justice last June, "it is still a horrifying result."

News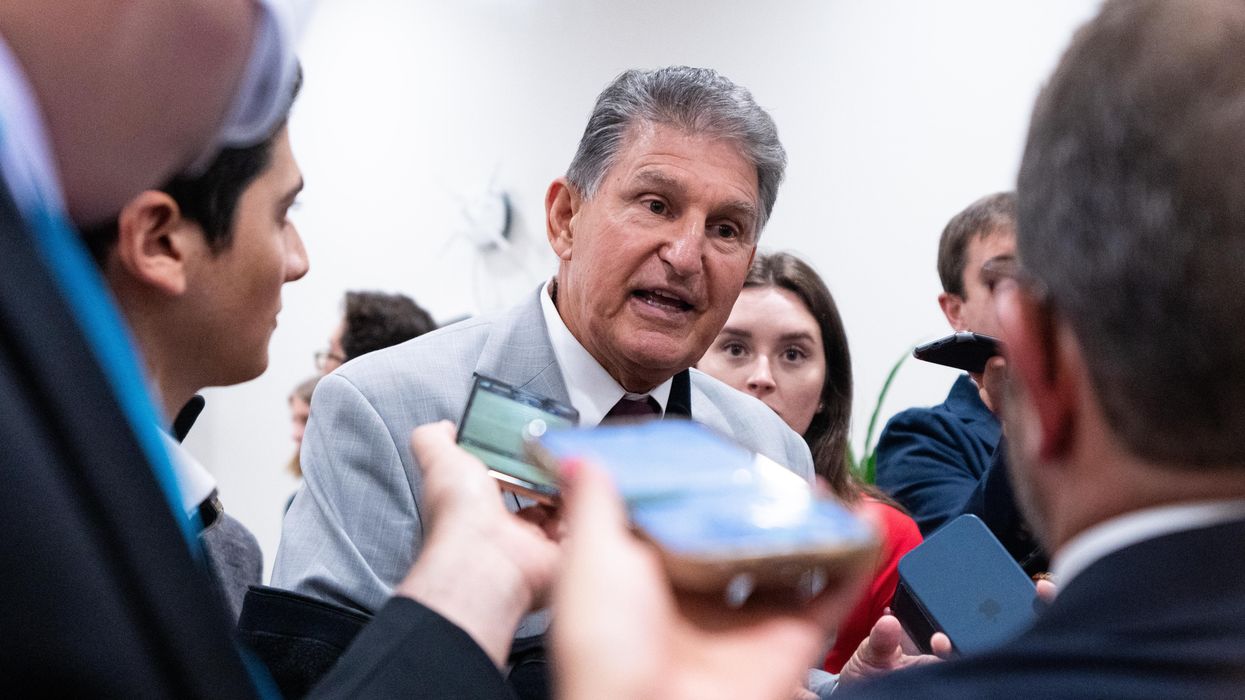 The West Virginia Democrat used a Senate hearing this week to promote a toxic coal mining byproduct that is a source of profit for his family business.
Sen. Joe Manchin on Thursday responded dismissively to a reporter's question about the glaring conflict of interest posed by his family's ownership of a business that is profiting from coal waste—a toxic energy source that the West Virginia Democrat is actively promoting in the Senate.

"It's just our way of life, OK?" Manchin (D-W.Va.) toldE&E News climate reporter Adam Aton.
"I mean, I live in coal country, so if you don't work in coal country, you don't work in West Virginia, usually," Manchin added.
The senator's comments came after he used a Senate Energy and Natural Resources Committee hearing to push Deputy Energy Secretary David Turk on why the Biden administration isn't devoting more federal resources toward expanding the use of coal waste, also known as gob—an acronym for "garbage of bituminous."
Manchin, who chairs the committee despite the myriad potential conflicts stemming from his close ties to the fossil fuel industry, accused the Biden administration of waging "war on coal."
"Will you all continue to support commercialization of innovative uses for coal, including both from newly-mined coal or from coal waste?" Manchin asked Turk during Thursday's hearing.
Turk responded by saying the energy agency has "been working as a department on this," pointing to "four smaller pilot projects out there" and adding that there are "plans to try to build from that."
E&E News noted that as chair of the Senate Energy and Natural Resources Committee, Manchin "has used his influence to add hundreds of millions of dollars for minerals research to bipartisan infrastructure legislation—with a focus on coal waste that has boosted the coal industry."
\u201cEnvironmental groups have been calling for coal ash regulations that would classify the material as a hazardous waste and create more rigorous requirements for storing and transporting the ash. https://t.co/roR91SBBp7 @AdamAton\u201d

— Sierra Club Climate Adaptation & Restoration Team (@Sierra Club Climate Adaptation & Restoration Team) 1675453368
Manchin has insisted for years that he doesn't have any influence over his family business—which is called Enersystems and run by the senator's son—and that he has set up a blind trust for his company holdings.
Enersystems provides gob, a leftover of coal mining, to West Virginia's Grant Town power plant—the only power plant in the state that burns the substance.

The Washington Postreported in December 2021 that "documents filed by the senator show the blind trust is much too small to account for all his reported earnings from the coal company."
According to the Post, "Manchin's latest financial disclosure report says that the West Virginia family coal business that he helped found and run, Enersystems, paid him $492,000 in interest, dividends and other income in 2020, and that his share of the firm is worth between $1 million and $5 million. He signed a sworn statement saying he is aware of these earnings, underscoring that he is not blind to them."
"If Manchin's coal interests are not in a blind trust, ethics experts said, it calls into question the impartiality of a senator who in October forced Biden to drop the plan in his Build Back Better bill to phase out the same kinds of coal plants that are key to his family company's profitability," the Post added.
Manchin has wasted no time in the new Congress working to advance the interests of the fossil fuel industry, which donated more to the West Virginia Democrat than any other member of Congress during the last election cycle.
As Common Dreams reported this week, Manchin has teamed up with Sen. Ted Cruz (R-Texas) on a bill to shield pollution-spewing gas stoves and joined Rep. Bruce Westerman (R-Ark.) in an effort to revive a fossil fuel-friendly permitting overhaul that the Senate repeatedly rejected last year.
News
SUPPORT OUR WORK.
We are independent, non-profit, advertising-free and 100%
reader supported.