For Immediate Release
Contact:
Sam Husseini, (202) 347-0020; or David Zupan, (541) 484-9167
WASHINGTON

NOAM CHOMSKY
Chomsky, whose recent books include Interventions and The Essential Chomsky, sent the following to the Institute for Public Accuracy this morning: "A CNN headline, reporting Obama's plans for his June 4 Cairo address, reads 'Obama looks to reach the soul of the Muslim world.' Perhaps that captures his intent, but more significant is the content hidden in the rhetorical stance, or more accurately, omitted.
"Keeping just to Israel-Palestine -- there was nothing substantive about anything else -- Obama called on Arabs and Israelis not to 'point fingers' at each other or to 'see this conflict only from one side or the other.' There is, however, a third side, that of the United States, which has played a decisive role in sustaining the current conflict. Obama gave no indication that its role should change or even be considered.
"Those familiar with the history will rationally conclude, then, that Obama will continue in the path of unilateral U.S. rejectionism.
"Obama once again praised the Arab Peace Initiative, saying only that Arabs should see it as 'an important beginning, but not the end of their responsibilities.' How should the Obama administration see it? Obama and his advisers are surely aware that the Initiative reiterates the long-standing international consensus calling for a two-state settlement on the international (pre-June '67) border, perhaps with 'minor and mutual modifications,' to borrow U.S. government usage before it departed sharply from world opinion in the 1970s, vetoing a Security Council resolution backed by the Arab 'confrontation states' (Egypt, Iran, Syria), and tacitly by the PLO, with the same essential content as the Arab Peace Initiative except that the latter goes beyond by calling on Arab states to normalize relations with Israel in the context of this political settlement. Obama has called on the Arab states to proceed with normalization, studiously ignoring, however, the crucial political settlement that is its precondition. The Initiative cannot be a 'beginning' if the U.S. continues to refuse to accept its core principles, even to acknowledge them.
"In the background is the Obama administration's goal, enunciated most clearly by Senator John Kerry, chair of the Senate Foreign Relations Committee, to forge an alliance of Israel and the 'moderate' Arab states against Iran. The term 'moderate' has nothing to do with the character of the state, but rather signals its willingness to conform to U.S. demands.
"What is Israel to do in return for Arab steps to normalize relations? The strongest position so far enunciated by the Obama administration is that Israel should conform to Phase I of the 2003 Road Map, which states: 'Israel freezes all settlement activity (including natural growth of settlements).' All sides claim to accept the Road Map, overlooking the fact that Israel instantly added 14 reservations that render it inoperable.
"Overlooked in the debate over settlements is that even if Israel were to accept Phase I of the Road Map, that would leave in place the entire settlement project that has already been developed, with decisive U.S. support, to ensure that Israel will take over the valuable land within the illegal 'separation wall' (including the primary water supplies of the region) as well as the Jordan Valley, thus imprisoning what is left, which is being broken up into cantons by settlement/infrastructure salients extending far to the East. Unmentioned as well is that Israel is taking over Greater Jerusalem, the site of its major current development programs, displacing many Arabs, so that what remains to Palestinians will be separated from the center of their cultural, economic, and sociopolitical life. Also unmentioned is that all of this is in violation of international law, as conceded by the government of Israel after the 1967 conquest, and reaffirmed by Security Council resolutions and the International Court of Justice. Also unmentioned are Israel's successful operations since 1991 to separate the West Bank from Gaza, since turned into a prison where survival is barely possible, further undermining the hopes for a viable Palestinian state.
"It is worth remembering that there has been one break in U.S.-Israeli rejectionism. President Clinton recognized that the terms he had offered at the failed 2000 Camp David meetings were not acceptable to any Palestinians, and in December, proposed his 'parameters,' vague but more forthcoming. He then announced that both sides had accepted the parameters, though both had reservations. Israeli and Palestinian negotiators met in Taba, Egypt to iron out the differences, and made considerable progress. A full resolution could have been reached in a few more days, they announced in their final joint press conference. But Israel called off the negotiations prematurely, and they have not been formally resumed. The single exception indicates that if an American president is willing to tolerate a meaningful diplomatic settlement, it can very likely be reached.
"It is also worth remembering that the Bush I administration went a bit beyond words in objecting to illegal Israeli settlement projects, namely, by withholding U.S. economic support for them. In contrast, Obama administration officials stated that such measures are 'not under discussion' and that any pressures on Israel to conform to the Road Map will be 'largely symbolic,' so the New York Times reported (Helene Cooper, June 1).
"There is more to say, but it does not relieve the grim picture that Obama has been painting, with a few extra touches in his widely-heralded address to the Muslim World in Cairo on June 4."
A nationwide consortium, the Institute for Public Accuracy (IPA) represents an unprecedented effort to bring other voices to the mass-media table often dominated by a few major think tanks. IPA works to broaden public discourse in mainstream media, while building communication with alternative media outlets and grassroots activists.
LATEST NEWS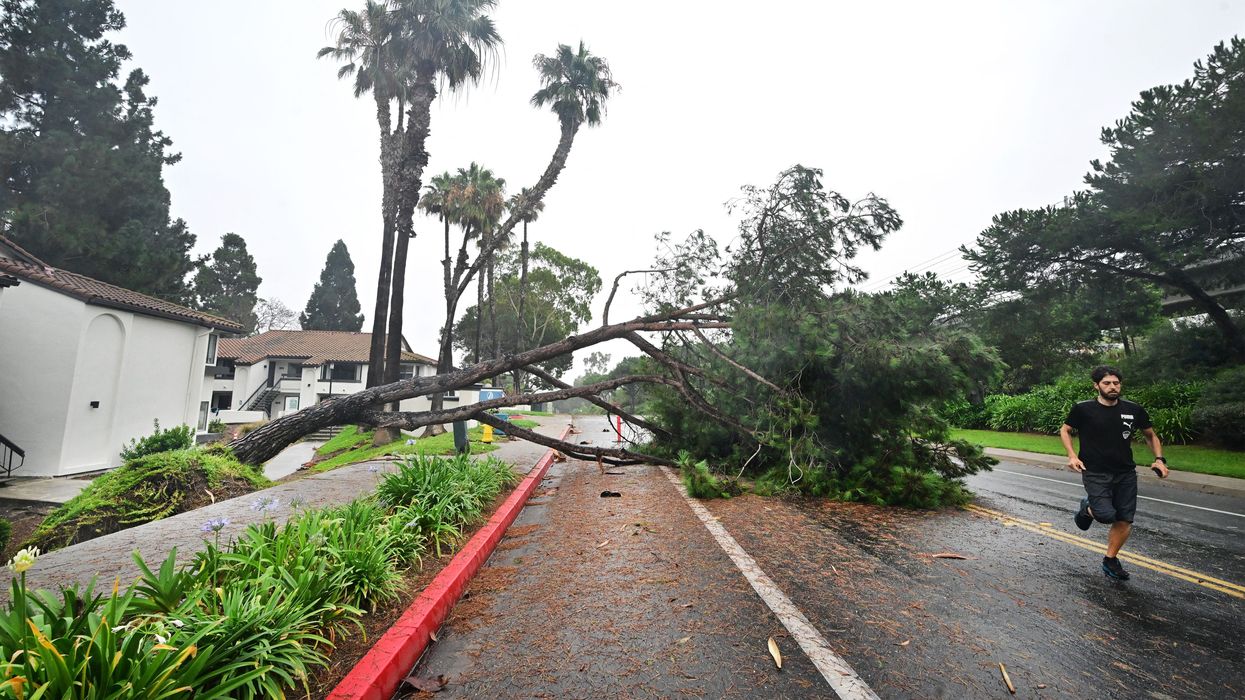 "California's move is an unmistakable sign that the wave of climate lawsuits against Big Oil will keep growing and that these polluters' days of escaping accountability for their lies are numbered."
The state of California on Friday filed suit against ExxonMobil, Shell, BP, ConocoPhillips, and Chevron, accusing the five oil and gas giants of a decadeslong campaign to mislead the public about the threat fossil fuels pose to the climate.

The lawsuit makes California the largest economy on the planet to take legal action against fossil fuel companies over their efforts to deceive the world about their destructive—and immensely profitable—business model. California is also a major producer of oil and gas.
"This has been a multi-decade, ongoing campaign to seek endless profits at the expense of our planet, our people, and the greedy corporations and individuals need to be held accountable," California Attorney General Rob Bonta toldThe New York Times in an interview on Friday. "That's where we come in."
With its new civil lawsuit, filed in a San Francisco court, California joins Rhode Island, Minnesota, Connecticut, Massachusetts, Vermont, and other states that have sued the fossil fuel industry over its role in massive climate damages. Dozens of municipalities, including several in California, have also filed lawsuits against oil giants.
According to the National Oceanic and Atmospheric Administration, the U.S. has experienced a record-breaking 23 billion-dollar extreme weather disasters this year, from deadly flooding in California to the catastrophic wildfire that killed nearly 100 people in Maui, Hawaii—which is also suing Big Oil.
Cities and states representing 25% of the U.S. population are currently taking part in some kind of climate-related legal action against the fossil fuel industry, according to Fossil Free Media, and the Biden Justice Department is facing growing pressure to join the fight.

In an effort to improve their chances of winning the mounting legal battles, fossil fuel giants have tried to move climate liability lawsuits from state to federal court—but the U.S. Supreme Court declined to hear their appeals earlier this year.
"Just like tobacco and opioid companies, the oil and gas industry will have to face the evidence of its deception in court."
Richard Wiles, the president of the Center for Climate Integrity, said in a statement Saturday that "California's decision to take Big Oil companies to court is a watershed moment in the rapidly expanding legal fight to hold major polluters accountable for decades of climate lies."
"Whether it's fires, droughts, extreme heat, or sea-level rise, Californians have been living in a climate emergency caused by the fossil fuel industry, and now the state is taking decisive action to make those polluters pay," said Wiles. "As similar cases proceed toward trial, California's move is an unmistakable sign that the wave of climate lawsuits against Big Oil will keep growing and that these polluters' days of escaping accountability for their lies are numbered. Just like tobacco and opioid companies, the oil and gas industry will have to face the evidence of its deception in court."
California's lawsuit, which also names the American Petroleum Institute as a defendant, comes days after The Wall Street Journalpublished a front-page story based on previously unreported documents that detail Exxon's behind-closed-doors effort to cast doubt on climate science after 2006, when the company publicly acknowledged the link between fossil fuels and climate change for the first time.

Exxon and other oil companies have been aware of the connection since the 1970s.

"For more than 50 years, Big Oil has been lying to us—covering up the fact that they've long known how dangerous the fossil fuels they produce are for our planet," California Gov. Gavin Newsom said in a statement. "It has been decades of damage and deception."

"Wildfires wiping out entire communities, toxic smoke clogging our air, deadly heatwaves, record-breaking droughts parching our wells," Newsom continued. "California taxpayers shouldn't have to foot the bill. California is taking action to hold big polluters accountable."

The Times noted Friday that California's lawsuit aims to establish "a fund that would be used to pay for recovery from extreme weather events and mitigation and adaptation efforts across the state."

"The lawsuit claims that California has already spent tens of billions of dollars paying for climate disasters, and expects costs to rise significantly in the years ahead," the Times added.
Jamie Henn, the director of Fossil Free Media, said Saturday that with its lawsuit, "California just kicked open the door for every city and state in America to sue the fossil fuel industry for climate damages."
"After this summer of brutal heat waves and climate disasters, I think the public is hungry for a way to hold the fossil fuel industry accountable for the damage they've done," said Henn. "Big Oil knew, they lied, and now it's time to make them pay."

News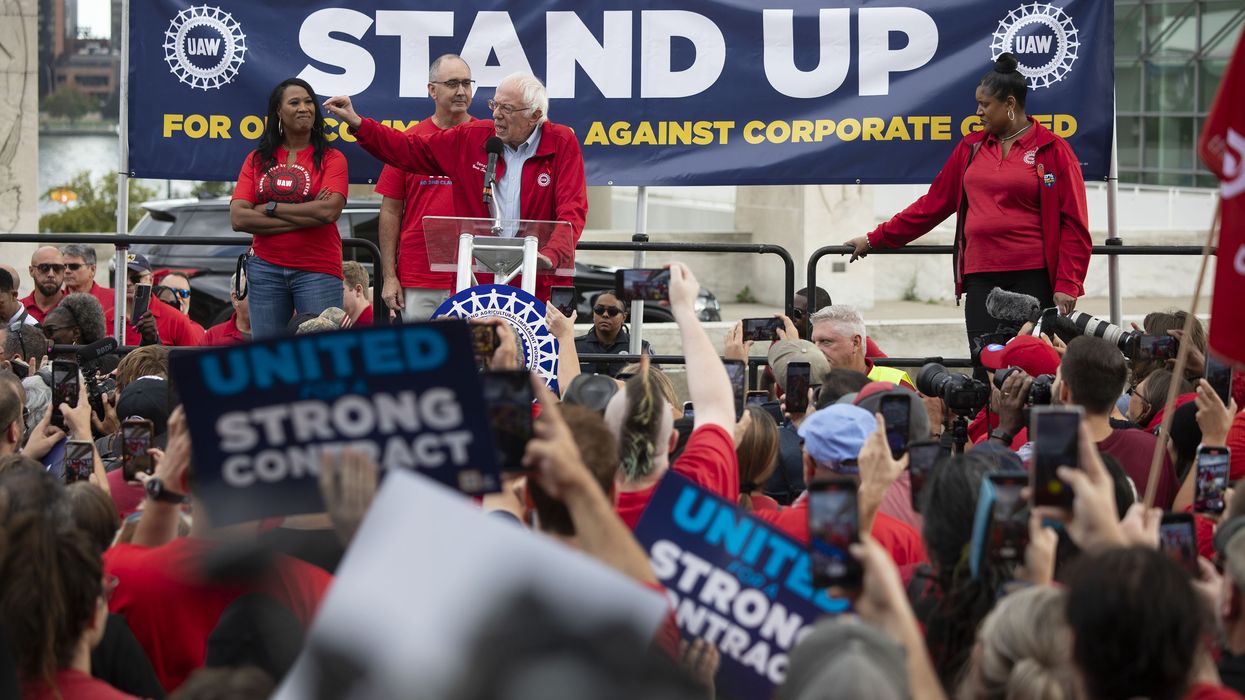 "The CEOs of General Motors, Ford, and Stellantis and their major stockholders on Wall Street have got to understand: they cannot have it all," said Sen. Bernie Sanders. "We refuse to live in an oligarchy."
Sen. Bernie Sanders used his remarks at a United Auto Workers rally in Detroit on Friday to send a message to the chief executives of the Big Three U.S. car manufacturers, which have thus far refused to meet the union's wage and benefit demands despite raking in huge profits over the past decade.
"It is time for you to end your greed," the Vermont senator said to cheers from the crowd gathered in downtown Detroit—home to the headquarters of General Motors—hours after more than 12,000 UAW members walked off the job in Michigan, Missouri, and Ohio, kicking off a historic strike that's likely to expand to more Big Three facilities as negotiations continue without a contract agreement.
Sanders (I-Vt.), one of organized labor's most vocal allies in Congress, called out each of the Big Three CEOs by name, highlighting their exorbitant compensation packages and asking whether they're aware of their employees' economic struggles.
"Do you have any clue what it's like for one of your workers to try to survive on $17 an hour, which is the average starting wage of an automobile worker?" Sanders asked, a question directed at General Motors CEO Mary Barra, who received around $29 million in total compensation last year.
"Do you know, Ms. Barra, what it's like to try to raise a family, put food on the table, and pay rent when you're making $20 an hour?" the senator asked, pointing out that Barra has pocketed more than $200 million in compensation since becoming General Motors' top executive in 2014.
Sanders proceeded to ask similar questions of the chief executives of Ford and Stellantis, who both made more than $20 million in 2022.
Addressing Stellantis CEO Carlos Tavares, Sanders said, "Do you know, Mr. Tavares, what it is like to be classified as a temp, and despite working year after year you remain a temp, receiving wages and benefits significantly lower than your brothers and sisters doing the same exact work?"
Turning his attention to Ford's Jim Farley, the senator noted that "last year you made more than $20 million in total compensation, and my guess is that when you retire from your job, you're gonna have a great pension, golden handshake, and all kinds of benefits."
"Do you have any clue as to what it's like to be a worker getting older, having worked your entire life, and not having any money in the bank as you prepare for retirement?" Sanders asked.
"Let's be clear that what the UAW is fighting for is not radical," Sanders continued, criticizing the corporate media for failing to put workers' demands in the context of massive corporate profits and major union sacrifices during the auto industry crisis more than a decade ago.
"Last year, these companies spent $9 billion not to improve the lives of their workers, but to pay for stock buybacks and dividends to make their wealthy stockholders even richer," Sanders said. "Meanwhile, while the CEOs and stockholders in the automobile industry made out like bandits, the workers who build the vehicles—you—are earning totally inadequate wages and, over the last several decades, have fallen further and further behind."
Sanders described the UAW's central demands—from a 36% wage increase to an end to tiered pay systems that leave newer workers far worse off—as "totally reasonable" compensation for the "record-breaking profits that their labor has produced."
"The CEOs of General Motors, Ford, and Stellantis and their major stockholders on Wall Street have got to understand: they cannot have it all," said Sanders. "We refuse to live in an oligarchy. We refuse to accept a society in which so few have so much and so many have so little."
News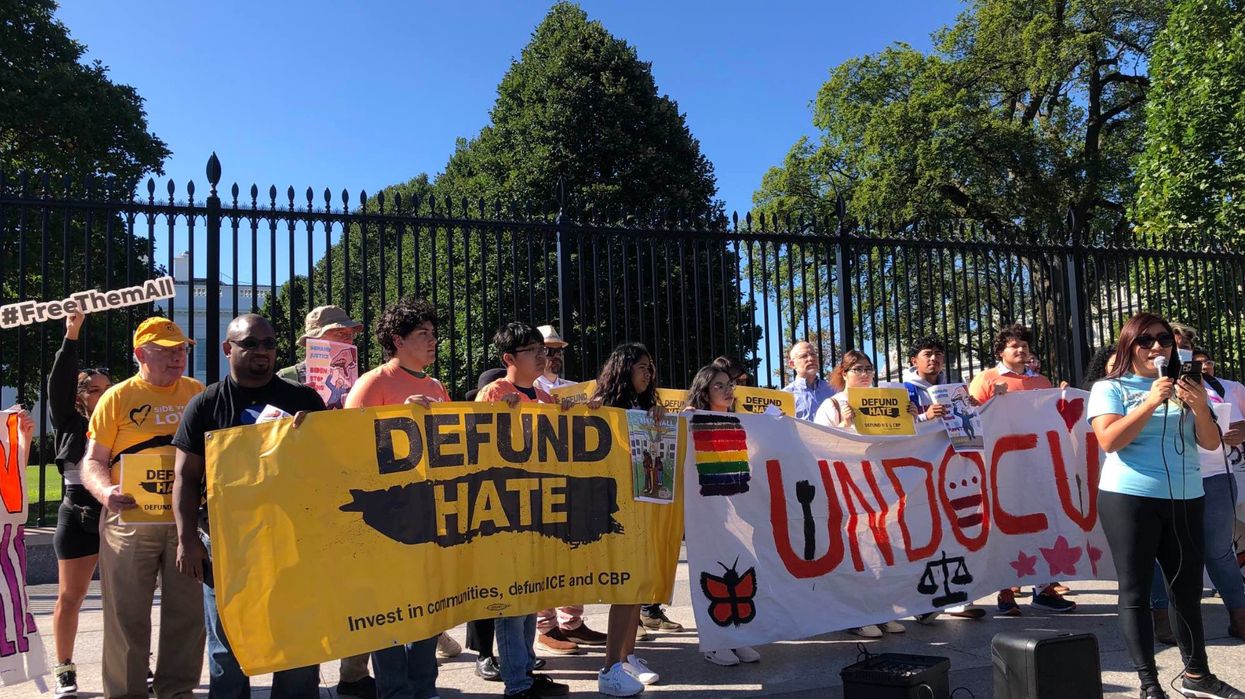 "Our tax dollars need to be used to strengthen our families and communities and uphold our human rights, not for the militarization of our beloved borderlands," said one activist.
A coalition of over 80 advocacy groups on Friday co-sponsored demonstrations in eight U.S. states and Washington, D.C. as part of a national day of action demanding the Biden administration close all federal immigration detention centers, release all migrants in custody, and end deportations.
Throughout his campaign, President Joe Biden "pledged to create an immigration system that is just and humane, including ending for-profit immigration detention," the coalition—which is organizing under the Defund Hate and Communities Not Cages banners—said in a statement.
"Our community is enraged and ready to push the Biden administration to fulfill his broken promises."
"However, after taking office, enforcement, detention, and surveillance have only increased and in July 2023, over 90% of detained immigrants are incarcerated in facilities owned and operated by private prison corporations that rake in billions of dollars in revenue," the groups continued.
Noting that at least 11 people have died during U.S. Immigration and Customs Enforcement (ICE) and Customs and Border Protection (CBP) detention during Biden's tenure, the coalition said that "the negligent death of 8-year-old Anadith Tanay Reyes Álvarez in CBP custody further highlights an immigration enforcement system beyond compassion and beyond repair."
"Our community is enraged and ready to push the Biden administration to fulfill his broken promises," the campaign added.
The activists are urging the Biden administration to:
Shut down federal immigration detention centers;
Defund ICE and CBP by cutting their funding in Biden's fiscal year 2025 budget request; and
Freeing everyone detained in federal immigration custody.
"We join our colleagues here in D.C. and around the country to demand the Biden administration to move away from the cruel imprisonment of immigrants, release those in ICE custody, end immigration detention, and halt all deportations immediately," Guerline Jozef, co-founder and executive director of the Haitian Bridge Alliance, said in a statement.
Protecting the civil liberties of those seeking a better life in the United States is a core tenant of our nation's democracy," Jozef added. "Throwing vulnerable people into prisons is deplorable—and often deadly."
Jovanny Hernandez, co-chair of the Southern Border Communities Coalition and an organizer for the New Mexico Dream Team,asserted that "it is our constitutional and human right for everyone to live free of inhumane treatment. Yet while the United States presents itself as a beacon of these human rights on the global stage, we continue to witness the violation of our rights at the southern border."
"Our tax dollars need to be used to strengthen our families and communities and uphold our human rights, not for the militarization of our beloved borderlands and the targeting, detention, and deportation of our families, neighbors, and newcomers seeking protection," Hernandez added.

Luba Cortes, immigrant defense coordinator at Make the Road New York, said: "ICE has a horrifying track record of mistreating immigrants—denying them access to legal counsel, denying them freedom, and severing them from their families. Despite this, our government continues to funnel billions of dollars into these detention centers."
"People should be able to navigate their immigration cases with dignity and respect and in the comfort of their homes, not from behind bars in a jail cell," Cortes argued. "It is time to hold this administration accountable. President Biden and Congress must stop wasting public money by unnecessarily punishing immigrants in these horrid facilities and instead focus on reinvesting resources into our communities."
News
Independent, nonprofit journalism needs your help.
Please Pitch In
Today!