Opinion
Climate
Economy
Politics
Rights & Justice
War & Peace
LATEST NEWS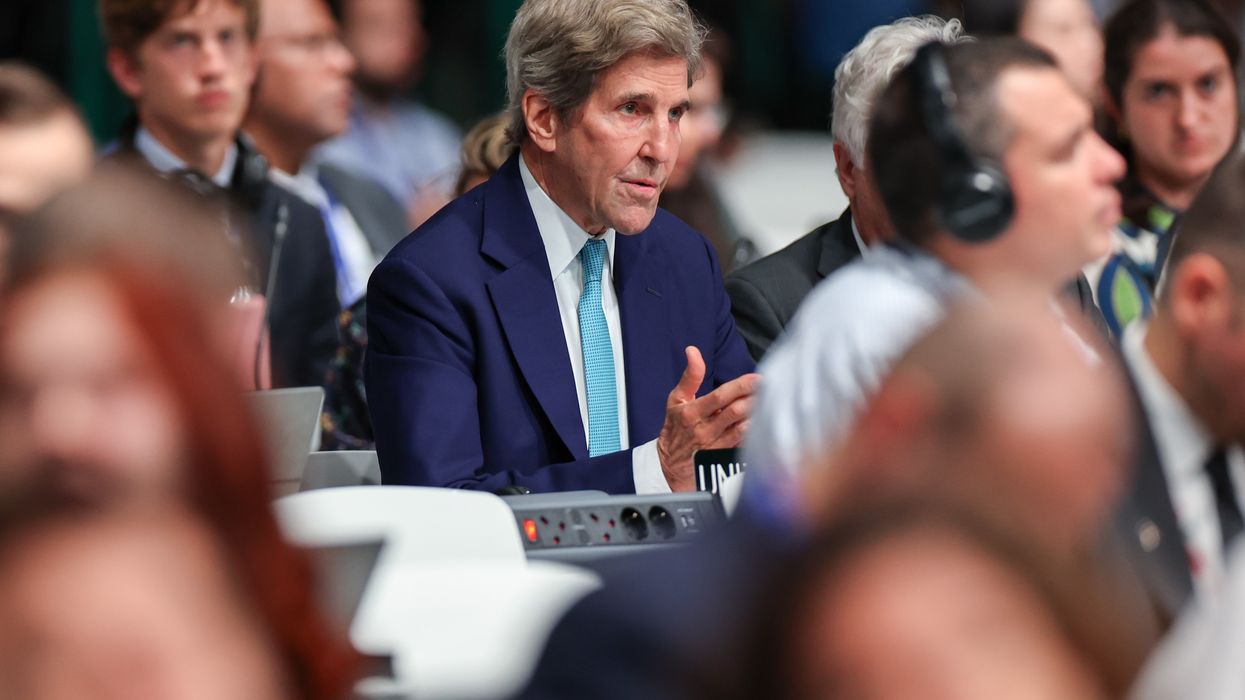 "The United States refuses to acknowledge historic responsibility for the decades of damage that has been done to communities bearing the brunt of climate change and the fossil fuel industry," said one advocate.
Climate justice advocates, outraged over the inadequate funding that was pledged to the "loss and damage" fund as the United Nations Climate Change Conference opened this week, reserved particular disdain on Friday for the United States delegation and its refusal to contribute a meaningful amount to the fund.
The Climate Justice Alliance said the U.S. contribution of just $17.5 million for the loss and damage fund—a tiny fraction of the nearly $900 billion President Joe Biden requested for his military budget earlier this year and the annual fossil fuel subsidies distributed by the U.S. government—sent a clear message to the Global South: that "the U.S. is completely uninterested in prioritizing or being accountable to the climate impacts frontline communities are facing."
"The amount pledged by the United States is insulting," said Bineshi Albert, co-executive director of the organization. "It is a paltry, shameful amount of money... By comparison, island nations have requested at least $100 billion over the first four years."
The sum also made clear that the Biden administration is following through on Special Presidential Climate Envoy John Kerry's remarks at a hearing in July, in which he said that "under no circumstances" would the U.S. provide funding to countries in the Global South that are increasingly facing prolonged droughts, rising sea levels, and severe storms, among other climate impacts as a result of planetary heating.
"The United States refuses to acknowledge historic responsibility for the decades of damage that has been done to communities bearing the brunt of climate change and the fossil fuel industry," said Albert.

The U.S. is by far the largest historic emitter of planet-heating emissions, while many countries that are already facing the worst impacts of the climate emergency, such as small Pacific island nations, shoulder the least blame for the crisis.

Albert called the $17.5 million pledged by the U.S. "a drop in the bucket compared to the annual $20.5 billion in fossil fuel subsidies handed out by the US government, which recently surged to $7 trillion in 2022."
To help governments in the Global South rebuild damaged communities, prevent further destruction, and relocate displaced people, developing countries have said they will ultimately need about $400 billion annually.
$17.5 million "is not only ineffective to address these harms and injustices but it is minuscule compared to the hundreds of billions in loan, grants, and tax breaks available from the Inflation Reduction Act to corporations to further build out or prolong the life of fossil fuel infrastructure and energy intensive fuels like hydrogen," said Albert.

She added that it is not lost on advocates that the U.S. government pushed for contributions to the loss and damage fund to be voluntary: "another clear sign that the United States does not take responsibility for its harmful past actions nor does it consider the needs of the most impacted and marginalized communities seriously."

With contributions from other wealthy governments ranging from just $10 million (Japan) to $245 million (the European Union), Amnesty International climate adviser Ann Harrison said wealthy countries committed "barely enough to get the fund running, and little more."
"Billions of dollars are needed to make a substantive difference to communities in desperate need of help to rebuild homes after storms, or to support farmers when their crops are destroyed, or those permanently displaced by the climate crisis," said Harrison. "Considering the vast and excess profits accrued by fossil fuel companies last year while they continue to trash the climate, and that some the donor states today were responsible for a large proportion of historical greenhouse gas emissions, this is a disappointingly small initial sum."
High-income countries that continue to produce fossil fuels despite clear warnings from energy and climate experts, said Harrison, must "make new and additional commitments to the fund on a scale which reflects the global nature of climate crisis, and the threat it presents to billions of people."

News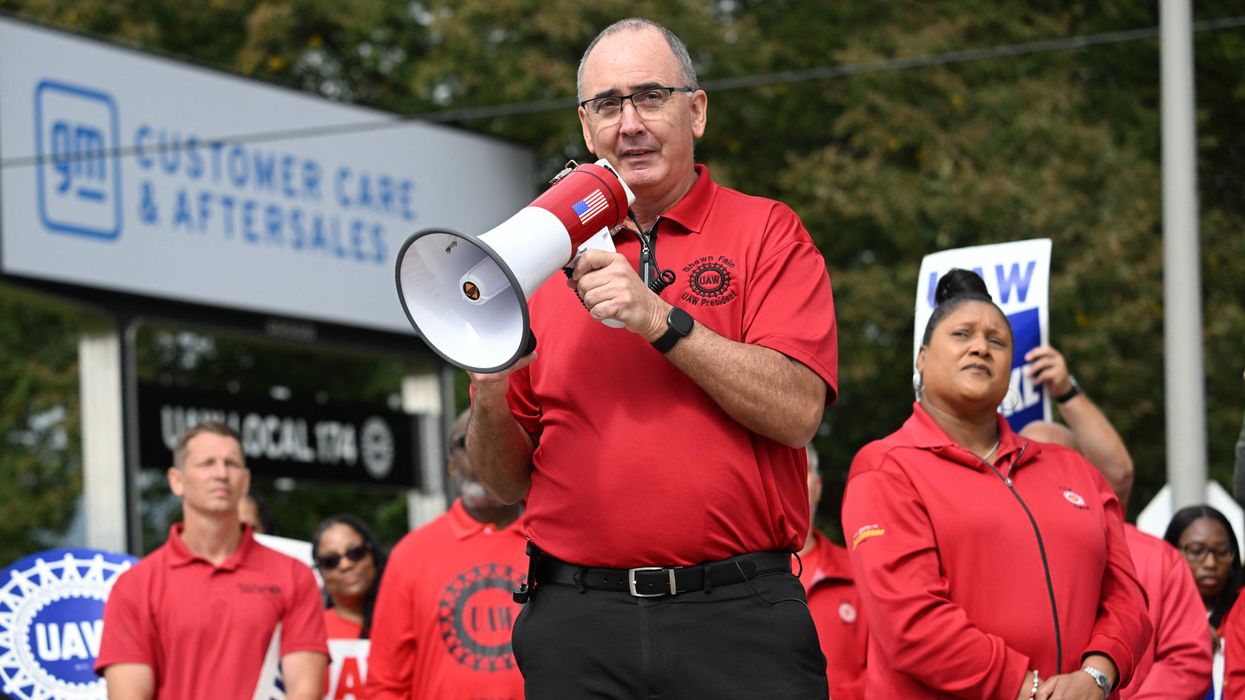 "From opposing fascism in WWII to mobilizing against apartheid South Africa and the Contra war, the UAW has consistently stood for justice across the globe," said United Auto Workers president Shawn Fain.
Fresh off historic contract victories, the United Auto Workers on Friday became the largest U.S. union to endorse a cease-fire in Gaza as Israel resumed its bombardment of the Palestinian territory following a weeklong pause.
"I am proud that the UAW International Union is calling for a cease-fire in Israel and Palestine," UAW president Shawn Fain wrote in a social media post on Friday. "From opposing fascism in WWII to mobilizing against apartheid South Africa and the Contra war, the UAW has consistently stood for justice across the globe."
The union's cease-fire endorsement was made public by Brandon Mancilla, director of UAW Region 9A, in remarks outside the White House, labor activist Mindy Isser reported for In These Times.
"Mancilla was at a news conference where labor leaders and union members from across the country had journeyed to Washington, D.C. to stand shoulder-to-shoulder with a broad, multiracial coalition of politicians, organizers, and activists who have been on a five-day hunger strike outside of the White House to demand a permanent cease-fire," Isser noted.
On social media, Mancilla announced that the UAW's International Executive Board "will also be forming a Divestment and Just Transition Working Group to study the history of Israel and Palestine, our union's economic ties to the conflict, and explore how we can have a just transition for U.S. workers from war to peace."
The UAW's cease-fire call makes the 400,000-member union part of a growing segment of the American labor movement that is pushing for a negotiated end to the bloodshed in the Gaza Strip, where U.S.-backed Israeli bombing has killed more than 15,000 people in less than two months.
Dozens of unions have signed onto a petition launched by the United Electrical, Radio, and Machine Workers of America, which demands the release of all hostages, an end to Israel's siege of Gaza, and a cease-fire that sets the stage for "negotiations for an enduring peace."
Despite growing labor support, the AFL-CIO—the largest federation of unions in the U.S.—has yet to back a cease-fire and has actively pushed back against its affiliates' efforts to build support for one.
During a meeting of the AFL-CIO's executive council in late October, just one union leader—Mark Dimondstein, president of the American Postal Workers Union (APWU)—spoke up in support of a cease-fire, The New York Timesreported at the time. Last month, the APWU called for "an immediate cease-fire, the release of hostages, and urgently needed humanitarian aid to the people of Gaza."
"The cries of humanity demand nothing less," the union said.
Dimondstein echoed that message at Friday's press conference outside the White House.
"As working people we stand with the oppressed and the innocent, thousands of whom have lost their lives over the last two months," he said. "We unite with unions and people of goodwill around the world in calls for justice and peace."
News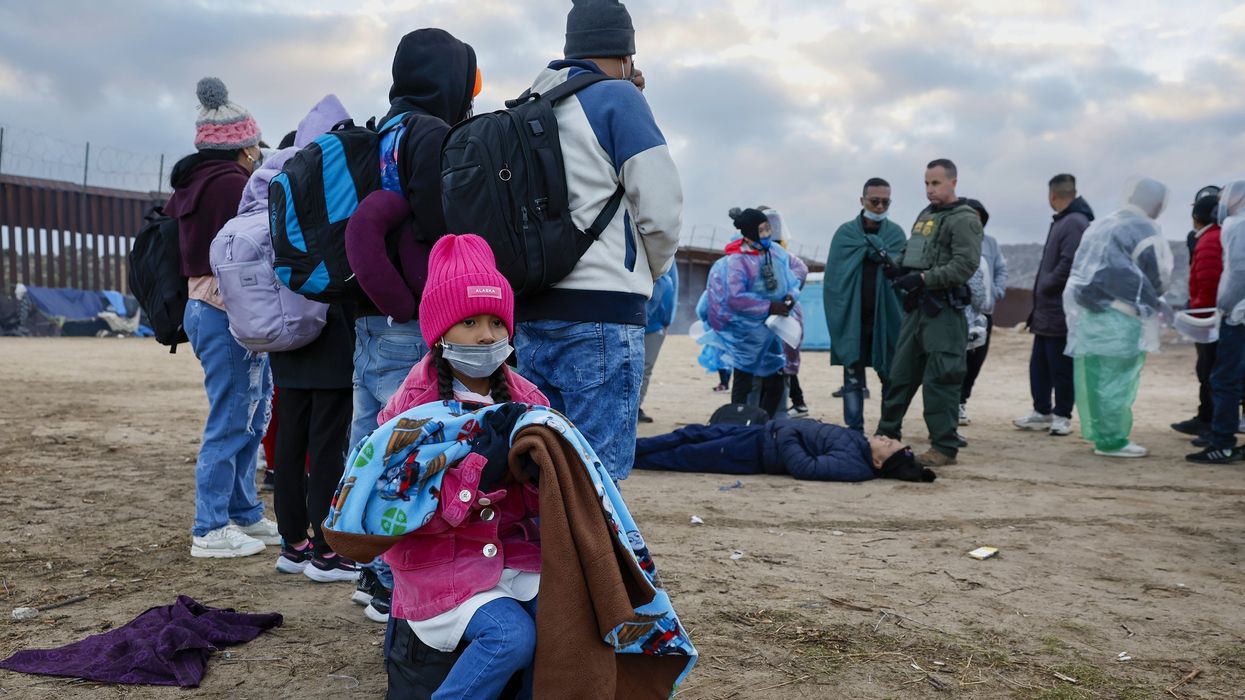 "The long-term result from such short-sighted extremist policy will be further chaos at the southern border and further loss of life and human dignity," warned one campaigner.
As a bipartisan group of U.S. senators negotiates a deal on war assistance, rights groups and some congressional Democrats this week have condemned possible GOP policies that would make it harder for migrants to seek asylum in the United States.
"Refugees International is alarmed at Senate negotiations to potentially condition funding for Ukraine, Israel, and Taiwan on permanent changes to asylum law and parole authority that would put the lives of people seeking safety at risk," said Yael Schacher, the group's director for the Americas and Europe, in a statement Thursday.
"Heightening the asylum standard and deeming transit countries safe would violate international law and do nothing to stop people from coming to the border," Schacher asserted. "And limiting parole would end a program that has proved a lifeline for tens of thousands of Ukrainians and so many others for 70 years."
Stressing that "the rise in migration to the border is attributable to worsening political and humanitarian crises abroad that have produced historically high numbers of people needing protection," she urged Congress and President Joe Biden's administration to instead "focus on scaling up our ability to humanely and efficiently provide protection to meet this growing need."
"Instead of appeasing the xenophobia of the far right, the Biden administration and Senate Democrats should be working to make the United States more welcoming."
Advocates from Americans for Immigrant Justice, Human Rights First, Immigrant Defenders Law Center, Oxfam America, and other groups have released similar statements. Calling the proposal "unacceptable," #WelcomeWithDignity campaign manager Melina Roche declared Wednesday that "emergency funding should not come at the expense of others who need help themselves to escape persecution and violence."
ACLU senior policy counsel Sarah Mehta warned that "using a one-time spending package to permanently gut our asylum system sets a dangerous precedent and undermines our nation's values, laws, and commitment to protect those seeking safety."
Denouncing Republicans' demands as "radical" and "utterly shameful," Center for Gender & Refugee Studies director Karen Musalo said that "they would result in the persecution, torture, and deaths of families, children, and adults seeking safe haven at our nation's doorstep."
Along with increasing risks for asylum-seekers, the changes sought by the GOP would be ineffective, campaigners argued. International Refugee Assistance Project policy director Sunil Varghese said that "the long-term result from such short-sighted extremist policy will be further chaos at the southern border and further loss of life and human dignity."
"Trading fundamental human rights protections for a one-time supplemental funding request is unconscionable, outrageous, and fundamentally misguided," Varghese argued. "Instead of appeasing the xenophobia of the far right, the Biden administration and Senate Democrats should be working to make the United States more welcoming, not more hateful."
Faith groups and religious leaders have also spoken out this week, including representatives from the American Friends Service Committee, Church World Service, Franciscan Action Network, and Unitarian Universalists for Social Justice.

"New restrictions will only make it more likely that people will be deported to dangerous conditions because they failed to navigate a complicated asylum system in an unfamiliar country," said Amanda Craft, assistant stated clerk of the Presbyterian Church (USA) General Assembly. "Women, Black migrants, LGBTQ+ migrants, and indigenous-language speakers will be particularly impacted."
"Our Christian faith tells us to center the voice of 'the least of these,' the most vulnerable people with the fewest resources," Craft continued, citing scripture. "Instead of restricting asylum, Congress should robustly fund migrant services through the Shelter and Services Program and support communities that are welcoming migrants."
Democratic lawmakers are also raising concerns. Congressional Hispanic Caucus Chair Nanette Barragán (D-Calif.) and the CHC's Border and Immigration Task Force co-chairs, Reps. Adriano Espaillat (D-N.Y.) and Rob Menendez (D-N.J.), said Thursday that "we are strongly opposed to any potential measures in a rushed border supplemental that would permanently restrict asylum access for immigrants."
Separately, Rep. Delia Ramirez (D-Ill.) called Republican efforts "morally bankrupt and grossly irresponsible," and pledged to vote against "any supplemental that dismantles U.S. asylum policy, adds 'third-country' limiting provisions or travel bans, or restricts our ability to receive people into the country on parole."
In the upper chamber, Sen. Alex Padilla (D-Calif.) led 10 colleagues—Sens. Cory Booker (D-N.J.), Dick Durbin (D-Ill.), Mazie Hirono (D-Hawaii), Ben Ray Luján (D-N.M.), Ed Markey (D-Mass.), Bob Menendez (D-N.J.), Jeff Merkley (D-Ore.), Elizabeth Warren (D-Mass.), Sheldon Whitehouse (D-R.I.), and Ron Wyden (D-Ore.)—in a statement opposing "harmful changes to our asylum system."
"We remain committed to working in good faith to modernize our outdated immigration system on a bipartisan basis and through a deliberative process," they added, emphasizing the need for "increasing lawful pathways for migration and legalizing long-time undocumented immigrants who put food on our tables, care for our elderly, and form the fabric of our communities."
The Associated Pressreported that U.S. House Speaker Mike Johnson (R-La.) on Wednesday "told GOP senators behind closed doors that he needs real border security changes as part of Biden's broader war funding package."
Referring to the House GOP's Secure the Border Act, Senate Majority Leader Chuck Schumer (D-N.Y.) said in floor remarks Thursday, "I was deeply troubled by reports yesterday that Speaker Johnson joined Senate Republicans and made a push to inject more H.R. 2 provisions into the Senate supplemental."

"Democrats are willing to work with Republicans on commonsense, realistic border security, but we can't have the hard right essentially say its H.R. 2 or nothing," he added. "If Speaker Johnson, or for that matter the negotiators, feel they have to listen to what Speaker Johnson can pass just amongst his caucus, we'll never get anything done."

News