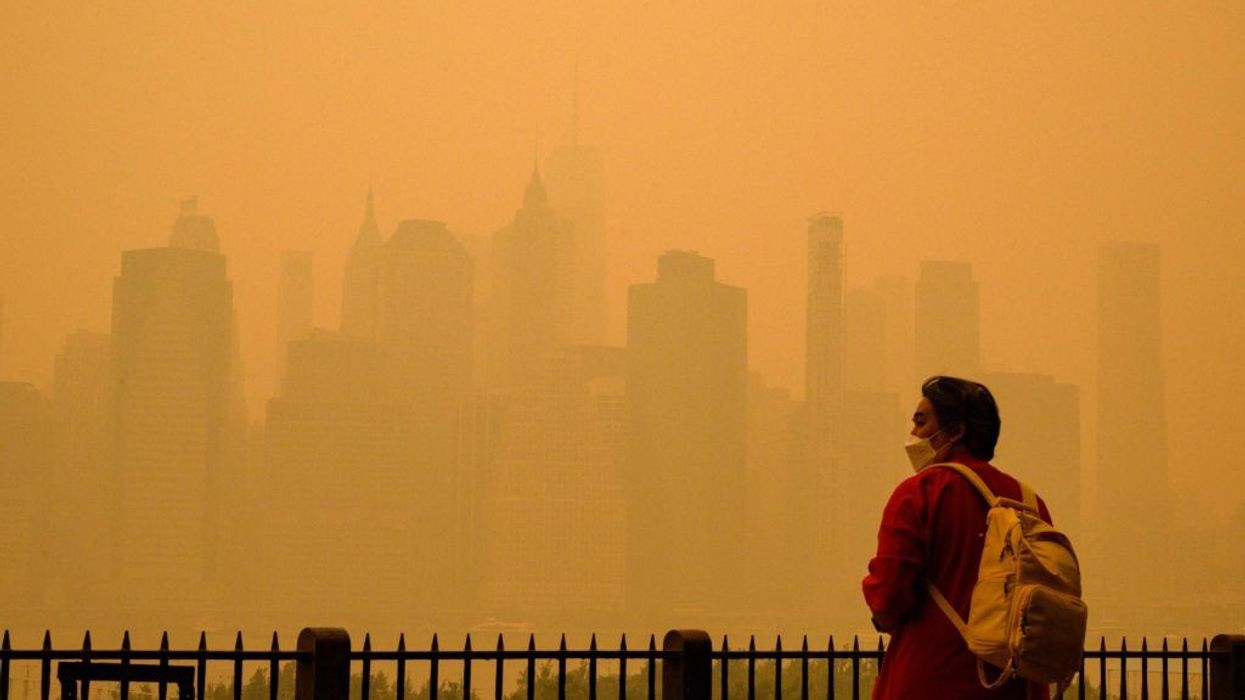 "Governments at the COP28 climate talks must take real action for a full, fair, funded, and fast phaseout of fossil fuels," one advocate said in response to the news.
It is "virtually certain" that 2023 will be the warmest year on record, the World Meteorological Organization concluded in its provisional State of the Global Climate report for the year.
That was only one of the broken records detailed in the report, which was released Thursday to coincide with the start of the United Nations Climate Change Conference (COP28) in the United Arab Emirates. The WMO documented a year of "extreme weather and climate events" that "had major impacts on all inhabited continents."
"Record heat. Deadly floods. Toxic air. It has never been clearer that the world must stop burning fossil fuels if we want a safe, livable planet," Oil Change International global policy manager Romain Ioualelen said in response to the findings. "And yet, the fossil fuel industry is pumping more and more gas and oil, expanding its business, lying to us, and raking in deadly profits, as millions of people are displaced, harmed, and killed. Governments at the COP28 climate talks must take real action for a full, fair, funded, and fast phaseout of fossil fuels."
As of October, 2023 was set to be the warmest year in 174 years of record-keeping, WMO confirmed. The body's findings come as scientists have previously said it will likely be the hottest year in 125,000 years as well. Mean near-surface temperatures during the first 10 months of the year were around 1.4°C above the average from 1850 to 1900, WMO found. Because 2016 and 2020, the two previous hottest years on record, came in at 1.29°C and 1.27°C above that average, it is unlikely that the last two months of 2023 would be cold enough to offset its lead.
Hottest year wasn't the only record broken in 2023. The year also saw the hottest monthly ocean temperatures on record from April through September, and the hottest land temperatures from July to October. Because July is typically the hottest month of the year, this July was the hottest month ever recorded.
Sea level rise reached a record height, and the rate of increase from 2013 to 2022 was more than double the rate from 1993 to 2002. Antarctic sea-ice extent also shrank to its lowest level on record in February and struggled to recover, measuring its lowest maximum extent on record in September.
"We urge governments to be ready now at the U.N. climate talks to take action commensurate with what the science is telling us."
Some markers for which 2023 data is not yet available broke records in 2022. This included atmospheric levels of the three main greenhouse gases—carbon dioxide, methane, and nitrous oxide—and ocean heat content.
"It's a deafening cacophony of broken records," WMO Secretary-General Petteri Taalas said in a statement. "These are more than just statistics. We risk losing the race to save our glaciers and to rein in sea level rise."
The report also detailed how a warming climate is having a direct and devastating impact on human communities. Climate-fueled weather disasters this year included Storm Daniel, which brought severe flooding to much of the Mediterranean, with especially deadly consequences for Libya; a record wildfire season in Canada that shrouded major North American cities in toxic smoke; heat waves, which reached especially severe heights Southern Europe and North Africa; and flooding in the Horn of Africa following five years of drought that made the soil less able to absorb the rainfall. Many of these events forced people to flee their homes and made it harder for them to secure food.
"This year we have seen communities around the world pounded by fires, floods, and searing temperatures. Record global heat should send shivers down the spines of world leaders," United Nations Secretary-General António Guterres said in response to the report.
Guterres and other climate advocates used the report to push world leaders to deliver ambitious climate action at COP28, which is mired in controversy following revelations that its president Sultan Ahmed Al Jaber, who is also the CEO of Abu Dhabi National Oil Company, used the talks to push oil and gas deals.
"We have the roadmap to limit the rise in global temperature to 1.5 °C and avoid the worst of climate chaos. But we need leaders to fire the starting gun at COP28 on a race to keep the 1.5 degree limit alive," Guterres said.
He called for a commitment to phase out fossil fuels, triple renewable energy, double energy efficiency, set clear guidelines for the next round of pledges, and provide countries with the financial support they need to make them happen.
Ioualelen said that the delegates should pay attention to experts instead of fossil fuel companies.
"Rather than prioritizing lobbyists and corporations, we need leaders to make real change that tackles the root cause of the climate crisis, fossil fuels, and makes a better world for all of us—today and for generations to come," Ioualelen said. "We urge governments to be ready now at the U.N. climate talks to take action commensurate with what the science is telling us."
Taalas also called for action to avoid worsening extremes.
"We cannot return to the climate of the 20th century, but we must act now to limit the risks of an increasingly inhospitable climate in this and the coming centuries," he said.
News