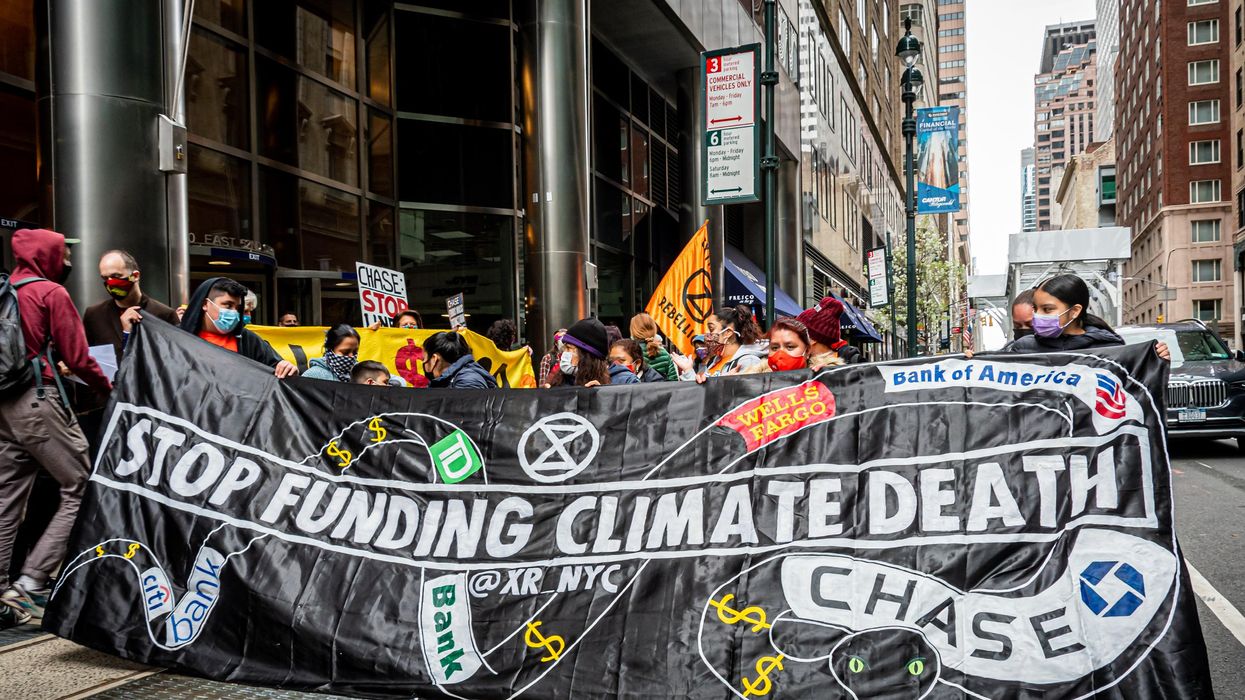 "These companies could stop the flow of money to fossil fuels today, but they are choosing greed instead," said organizers with the Stop the Money Pipeline coalition.
Hundreds of organizations announced plans on Thursday to launch a mass mobilization this fall aimed at holding accountable those that allow destructive fossil fuel extraction to continue, specifically the Wall Street banks that have poured more than $1 trillion into oil and gas projects in recent years.
The Stop the Money Pipeline coalition, which includes more than 200 climate action groups, called on people across the U.S. to join "Blame Wall Street" public actions that are already planned in New York, Los Angeles, San Francisco, and other cities where campaigners will "connect the dots between the extreme weather events harming communities and the corporations fueling the climate crisis."
"There are plenty of people to be angry at: fossil fuel companies, which exist to make massive profits off of poisoning our air, water, and planet," Alec Connon and Arielle Swernoff, organizers with Stop the Money Pipeline, wrote at Common Dreams Thursday. "Politicians, who are bought and sold by wealthy tycoons, and whose climate policy--years in the making--was still riddled with giveaways to the fossil fuel industry. And finally: Wall Street."
As the Rainforest Action Network showed in a report released earlier this year, since the Paris climate agreement was forged in 2015, JPMorgan Chase has invested $382 billion in fossil fuel projects. Citigroup is the second-largest funder of oil and gas extraction, pouring $285 billion into projects, and Wells Fargo follows close behind at $275 billion.
Bank of America, Barclays, TD, and Morgan Stanley are also part of what the report labeled the "Dirty Dozen" and are among the banks Stop the Money Pipeline will target with their "Blame Wall Street" campaign this fall.
Fossil fuel companies also rely on insurance to build their infrastructure, and BlackRock and Vanguard are two of the largest investors in oil and gas projects, Connon and Swernoff wrote.
"These companies could stop the flow of money to fossil fuels today, but they are choosing greed instead," they said. "When we look around at the devastation caused by heat, flooding, hurricanes, and climate disaster, and we think about who to blame, Wall Street should sit at the top of the list."
This fall, the Stop the Money Pipeline will welcome anyone concerned about the climate crisis, extreme weather like the monsoons that recently caused unprecedented flooding and killed more than 1,000 people in Pakistan, and the fossil fuel investments made by banks that millions of Americans rely on to join or organize public actions across the country.
\u201cAlready this year, we\u2019ve witnessed unprecedented climate disasters: heatwaves, drought, floods & fires. \ud83c\udf21\ufe0f\ud83d\udd25\u26a1\u26c8\ufe0f\ud83c\udf0a\n\nWe\u2019re calling out those responsible: banks, insurers & investors funding fossil fuels. \nJoin the organizing call 9/7: https://t.co/OYj2ChPiRj \n\n#BlameWallStreet\u201d

— Stop the Money Pipeline (@Stop the Money Pipeline) 1661968930
"Wherever you live--and regardless of whether you're new to activism or have been organizing for years--we want to support you in organizing to hold the funders of climate chaos accountable," wrote Connon and Swernoff, noting that Stop the Money Pipeline will be offering training and 1:1 coaching for anyone new to organizing.
Although Pakistan is responsible for just 0.3% of greenhouse gas emissions in the Earth's atmosphere, they said, it is currently suffering a humanitarian disaster induced by the fossil fuel-driven heating of the planet.
Catastrophes like Pakistan's, Europe's historic drought, and the drying-up of China's rivers and lakes "are happening because of a political and economic system designed to make some (mostly white, mostly male) people exceptionally rich from extracting and burning fossil fuels, while the rest of the world is left to suffer," wrote Connon and Swernoff.
"It's time to get angry, take to the streets, and hold those responsible for the climate crisis responsible," they wrote.
The coalition is also planning to hold an organizing call on September 7 to explain how advocates can organize "Blame Wall Street" demonstrations in their own communities.
News