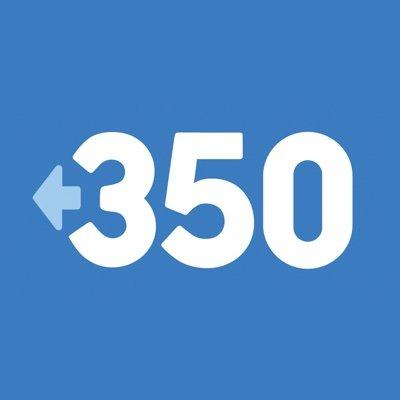 Leading Climate Change Organisation 350.org Targeted by Fossil Fuel Industry Spies
A recently leaked report from private security firm Tigerswan and exposed by the Intercept and Grist shows how leading global climate campaign group, 350.org was among organizations targeted by Tigerswan whilst campaigning against the Dakota access pipeline.
The Dakota Access Pipeline Protests began in April 2016 as a grassroots opposition to the construction of Energy Transfer Partners' Dakota Access Pipeline in the northern United States and ended on February 23, 2017 when National Guard and law enforcement officers evicted the last remaining protesters.
350.org supported Indigenous led activists on the ground and provided resources to Indigenous-led groups including digital support, amplifying what was happening on the ground to a global audience and helping to organize distributed and solidarity actions.
Tigerswan was a private security firm hired by the pipeline's parent company Energy Transfer Partners to infiltrate protests against the pipeline. Their role in the repression of the protests has since been subject to legal action.
The Tigerswan report seen by 350.org says:
"350 dot orgs ability to bring global attention to the dapL protest via their network of supporters and their media concerns represents a significant concern for Tigerswan and their client. 350 dot orgs ability to mobilize large groups of people is also of significant concern. They are unlikely to remove themselves from the protestors groups because their goals align perfectly with the Standing Rock Sioux tribe. They have a track record of success and should only be engaged after significant preparation. "
In response to the report May Boeve, Chief Executive of 350.org said:
"Across the globe we know that thousands of groups have been spied on by government and private security firms that are serving the interests of the fossil fuel industry. This represents an astonishing abuse of power and significant interference with the right to political freedom of thought and the right to protest. Ultimately it is a means for those who hold power to preserve the status quo and prevent action on the climate crisis and necessary social change."
350 is building a future that's just, prosperous, equitable and safe from the effects of the climate crisis. We're an international movement of ordinary people working to end the age of fossil fuels and build a world of community-led renewable energy for all.
LATEST NEWS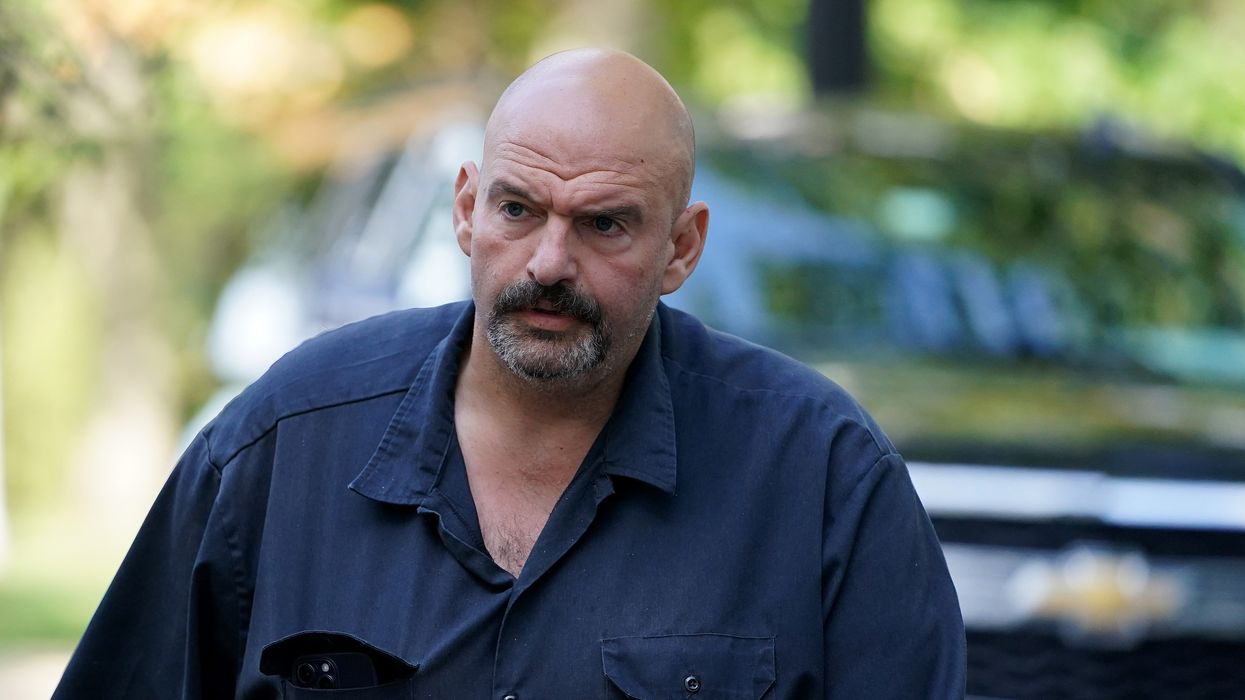 "The jorts-and-hoodie senator has the only rational anti-corruption position here, while all the fancy-suit senators complaining about dress codes but saying nothing about Menendez now look ridiculous," said one journalist.

In addition to calling for U.S. Sen. Bob Menendez's resignation over federal bribery charges, Sen. John Fetterman is planning to return $5,000 that the New Jersey Democrat gave to Pennsylvania Democrat's 2022 campaign.
"We are in process of returning the money," Fetterman spokesperson Joe Calvello toldThe Messenger on Monday, "in envelopes stuffed with $100 bills."
While a Menendez spokesperson did not respond to the outlet's request for comment, the embattled senator—who on Friday temporarily stepped down as chair of the Senate Foreign Relations Committee—was defiant on Monday in response to demands for him to resign from the chamber, publicly saying that "not only will I be exonerated, I will still be New Jersey's senior senator."
"Think of the ink spilled and beds wet about how John wearing a Dickies shirt and shorts will destroy the decorum of the Senate, but yet no one can muster calling for Menendez to resign."
Menendez and his wife are accused accepting bribes in the form of "cash, gold, payments toward a home mortgage, compensation for a low-or-no-show job, a luxury vehicle, and other things of value" in exchange for helping three businessmen and the Egyptian government.
According to the indictment unsealed Friday, federal agents who raided the Menendez home found various pieces of possible evidence, including "over $480,000 in cash—much of it stuffed into envelopes and hidden in clothing, closets, and a safe."
Fetterman on Saturday was the first senator to join a growing number of House Democrats and Democratic New Jersey Gov. Phil Murphy in calling for Menendez—who is up for reelection next year—to resign now.
Menendez is "entitled to the presumption of innocence under our system," Fetterman said, "but he is not entitled to continue to wield influence over national policy, especially given the serious and specific nature of the allegations."
In a series of posts on social media Monday, Calvello noted that "more senators, both Republicans and Democrats, have forcefully denounced how John Fetterman dresses than have called for Menendez to resign for being corrupt."
As House Republicans have continued to risk a government shutdown in recent days, GOP lawmakers and right-wing pundits have been melting down on social media and cable news over a relaxation of the Senate dress code that they have blamed on Fetterman, known for sporting more casual attire on Capitol Hill.
"This is a perfect snapshot of what is wrong with Washington and why people outside the beltway have no faith in D.C.," Calvello added. "Think of the ink spilled and beds wet about how John wearing a Dickies shirt and shorts will destroy the decorum of the Senate, but yet no one can muster calling for Menendez to resign."
The Lever's David Sirota declared Monday that "the jorts-and-hoodie senator has the only rational anti-corruption position here, while all the fancy-suit senators complaining about dress codes but saying nothing about Menendez now look ridiculous."

Sen. Sherrod Brown (D-Ohio) on Monday afternoon became just the second senator to urge his indicted colleague to willingly exit the chamber. He simply said that "Sen. Menendez has broken the public trust and should resign from the U.S. Senate."
Monday night, Sen. Peter Welch (D-Vt.) became the third, saying: "Sen. Menendez is entitled to the presumption of innocence. But the people of New Jersey and the United States Senate are entitled to an effective senator. The shocking and specific allegations against Sen. Menendez have wholly compromised his capacity to be that effective senator. I encourage Sen. Menendez to resign."
This post has been updated with comment from Sen. Peter Welch.

News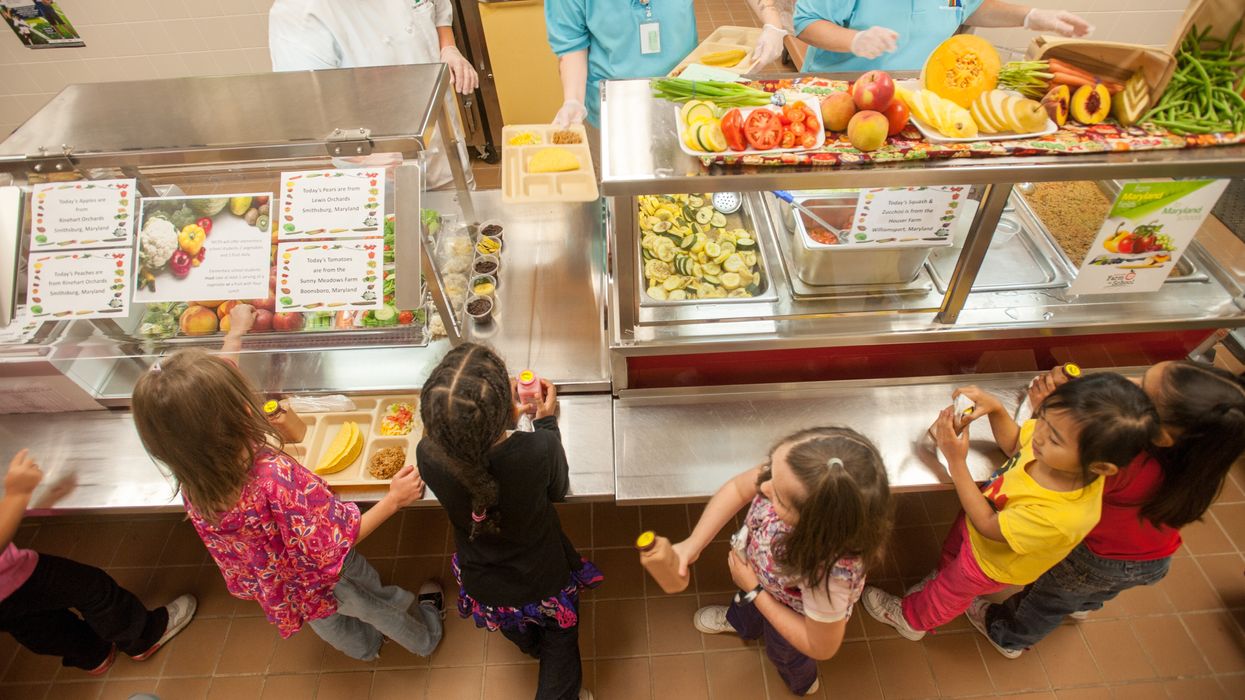 U.S. Sen. John Fetterman said the aim of the bill is to "stop humiliating kids and penalizing hunger."
As children across the United States have started a new academic year over the past month, many families have had to contend with federal lawmakers' refusal to guarantee universal free meals and the resulting "lunch shaming"—which three U.S. Senate Democrats hope to partially combat with new legislation to cancel student lunch debt nationwide.
"'School lunch debt' is a term so absurd that it shouldn't even exist," Sen. John Fetterman (D-Pa.) declared in a statement Monday. "That's why I'm proud to introduce this bill to cancel the nation's student meal debt and stop humiliating kids and penalizing hunger."
"It's time to come together and stop playing political games with Americans' access to food," he added. "September is Hunger Action Month and I'm proud to be introducing this bill to help working families now, while we work to move our other priorities to combat food insecurity in our nation."
Fetterman—who chairs the Senate Committee on Agriculture, Nutrition, and Forestry's Subcommittee on Food and Nutrition, Specialty Crops, Organics, and Research—is leading the fight for the School Lunch Debt Cancellation Act with Sens. Sheldon Whitehouse (D-R.I.) and Peter Welch (D-Vt.).
"No child in Rhode Island—or anywhere in America—should be penalized for not being able to afford school lunch. It's that simple," asserted Whitehouse. "Our legislation will eliminate lunch debt in schools, supporting every child's access to a healthy meal and positioning them for long-term success."
Welch agreed, saying: "Our students shouldn't have to worry about how they're paying for lunch—full stop. I'm proud to partner with my colleagues Sen. Fetterman and Whitehouse on this commonsense bill, and urge my colleagues to stand with us."
Congress initially responded to the Covid-19 pandemic by enabling public schools to provide free breakfast and lunch to all 50 million children nationwide, but Republicans blocked the continuation that policy last year. Instead, lawmakers passed the Keep Kids Fed Act, a bipartisan compromise that increased federal reimbursement rates for programs serving low-income students. However, as Common Dreamsreported in January, only around a quarter of districts that responded to a survey from the School Nutrition Association said those levels are sufficient, and 99.2% had concerns about raised rates expiring.
Further burdening American families trying to feed children amid food companies' price gouging, congressional Republicans and right-wing Sen. Joe Manchin (D-W.Va.) also killed the pandemic-era expansion of the child tax credit—a move that contributed to the U.S. child poverty rate more than doubling in 2022 compared with the previous year, according to data released this month.
"Prior to the pandemic, some schools had resorted to tactics that embarrassed kids, such as stamping their hands to remind parents of unpaid bills and substituting cold cheese sandwiches for hot meals," Civil Eatsreported Monday. "Sometimes meals were thrown out in front of the children. And while experts say that fewer districts have resumed these practices—often dubbed 'lunch shaming'—they haven't gone away entirely either."
Crystal FitzSimons, director of school and out-of-school time programs at the Research and Action Center (FRAC), told the outlet, "Schools, families, and states really did not want to go back to having the complicated school nutrition operations where some kids have access to free meals and other kids do not, and they have to struggle with unpaid debt."

The families of almost half a million food insecure children in Pennsylvania collectively owe nearly $80 million in public school lunch debt, according to Fetterman's office. Nationally, more than 30 million kids can't afford their school meals and the total debt is $262 million annually.
California, Colorado, Maine, Massachusetts, Michigan, Minnesota, New Mexico, and Vermont have all guaranteed universal free school meals, and Nevada has a policy in place for the 2022-23 school year only. While lawmakers in other states are working to pass similar bills, advocates have called for federal legislation to ensure all schoolchildren are fed.
In addition to the new debt cancellation bill, Fetterman is among the co-sponsors of the Universal School Meals Program Act, reintroduced in May by Sen. Bernie Sanders (I-Vt.) and Rep. Ilhan Omar (D-Minn.).
"It is downright cruel that we are letting our children in America go hungry," Fetterman said at the time. "No child in America should be worried about if they are going to be able to get breakfast, lunch, or dinner. I am proud and honored to co-sponsor this bill that will finally make sure that our children are fed."

News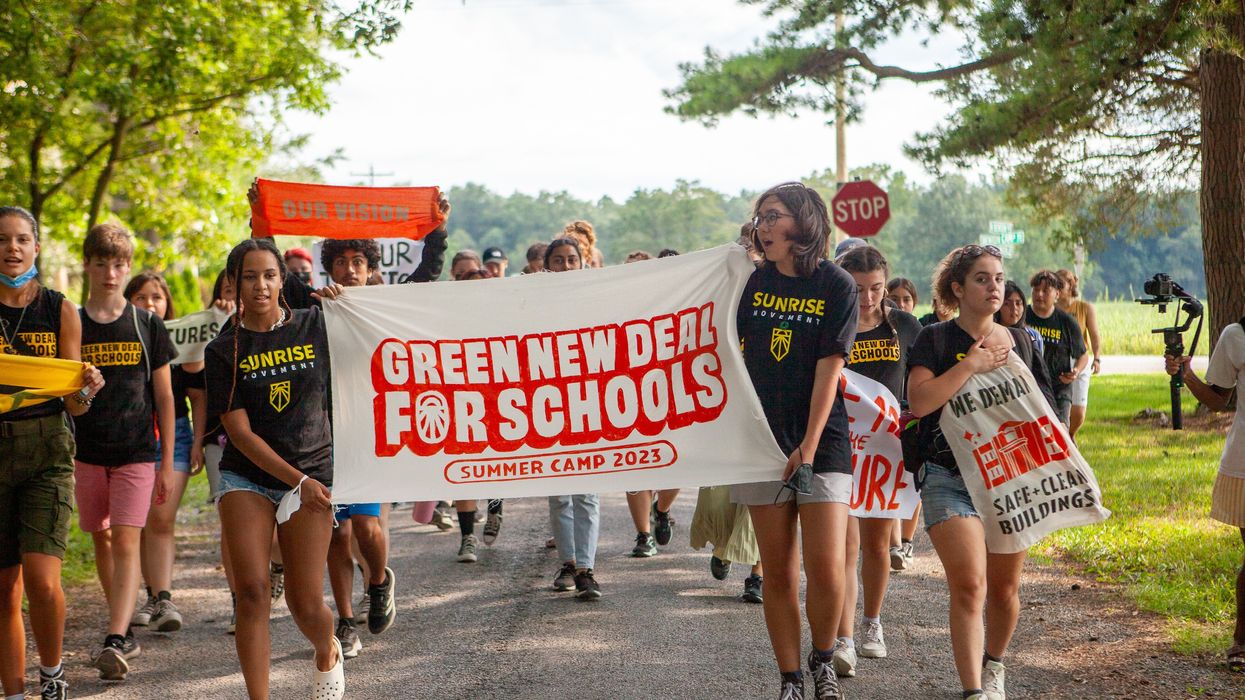 "Public schools belong to us, and we know we deserve better," said a Sunrise Movement organizer and the youngest school board member in Idaho.

In the face of right-wing attacks on public schools—including climate education—more than 50 high schools nationwide launched the Green New Deals for Schools campaign Monday.
The campaign, organized by the youth-led Sunrise Movement, is demanding that school boards and districts act to provide buildings powered with renewable energy; free, healthy, local, and sustainable meals; support for finding well-paying, unionized green careers; plans for extreme weather events; and instruction about the climate crisis.
"The Republican Party knows that they don't have the youth vote," Aster Chau, who organizes for Green New Deal for Schools while attending the Academy at Palumbo in Philadelphia, Pennsylvania, said in a statement. "They've spent the last few years antagonizing students and teachers—eroding trust in public education—in order to distract from all of the problems they've created in our society. Today, we say no more—these are our schools and our futures."
The push comes as lawmakers in Republican-controlled states have increasingly attempted to mandate what can be taught in the classroom. In Georgia, for example, a "divisive concepts" law prohibits teachers from discussing nine race-related topics. This would include the unequal impacts of the climate crisis, The Guardian pointed out, and has had an overall chilling effect on educators' willingness to raise political issues in the classroom.
"We don't learn about climate change at all," 16-year-old Summer Mathis, who studies at North Cobb High School in Kennesaw, Georgia, told The Guardian.
In Texas, meanwhile, education officials are imposing their views on climate science textbooks, and in Idaho there is an ongoing dispute over whether or not the climate crisis can be included in the curriculum at all. Florida under Gov. Ron DeSantis has approved the use of PragerU Kids materials, which include climate denying and pro-fossil fuel talking points.
"It's really scary knowing that I'm underage, and can't vote to elect the people making these big decisions about our futures."
Beyond curriculum building, there are many things that schools in all states can do to better prepare for and fight the climate crisis.
Currently, public elementary, middle, and high schools use around 9% of the energy consumed by commercial buildings in the U.S., Lisa Hoyos, the national climate strategy director for the League of Conservation Voters, wrote in an op-ed for The Progressive Friday. Switching them all to renewable energy would have the same impact as removing 18 coal plants from the grid.
Schools can also do more to prepare for extreme weather events. In Philadelphia, for example, Chau started school during a heatwave in a building that lacked air conditioning, they told The Guardian.
"Being a youth right now is really scary," Chau said. "It's really scary knowing that I'm underage, and can't vote to elect the people making these big decisions about our futures, not having a say in that."
The new campaign is partly a way to change that.
"For too long, students have been left out of the decision-making spaces within our schools," Shiva Rajbhandari, a Sunrise Movement organizer who is also the youngest school board member in Idaho, said in a statement. "Students are the most important constituents of our school boards, and they deserve to call the shots for their own education. Public schools belong to us, and we know we deserve better."
The campaign comes out of a camp that the Sunrise Movement ran this summer to train hundreds of high school students to advocate for themselves and their communities.
The young people have older allies as well. This week Rep. Jamaal Bowman (D-N.Y.) and Sen. Ed Markey (D-Mass) will reintroduce their Green New Deal for Public Schools Act with hundreds of students present, according to The Guardian.
"Our generation is on the frontlines of this fight," 17-year-old campaign leader Adah Crandall said in a statement, "and it's time for our school districts to take real action."
News
Independent, nonprofit journalism needs your help.
Please Pitch In
Today!