WASHINGTON
In response to Secretary of State Rex Tillerson's visit to Afghanistan and his call for a peace process that includes moderate members of the Taliban, Paul Kawika Martin, Senior Director for Policy and Political Affairs at Peace Action, who's traveled to Afghanistan, released the following statement:
"In an administration with a well-established bias towards military escalation, it's refreshing to hear someone call for dialogue and diplomacy. Trump's plan for Afghanistan, to 'fight to win,' is no plan at all, and neither is sending 4,000 more soldiers to fight in America's longest war. Perhaps realizing this, Secretary Tillerson rightly called for a multilateral peace process in Afghanistan that would include more moderate members of the Taliban, a necessary step to achieving any lasting peace.
"This type of commitment to diplomacy is also exactly what we need to defuse tensions with North Korea and Iran. Hopefully this time Trump will support his Secretary of State's call for diplomacy rather than telling him not to waste his time with talk. We simply cannot afford to continue paying the tremendous cost in lives and dollars that comes with waging endless war in Afghanistan."
Peace Action is the United States' largest peace and disarmament organization with over 100,000 members and nearly 100 chapters in 34 states, works to achieve the abolition of nuclear weapons, promote government spending priorities that support human needs and encourage real security through international cooperation and human rights.
LATEST NEWS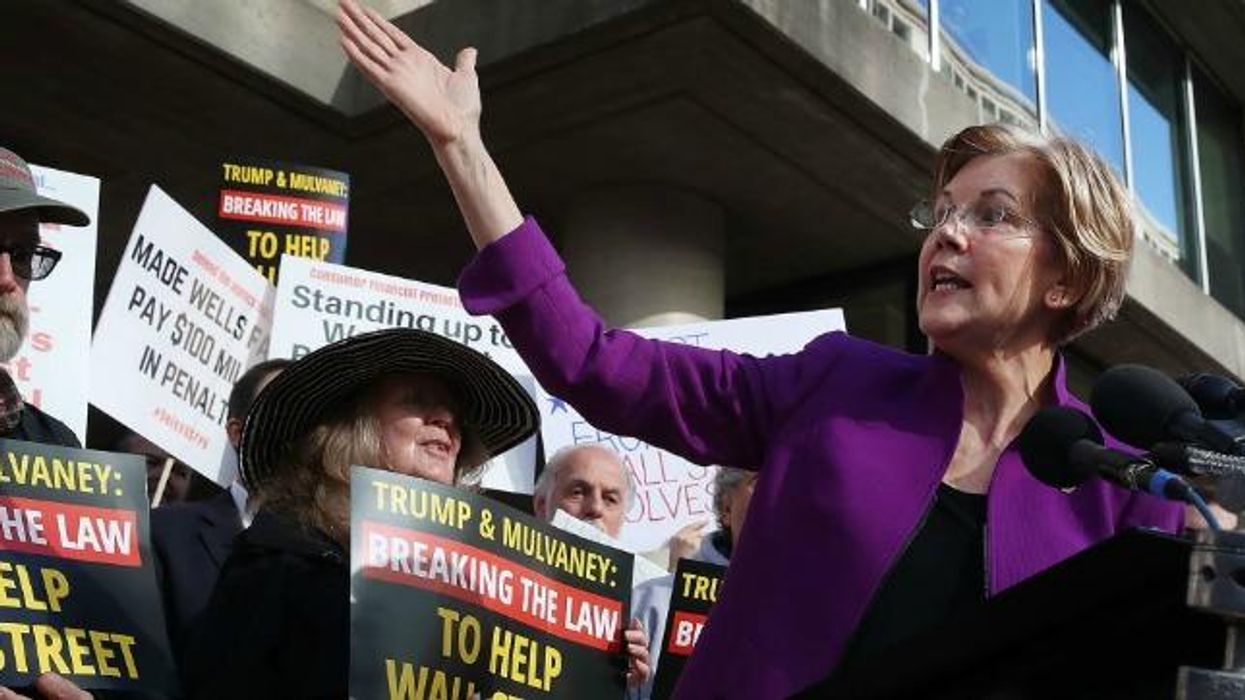 "If the Supreme Court follows suit," said one watchdog, "it will mark a major win for everyday consumers impacted by abusive fees, predatory lenders, and corporate greed."
U.S. Sen. Elizabeth Warren, who established the Consumer Financial Protection Bureau in 2010, was among the consumer advocates celebrating on Thursday as a federal court in New York City ruled that the bureau's funding structure is constitutional—rebuking years of right-wing and corporate attacks on the agency.
The Massachusetts Democrat expressed hope that the U.S. Supreme Court, which is expected to hear arguments in a separate but related case later this year, "follows more than a century of law and historical precedent" and also rules in favor of the CFPB, which has regulated debt collectors, payday lenders, credit card companies, and other financial businesses for more than a decade.

"Yet again, the constitutionality of the CFPB has been upheld, as it has been time and time before," said Warren.
The 2nd U.S. Circuit Court of Appeals ruled in favor of the bureau Thursday in a case stemming from a debt collector's attempt to avoid a subpoena from the CFPB in 2017.
A lower court ruled in the case in August 2020 that the bureau's funding structure is constitutional, but the 5th U.S. Circuit Court of Appeals in New Orleans said last year in the case set to be heard by the Supreme Court that the funding violates the Constitution's appropriations clause and the separation of executive and legislative powers.
The CFPB is funded by the Federal Reserve rather than through appropriations voted on annually by lawmakers.
Writing for the three-judge 2nd Circuit panel that voted unanimously in favor of the bureau, Judge Richard Sullivan noted that the justice system "has consistently interpreted the appropriations clause to mean simply that 'the payment of money from the Treasury must be authorized by a statute,'"—which doesn't apply to the CFPB since it receives no funding from the U.S. Treasury Department.
An upcoming ruling by the Supreme Court that supports the 2nd Circuit's finding would "mark a major win for everyday consumers impacted by abusive fees, predatory lenders, and corporate greed," said government watchdog Accountable.US.
"The CFPB is a vital voice for consumers and protects Americans from unfair and abusive practices," said Rep. Nydia Velázquez (D-N.Y.). "We can't allow these protections to be weakened."

News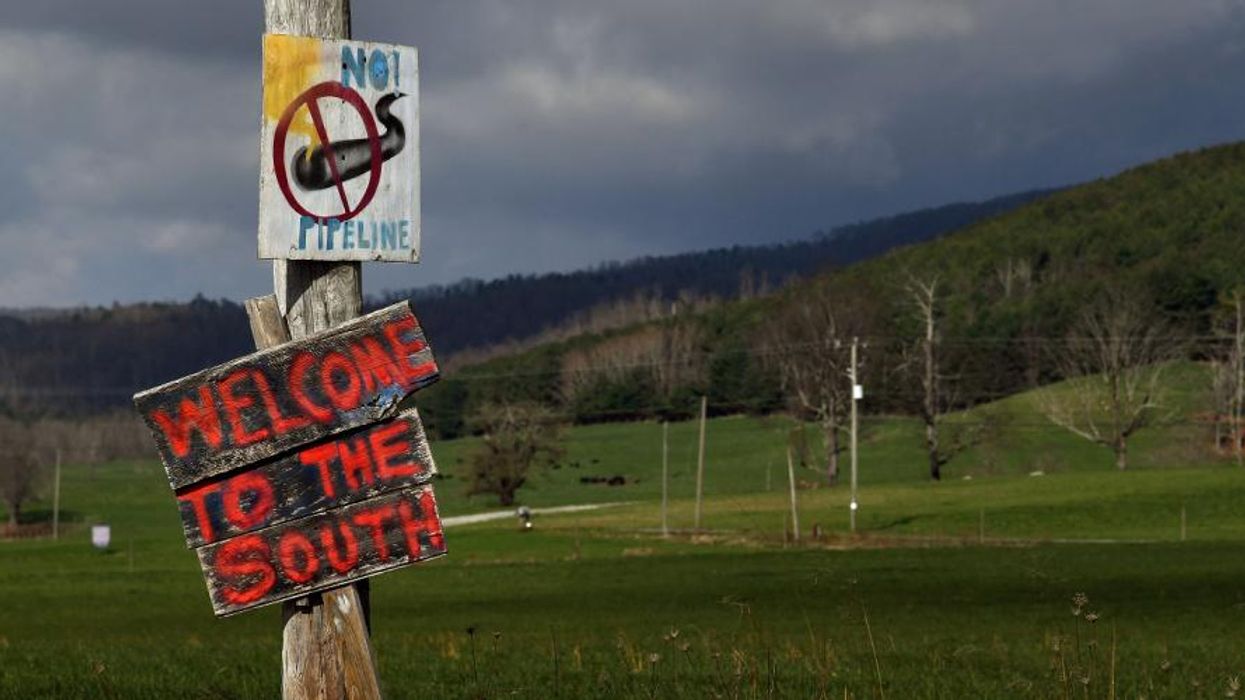 "Time and time again the people have risen up against the backroom deals and slimy maneuverings at the federal level to push MVP through, and we will keep standing up," vowed one organizer.
As congressional Democrats launch new clean energy and environmental justice efforts, House Republicans outraged climate campaigners and frontline communities on Thursday with a move to fast-track a long-delayed fracked gas pipeline.
Congresswoman Carol Miller (R-W.Va.), backed by 10 other Republicans, introduced an amendment to the GOP-led Lower Energy Costs Act (H.R. 1) to ensure that the controversial Mountain Valley Pipeline (MVP) is "constructed expeditiously."
Russell Chisholm, managing director of the Protect Our Water, Heritage, Rights (POWHR) Coalition, highlighted that Miller's fresh push for the MVP came just a day after Democrats introduced the A. Donald McEachin Environmental Justice for All Act.
"As they watch the demise of the fossil fuel industry that lines their pockets, they are desperate to fast-track this unnecessary and disastrous pipeline."
"Hours after our environmental justice movement released a positive vision for a livable future, the Environmental Justice for All Act, these Republicans are throwing a tantrum," Chisholm said in a statement Thursday. "As they watch the demise of the fossil fuel industry that lines their pockets, they are desperate to fast-track this unnecessary and disastrous pipeline—to the point that they want to strip away judicial review and nullify bedrock environmental law."
The Intergovernmental Panel on Climate Change (IPCC) report released Monday "makes clear that we must stop all new fossil fuel expansion immediately," he continued. "We demand our representatives to silence this ridiculous whining while our regulatory agencies and courts assess the science and evidence that mandates the MVP be stopped."
Jason Crazy Bear Keck, co-founder of 7 Directions of Service, said, "The fact that some of our elected representatives have been bending over backwards to fast track the MVP, a poster child pipeline for corruption and environmental injustices, is appalling to us as impacted community members, water protectors, and land defenders."
"Only a short-sighted, greed-driven person who stands to profit would go to such great lengths to attempt to revive a failing zombie project like the MVP," he asserted. "Time and time again the people have risen up against the backroom deals and slimy maneuverings at the federal level to push MVP through, and we will keep standing up until our basic rights and protections, like those granted by the EJ for All Act, are secured and upheld."
While residents living along the over 300 miles of pipeline route through Virginia and West Virginia have long fought against MVP, the project got national attention last year as Sen. Joe Manchin (D-W.Va.) tried to force a "dirty deal" on permit reforms.

Though Manchin's proposals were thrice defeated, the right-wing Democrat and MVP supporter signaled in February that he would continue to work with the new House GOP majority to try to advance a fossil fuel-friendly measure.
E&E Newsreported Wednesday that "other politicians hailing from the mid-Atlantic are eager to see the pipeline operate. But Republicans have previously opposed the idea of singling out one project for special congressional treatment. And they might not want to hand Manchin a win at a time when the moderate Democrat mulls running for reelection."
House Majority Leader Steve Scalise (R-La.) last week introduced the Lower Energy Costs Act—which, while unlikely to make it through the divided Senate and reach President Joe Biden's desk, is intended to wipe out the administration's climate agenda.
As E&E detailed:
Republicans say the proposal, which will be debated and voted on next week, would allow the United States to produce more oil, gas, solar, and wind in a manner that is more environmentally sound than anywhere else on the planet.

The bill, the work of three committees, would require the federal government to hold quarterly oil lease sales in Western states. It would speed up environmental permitting that GOP lawmakers complain drags on years longer than it should. The package would also allow for more hardrock mining in mineral-rich states like Minnesota and Idaho.
Meanwhile, Senate Majority Leader Chuck Schumer (D-N.Y.) on Tuesday sent supporters of the GOP bill a clear message from the floor of the upper chamber: "You can do all the hoopla you want in the House, it ain't passing."
The IPCC this week put out "their most dire warnings to date: Unless the world swiftly transitions to clean energy and curbs emissions, our planet risks crossing a point of no return sometime in the next decade," Schumer said. "What awaits us on the other side could be severe and irreversible: droughts, storms, crop failures at a level we can scarcely imagine today."
"House Republicans seem to think the best solution for our energy needs is not to help America transition to clean energy... Unfortunately, they think doubling down on more giveaways to Big Oil is the way to go," he added. "Democrats want to see a bipartisan, commonsense energy proposal come together in Congress, but Republicans' H.R. 1 proposal is dead on arrival in the Senate."

News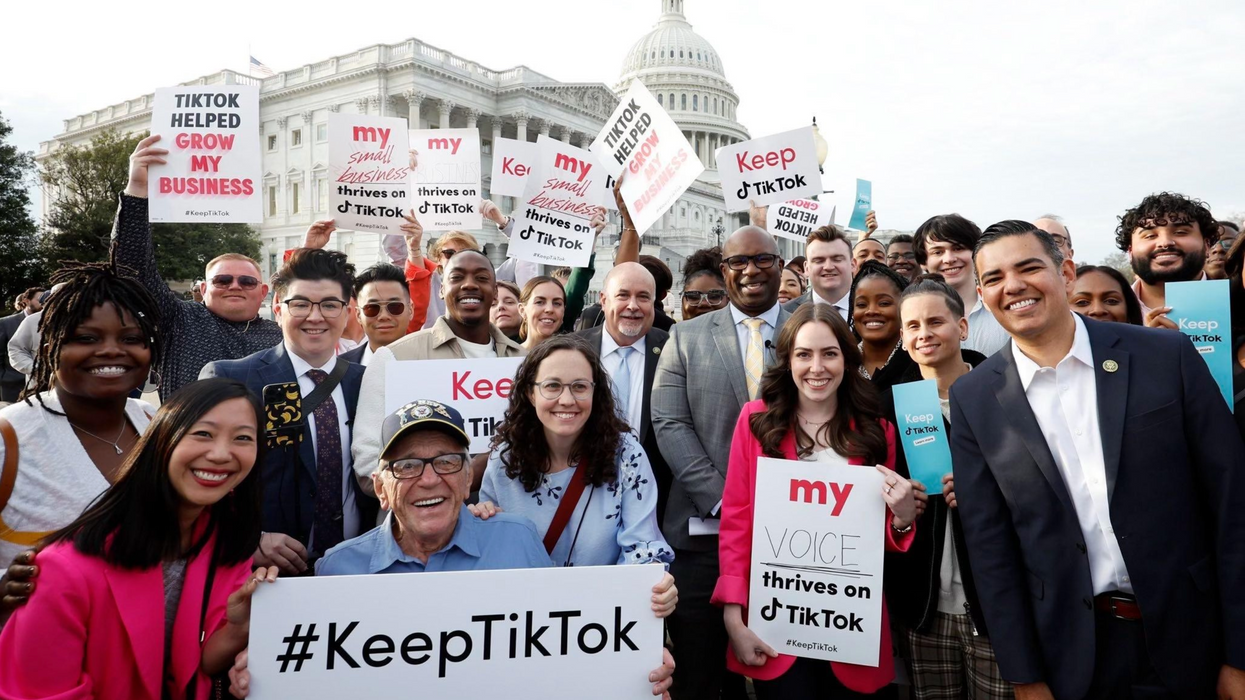 "If you think the U.S. needs a TikTok ban and not a comprehensive privacy law regulating data brokers, you don't care about privacy, you just hate that a Chinese company has built a dominant social media platform," said one digital rights campaigner.
Civil and digital rights groups this week joined a trio of progressive U.S. lawmakers in opposing bipartisan proposals to ban the social media platform TikTok, arguing that such efforts are rooted in "anti-China" motives and do not adequately address the privacy concerns purportedly behind the legislation.
The ACLU argues that, if passed, legislation recently introduced in both the U.S. House and Senate "sets the stage for the government to ban TikTok," which is owned by Beijing-based ByteDance and is used by more than 1 in 3 Americans. The Senate bill would grant the U.S. Department of Commerce power to prohibit people in the United States from using apps and products made by companies "subject to the jurisdiction of China" and other "foreign adversaries."
"The government shouldn't be able to tell us what social media apps we can and can't use."
"The government shouldn't be able to tell us what social media apps we can and can't use," the ACLU asserted via Twitter. "We have a right to free speech."
In a Wednesday letter led by the free expression advocacy group PEN America, 16 organizations including the ACLU argued that "proposals to ban TikTok risk violating First Amendment rights and setting a dangerous global precedent for the restriction of speech."
"More effective, rights-respecting solutions are available and provide a viable alternative to meet the serious concerns raised by TikTok," the groups contended, pointing to a February proposal by Sens. Richard Blumenthal (D-Conn.) and Jerry Moran (R-Kansas) to expedite a probe of the company by the Committee on Foreign Investment in the United States as a possible way "to mitigate security risks without denying users access to the platform."

Rep. Jamaal Bowman (D-N.Y.) has emerged as the leading congressional voice against banning TikTok, saying Wednesday that he fears the platform is being singled out due in significant part to "xenophobic anti-China rhetoric."
"Why the hell are we whipping ourselves into a hysteria to scapegoat TikTok?" Bowman asked in a phone interview with The New York Times while he traveled by train to Washington, D.C. to speak at a #KeepTikTok rally, where content creators, entrepreneurs, users, and activists gathered to defend the platform.
In his speech, Bowman noted that "TikTok as a platform has created a community and a space for free speech for 150 million Americans and counting," and is a place where "5 million small businesses are selling their products and services and making a living... at a time when our economy is struggling in so many ways."

Eva Galperin, director of cybersecurity at the San Francisco-based digital rights group Electronic Frontier Foundation, concurred with Bowman, tweeting Thursday that "if you think the U.S. needs a TikTok ban and not a comprehensive privacy law regulating data brokers, you don't care about privacy, you just hate that a Chinese company has built a dominant social media platform."
Two other House Democrats—Mark Pocan of Wisconsin and California's Robert Garcia—joined Bowman in addressing Wednesday's rally.
In an interview with the Milwaukee Journal Sentinel before his speech, Pocan acknowledged "valid concerns when it comes to social media disinformation and all the rest."
"But to say that a single platform is the problem largely because it's Chinese-owned honestly, I think, borders more on xenophobia than addressing that core issue," he stressed.
Garcia, a self-described TikTok "super-consumer," asserted on MSNBC Thursday morning that "before we ban it, I think we should work on the privacy concerns first."
TikTok "speaks to the next generation... LGBTQ+ folks are coming out, people are being educated on topics, I think we need to be a little more thoughtful and not ban TikTok," the gay lawmaker added.
Wednesday's rally came a day before TikTok CEO Zi Chew testified before the U.S. House Energy and Commerce Committee, some of whose members expressed open hostility toward the Chinese government.
"To the American people watching today, hear this: TikTok is a weapon by the Chinese Communist Party to spy on you and manipulate what you see and exploit for future generations," said committee Chair Cathy McMorris Rodgers (R-Wash.).
Chew—who committed to a number of reforms including prioritizing safety for young users, firewall protection for U.S. user data, and greater corporate transparency—took exception to some of the lawmakers' assertions.

"I don't think ownership is the issue here," he said. "With a lot of respect, American social companies don't have a good track record with data privacy and user security."
"I mean, look at Facebook and Cambridge Analytica—just one example," Chew added, referring to the British political consulting firm that harvested the data of tens of millions of U.S. Facebook users without their consent to aid 2016 Republican campaigns including former President Donald Trump's.
News
SUPPORT OUR WORK.
We are independent, non-profit, advertising-free and 100%
reader supported.