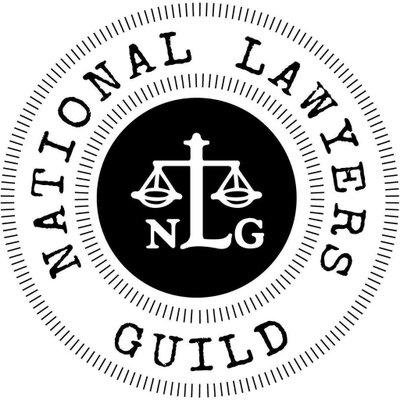 For Immediate Release
November, 28 2016, 02:45pm EDT
Water Protector Legal Collective Files Suit for Excessive Force against Peaceful Protesters
CANNON BALL, N.D.
Today, the Water Protector Legal Collective (WPLC-formerly Red Owl), an initiative of the National Lawyers Guild (NLG), filed suit in US District Court against Morton County, Morton County Sheriff Kyle Kirschmeier, and other law enforcement agencies for using excessive force against peaceful Water Protectors on the night of November 20, 2016.
The class action suit, filed on behalf of persons who were injured on the night of November 20 and early morning of November 21, seeks an immediate injunction preventing the Morton County Sheriff's Department and other law enforcement from using impact munitions such as rubber bullets and lead-filled "beanbags," water cannons and hoses, explosive teargas grenades and other chemical agents against protesters.
Beginning on the evening of November 20, officers from the Morton County Sheriff's Department and assisting agencies confronted peaceful Water Protectors at a bridge near the Standing Rock protest camp and within the boundaries of Oceti Sakowin (Seven Council Fires, or Great Sioux Nation) treaty lands. Without giving any warnings or opportunity to disperse, officers fired on them with highly dangerous munitions, chemical agents, a water cannon and hoses in freezing weather. More than 200 Water Protectors were injured.
"The Morton County Sheriff's office not only violates the constitutional rights of peaceful protesters, but their actions highlight the long history of abuse against Indigenous peoples," said Brandy Toelupe, WPLC lawyer. "From the beginning, governments have used their latest technologies to take land and resources from Native nations and oppress Indigenous peoples. Sheriff Kirchmeier's actions make it clear that nothing has changed," she added.
The complaint describes the excessive force with which the eight class representatives were met while peacefully protesting. Four are Native, including two members of the Lakota nation. Jade Kalikolehuaokakalani Wool had two grenades blow up near her head, knocking her down, burning her face and sending shrapnel into it, and causing her to be hospitalized. Crystal Wilson was shot with a water cannon, tear gassed and shot with a munition. David Demo was filming police when, without warning, they shot him with a water cannon and then in the hand with a munition. He was hospitalized with broken bones and was told he would need reconstructive surgery. Gary Dullknife III saw a Water Protector knocked to the ground by a water cannon. As police sprayed her on the ground, he tried to move her away. He was shot in the chest, stomach and leg by impact munitions. Mariah Marie Bruce was peacefully protesting when police sprayed her with water cannons. She was then hit in the genitals with a grenade, and was hospitalized. Frank Finan was taking pictures when he was shot in the abdomen and knocked to the ground by a rubber bullet. Israel Hoagland-Lynn tried to help two people who had been shot with water cannons and rubber bullets and was shot in the back of his head by an impact munition. He lost consciousness, was hospitalized, and needed 17 staples for a head wound. Noah Michael Treanor, while praying, was shot by the water hoses or cannon. Once on the ground, he was shot in the head by an impact munition. Bleeding badly, he was hospitalized.
"The civil rights violations that night were deliberate and punitive," said Rachel Lederman, WPLC lawyer. "The Morton County Sheriff's Department's illegal use of force against the Water Protectors has been escalating. It is only a matter of luck that no one has been killed. This must stop."
Those concerned are urged to call local and federal agencies below to demand (1) immediate end to construction of the $3.8 billion Dakota Access Pipeline, (2) the immediate cessation and a full investigation into law enforcement abuses, (3) dropping felony charges against water protectors from the October 27 police raid, and (4) permitting the Water Protectors to stay at their current encampment until the DAPL's application to drill under Lake Oahe and the Missouri River is permanently denied.
* White House: 202-456-1414 or sign the Standing Rock Sioux Tribe's White House petition standwithstandingrock.net/take-action
* White House Situation Room, 202-456-9431
* North Dakota Governor's Office: 701-328-2200
* Morton County Sheriff's Office: 701-667-3330
* Morton County State's Attorney's Office: 701-667-3330
* Army Corps of Engineers-Bismarck 701-255-0015
The Water Protector Legal Collective is the National Lawyers Guild legal support team for those engaged in resistance to the Dakota Access Pipeline. It maintains a 24/7 presence on-site at the Oceti Sakowin camp near Cannon Ball, North Dakota.
Related Documents:
* Temporary Restraining Order Motion
* Temporary Restraining Order Memo
* Class Action Complaint
Donations to legal support efforts may be made to:
* Water Protector Legal Collective: fundrazr.com/campaigns/11B5z8 or nlg.org/donate/waterprotectorlegal for tax-deductible contributions.
* Sacred Stone Legal Defense Fund: fundrazr.com/campaigns/d19fAf
For updates, visit waterprotectorlegal.org, and follow the WPLC at Facebook.com/WaterProtectorLegal and Twitter @WaterProtectUs.
The National Lawyers Guild (NLG) works to promote human rights and the rights of ecosystems over property interests. It was founded in 1937 as the first national, racially-integrated bar association in the U.S.
(212) 679-5100
LATEST NEWS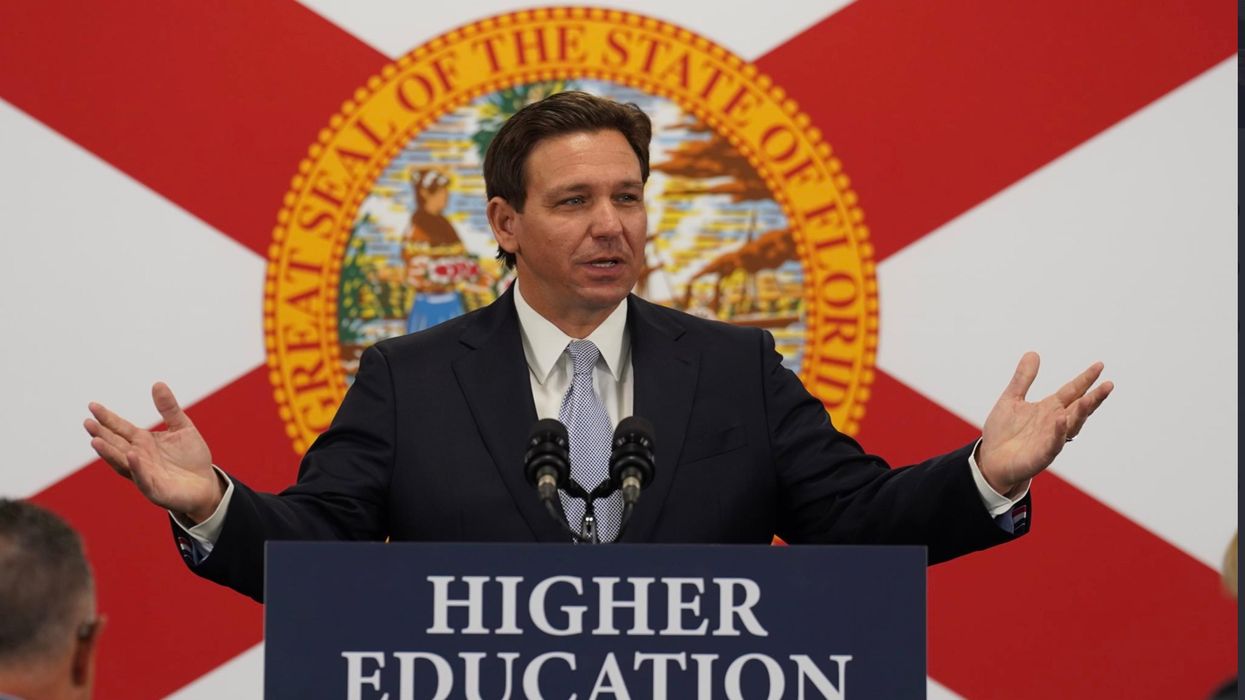 The union representing Florida's professors said it would "stand in lockstep opposition to any and all so-called 'reforms' that will actually destroy our state's world-class degree programs and their ability to serve our students."
Taking aim yet again at higher education, Republican Florida Gov. Ron DeSantis on Tuesday proposed sweeping changes to the state's university system, including banning state funding for diversity, equity, and inclusion programs and critical race theory education, as well as forcing tenured professors to undergo reviews at any time.
Speaking during a press conference at the State College of Florida in Bradenton, DeSantis said he is asking the state Legislature to cut all funding for programs he believes are "ideological."
Referring to diversity, equity, and inclusion programs—which aim to promote fair treatment and full participation—and critial race theory, a graduate-level framework dealing with systemic racism, DeSantis said that "we're also going to eliminate all DEI and CRT bureaucracies in the state of Florida. No funding, and that will wither on the vine."
Apparently not satisfied with a state law requiring tenured professors at state colleges and universities to undergo reviews every five years, DeSantis also called for legislation that would subject such educators to reviews at any time, at risk of their jobs.
"Yes, we have the five-year review of all the tenured faculty, which is, which is good… and the board of trustees has to determine whether they stay or go. But you may need to do review more aggressively than just five," he said.
"I've talked with folks around the country who've been involved in higher ed reform, and the most significant deadweight cost at universities is typically unproductive tenured faculty," the governor added. "And so why would we want to saddle you as taxpayers with that cost if we don't have to do that?"
United Faculty of Florida (UFF), the union representing college and university educators in the state, said it would fight DeSantis' proposals.
"The United Faculty of Florida stand in lockstep opposition to any and all so-called 'reforms' that will actually destroy our state's world-class degree programs and their ability to serve our students," UFF President Andrew Gothard said in a statement. "We will not allow Florida's future to be sacrificed for cheap political points."
Writing for The Chronicle of Higher Education, Francie Diep and Emma Pettit contended that "it's been a dizzying month for higher ed in the Sunshine State."
As the authors explained:

The recent avalanche of activity began in late December, when DeSantis' office requested that state colleges and universities list their spending on programs related to diversity, equity, inclusion, and critical race theory. Florida's Republican House Speaker, Paul Renner, later asked the same campuses to turn over a mountain of additional DEI-related information.

DeSantis' office also requested that state universities report data on transgender students, and he appointed six new trustees to the New College of Florida's board because, according to his press secretary, the small liberal arts institution has put "trendy, truth-relative concepts above learning."

"What I find most troubling is that DeSantis is putting out a blueprint for other governors and state legislatures," Kristen A. Renn—a professor at Michigan State University who researches LGBTQ+ college issues—told The Chronicle of Higher Education. "He's doing these things in ways that anybody else can pick this up and do it."
DeSantis—a potential 2024 presidential candidate—has also come under fire for other policies and actions including rejecting a college preparatory African-American studies course, banning unapproved books from K-12 libraries, and the Stop WOKE Act, a CRT ban that applies to schools from the primary through university levels and is meant to combat what the governor called "wokeness as a form of cultural Marxism."
Mia Brett, legal historian at The Editorial Board, last week compared Republicans' attacks on education across the country to similar moves by the leaders of Nazi Germany during the early months of their regime.
"I'm not being hyperbolic when I say this is directly out of Nazi laws passed in 1933. Though if this Republican effort is successful, you might not be able to learn things like that anymore," she wrote, adding that the legislation banning courses on CRT and racial and gender identity are a "chilling erosion of academic freedom and a huge step toward fascist academic control in the service of right-wing narratives."
"While it's still legal to teach history, remember where such efforts have led and take them seriously," Brett ominously warned.
News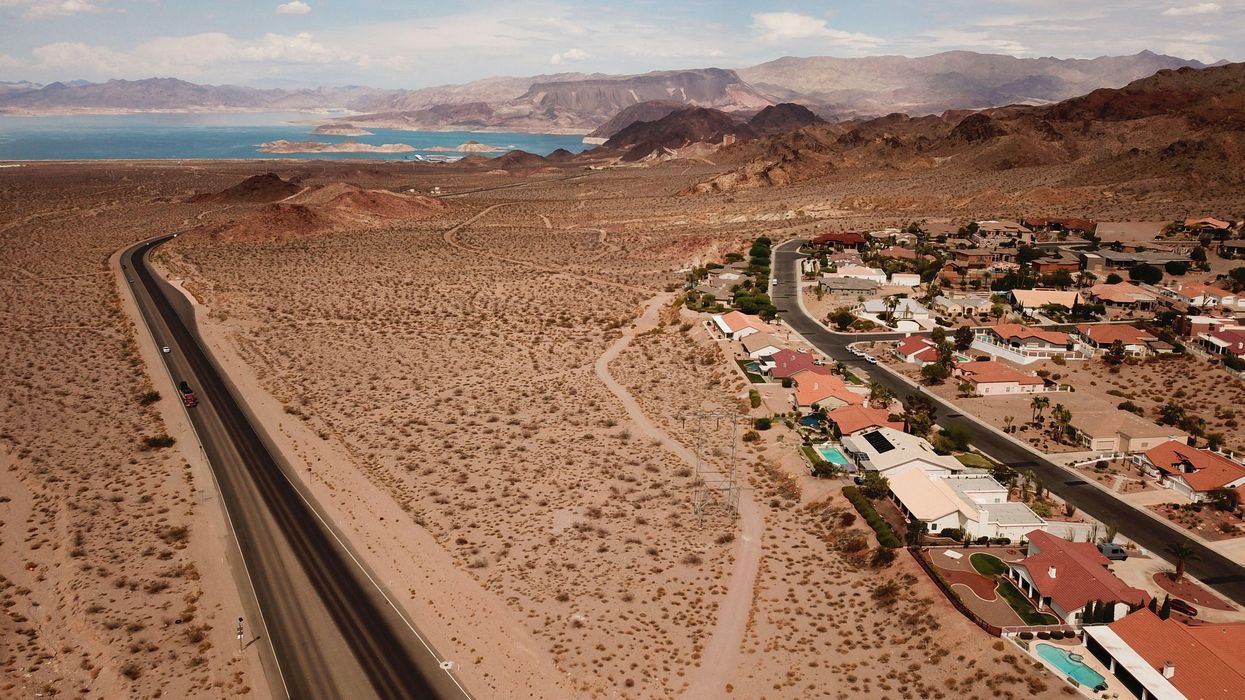 "Vultures," said one critic, are "looking to make a lot of money off this public resource."
Financial speculators are buying and selling rights to the Colorado River's dwindling water resources in a bid to profit as historic drought conditions intensified by the fossil fuel-driven climate crisis lead to worsening scarcity.
Wall Street investment firms "have identified the drought as an opportunity to make money," Andy Mueller, general manager of the Colorado River Water Conservation District, toldCBS News on Tuesday. "I view these drought profiteers as vultures. They're looking to make a lot of money off this public resource."
Matthew Diserio, the co-founder and president of a Manhattan-based hedge fund called Water Asset Management (WAM), makes no secret of his intentions, having described water in the United States as "the biggest emerging market on Earth" and "a trillion-dollar market opportunity." The company's website declares that "scarce clean water is the resource defining this century, much like plentiful oil defined the last."
A newly published joint investigation by CBS News and The Weather Channel found that WAM has purchased at least $20 million worth of land in Western Colorado over the past five years, making it one of the biggest landowners in a farming and ranching region known as the Grand Valley.
According to Mueller, WAM has bought more than 2,500 acres of farmland in the area. But "it's the water"—not the land—that investors are really interested in, he said, observing that the farmland comes with water rights.
"There are real fears that this crucial water supply for the West is on the brink of disaster."
Notably, WAM has "hired Colorado's former top water official as one of its lawyers," CBS News reported. Diserio previously stated that "one of his firm's strategies is to profit from water in part by making the farms it buys more efficient and then selling parts of its water rights to other farmers and cities increasingly desperate for the natural resource."
Mueller is tasked with protecting Colorado's share of the Colorado River—a sprawling 1,450-mile waterway that traverses seven states and is a key water source for 40 million people in the western U.S. and northern Mexico, including those in the metropolitan areas of Los Angeles, Phoenix, San Diego, Denver, Las Vegas, Albuquerque, and Salt Lake City.
Clean water is becoming increasingly scarce in the region for a variety of reasons, not least of which is the fossil fuel-driven climate emergency.
"The Colorado River relies mostly on snowpack in the Rocky Mountains that feeds into the river as it melts in the spring and summer," Weather Channel storm specialist Greg Postel explained. "But climate change is making the West hotter and drier. For every degree the temperature has gone up, the flow of the river has dropped by about 5%—a nearly 20% reduction over the past century."
The volume of water being withdrawn from the Colorado River has fallen since 2000 despite more people moving to the region. But with less water flowing into the river amid the West's ongoing 23-year megadrought—more severe than anything seen in the preceding 1,200 years—recent decreases in per capita water consumption are insufficient.
"It's taken a major toll on the nation's largest reservoirs," Postel said of climate change-amplified drought. "Lake Powell in Arizona and Lake Mead in Nevada—they are at historic lows. They're at just 25% of their full, combined capacity. There are real fears that this crucial water supply for the West is on the brink of disaster."
\u201cDisaster capitalism. \nInvestors like "Water Asset Mangement" (an actual company) are betting on a water crisis.\u201d

— Leslie (@Leslie) 1675176003
As the long-brewing crisis surrounding the Colorado River grows more acute, the federal government has taken steps to compel state-level policymakers to improve how they manage water resources in the increasingly arid region.
For instance, "Congress recently allocated $4 billion in drought funding that can be used to pay farmers to fallow their land and not use their water," CBS News reported. "Some Western states, including Colorado, are also considering paying some farmers to keep their lands fallow." Agriculture accounts for 70% of withdrawals from the Colorado River.
Last August, after the Colorado River Basin states failed to meet a federal deadline to approve a plan for achieving a 15% to 30% reduction in water use, the U.S. Department of Interior (DOI) announced—based on projected water levels for 2023—that Arizona, Nevada, and Mexico would be forced to draw less from the river this year.
On Tuesday, for the second time in six months, the seven states that depend on the Colorado River failed to reach a water conservation pact by the DOI's deadline, increasing the likelihood the agency will impose cuts later this year. Six states—Arizona, Colorado, Nevada, New Mexico, Utah, and Wyoming—agreed to slash water use. But California, the largest water consumer of the bunch, refused, setting the stage for what CNNdescribed as a "high-stakes legal battle."
In August, Food & Water Watch research director Amanda Starbuck implored policymakers to "eliminate rampant corporate water abuse before it's too late," decrying the "massive water use of Big Ag and Big Oil."
"By switching to renewable energy sources like solar and wind, California could save 98% of the water currently needed for its fossil fuel production," said Starbuck. "And by transitioning away from industrial megadairies, thirsty crops like almonds and pistachios, and engaging in regenerative farming, California will gain enormous water savings that could serve small farmers and domestic households."
Regarding WAM and other hedge funds looking to profit from looming water shortages, Rep. Ro Khanna (D-Calif.) and Sen. Elizabeth Warren (D-Mass.) unveiled legislation last March that would prevent Wall Street from speculating on life-sustaining water resources.
The Future of Water Act, as the congressional Democrats' bicameral legislation is titled, would amend the Commodity Exchange Act to affirm that water is a human right to be managed for public benefit—not a commodity to be bought and sold by investment firms. The bill would also prohibit the trading of water rights on futures markets—a recently invented financial ploy widely condemned as "dystopian."
Wenonah Hauter, executive director of Food & Water Watch, said at the time of the bill's introduction that "with the climate crisis delivering historically devastating droughts across the West, it is clearer than ever that water should be treated as a scarce, essential resource, not a commodity for Wall Street and financial speculators."
"This groundbreaking legislation would put a lid on dangerous water futures trading before it creates a crisis," said Hauter, "and it reinforces the fact that water must be managed as a public resource, not a corporate profit center."
Mueller, for his part, said Tuesday that "water in Colorado, water in the West, is your future."
"Without water," he added, "you have no future."
Economy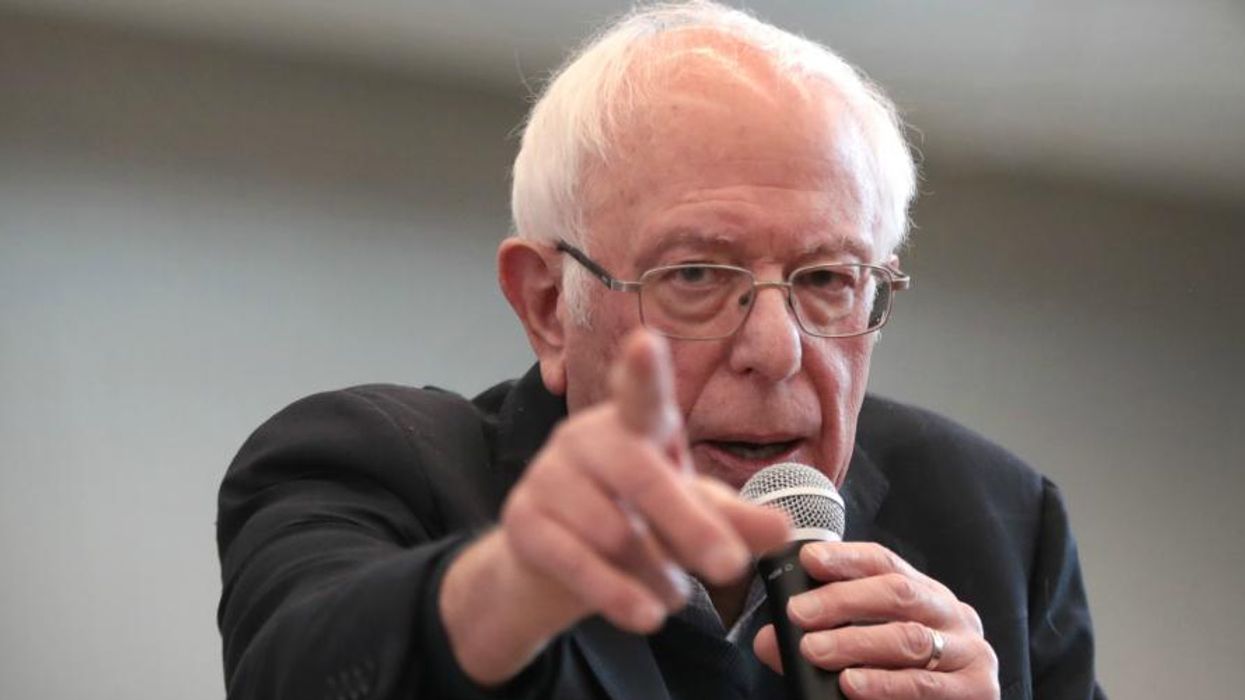 "Virtually all Democrats talk about the need for campaign finance reform," wrote Sanders. "Talk is easy. Now it's time to walk the walk."
Ahead of the Democratic National Committee's annual Winter Meeting in Philadelphia, Sen. Bernie Sanders on Tuesday called on the party to end super PAC spending in primary races, saying the Democrats should take the event as an opportunity to show their commitment to protecting democracy.
Twelve years after the U.S. Supreme Court ruled on Citizens United v. Federal Election Commission, the Vermont Independent senator wrote, the last election cycle illustrated how the "disastrous" decision is "undermining American democracy," as super PACs spent roughly $1.3 billion on campaigning—including more than $460 million spent by Democratic groups.
Millions of dollars were spent by billionaires "against progressive candidates in competitive primaries," Sanders wrote, with super PACs funding "outrageous and dishonest attack ads."
"When we talk about billionaires buying elections, this is exactly what we are talking about."
Notably, a super PAC created by the American Israel Public Affairs Committee (AIPAC) spent millions of dollars in competitive races in North Carolina, Texas, and Pennsylvania last year, running attack ads against progressives who are critical of the United States' support for Israel's violent anti-Palestinian policies. One ad accused Rep. Summer Lee (D-Pa.) of being disloyal to the Democratic Party.

"When we talk about billionaires buying elections, this is exactly what we are talking about," wrote Sanders, who caucuses with Senate Democrats.

The 2010 Citizens United ruling allowed corporations and special interest groups to create super PACs, which can accept unlimited donations and spend unlimited money on campaigns. The ruling has been condemned for years by Democratic lawmakers including Rep. Adam Schiff (D-Calif.), who earlier this month introduced legislation to overturn Citizens United.
The party could make clear that it opposes the corporate takeover of campaigning by banning super PAC spending in its primaries, said Sanders, noting that the issue was not permitted to come up for a vote at last year's DNC meeting when he proposed it there.
\u201cVirtually all Democrats talk about the need for campaign finance reform. Talk is easy. Now it\u2019s time to walk the walk. I wrote a letter to the @DNC today on why we must stand up for democracy and end super PAC spending in primaries.\u201d

— Bernie Sanders (@Bernie Sanders) 1675194781
"Virtually all Democrats talk about the need for campaign finance reform," wrote Sanders. "Talk is easy. Now it's time to walk the walk. Let's stand up for democracy."

News
SUPPORT OUR WORK.
We are independent, non-profit, advertising-free and 100%
reader supported.