For Immediate Release
Contact:
Viviane Weitzner, Forest Peoples Programme, email: vweitzner@gmail.com
Tel: (+57) 316 800 2234
Indigenous Controlled Mining Under Fire in Colombia Following Death of Human Rights Defender
Leading indigenous human rights defender has been killed by unknown gun men
COLOMBIA
At 8pm on Tuesday 7 April, Fernando Salazar Calvo was gunned down brutally outside his home. He was a prominent human rights defender and community member of the Resguardo Indigena Canamomo Lomaprieta (Caldas) in Colombia.
A long time member of the Resguardo's Ancestral Miners' Association (ASOMICARS), 52-year-old Fernando Salazar was a key spokesperson for implementing the Traditional Authorities' rules and regulations for ancestral mining taking place within Resguardo Territory.
While the facts are not yet clear on why Salazar was killed, several members of ASOMICARS and the Cabildo, the highest authority of the Resguardo, have received death threats in the past in response to their exercise of their authority within the Resguardo. In addition, a November 2014 Risk Report, issued by Colombia's Early Warning System (SAT), determined that the Resguardo and surrounding areas are affected by the activities of illegal armed groups. In these circumstances, these leaders fear they may be targets for illegal armed groups and individuals with interests in the rich gold resources embedded in Resguardo Territory.
The Cabildo is calling urgently for a speedy and exhaustive investigation into Fernando Salazar Calvo's murder.
"We don't want a shoddily run, local investigation of the case," says Hector Jaime Vinasco, Coordinator of Mining Issues for the Resguardo Indigena Canamomo Lomaprieta, and former Governor of the Resguardo. "We've had too many awful, local investigations. We need pressure for a top-level investigation, now."
"What is under attack are our rights to self-determination and autonomy," says Vinasco, "Our rights to regulate our own ancestral mining, under our own jurisdiction."
This is not the first time that community leaders from the Resguardo have been killed. Previous incidents include the 2003 La Herradura massacre, when the then governor and three other leaders were killed. These and other incidents have led the Constitutional Court to issue precautionary measures for the communities and their leaders. Despite these measures and the ongoing serious security threat facing Resguardo members (as confirmed in a risk assessment carried out by the ombudsman's office in 2014), it is disturbing that the Resguardo's latest concerns about security were dismissed as mere "rumours" in a recent letter from the local prosecutor's office in Caldas.
The full text of the Cabildo's declaration following the incident is below.
Indeed, located high in a mountainous area known as Colombia's Gold Belt, the Resguardo Indigena Canamomo Lomaprieta has been home to ancestral gold miners since well before the establishment of the Colombian State. Exercising its Special Jurisdiction recognised under Colombia's Constitution, the Cabildo of the Resguardo Indigena Canamomo Lomaprieta has established a series of rules and regulations for mining within its territory. These include implementing environmental and labour management plans, prohibiting the use of harmful substances such as mercury and cyanide, and prohibiting foreign miners and investors. The Cabildo has declared the Resguardo a no-go zone for large-scale mining, and has also developed its own community protocols around consultation and consent. These measures are particularly important in light of the small amount of territory the Resguardo has for its steadily growing population (it has a land base of some 4862 hectares, equivalent to some 37.6 km2, home to 22,823 Embera Chami community members).
While the Cabildo has managed to stave off incursions by outside miners with interest in its territories, the entire Resguardo is criss-crossed with concessions issued without the Cabildo's consultation or consent. The State has also issued a Special Interest Mining Reserve that overlaps with Resguardo Territory, and that could go out for company bidding shortly. While the Cabildo has managed to stave off incursions by outside miners with interest in its territories, the entire Resguardo is criss-crossed with concessions issued without the Cabildo's consultation or consent. The State has also issued a Special Interest Mining Reserve that overlaps with Resguardo Territory, and that could go out for company bidding shortly. As well, it is now regularly reported by the media that illegal armed actors are increasingly turning to mining as a means to launder their money and to fuel their activities.
The Cabildo calls for a national-level investigation of the murder of human rights defender Fernando Salazar Calvo, and the punishment of both the perpetrators of and co-conspirators involved in this heinous crime.
Forest Peoples Programme supports the rights of peoples who live in forests and depend on them for their livelihoods. We work to create political space for forest peoples to secure their rights, control their lands and decide their own futures.
LATEST NEWS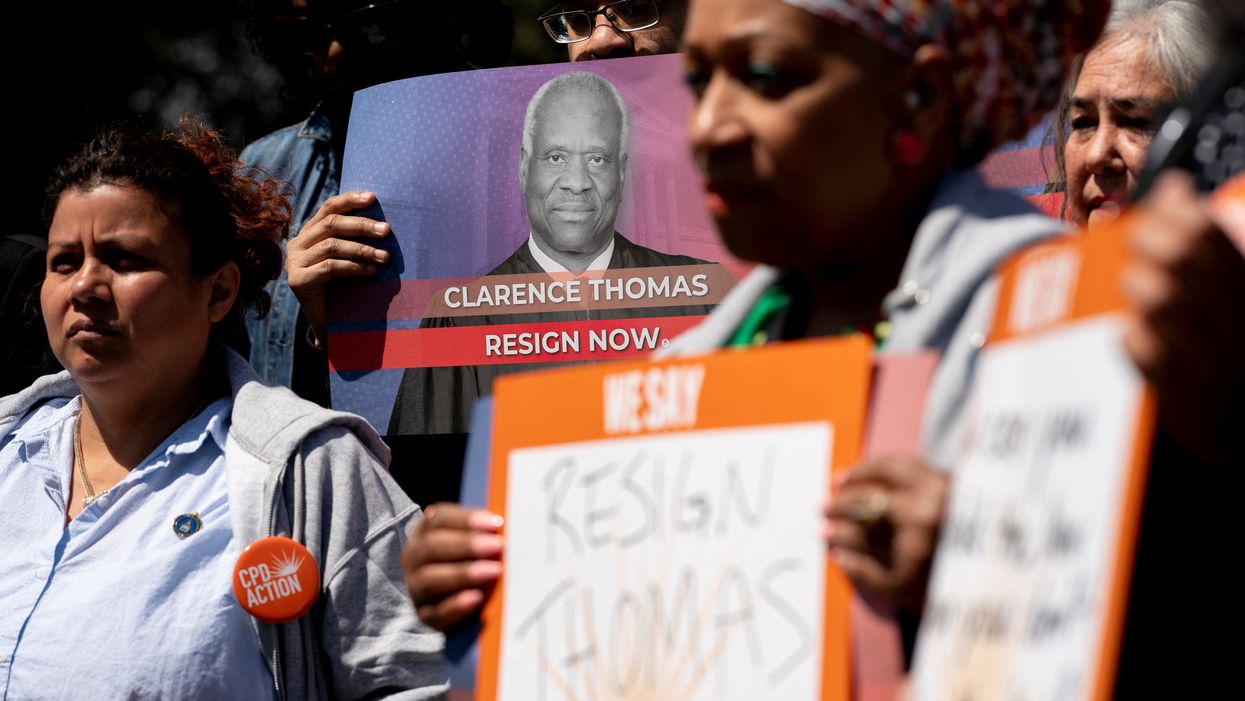 "Americans can see through the court's failed attempt at a code of conduct," said one group. "It's time for Congress to take action and pass actual ethics reform."
Nearly three-quarters of U.S. voters want federal lawmakers to pass a stricter ethics policy for the nation's Supreme Court, according to polling results released Tuesday by the progressive advocacy group Demand Justice.
The poll was conducted by YouGov after the Supreme Court announced last week that it had formally adopted a new code of conduct following months of outrage over reporting on relationships between right-wing justices and billionaires. YouGov explained to those surveyed that justices have been criticized for failing to disclose taking gifts and travel from political donors.
YouGov also told voters that supporters of a stricter ethics code say the newly adopted policy "has no way to actually enforce the rules" and believe "Congress should continue to investigate corruption allegations," while opponents of congressional action believe members of the court should be "allowed to determine their own rules without interference" and trusted to enforce them.
Across party lines, 74% of voters agreed that Congress should approve a stricter ethics code and continue to probe "the ties between justices and political megadonors," including 90% of Democrats, 70% of Independents, and 57% of Republicans.
In response to the findings, End Citizens United said that "Americans can see through the court's failed attempt at a code of conduct. It's time for Congress to take action and pass actual ethics reform."
As Common Dreamsreported when the new code was announced last week, critics have condemned it as a "toothless PR stunt" intended to curb media coverage of potential corruption and "halt momentum for transparency and real reform."
Amid a wave of reporting about Justices Clarence Thomas and Samuel Alito's connections to billionaire megadonors and Leonard Leo—who leads the Federalist Society, a primary force in pushing U.S. courts to the right—Democrats on the Senate Judiciary Committee passed the Supreme Court Ethics, Recusal, and Transparency (SCERT) Act in July.
However, the bill is unlikely to win approval from the full Senate or GOP-controlled House of Representatives. Still, the Senate panel—chaired by Sen. Dick Durbin (D-Ill.)—is expected to continue its probe, possibly with subpoenas targeting Leo and Thomas benefactor Harlan Crow.
Demand Justice was among over a dozen groups that last week called on the committee to issue subpoenas, arguing that "we must learn the full scope of these hidden efforts to improperly influence the Supreme Court and the extent of Justices Thomas' and Alito's ethical wrongdoings."

News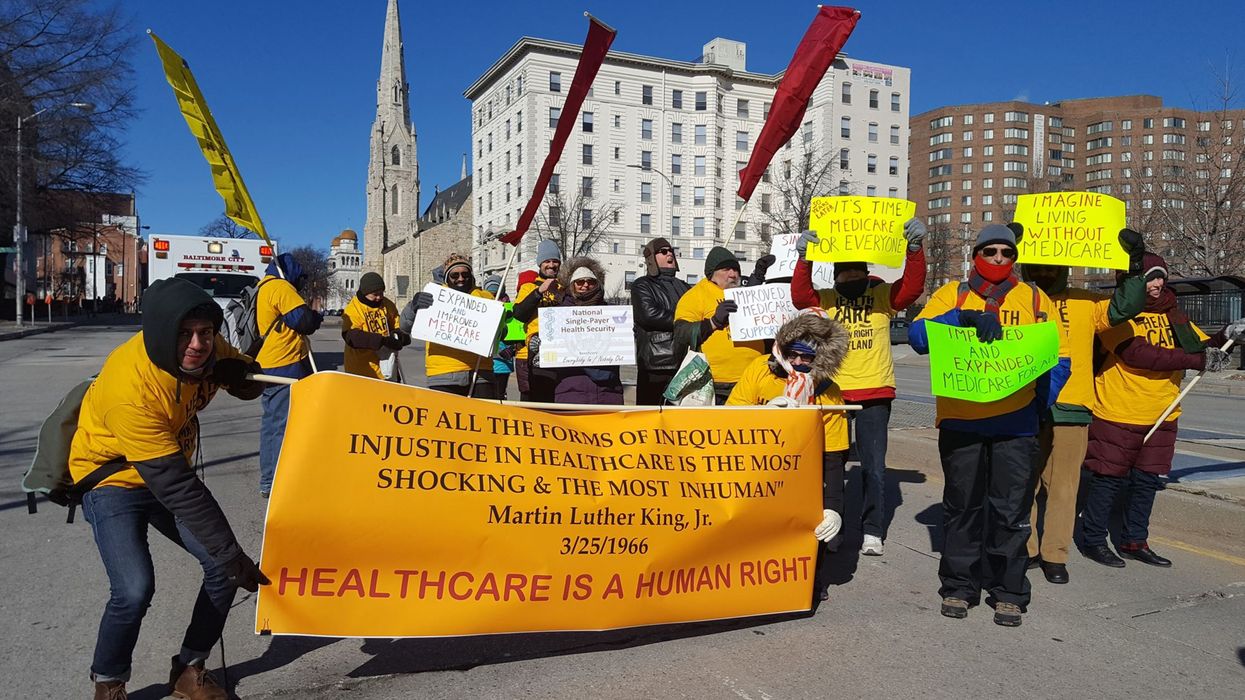 "Every Baltimore resident deserves healthcare whenever they need it," said one local pastor who backed the resolution. "It's time to join every other developed nation in making healthcare a guaranteed human right."
Baltimore on Monday became the latest of over 100 U.S. municipalities to officially endorse a national healthcare program, commonly called Medicare for All.
The passage of a Medicare for All resolution—introduced by Democratic Baltimore City Councilmembers Kristerfer Burnett and Odette Ramos—puts Maryland's largest city in a growing group of municipalities including Philadelphia, San Francisco, Seattle, Los Angeles, Atlanta, Denver, Austin, and Washington, D.C. that have endorsed federally funded universal healthcare programs.
"I want to thank the advocates who have been pushing these resolutions across the country to try and show that there are municipalities that understand that our constituents, in order to fully thrive, need access to healthcare," Burnett said Monday.
"No one should be forced to make the desperate choice between paying for insulin or groceries."
Local Rev. Alvin C. Hathaway Sr., pastor of the Union Baptist Church, told the consumer advocacy group Public Citizen that "every Baltimore resident deserves healthcare whenever they need it."
"No one should be forced to make the desperate choice between paying for insulin or groceries," Hathaway added. "It's time to join every other developed nation in making healthcare a guaranteed human right."
According to U.S. Census Bureau figures cited by Public Citizen, more than 1 in 5 Baltimore residents live in poverty, with 6.7% of residents under age 65 uninsured.
The Baltimore City Health Department published a report in 2020 that said, in part:
It is impossible to discuss the health and well-being of Baltimore City's residents without applying the lens of health equity and systemic disparities. While the overall mortality rate in Baltimore City has declined over the past decade, the city still has a mortality rate nearly 30% higher than the rest of the state, and ranks last on key health outcomes compared to other jurisdictions in Maryland.

This reality is compounded by a series of complicated systemic social, political, economic, and environmental obstacles. With more than 1 in 3 of Baltimore's children below the federal poverty line and more than 30% of Baltimore households earning less than $25,000 per year, income, poverty, and race have an enormous impact on health outcomes.

Jean Ross, president of National Nurses United, said that "every day, we nurses see the human cost of our patients delaying care or going without care, simply because they can't afford it, and that's why we need Medicare for All."
"We're grateful to the city of Baltimore for joining more than 100 other cities around the country in passing a resolution in support of Medicare for All," Ross added. "The grassroots movement to guarantee healthcare to all in the United States is growing every day."
Earlier this year, U.S. Sen. Bernie Sanders (I-Vt.) joined Reps. Pramila Jayapal (D-Wash.) and Debbie Dingell (D-Mich.) in reintroducing Medicare for All legislation.
"The American people understand, as I do, that healthcare is a human right, not a privilege," Sanders said at the time. "As we speak, there are millions of people who would like to go to a doctor but cannot afford to do so. That is an outrage."
News
The parliamentary vote came a day after South Africa's government—which accuses Israel of "genocide" in Gaza—called on the ICC to arrest Israeli Prime Minister Benjamin Netanyahu.
South Africa's Parliament on Tuesday voted overwhelmingly for a suspension of diplomatic ties with Israel over what numerous lawmakers called its "genocidal" war on Gaza, a move that came a day after the country's government urged the International Criminal Court to issue an arrest warrant for Israeli Prime Minister Benjamin Netanyahu.
Lawmakers voted 248-91 for the resolution calling on South Africa to cut ties with Israel until it agrees to a cease-fire in Gaza, where authorities say that 46 days of relentless bombardment by air, land, and sea has left more than 14,000 Palestinians—including more than 3,900 women and 5,800 children— dead, with tens of thousands more wounded, thousands missing beneath the rubble, and nearly 1.7 million people, or about 70% of the population, forcibly displaced.
Israel and Hamas on Tuesday appeared close to agreeing on a Qatar-brokered multiday cease-fire, although far-right Israeli officials including National Security Minister Itamar Ben-Gvir and Finance Minister Bezalel Smotrich expressed opposition to the deal—which reportedly involves the release of around 50 Hamas hostages and Palestinian women and minors imprisoned by Israel.
Applause and chants of "Free, Free Palestine" and "From the River to the Sea, Palestine Will Be Free" rang out in South Africa's legislative chamber as the results of Tuesday's vote were announced.
The nonbinding motion, which requires presidential approval to take effect, was introduced by the left-wing opposition party Economic Freedom Fighters (EFF). The measure is backed by the ruling African National Congress (ANC) and opposed by the mostly white, largely pro-Israel Democratic Alliance.
"We support the amendment. We want to applaud the ANC for its maturity on this matter," said EFF leader Julius Malema. "It doesn't matter; politically we disagree, but when it comes to the issue of humanity, we must protect the human rights of all human beings all over the world."
The lawmakers' vote came on the same day that ANC South African President Cyril Ramaphosa asserted during a virtual meeting with leaders of the so-called BRICS nations—Brazil, Russia, India, China, and South Africa—that "the collective punishment of Palestinian civilians through the unlawful use of force by Israel is a war crime."
"The deliberate denial of medicine, fuel, food, and water to the residents of Gaza is tantamount to genocide," Ramaphosa said.
Calling out the Palestinian militant group that controls Gaza, Ramaphosa added that "in its attacks on civilians and by taking hostages, Hamas has also violated international law and must be held accountable for these actions."
Israel recalled its ambassador to South Africa, Eli Belotserkovsk, on Monday for consultations following Pretoria's call for an International Criminal Court (ICC) arrest warrant against Netanyahu.

South Africa's government on Monday called on the International Criminal Court (ICC) to issue an arrest warrant for far-right Israeli Prime Minister Benjamin Netanyahu.
"The world cannot simply stand by and watch," ANC Minister in the Presidency Khumbudzo Ntshavheni said Monday. "The global community needs to rise to stop this genocide now."
"Given that much of the global community is witnessing the commission of these crimes in real-time, including statements of genocidal intent by mainly Israeli leaders, we expect that warrants of arrest for these leaders, including Prime Minister Benjamin Netanyahu, should be issued shortly," she added.
Earlier this month, South Africa recalled all of its diplomats from Israel over what Ntshavheni called "the genocidal acts that the Israeli government is doing to the Palestinian people."
South Africa—which was an apartheid state for most of the latter half of the 20th century—has long been critical of Israeli apartheid and other human rights crimes in Palestine. In March, South African lawmakers voted to downgrade the country's embassy in response to what it called apartheid and illegal occupation being perpetrated against the Palestinians.
News