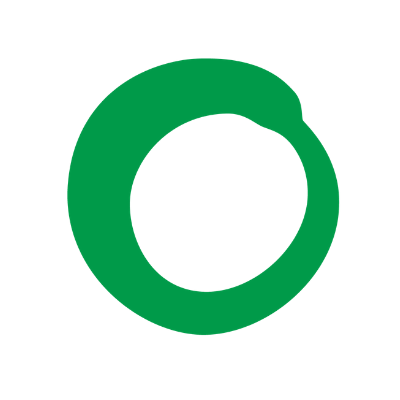 For Immediate Release
Contact:
Nick Berning, 202-222-0748
New Friends of the Earth Ad Ties Nuclear Loan Guarantees to Bush Bailout
Loan guarantees sought by nuclear industry for reactor construction amount to 'preemptive bailout,' with expected default rate of 50 percent or higher
WASHINGTON
A new ad from
Friends of the Earth accuses nuclear industry lobbyists of seeking a "preemptive
bailout" from Congress in the form of risky, taxpayer-backed loan guarantees
from Congress.
"First the government bails out
the banks, now all of Wall Street, at a cost of over 1 trillion dollars.
So why would taxpayers ever risk billions to build nuclear power plants?" the ad
asks. "With cheaper, safer alternatives, why is Congress even considering
a preemptive bailout for nuclear power?"
Nuclear industry executives admit
that nuclear power is so financially risky that federal loan guarantees are the only way new
plants will get built. For example, Michael J. Wallace, the co-chief
executive of UniStar Nuclear, told
the New York Times last year
that "without loan guarantees we will not build nuclear power plants."
Unfortunately, the Congressional Research Service
says such guarantees could leave taxpayers with "potentially
large losses." The Congressional Budget
Office estimates that the risk of default on a nuclear loan
guarantee is "very high-well above 50 percent."
"The fact that we're already
looking at a trillion-dollar bailout for the financial services industry ought
to take an additional bailout for the nuclear industry off the table," Friends
of the Earth President Brent Blackwelder said. "There are cleaner, safer,
more affordable ways to address the energy crisis. A multibillion-dollar preemptive bailout
for the nuclear industry in the form of risky loan guarantees is not the
answer."
Friends of the Earth is
encouraging Americans who don't want billions of their tax dollars to be spent
bailing out the nuclear industry to join our campaign at https://www.foe.org.
The ad can be viewed at: https://www.youtube.com/watch?v=nK_cOCu1hrQ
Friends of the Earth fights for a more healthy and just world. Together we speak truth to power and expose those who endanger the health of people and the planet for corporate profit. We organize to build long-term political power and campaign to change the rules of our economic and political systems that create injustice and destroy nature.
(202) 783-7400
LATEST NEWS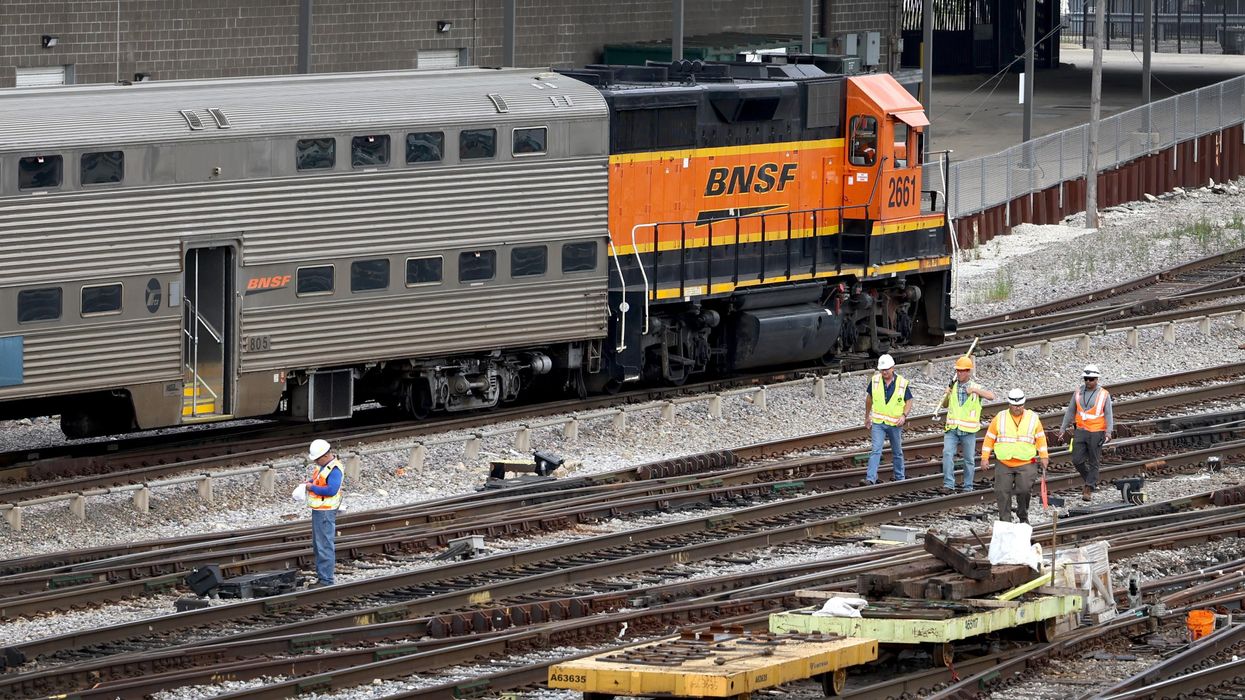 The industry has also spent more than $60 million over the past two decades lobbying officials in 20 states, including California, Texas, and New York.
A new analysis by the campaign finance watchdog OpenSecrets found that the rail industry has spent $653.5 million on federal lobbying over the past two decades as it has worked—often successfully—to fight off stricter safety regulations and antitrust enforcement.
While Norfolk Southern's history of lobbying against safety rules has faced greater scrutiny and backlash in the wake of the toxic derailment in East Palestine, Ohio, the company is hardly an industry outlier.
In its analysis of federal lobbying disclosures, OpenSecrets found that the rail industry's top federal lobbying spenders between 2002 and 2022 were the Association of American Railroads, of which Norfolk Southern is a member; BNSF Railway's parent company Berkshire Hathaway; CSX Corporation; Union Pacific; and Norfolk Southern.
"The industry's hold of the Congress goes beyond Norfolk Southern and its efforts to water down legislation addressing systemic safety issues," the watchdog emphasized, noting that the industry's biggest lobbying "splurges" took place between 2008 and 2012, when "the industry lobbied an act aiming to enforce antitrust laws on the freight railroad industry."
The bill, titled the Railroad Antitrust Enforcement Act of 2009, never received a vote in the House or the Senate.
Rail giants spent $24.6 million lobbying Congress on legislative matters in 2022 alone, according to OpenSecrets. Additionally, the hugely profitable industry has spent heavily on elections in recent years, funneling millions to federal candidates, parties, and political action committees.
"The BNSF Railway PAC gave $1.5 million, the Union Pacific Corp. PAC $1.8 million, and CSX Corp. PAC $913,000 [during the 2022 election]," the watchdog observed. "These federal contributions have historically gone mostly to Republican candidates and groups, though the Norfolk Southern PAC contributed slightly more to Democrats in the last election cycle."
The two top federal recipients of BNSF Railway PAC cash during the 2022 campaign were Rep. Kelly Armstrong (R-N.D.) and House Minority Leader Hakeem Jeffries (D-N.Y.).

OpenSecrets also highlights the rail industry's $60.3 million in lobbying spending in 20 states—including California, Texas, and New York—over the past 20 years, which has had a clear impact on policymaking.
The Leverreported earlier this week that in December 2022, Democratic New York Gov. Kathy Hochul vetoed a "proposed two-person crew bill [that] would have required most freight trains to be operated by at least a conductor and an engineer, a safety measure that both rail unions and bipartisan lawmakers supported."
"Hochul had said in her veto memo that federal laws and pending rulemaking preempt state two-person crew legislation—an argument the railroads and their lobbying groups have used to oppose state staffing bills," the outlet noted. "But two-person crew laws have been enacted in other states without legal challenges, and legal experts disagree with Hochul's assessment of the preemption."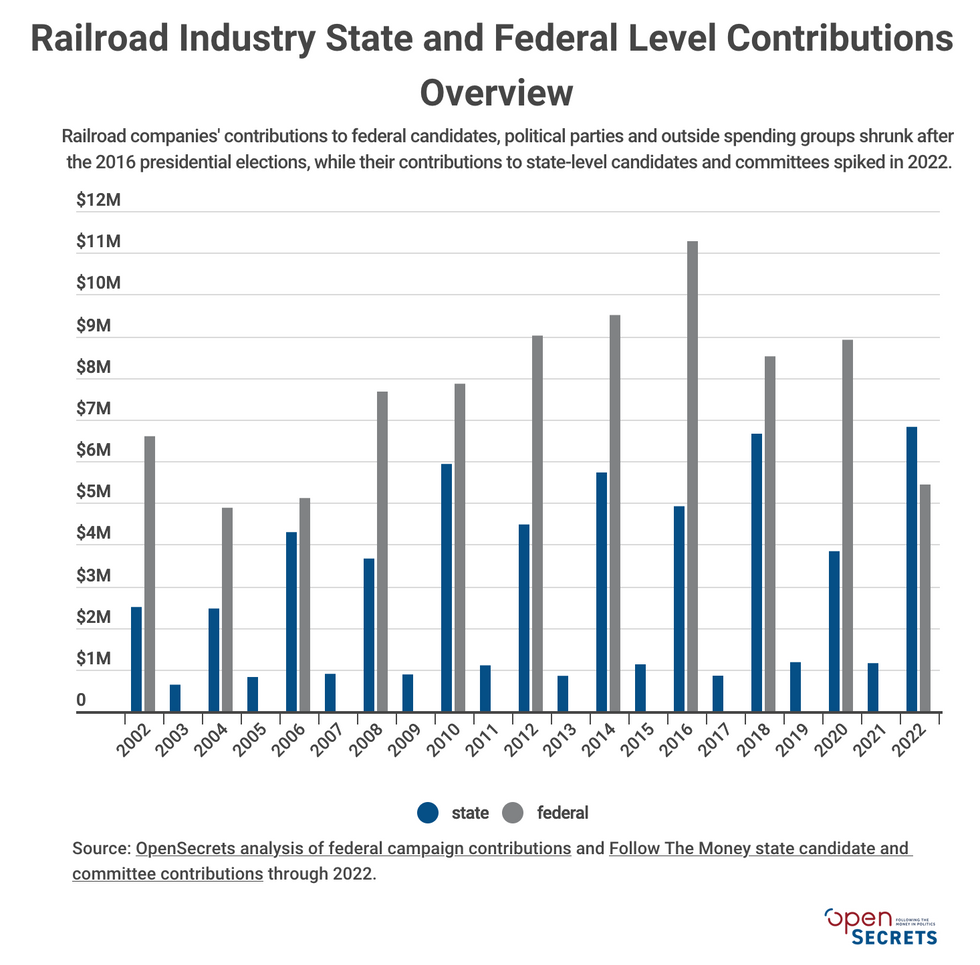 Advocates and reporters have also spotlighted Norfolk Southern's donations to Ohio's Republican Gov. Mike DeWine, who has been accused of mishandling the East Palestine disaster.

"The reasoning behind the inadequate response could be DeWine's close ties to Norfolk Southern's Ohio lobbying firm that led him to reelection, but also paid favor to the rail company through legislative blocks and railroad sales," the Sierra Club argued in a statement last week.
OpenSecrets found that the rail industry's state-level campaign contributions soared to an all-time high of $6.8 million in 2022, with BNSF Railway leading the spending spree.
"The rail industry has given at least $60.8 million in direct contributions to state candidates and committees since 2002, and the biggest contributors echoed those on the federal level," the research group noted.
OpenSecrets' findings came as congressional lawmakers are pushing fresh legislation to strengthen rail safety rules in the wake of the East Palestine derailment, which has called attention to industry-wide safety hazards that workers have been warning about for years.

Rep. Chris Deluzio (D-Pa.), a lead sponsor of a new Housebill aimed at imposing more strict regulations on trains carrying dangerous chemicals, toldThe Lever in an interview earlier this week that "the money that flows through the political system is obscene" and has a "corrupting influence."
"There are real, concrete costs to these anti-safety lobbying efforts that this industry and so many others have undertaken," Deluzio said.
News
"Howard Schultz may be a multibillionaire, but he has got to understand that he and the multibillion-dollar corporation he runs are not above the law."
Sen. Bernie Sanders vowed Thursday to move ahead with a planned vote to force Starbucks CEO Howard Schultz to testify on the company's numerous labor law violations after the coffee chain offered up other executives to appear in the billionaire's place.
In a letter to Sanders (I-Vt.), who chairs the Senate Health, Education, Labor, and Pensions Committee, Starbucks general counsel Zabrina Jenkins wrote that the company is "shocked and deeply concerned" that the senator has rejected proposed stand-ins for Schultz, including executive vice president AJ Jones II.
"Respectfully, Howard Schultz is not the right witness for the hearing," Jenkins wrote, insisting that the Starbucks CEO "delegated decisionmaking regarding actions to be taken on union issues to a small team of executives which includes Mr. Jones."
Jenkins also emphasized that Schultz, who has been directly rebuked by the National Labor Relations Board (NLRB) for threatening pro-union workers, is stepping down as CEO at the end of the month.

Sanders made clear in his response letter that he wasn't persuaded by the company's rationale.
Echoing the language of Starbucks' letter, Sanders wrote that he is "shocked and deeply concerned that Howard Schultz would continue to defy a request made by a majority of members on the U.S. Senate Committee on Health, Education, Labor, and Pensions (HELP) to testify about the 80 complaints issued by the National Labor Relations Board against Starbucks for violating federal labor law, the more than 500 unfair labor practice charges lodged against Starbucks, and the illegal firing of more than a dozen Starbucks workers."
"Let's be clear," Sanders continued. "Howard Schultz is the founder of Starbucks, he is the CEO of Starbucks, he is the spokesperson of Starbucks, and he will continue to be on the Board of Directors at Starbucks well into the future. In numerous media interviews, Mr. Schultz has made it clear that he is the driving force of labor policy at Starbucks. For these reasons, the Senate HELP Committee invited Howard Schultz to testify, not a subordinate, because he is the man who engineered and continues to make labor decisions at Starbucks."
"At some point in the future, we may well want to hear from other executives as to how Starbucks intends to abide by the law and allow workers to form unions," the senator added. "But right now, the immediate issue is to hear from Mr. Schultz."

Sanders announced earlier this week that the Senate HELP Committee will vote this coming Wednesday on whether to subpoena Schultz after the executive refused to voluntarily cooperate with the panel's requests for meetings, documents, and answers to questions about Starbucks' union-busting activities.
Starbucks has denied allegations from workers and the NLRB that it is targeting and firing union organizers, unlawfully threatening pro-union workers with the loss of benefits, cutting workers' hours, and refusing to bargain in good faith with employees who have voted to unionize.
Since the groundbreaking victory in Buffalo, New York in December 2021, more than 280 Starbucks locations across the United States have opted to join Workers United, the union representing Starbucks employees.
Schultz returned for his third stint as Starbucks CEO in early 2022, a move widely seen as part of the company's attempt to crush the nascent union movement. Starbucks Workers United says the company has fired more than 200 workers for engaging in legally protected union activity.
In his letter on Thursday, Sanders pointed to a federal administrative law judge's ruling earlier this week that "detailed a November 2021 meeting—before Mr. Schultz had even returned to the company as CEO—that he had with all Buffalo-area Starbucks workers."
"These workers were forced to attend this meeting while every Buffalo-area store was closed to listen to Mr. Schultz one month prior to union elections that were held in the area," Sanders wrote. "This meeting makes clear the enormous power and influence Mr. Schultz has over labor policy at Starbucks even when he is not the official CEO of the company."
"The American people are sick and tired of multinational corporations violating labor laws with impunity," he continued. "Howard Schultz may be a multibillionaire, but he has got to understand that he and the multibillion-dollar corporation he runs are not above the law."
News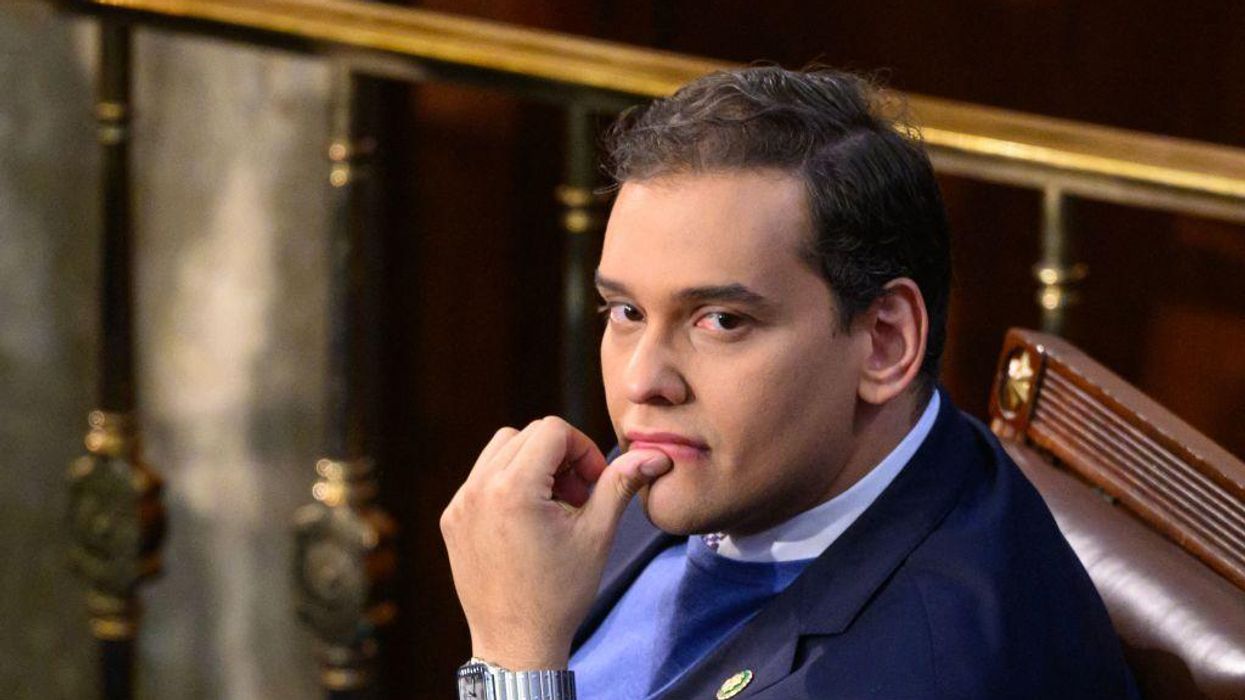 "Santos' constituents deserve real representation at home and in Washington, instead of a liar and a fraud with zero credibility," said Stand Up America's executive director.
As the U.S. House Committee on Ethics announced an investigation into embattled Congressman George Santos, progressives on Thursday renewed calls for the New York Republican to be expelled from office over his elaborate lies and controversies.
"Why did it take the MAGA House nearly two months to do anything about it?" asked Accountable.US spokesperson Derek Martin.
Santos, who was sworn in to represent New York's 3rd District in January, has faced criticism for dishonesty about his education, employment history, and religious background, and concerns have mounted about his net worth, claims of fraud in Brazil and the United States, potential campaign finance violations, and alleged sexual harassment of a former staffer.
"George Santos' extensive lies were exposed even before he was sworn in," Martin noted. "Everyone knows George Santos is a total fraud—even his own constituents have called for him to resign."
House Speaker Kevin McCarthy (R-Calif.) "should've called for Santos to resign on Day 1," he argued. "It's too little, too late from the MAGA majority."
House Ethics Committee Chair Michael Guest (R-Miss.) and Ranking Member Susan Wild (D-Pa.) said in a statement that in accordance with chamber rules, the panel unanimously voted on Tuesday to establish an investigative subcommittee led by Rep. David Joyce (R-Ohio.) He is joined by Wild as well as Congressmen John Rutherford (R-Fla.) and Glenn Ivey (D-Md.).
Guest and Wild explained that the subcommittee has jurisdiction to determine whether Santos "engaged in unlawful activity with respect to his 2022 congressional campaign; failed to properly disclose required information on statements filed with the House; violated federal conflict of interest laws in connection with his role in a firm providing fiduciary services; and/or engaged in sexual misconduct towards an individual seeking employment in his congressional office."
\u201cIt is beyond time that George Santos is investigated for his campaign finance violations, but it may just be that him being a creepy boss is what gets him booted. Looking forward to the report from the House Ethics Committee.\u201d

— Dr. Cindy Banyai (@Dr. Cindy Banyai) 1677794819
Santos' office said Thursday that "the House Committee on Ethics has opened an investigation, and Congressman George Santos is fully cooperating. There will be no further comment made at this time."
Meanwhile, Stand Up America executive director Christina Harvey said that "George Santos deceived voters in New York's 3rd Congressional District about his résumé, background, and the source of his campaign funds. The House Ethics Committee should condemn Santos in the strongest possible terms and recommend his expulsion from the House of Representatives."
"Speaker McCarthy has promised to remove Santos if he is found to have broken the law, and we will hold him to his word," Harvey continued. "Santos' constituents deserve real representation at home and in Washington, instead of a liar and a fraud with zero credibility."
Stand Up America also joined with Common Cause and more than 50 other groups based in New York this week for a letter calling on the state's congressional delegation "to commit to voting to expel Rep. Santos from Congress."
"As New York state in recent years has made strides toward becoming a national leader on campaign finance issues, voters expect our federal delegation to hold their colleagues to a higher standard of transparency and accountability," they wrote. "Federal prosecutors and regulators are already doing their job. It's time for every member of New York's congressional delegation to make it clear that they are prepared to hold Rep. Santos accountable."
"Failing to do so," they warned, "is putting political gain over the interests of New York voters."
As The Hillnoted Thursday, "The Ethics Committee probe is just one of several investigations into Santos, who is also coming under scrutiny from the Nassau County District Attorney, the New York state attorney general, the Queens district attorney, and reportedly by the U.S. Attorney's Office in the Eastern District of New York."
News
SUPPORT OUR WORK.
We are independent, non-profit, advertising-free and 100%
reader supported.