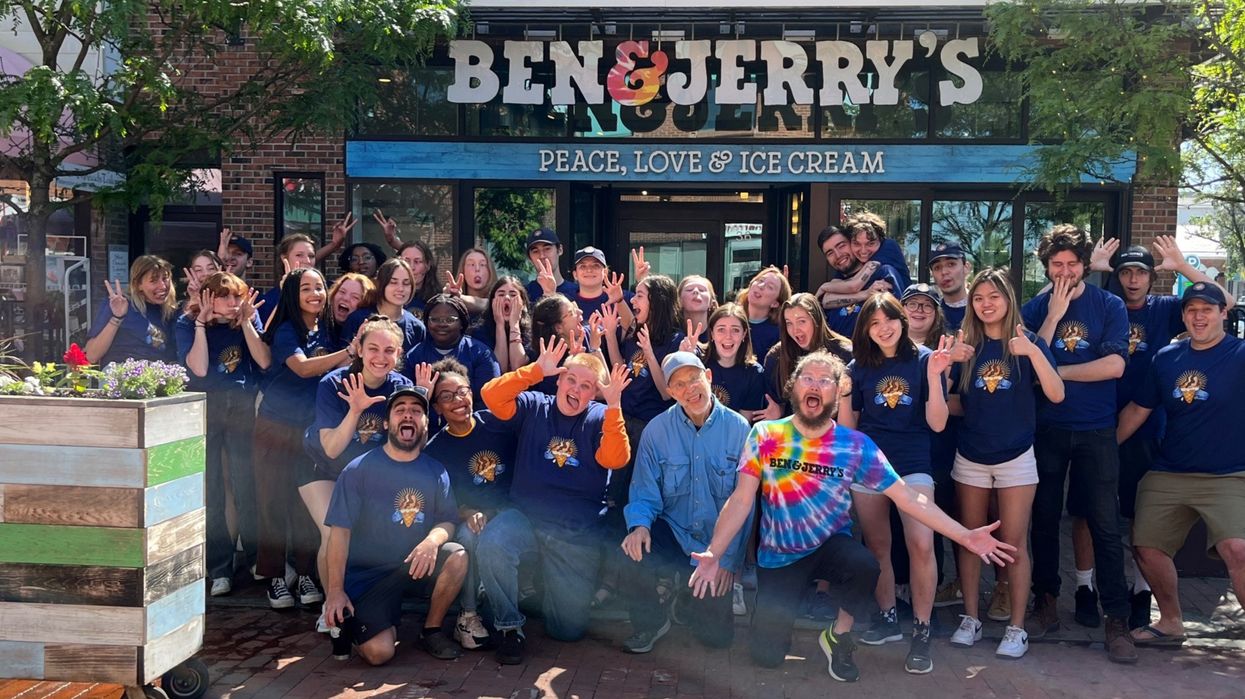 "Our goal in this action is to create a better-working and equal partnership between our community and yours," organizers at the flagship store wrote to the ice cream giant's corporate leaders.

Ben & Jerry's workers at the ice cream company's flagship shop in Burlington, Vermont on Monday filed for a union election amid a wave of organizing efforts at Amazon, Apple, REI, Starbucks, Trader Joe's, and other major employers across the United States.
Organizers in Burlington are calling themselves Scoopers United and are backed by Workers United, a Service Employees International Union affiliate that has gained national attention for winning union votes at 300 U.S. Starbucks stores since late 2021.
"Our goal in this action is to create a better-working and equal partnership between our community and yours," Scoopers United organizers wrote Sunday to company leaders and co-founders Ben Cohen and Jerry Greenfield, who started the business in 1978.
\u201cWelcome, @ScoopersUnited, to our growing union! We call on Ben and Jerry\u2019s to recognize the union today and begin good faith bargaining with these workers!\u201d

— Workers United (@Workers United) 1681743393
The multinational Unilever acquired Ben & Jerry's in 2000. The parent company has not commented on the Burlington effort but its website says that "workers are able to form and/or join trade unions of their choice, and to bargain collectively," and around 80% of the company's total workforce is covered by independent trade unions or collective bargaining agreements.
Both the co-founders and Ben & Jerry's, as a company, have a long history of activism. The ice cream giant's site states that "we seek in all we do, at every level of our business, to advance human rights and dignity, support social and economic justice for historically marginalized communities, and protect and restore the Earth's natural systems."

Scoopers United wrote that "we have seen the positive impact of community within our scoop shop. The support and comradery this store has cultivated are rare and unique. Collectively, we have come to embody Ben & Jerry's slogan of 'peace, love, and ice cream.'"
"We are taught from the beginning of our employment that equality and justice are integral rights of ours as people," organizers continued. "Despite record-breaking profits, incredible bounce-backs post-pandemic, and unwavering smiles, our staff is exploited within our work environment."
According toThe Washington Post:
The workers' push to unionize began around April 3, the annual Free Cone Day, when the company gives away free scoops of ice cream. According tounion organizers, management took away the tip jar that day.

Ben & Jerry's later returned it after workers protested, the organizers said. But the move to unionize quickly caught on throughout the store. In Burlington, organizers said all 37 scoopers have pledged their support. That's well above the typical threshold in the United States, where at least 30% of eligible employees must sign on to qualify for a federally recognized union election.

Union leaders said their primary motivation is to have a seat at the table with management. Also at issue is management's handling of multiple instances of drug use in the store bathroom, including an overdose last summer, as well as adding job duties without increasing pay, workers say.
"Workers need a voice on issues that affect us. Forming a union will ensure that present and future scoopers have irrefutable rights. To this end, we want to acknowledge the efforts made by current management. The work you have done has not gone unnoticed and provides us hope for future cooperation where we can collaborate as equals," organizers wrote, asking Ben & Jerry's leaders to recognize their right to unionize and sign a dozen fair election principles.
Rebeka Mendelsohn, a 22-year-old shift manager and University of Vermont student, said in a statement that "we're a company that stands for social justice rights and equity, and I want to ensure that this message is translated to all levels of employment."

Mendelsohn told the Post that she wanted to work for the company because of its commitment to social issues such as defending Black Lives Matter and environmental justice. Mendelsohn, who is Jewish, added that she was proud when Ben & Jerry's sued Unilever last year to block ice cream sales in Israeli-occupied West Bank territories—a dispute that was resolved confidentially.
"In the grand scheme of things, my employer is working toward something bigger," Mendelsohn said. "And I see such a potential for a union for employees and staff."
Other organizers and labor rights supporters across the country expressed solidarity with the Burlington workers' push to establish the first union at a Ben & Jerry's shop.
\u201cGo follow our friends @ScoopersUnited who are organizing @benjerry's in Burlington, VT! Solidarity!\u201d

— Starbucks Workers United (@Starbucks Workers United) 1681730747
"ICE CREAM UNION," tweeted People for Bernie, sharing the organizers' letter.
Referencing one of the ice cream company's famous flavors, the Fight for $15 campaign declared that a "new Ben & Jerry's union is the real Americone Dream."

News