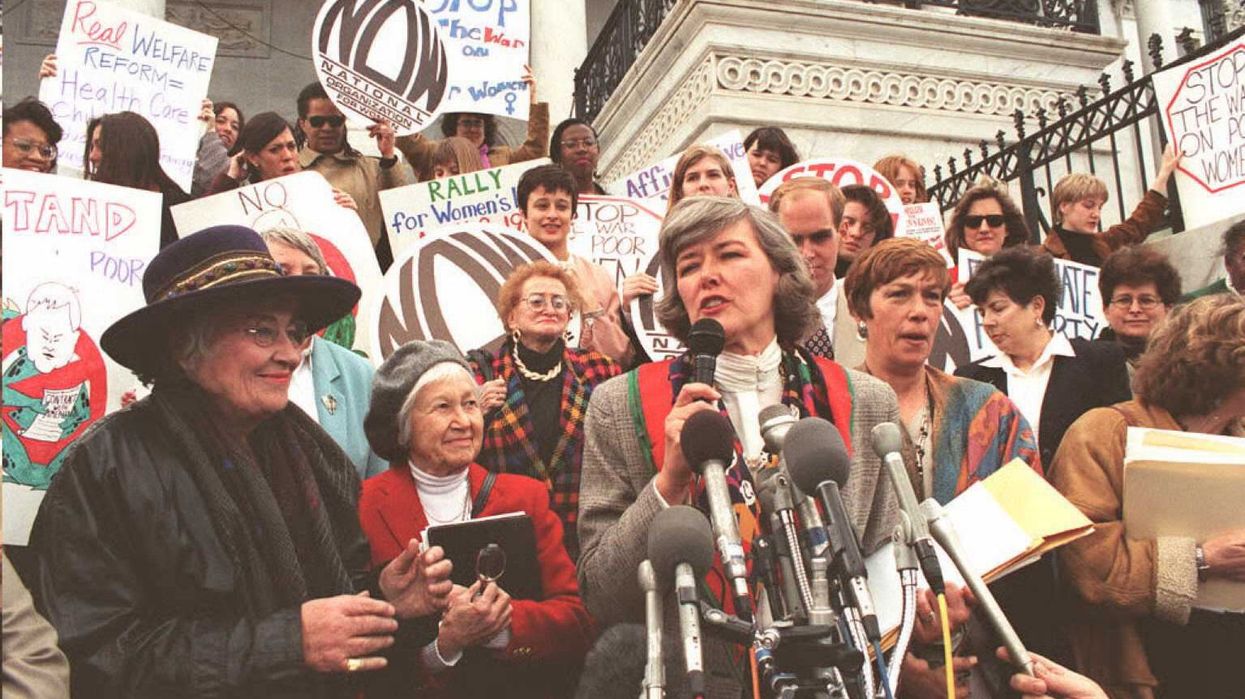 "A pioneer for women's rights, Rep. Schroeder spoke up for Colorado in D.C. for over two decades, defying odds and making her mark," said one lawmaker.
Progressive lawmakers were among those mourning the death of former U.S. Rep. Patricia Schroeder, who served in the House for 24 years and pushed for legislation to protect the jobs of parents, control military spending, and expand healthcare for low-income people. She died in Celebration, Florida on Monday at age 82.
Schroeder first ran for Congress in 1972, representing the Denver area and centering her grassroots campaign largely on her opposition to the U.S. war in Vietnam.

She was one of just 14 women in the House when she took office and was the first woman to serve on the House Armed Services Committee, on which she sat for her entire legislative career.

Upon being named to the committee, Schroeder recalled being ordered by Chairman F. Edward Hébert, a right-wing Democrat from Louisiana, to share a seat with African-American Rep. Ron Dellums (D-Calif.), saying that Hébert told the newly elected lawmakers that they were "only worth half the normal member."
She had previously been told by a dean at Harvard Law School, where she earned a law degree in 1964, that she and the other 14 women in her class had "taken this position from a man."
She was undaunted by the sexism she encountered, and used her position on the Armed Services Committee to regularly call for arms control and reduced military spending. Schroeder aimed to reform the committee that she said acted too frequently as the Pentagon's "lap dog."

The congresswoman was also well known for leading the fight for women's rights in the workplace, pushing for the passage of the 1978 Pregnancy Discrimination Act, which prohibited employers from firing women because they were pregnant. Fifteen years later, she helped pass the Family and Medical Leave Act of 1993 to ensure people wouldn't lose their jobs for taking time off work to care for a newborn or other family member.
Other legislation she played a crucial role in passing included the Violence Against Women Act of 1994; the National Child Protection Act of 1993, which established a background check system for childcare providers; and the Breast and Cervical Cancer Mortality Prevention Act of 1990, which provided screenings for lower-income women.

In 1995, Schroeder joined Bernie Sanders, then an Independent member of the House representing Vermont, in rising to oppose the comments of Rep. Duke Cunningham (R-Calif.). Cunningham uttered a slur as he attacked the two lawmakers for supporting gay Americans who served in the military and told Sanders, "Sit down, you socialist!"
Schroeder retorted with a "parliamentary inquiry," asking, "Do we have to call the gentleman a gentleman if he's not one?"

On Tuesday, Sanders tweeted that Schroeder "was not only a friend but an extraordinarily effective congresswoman who, in so many ways, led the way in opening up opportunities for women."
"Former Congresswoman Pat Schroeder was a fearless champion for women's rights," said Rep. Alexandria Ocasio-Cortez (D-N.Y.). "Her work has inspired countless women in politics and government, and we hope to continue to uphold her legacy."
Newly elected progressive Reps. Maxwell Alejandro Frost (D-Fla.) and Jasmine Crockett (D-Texas) also expressed appreciation for Schroeder's legacy.
"A pioneer for women's rights, Rep. Schroeder spoke up for Colorado in D.C. for over two decades, defying odds and making her mark," said Crockett. "Last night we lost a giant—but Pat Schroeder's legacy and work lives on!"
News