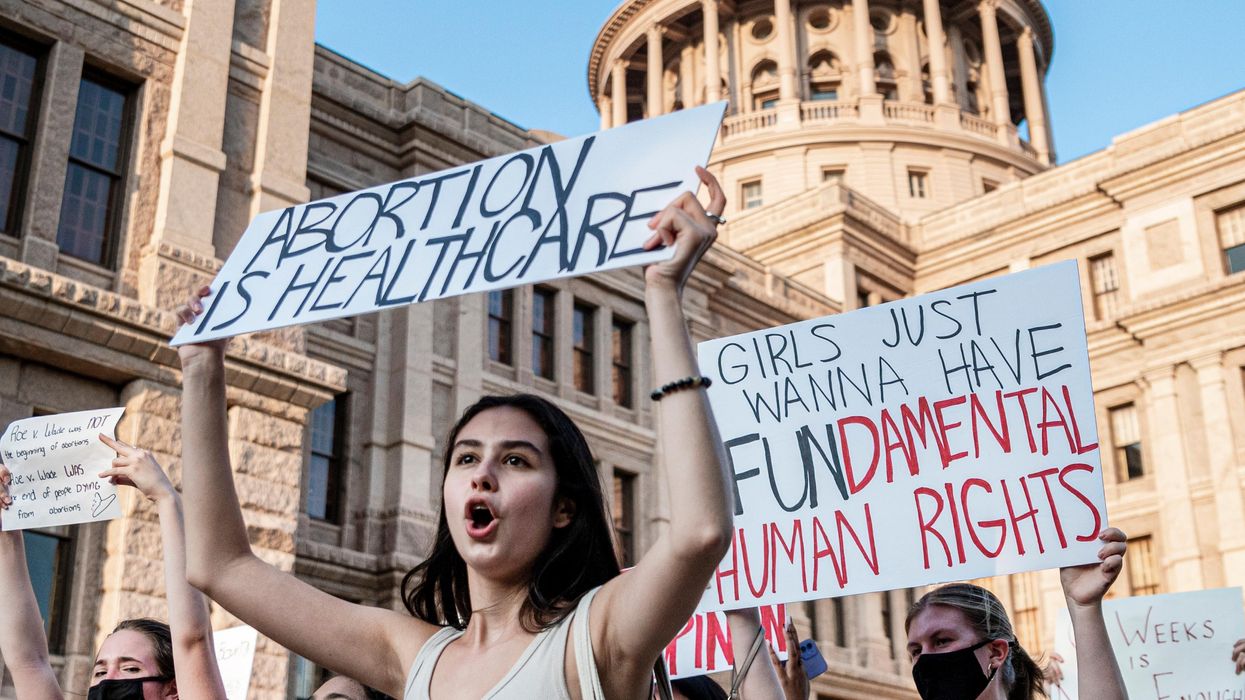 "We're going to make sure that there are political and electoral consequences for this," said one abortion rights campaigner.
Seeking to create a "sanctuary for the unborn," commissioners in Lubbock County, Texas voted Monday to empower citizens to sue individuals assisting pregnant people who travel in unincorporated areas of the county for the purpose of having an abortion.
The Lubbock Avalanche-Journalreported Commissioners Terence Kovar, Jason Corley, and Jordan Rackler all voted in favor of the ordinance, with the body's two other members—County Judge Curtis Parrish and Commissioner Gilbert Flores—abstaining.
The legislation allows citizens to sue anyone who assists a pregnant person in getting an abortion in Lubbock County or who helps them travel through unincorporated areas of the county en route to abortion care. The law does not apply to pregnant people seeking the procedure, and is not applicable in incorporated areas like the city of Lubbock—where 265,000 of the county's 318,000 residents live.
In 2021, Lubbock became the largest U.S. municipality to ban abortions within city limits. It is now the fourth and largest in Texas—and sixth overall jurisdiction in the state—to allow civil lawsuits against those who assist people traveling for abortions.
In June 2022, the U.S. Supreme Court's right-wing supermajority ended half a century of federally enshrined reproductive rights in Dobbs v. Jackson Women's Health Organization. Texas already had a so-called "trigger law" in place to automatically ban all abortions in the state, as well as an early 20th-century law banning the distribution of "obscene" materials including contraception. The 1925 law took effect that July, while the trigger law—which made performing an abortion a felony punishable by up to life in prison, except in cases when a pregnant person's life is endangered—kicked in the following month.
Anyone who "aids or abets" an unlawful abortion in Texas can be sued for wrongful death. In March, a Galveston man filed suit against three women for helping his ex-wife obtain abortion pills, which she used to terminate her unwanted pregnancy.
"Texans already live under some of the most restrictive and dangerous abortion bans in the country, yet anti-abortion extremists continue to push additional unnecessary, confusing, and fear-inducing barriers to essential healthcare," Planned Parenthood of Greater Texas spokesperson Autumn Keiser said in a statement Monday.
Proponents of the Lubbock ordinance included a New Mexico state senator and other residents of the nearby state who said it has become a haven for Texans and others seeking abortions after their home states banned the care. Some supporters said they believed the law is sanctioned by their Judeo-Christian deity figure. One pastor compared outlawing abortion to the abolition of slavery.
Explaining his Monday abstention vote, Flores said he opposes abortion but cited the state's history—which includes genocide, rampant dispossession of Indigenous and Latino Texans, and 20th-century anti-Mexican pogroms—as a reason for caution.
"I am 77 years old. I go back to the '50s and '60s... when my rights were violated at school, at restaurants, anywhere I went," the Latino commissioner explained. "What's in front of me right now is, do I have the right, do I have the power, do I want the authority to tell women what to do, to violate their rights?"
"When I took this job 24 years ago to obey the Constitution of the United States, I wasn't put here to tell you what to do with your life, your body, and your rights," he added.
Legal experts have questioned whether laws like Lubbock's are actually enforceable. In a concurring opinion in Dobbs, Justice Brett Kavanaugh wrote: "May a state bar a resident of that state from traveling to another state to obtain an abortion? In my view, the answer is no based on the constitutional right to interstate travel."
Reproductive rights advocates have vowed to fight what they call "unconstitutional" abortion travel bans. They also expect such laws to backfire at the ballot box in elections across the country next month and, critically, in 2024.
"We're going to make sure that there are political and electoral consequences for this," said Rachel O'Leary Carmona, executive director of the Women's March.
News