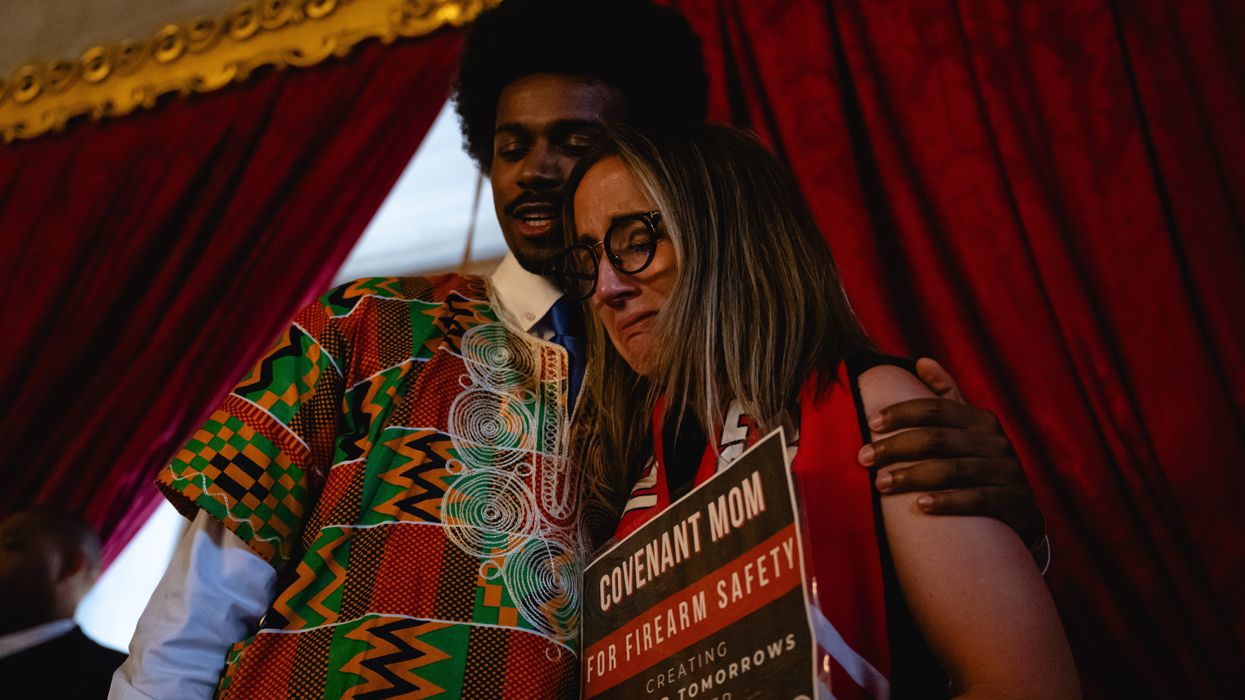 "The biggest consequence from this whole session is the embarrassment of the General Assembly through offensive measures used to keep people out of the building, silence members of the House, and eject grieving moms from committees," said one Democratic lawmaker.
The Tennessee General Assembly's special session on public safety ended Tuesday with weeping parents and chants of "vote them out" after the Republican-controlled Legislature refused to pass significant gun violence prevention measures.
GOP Gov. Bill Lee called the special session earlier this month amid mounting demands for stricter state gun laws in the wake of a shooter killing three children and three adults at the Covenant School, a Christian elementary school in Nashville, in March.

"We had high hopes that after the shooting at Covenant School, politicians would understand the urgent need to prevent another senseless tragedy. They had the opportunity to do the right thing and once again, they failed to act," said Zack Maaieh, head of the Students Demand Action Tennessee chapter and a student at Vanderbilt University, in a statement.
"Despite their inaction, we showed the power of our voices—refusing to back down even as mothers were being forcibly removed from hearings—and lawmakers were forced to reject a bill to arm teachers and put more guns in our schools," Maaieh continued. "But we aren't going anywhere—we'll be back in January, showing out in droves to demand that lawmakers advance gun safety laws that protect our right to live and if they refuse to listen, we'll come for their seats next November."
The Washington Postnoted that "even before the session began, GOP leaders quashed Lee's proposal for an extreme-risk protection order law that would have prevented mentally unstable individuals from possessing guns for a limited period."
According to the Tennessee Lookout:
Ultimately, the Senate concurred with a House version of a weapons storage bill that will offer sales tax breaks on gun safes and gun locks, in addition to spending $1.1 million for a public service campaign to give away gun locks.

As part of an agreement to adjourn, the Senate also opted to pass the House's version of a spending bill that will put $30 million toward safety upgrades at state universities, $12 million toward behavioral health staff, and $4 million into behavioral health safety grants, in addition to $50 million for community mental health agencies, with the latter money coming from a TennCare fund. Another $10 million will be spent on school safety officers, mainly for charter schools.

The Senate also went along with House versions of a human trafficking bill and a measure to codify the governor's executive order on background checks.
"While we are encouraged by proposals meant to promote the secure storage of firearms, this session fell woefully short, so we're tracking votes, we're taking names, and we will show up to the ballot box to vote out lawmakers who refuse to take action to save lives," said Moms Demand Action volunteer Leeann Hewlett.
Sarah Shoop Neumann, a Covenant mother who sobbed outside the House chamber Tuesday morning, responded similarly, tellingThe Tennessean, "We held a special session following the extraordinary tragedy of a mass shooting that took place at the Covenant School, and we took no meaningful action."
"The divisiveness we have all witnessed makes us long for a unified community. We need legislators on both sides of the aisle to be able to have respectful, thoughtful debate regarding potential solutions to end gun violence," she said, adding that legislators who don't want to work together "do not deserve a seat in the House or the Senate."
"We will work towards ensuring every one of those seats is replaced by someone who has a true desire to listen to their constituents over firearm association lobbyists," she vowed. "We will be back in January."
Describing the special session as "a farce," State Sen. Jeff Yarbro (D-21) said that "the biggest consequence from this whole session is the embarrassment of the General Assembly through offensive measures used to keep people out of the building, silence members of the House, and eject grieving moms from committees."
As Common Dreams previously reported, the Tennessee House's GOP supermajority on Monday barred state Rep. Jones (D-52) from speaking after House Speaker Cameron Sexton (R-25) determined that he violated the chamber's rules—which came shortly after the Democratic lawmaker announced plans to call for a vote of no confidence targeting the Republican speaker.
A member of the "Tennessee Three," Jones was expelled from the House in April alongside Rep. Justin Pearson (D-86) over a gun control protest at the chamber; Republican lawmakers narrowly voted against also expelling Rep. Gloria Johnson (D-13).
Both Jones and Pearson were ultimately reelected to their seats. Carrying signs demanding action on gun violence, the pair attempted to approach as the special session ended Tuesday—and the speaker appeared to shoulder-check Pearson.
The Lookout reported that Pearson said Sexton "leaned his shoulder into me and then one of his minions pushed me toward the clerk," while the speaker claimed his security guard nudged him into Pearson and the lawmaker then pushed him.
"It looks like Justin Pearson could file charges for that assault the speaker committed as well as Jason Zachary," Johnson said on social media, referring to a Republican from District 14. "The speaker literally tucked his shoulder to go in on Rep Pearson."
News