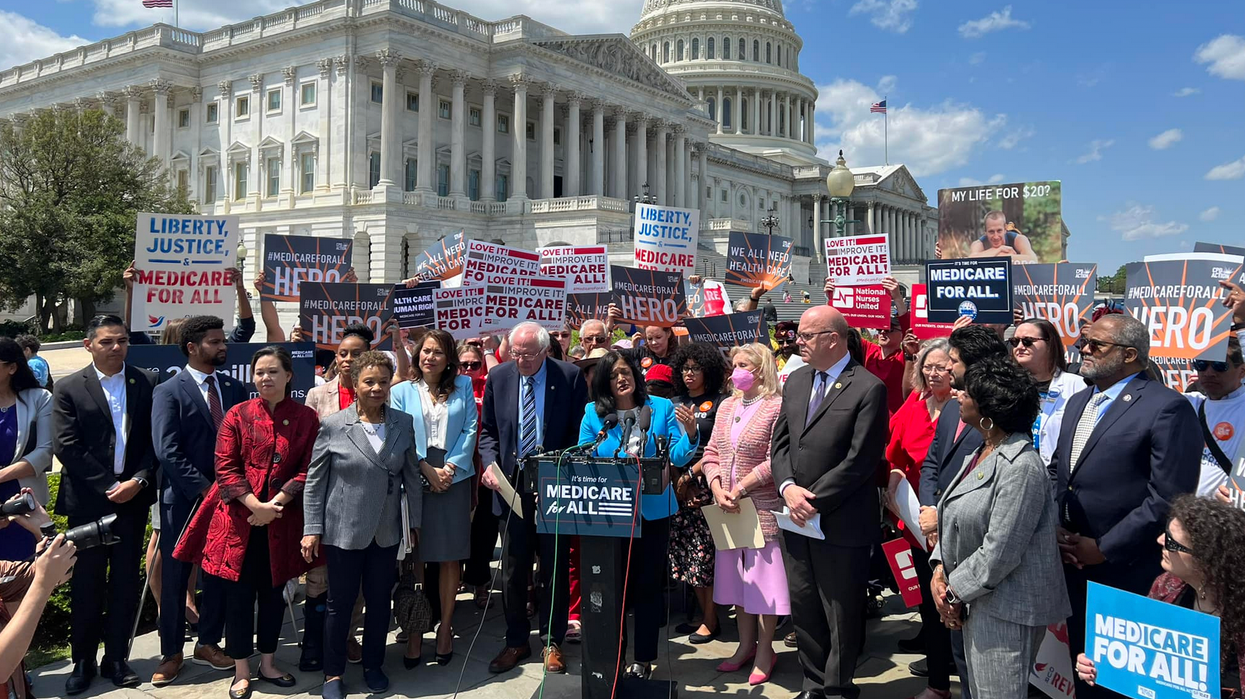 "We must act to end the international embarrassment of the United States being the only major country on earth to not guarantee healthcare to all," said Sen. Bernie Sanders.
Economic justice and human rights advocates applauded Wednesday as progressives in the U.S. House and Senate reintroduced legislation to expand the Medicare system to all Americans, with the bill garnering more support in Congress than ever before.
More than half of the Democratic caucus in the House has signed on as co-sponsors of the Medicare for All Act of 2023, including 13 powerful ranking members of congressional committees.
Sen. Bernie Sanders (I-Vt.) was joined by Reps. Pramila Jayapal (D-Wash.) and Debbie Dingell (D-Mich.) in leading more than 120 lawmakers in introducing the bill, with a number of supporters speaking about the worsening healthcare crisis at a press conference on Capitol Hill.
"We live in a country where millions of people ration lifesaving medication or skip necessary trips to the doctor because of cost," said Jayapal. "Sadly, the number of people struggling to afford care continues to skyrocket as millions of people lose their current health insurance as pandemic-era programs end. Breaking a bone or getting sick shouldn't be a reason that people in the richest country in the world go broke."
"There is a solution to this health crisis—a popular one that guarantees healthcare to every person as a human right and finally puts people over profits and care over corporations," the congresswoman added. "That solution is Medicare for All—everyone in, nobody out."
\u201cIntroducing the Medicare for All Act of 2023 https://t.co/n3aqsAOXho\u201d

— Rep. Pramila Jayapal (@Rep. Pramila Jayapal) 1684346363
About 15 million people in the U.S. are set to lose their health coverage this year as pandemic-era assistance ends, adding to the 85 million people who are currently either uninsured or underinsured—with coverage that includes high deductibles and other out-of-pocket costs, leaving them unable to afford the healthcare they need.
Sanders, who has advocated for a government-run health program for decades, noted in a press statement than 68,000 people per year in the U.S. die due to a lack of health coverage.
"The American people understand, as I do, that healthcare is a human right, not a privilege," said Sanders, who serves as chairman of the Senate Health, Education, Labor, and Pensions Committee. "As we speak, there are millions of people who would like to go to a doctor but cannot afford to do so. That is an outrage... We must act to end the international embarrassment of the United States being the only major country on earth to not guarantee healthcare to all."
Under the Medicare for All Act, the existing Medicare program—which is generally open only to people age 65 and older—would be expanded to everyone in the United States and would allow them to obtain primary, vision, dental, reproductive, and mental healthcare; prescription drugs; substance abuse treatment; long-term healthcare services; and other medical care without any cost at the point of service.

The program would run similarly to government-run health programs that have long existed in other wealthy countries.
While detractors—including lawmakers who take substantial donations from the for-profit health insurance industry—have frequently claimed that Medicare for All would be too expensive, a Congressional Budget Office analysis found in 2020 that the program would save between $300 billion and $650 billion annually.
"A study by RAND found that moving to a Medicare for All system would save a family with an income of less than $185,000 about $3,000 a year, on average," said Sanders' office in a statement.
The lawmakers introduced the legislation a day after Sanders and Jayapal hosted a town hall on Capitol Hill where they were joined by patients, doctors, and nurses whose experiences in the U.S. healthcare system illustrate the need for Medicare for All.
Dr. Natasha Driver, a first-year obstetrics and gynecology resident at Howard University Hospital in Washington, D.C., said she recently cared for a woman whose service industry job did not provide her with health insurance.

"When I first met her after delivery, she refused treatments which were part of routine postpartum care for the simple reason that she couldn't afford them," said Driver. "This is a regrettable and all too common occurrence in the practice of medicine, especially for those of us who work with the underserved. Medicare for All would reduce the problem of uninsurance and allow me to adequately care for my patients."
\u201cLIVE: Join me and @RepJayapal as we hold a town hall at the U.S. Capitol on the need for Medicare for All. https://t.co/Zawjrh77KX\u201d

— Bernie Sanders (@Bernie Sanders) 1684280198
Robert Weissman, president of consumer advocacy group Public Citizen, noted that while millions of Americans lack health coverage that would allow them to receive adequate care, health insurers, hospital chains, and pharmaceutical companies "are generating staggering profits," with insurance companies making more than $69 billion last year.
"It's time for Americans to stop being treated like suckers. It's time to make healthcare a right. It's time for Medicare for All," said Weissman. "A system of expanded and improved Medicare for All would reduce our spending on healthcare while providing universal access, better outcomes, and more equity."
"With Medicare for All, healthcare decisions would be made by patients and doctors—not for-profit insurance companies thinking about their bottom lines," he added. "There would never be another medical bankruptcy. Having decent coverage would not depend on where a person works or whether they are employed or married. Patients could take their prescriptions on schedule, without worrying about price."
Social Security Works (SSW) pointed out that the legislation is being introduced as Republicans threaten the Medicare and Social Security systems with their proposal to raise the debt ceiling in exchange for social spending cuts.

"Medicare for All's supporters envision a future where Medicare is improved to include dental, hearing, vision and long-term care, and then expanded to cover everyone in America," said Alex Lawson, executive director of SSW. "A future without delays or denials, without copays or deductibles. A future where everyone gets the care they need. Meanwhile, Republicans want to make our current profit-driven healthcare system even worse."
"The best way for Democrats to stop that from happening," Lawson said, "is to go on offense with full-fledged support for Medicare for All."

News