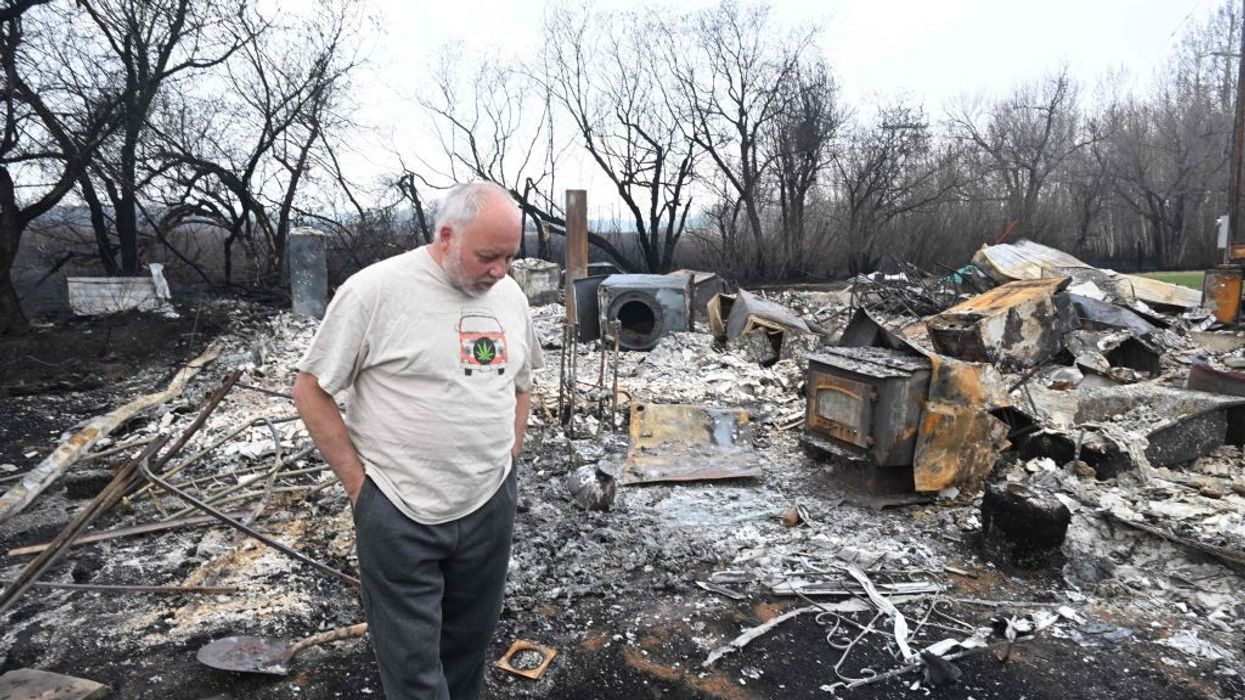 "Still we are not acting with the urgency and determination that is required," the U.N. High Commissioner for Human Rights said Monday.
As parts of the world from China to Texas bake under extreme heat, scientists and advocates are warning that world leaders are running out of time to take action on the climate crisis.
In a speech to a United Nations panel discussion on Monday,, U.N. High Commissioner for Human Rights Volker Türk cautioned that current policies put the planet on course for a "dystopian future."
"Yet still we are not acting with the urgency and determination that is required. Leaders perform the choreography of deciding to act and promising to act and then... get stuck in the short term," Türk said.
Türk's remarks came after Reuters ran an article highlighting recent weather extremes and land- and sea-temperature records. Scientists warn that the clock is running out on the chance of limiting global warming to 1.5°C above preindustrial levels.
"We've run out of time because change takes time," University of New South Wales climate scientist Sarah Perkins-Kirkpatrick told Reuters.
Early June 2023 was the hottest on record, with average temperatures even overshooting the 1.5°C mark for a few days. While this has happened before during the Northern Hemisphere winter, this was the first time it has happened during the Northern Hemisphere summer, according to Reuters.
At the same time, sea surface temperatures broke records in both April and May. Temperatures in the Indian and Pacific oceans could rise to 3°C warmer than normal by October, Australia's weather agency said, according to Reuters.
"We know that our environment is burning. It's melting. It's flooding. It's depleting. It's drying. It's dying."
University of Leeds professor of climate physics Piers Forster told Reuters that the climate crisis was predominantly to blame, but that El Niño, a drop in dust from the Sahara blowing over the ocean, and a turn to low-sulfur shipping fuels that reduced atmospheric particulates also contributed.
"So in all, oceans are being hit by a quadruple whammy," he said. "It's a sign of things to come."
Other signs of things to come include the wildfires burning in Canada, which is in the midst of its worst fire season on record, as AFP reported June 28. The fires have displaced more than 100,000 people, sent toxic smoke spewing south and east, and released a record almost 600 million tons of carbon dioxide into the atmosphere.
Places from India to the southern U.S. have sweltered through deadly heat waves. On Thursday, several states in the South and Midwest had reached the highest threat level for their wet bulb temperature—the temperature of a thermometer covered in a wet cloth which is meant to simulate how the human body would react to a combination of heat and humidity in full sun, as The Hill reported. Studies have shown that the human body cannot sweat to cool down when heat and humidity reach certain levels—the most recent research points to a threshold of 88°F at 100% humidity.

On Sunday, Chinese authorities said that the country had broken records for the number of hot days during the first six months of the year, with Beijing breaking its all-time temperature record to hit a high of 41.1°C on Thursday, as CNN reported.
When the capital finally saw relief Monday, flooding displaced more than 10,000 people in Hunan province, and Shaanxi province's Zhenba county experienced its worst flooding in 50 years, according to the Independent.
"We know that our environment is burning. It's melting. It's flooding. It's depleting. It's drying. It's dying," Türk said during his remarks Monday.
Türk warned that conditions could get even more extreme if global temperatures rise to around 3°C, which current policies put them on track to do, according to the most recent report from the Intergovernmental Panel on Climate Change.
"Vast territories would disappear under rising oceans, or become effectively uninhabitable, due to heat and lack of water," he said.
Türk's speech was focused on the right to food specifically, and how the climate crisis would continue to interfere with it. Between 2000 and 2023, there had already been a 134% increase in climate and flood disasters, he said.
"More than 828 million people faced hunger in 2021," he said. "And climate change is projected to place up to 80 million more people at risk of hunger by the middle of this century—creating a truly terrifying scale of desperation and need."
Yet so far, political and corporate leaders are not responding to the situation with the urgency experts and advocates say it requires. The Bonn climate talks, which occurred amidst the record early June heat, ended with little progress.
"I am hoping that the sheer reality will help us change people's moves and change the politics."
"It was very detached from what was going on outside of the building in Bonn—I was very disappointed by that," Li Shuo, Greenpeace's senior climate adviser in Beijing, told Reuters.
The next major international climate conference—COP28—begins in the United Arab Emirates in late November, but campaigners are concerned by the fact that its president, Sultan Ahmed al-Jaber, is also the head of the UAE's state oil company.
Meanwhile, Li and Türk still expressed hope for 11th-hour progress.
"We are really getting to the moment of truth," Li told Reuters. "I am hoping that the sheer reality will help us change people's moves and change the politics."
Türk recommended a list of actions including an end to fossil fuel subsidies, a phaseout of fossil fuel use, and a "just transition to a green economy."
He also said that COP28 needed to be a "decisive game-changer."
"There is still time to act," he said. "But that time is now. We must not leave this for our children to fix—no matter how inspiring their activism. The people who must act—who have the responsibility to act—are our leaders, today."
News