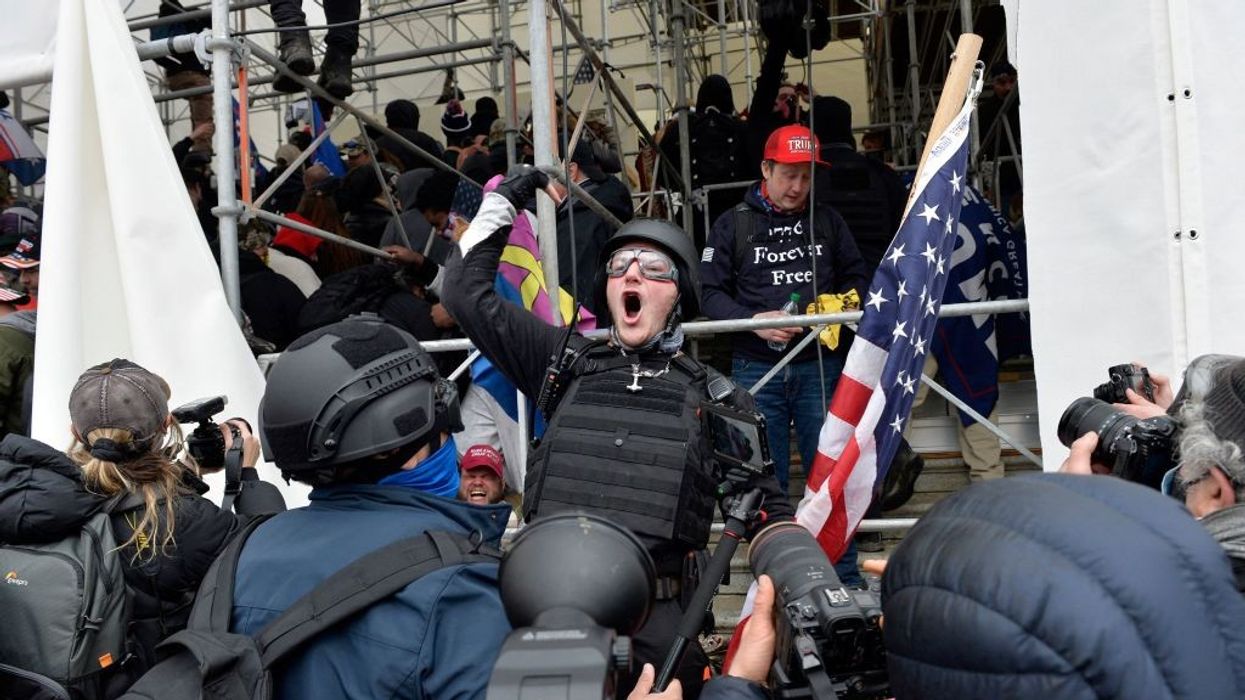 This effort must be seen for what it is: a disgrace.
Dominion Voting Systems has provided a public service for the American people.

As a result of its pending defamation lawsuit against Fox News, Dominion has laid bare the extraordinary con game that Fox carried out in the aftermath of the 2020 presidential election and that continues today.

Fox elevated and affirmed for their millions of viewers former President Donald Trump's Big Lie that the election was stolen from him by giving airtime to Trump's team. But even as they put them on the air, Fox hosts and executives admitted privately that they knew they were airing lies and "insane" conspiracy theories.

The big three Fox propagandists, Tucker Carlson, Sean Hannity, and Laura Ingraham privately complained about their lying guests. But they never bothered to tell this to their viewers. Their texts, obtained by Dominion as part of the lawsuit, also reveal that some worried they would lose viewers if they actually told the truth.
Today, Trump continues to peddle his Big Lie — and so does Fox News.
Carlson, gifted with exclusive access to more than 40,000 hours of internal Capitol footage from the January 6 riot by House Speaker Kevin McCarthy, is attempting to persuade people they should not believe what they saw with their own eyes. He has been airing cherry-picked portions of the January 6 videos to absurdly argue that the insurrectionist mob attack that led to the death and injury of Capitol police officers was little more than a "peaceful" protest of "sightseers."

According to The New York Times, more than 150 officers from the Capitol Police, the Washington, DC Police Department, and other agencies suffered injuries as a result of the violence. A bipartisan Senate report found that at least seven people, including three police officers, lost their lives in connection with the attack.

A number of Senate Republicans have called Carlson out this week. Senate Minority Leader Mitch McConnell criticized the way Carlson portrayed the insurrection, Minority Whip John Thune described January 6 as "an attack on the Capitol," and Sen. Thom Tillis called Carlson's claims "bulls — -."
Hypocrisy abounds at Fox News. And, they are joined by Speaker McCarthy.

Many House Republicans, however, are supporting Carlson's revisionist history. They include the Republican leaders: House Speaker McCarthy, Majority Leader Steve Scalise, and Republican Conference Chair Elise Stefanik.

In his Dominion deposition, Fox head Rupert Murdoch said he believed the 2020 presidential election was free, fair, and not stolen. Yet, Murdoch never pulled Fox back from promoting the Trump Big Lie. And, he currently silently sits by as Carlson tries to sell the lie that January 6 was a peaceful protest.

Hypocrisy abounds at Fox News. And, they are joined by Speaker McCarthy.

Shortly after January 6, McCarthy called the attackers "un-American," and said that anyone who participated in the mob attack should go to jail. "You don't understand what was transpiring at that moment and that time," McCarthy told reporters shortly after the Capitol attack. "People brought ropes. When I got back into my building, I found the straps that they had. I don't know if they'd come [to] try to kidnap somebody or whatever. But they were well planned for it."

McCarthy knew perfectly well that Carlson would use his show to present an untrue version of what happened on January 6.

Carlson had earlier called January 6 a "footnote" in history and "forgettably minor." Yet, that didn't stop McCarthy from knowingly giving Carlson the opportunity to further a false narrative that is the complete opposite of what McCarthy described in 2021.

Meanwhile, the effort to rewrite history goes on.

McCarthy ally Rep. Barry Loudermilk is preparing to investigate the Jan. 6 investigators as part of a new House subcommittee, and House Oversight Committee Chair James Comer and Rep. Marjorie Taylor Greene are planning to visit some of the January 6 rioters in jail.

House Republicans will fail.

Fox News and Carlson's efforts to whitewash the January 6 insurrection will also fail and will go down in history as a national disgrace.
Opinion