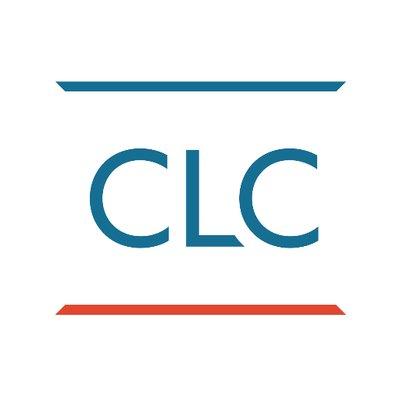 For Immediate Release
September, 11 2020, 12:00am EDT
Contact:
Email:,media@campaignlegal.org
Appeals Court Leaves in Place Florida's Pay-to-Vote Scheme
Today, the full U.S. Court of Appeals for the Eleventh Circuit ruled that the state of Florida can condition voting rights on an individual's ability to pay, reversing a lower court decision and prohibiting otherwise eligible citizens who owe fines and fees associated with a past felony conviction from voting this fall.
ATLANTA
Today, the full U.S. Court of Appeals for the Eleventh Circuit ruled that the state of Florida can condition voting rights on an individual's ability to pay, reversing a lower court decision and prohibiting otherwise eligible citizens who owe fines and fees associated with a past felony conviction from voting this fall.
"This is a deeply disappointing decision," said Paul Smith, vice president at CLC. "While the full rights restoration envisioned by Amendment 4 has become less likely to be realized this fall, we will continue this fight for all Florida voters, so the full benefits of Amendment 4 will someday be realized. Florida's voters spoke loud and clear when nearly two-thirds of them supported rights restoration at the ballot box in 2018. Nobody should ever be denied their constitutional rights because they can't afford to pay fines and fees."
Florida's General Election voter registration deadline is October 5 and early voting begins on October 19.
Campaign Legal Center (CLC) advances democracy through law, fighting for every American's right to participate in the democratic process. CLC uses tactics such as litigation, policy advocacy, communications and partnerships to win victories that result in a more transparent, accountable and inclusive democracy.
(202) 736-2200
LATEST NEWS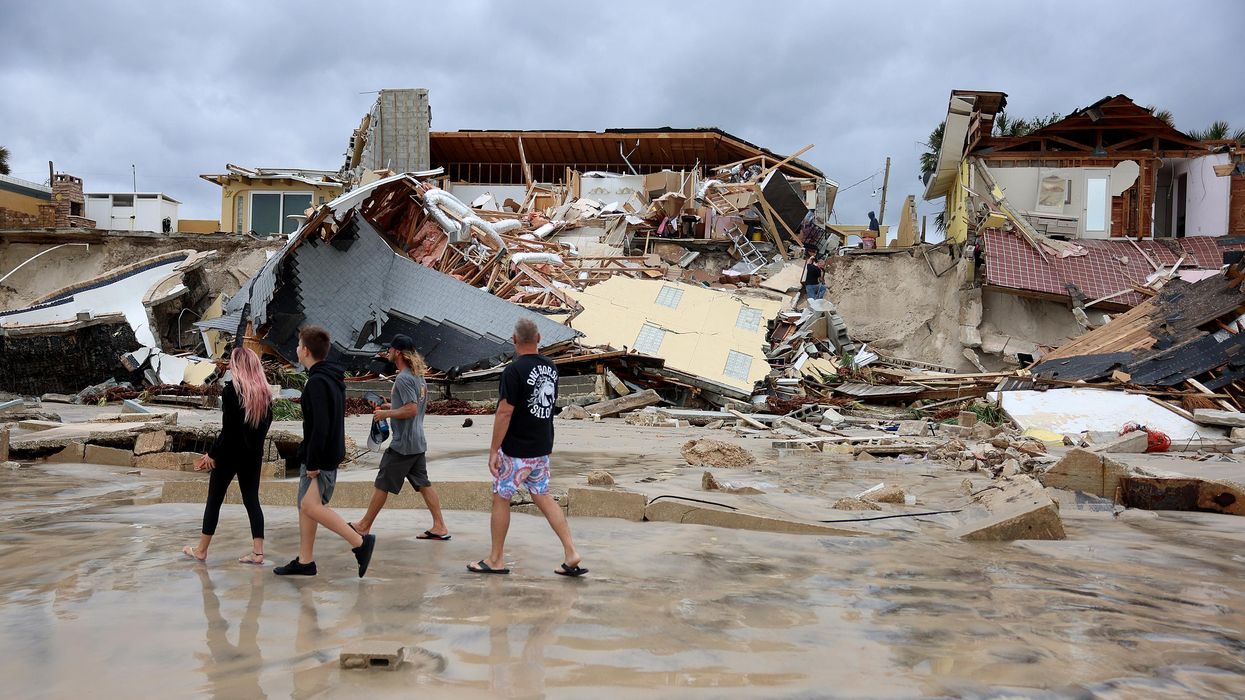 "This new study, using a new method, adds to the evidence that we certainly will face continuing changes in climate that intensify the impacts we are already feeling," said the lead author.
Even with ambitious action to reduce planet-heating emissions, the world could pass the two key temperature thresholds of the Paris climate agreement in the coming decades, according to new research that relied on artificial intelligence.
With the 2015 deal, nations agreed to work toward keeping global temperature rise this century "well below" 2°C and ultimately limiting it to 1.5°C. The study, published Monday in the journal Proceedings of the National Academy of Sciences, used a type of AI known as a neural network to predict how likely it is that the world will breach both limits before 2100.
Already, the world has warmed by an average of about 1.1°C relative to preindustrial levels. Stanford University's Noah Diffenbaugh and Elizabeth Barnes of Colorado State University found that under both low and high emissions scenarios, there is a high probability of hitting 1.5°C sometime in the 2030s. There's also a high chance of hitting 2°C in the next few decades.
"We have very clear evidence of the impact on different ecosystems from the 1°C of global warming that's already happened," Diffenbaugh toldThe Guardian. "This new study, using a new method, adds to the evidence that we certainly will face continuing changes in climate that intensify the impacts we are already feeling."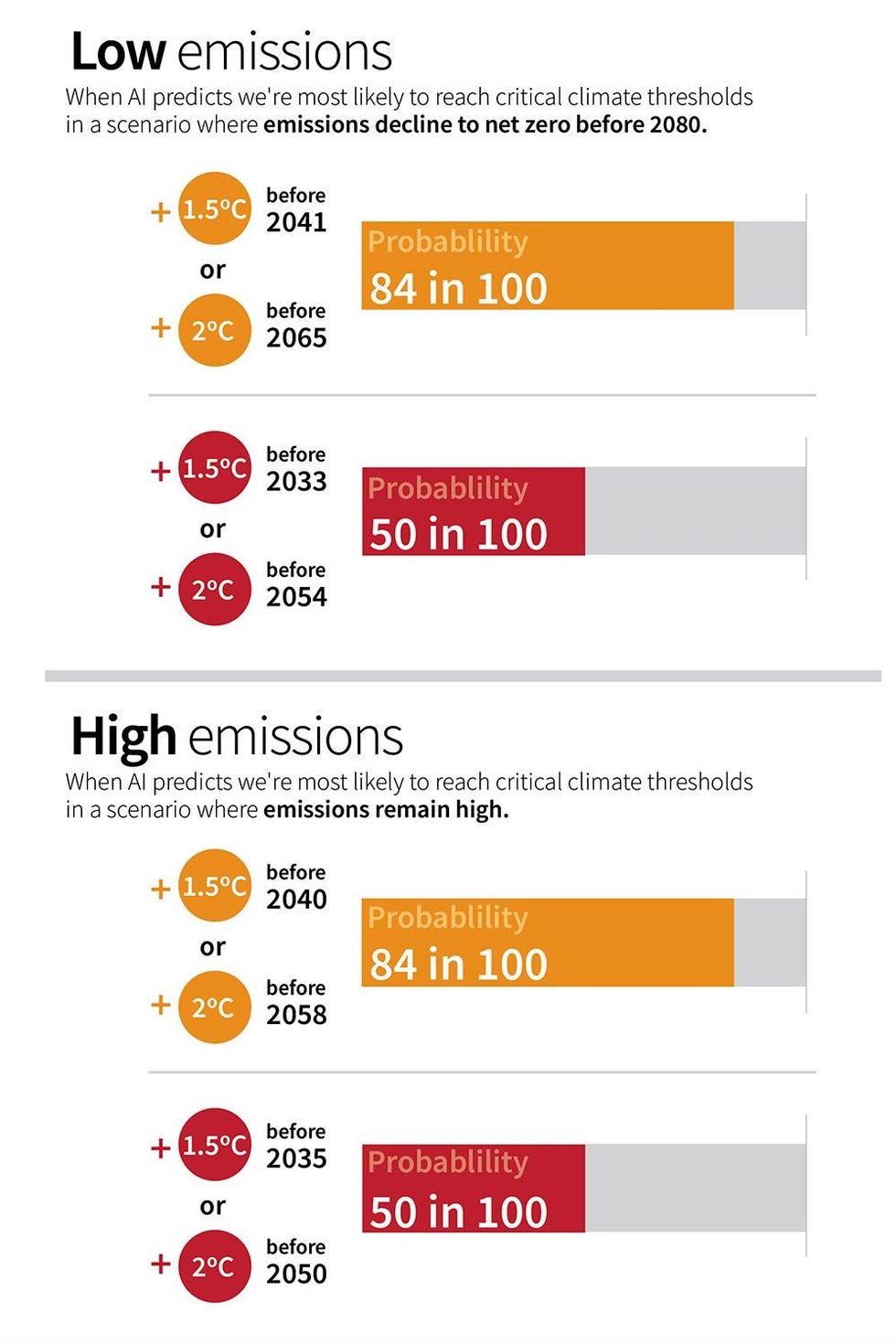 (Image: Dana Granoski/Stanford University)
"We confirm that the world is on the cusp of crossing the 1.5°C threshold," said Diffenbaugh. "Our AI model is quite convinced that there has already been enough warming that 2°C is likely to be exceeded if reaching net-zero emissions takes another half-century."

As CNNreported Monday:
The study's prediction is in line with previous models. In a major report published in 2022, the Intergovernmental Panel on Climate Change (IPCC) estimated that the world could cross the 1.5°C threshold "in the early 2030s."

Where the study departs from many current projections is in its estimates of when the world will cross the 2°C threshold.

While the IPCC projects that in a low emissions scenario, global temperature rises are unlikely to hit 2°C by the end of the century, the study returned more concerning results.
Diffenbaugh pointed out that various countries that support the Paris targets, along with nonstate actors, have set net-zero emissions targets for around mid-century. "Those net-zero pledges are often framed around achieving the Paris agreement 1.5°C goal," he said. "Our results suggest that those ambitious pledges might be needed to avoid 2°C."
For the study, Diffenbaugh and Barnes used outputs from global climate model simulations to train the neural network, then input previous observations of temperatures from across the globe to generate predictions. They tested the accuracy by seeing if the AI could correctly predict the current level of warming, or around 1.1°C—which it did.
"This was really the 'acid test' to see if the AI could predict the timing that we know has occurred," said Diffenbaugh. "We were pretty skeptical that this method would work until we saw that result. The fact that the AI has such high accuracy increases my confidence in its predictions of future warming."
According toThe Associated Press:
Cornell University climate scientist Natalie Mahowald, who wasn't part of the Diffenbaugh study but was part of the IPCC, said the study makes sense, fits with what scientists know, but seems a bit more pessimistic.

There's a lot of power in using AI and in the future that may be shown to produce better projections, but more evidence is needed before concluding that, Mahowald said.
University of Pennsylvania climate scientist Michael Mann, who edited the article, said that "the authors make an important and provocative contribution to the discussion over what is and is not achievable when it comes to limiting future warming below dangerous levels. That doesn't mean I necessarily agree with their conclusions."

Mann stressed the importance of distinguishing between physical and political obstacles to adequately slashing emissions, and that "physically, it is still possible to limit carbon emissions to levels that stay, with a reasonable likelihood, within the carbon budget for limiting warming to 1.5°C."
"There is no climate 'cliff' at 1.5°C. Or 2°C," he added. "Rather, impacts increase with each fraction of a degree of warming. Limiting warming to 1.6°C is a whole lot better than allowing it to breach 2°C, and exceeding 1.5°C by a bit for a short period of time while stabilizing the climate below that level (a small 'overshoot') is a whole lot better than exceeding it by a lot for a long period of time (a big overshoot)."
\u201cWe need to avoid two degrees of warming by the end of the century and preferably keep it to 1.5 degrees. Instead we're set to pass the latter mark in ten years and the former by 2050. We are heading for catastrophe.\n\nhttps://t.co/bXhXFx69J4\u201d

— Greenpeace Manchester (@Greenpeace Manchester) 1675148334
The new AI-based research follows a study published last month which warned that even a temporary overshoot of the Paris targets could "significantly" raise the risk of triggering dangerous tipping points—specifically, the collapse of the Greenland and West Antarctic ice sheets, the Amazon rainforest shifting to savannah, and the shutdown of the system of ocean currents that carries warm water from the tropics to the North Atlantic.
Despite the world already enduring destructive impacts of heating the planet—from extreme weather to melting glaciers and sea ice to oceans becoming hotter and more acidic—the Paris agreement countries refused to agree to rapidly phase out climate-wrecking fossil fuels during the Egyptian-hosted COP27 summit in November.

The next global climate conference, scheduled for later this year, is hosted by the United Arab Emirates—which is currently facing intense criticism for appointing Sultan Ahmed al-Jaber, head of the Abu Dhabi National Oil Company, to lead COP28.
News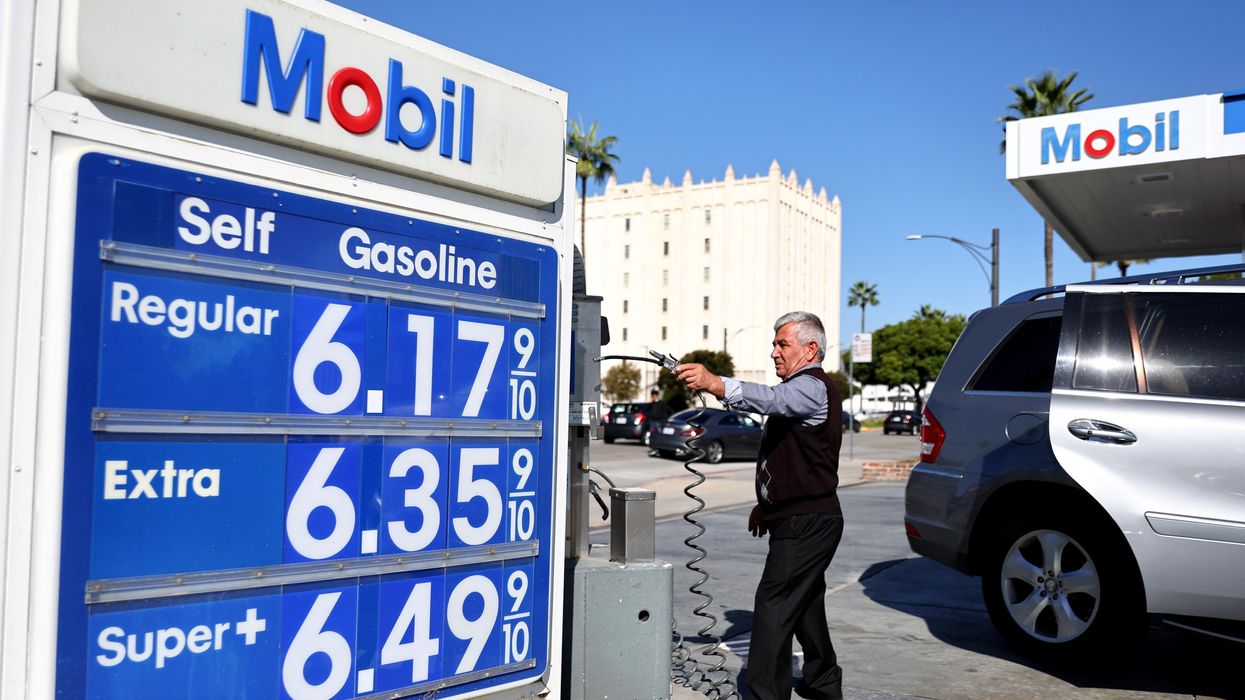 "Enough is enough," said one advocate. "It's time to fight back against the politicians and Big Oil CEOs who put their billions before the health and safety of our families, our communities, and our climate."
As ExxonMobil on Tuesday joined other U.S. oil companies in reporting record 2022 earnings amid rising gas prices, consumer and climate advocates renewed calls for a Big Oil windfall profits tax.
Texas-based ExxonMobil posted a $55.7 billion profit last year, breaking not only its own previous company record—$45 billion in 2008—but setting a historic high for the Western oil industry, according toReuters. The company's profit is a 144% increase from 2021 and, as Fossil Free Media director Jamie Henn noted, "enough money to send every person in the U.S. $178 to help offset the costs of high fossil fuel costs and gas bills."
Marathon Petroleum—the top U.S. refiner—said Tuesday that it raked in $16.4 billion last year while approving a $5 billion stock buyback, and Phillips 66 reported $8.9 billion in adjusted 2022 profit, a 253% increase from 2021.
Tuesday's earnings reports came just days after Chevron announced $35.5 billion 2022 profit, also a company record, and days before Shell, BP, and Total are all expected to follow suit on the strength of profits related to Russia's invasion of Ukraine and the European energy crisis.
Meanwhile, the average U.S. price of a gallon of gasoline crept up to over $3.50 on Tuesday, with average prices by state ranging from $3.40 in Nebraska to $4.93 in Hawaii, according to the American Automobile Association.
Last year, "familiesacross Pennsylvania paid $5 a gallon for gas while Exxon made profits that 'smashed earnings records' and Chevron posted 'record earnings," said U.S. Sen. John Fetterman (D-Pa.), responding to recent Big Oil profit reports. "This price gouging is simply disgusting, and I'm going to get to the bottom of it."
Cassidy DiPaola, spokesperson for Stop the Oil Profiteering, lamented that "while we're getting robbed at the pump, Big Oil's obscene profits are out of control and billionaire fossil fuel CEOs are getting richer and richer."
DiPaola continued:

Big Oil is shattering records precisely because of the pain the public is feeling at the pump. We're paying more for gas and electricity because Big Oil companies are gouging Americans and benefiting from a rigged system that keeps prices high in times of war and crisis. And on top of that, Big Oil CEOs are making massive bonuses and rewarding big Wall Street investors while families are having to decide between filling up their gas tanks or paying for medication and childcare.
"Enough is enough," she added. "It's time to fight back against the politicians and Big Oil CEOs who put their billions before the health and safety of our families, our communities, and our climate. We need to hold them accountable now with solutions like a windfall profits tax, and invest in clean energy solutions that can free us from expensive fossil fuels."
Robert Weissman, president of the consumer advocacy group Public Citizen, said that "Big Oil has imposed a private tax on the American people—to the tune of more than $90 billion from just two companies alone."
"It's past time for the American people to take that money back," he added. "A windfall profits tax would tax Big Oil on its inflated revenues—due only to the rising global price of oil and having nothing to do with Big Oil's costs or investments—and return the money to American consumers."
Last March, Rep. Ro Khanna (D-Calif.) introduced a bill to tax excess oil company profits and use the proceeds to pay American households a quarterly refund. That same month, Sen. Bernie Sanders (I-Vt.) introduced the Ending Corporate Greed Act, which would tax windfall profits of major corporations at a rate of 95%.
While President Joe Biden has threatened to support a windfall profits tax on oil companies if they don't ramp up production, he has not yet done so.
Responding to the increasing calls for taxing excess Big Oil earnings, ExxonMobil chief financial officer Kathryn Mikells toldReuters that windfall profits taxes are "unlawful and bad policy," and would have "the opposite effect of what you are trying to achieve."
In a Reutersopinion piece published Tuesday, Sandrine Dixson-Declève, co-president of the Club of Rome and project lead for Earth4All initiative, wrote that "oil and gas companies are perhaps the most flagrant example of our upside-down world."
"Despite being responsible for the majority of the emissions that cause climate change, they continue to make higher and higher profits," she explained. "At the same time, vulnerable people in the lowest-income countries, who have done the least to cause climate change and are most impacted by the extreme weather events caused by a warming world, are getting poorer."
"There is absolutely no reason not to tax windfall profits in all sectors, in particular when they have been made during periods of scarcity and speculation when the rest of the world is worse off," Dixson-Declève added. "Ending tax incentives and subsidies for fossil fuels is simply a no-brainer in a world where climate change is already costing untold financial and human losses every year."
News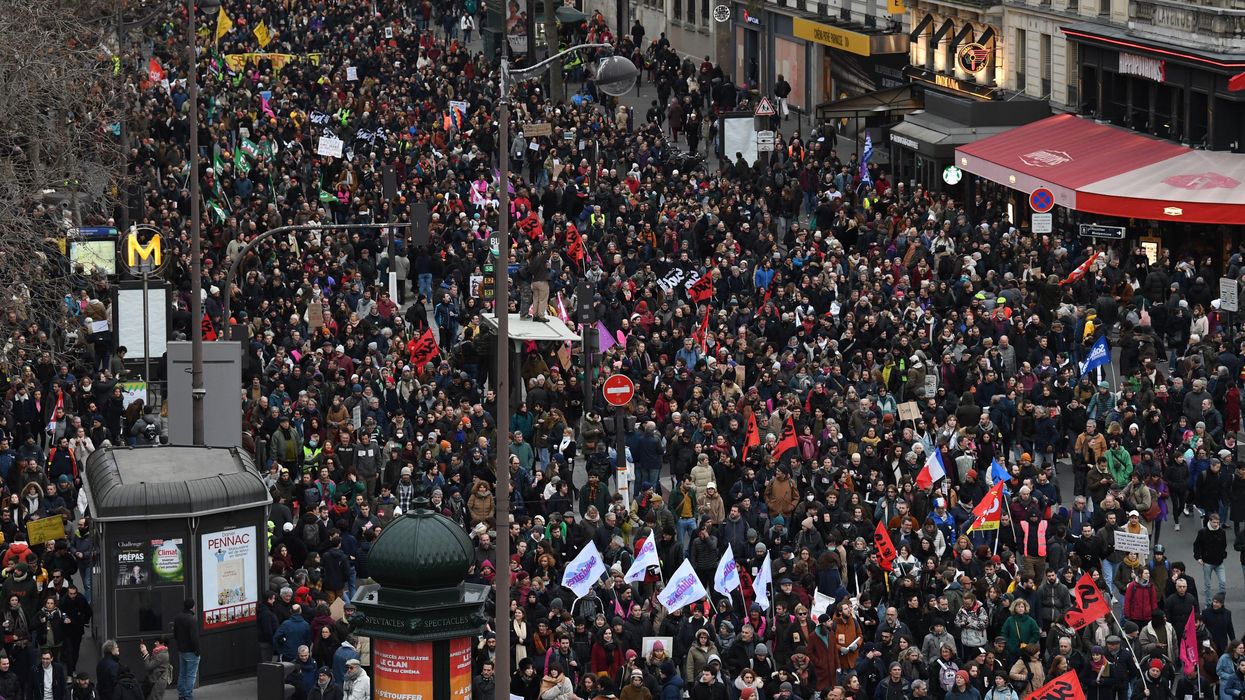 "It's not often that we see such a mass mobilization," said leftist leader Jean-Luc Mélenchon.
Hundreds of thousands of enraged workers across France walked off the job and hit the streets Tuesday to protest President Emmanuel Macron's unpopular plan to raise the nation's official retirement age from 62 to 64.
It marks the second time this month that French workers have mobilized against Macron's attack on the country's pension system. Nationwide strikes and marches on January 19 brought out between one million and two million people, and labor unions aimed to match or exceed those numbers on Tuesday, with roughly 250 demonstrations planned around the country.
Longtime leftist leader Jean-Luc Mélenchon predicted Tuesday morning that "a historic day" of protests would help defeat Macron's proposal once and for all, as massive crowds rallied in cities and towns outside Paris—prior to a major march that shut down the French capital on Tuesday afternoon.
"It's not often that we see such a mass mobilization," Mélenchon said from the southern city of Marseille. "It's a form of citizens' insurrection."
On the small western island of Ouessant, about 100 people gathered early in the day for a protest outside the office of Mayor Denis Palluel.
In a phone interview with The Associated Press, Palluel noted that the threat of having to work longer to qualify for a full pension dismayed mariners on the island who have grueling ocean-based jobs.
"Retiring at a reasonable age is important," he said, "because life expectancy isn't very long."
"Retiring at a reasonable age is important because life expectancy isn't very long."
Despite widespread opposition to pushing back France's retirement age—approximately three-fourths of the population is against such a move, according to recent polling—many lawmakers remain determined to fulfill Macron's election pledge to overhaul the nation's pension system.
On Monday, Macron described his effort to hike the retirement age as "essential." Prime Minister Élisabeth Borne, for her part, asserted this past weekend that raising the retirement age to 64 by 2030 is "no longer negotiable."
"Strikers and protesters intend to prove otherwise," Agence France-Pressereported Tuesday. "Labor unions and left-wing legislators fighting in parliament against Macron's plans are counting on protesters to turn out massively to strengthen their efforts to kill the bill."
As they did earlier this month, strikes on Tuesday upended multiple aspects of daily life, including electricity production, transportation, and education.
"TotalEnegies says between 75% and 100% of workers at its refineries and fuel depots are on strike, while electricity supplier EDF said they're monitoring a drop in power to the national grid equivalent to three nuclear power plants," Euronews reported.
According to AP: "Rail operator SNCF reported major disruptions, with strikes knocking out most trains in the Paris region, in all other regions, and on France's flagship high-speed network linking cities and major towns. The Paris Metro was also hard hit by station closures and cancellations."
France's Education Ministry, meanwhile, reported that around a quarter of the nation's teachers were on strike Tuesday, down from 70% during the first round of protests.
Macron's proposed pension reform, the text of which Borne presented to the National Assembly earlier this month, faces an uphill battle.
For one thing, the New Ecological and Social People's Union (NUPES)—a coalition of four left-wing parties recently formed by Mélenchon—won 131 seats in last June's parliamentary elections, helping to prevent the neoliberal alliance Ensemble from securing the absolute majority it needed to ram through Macron's unwanted austerity agenda.
According to AFP, even the president's own allies from his ruling alliance have expressed concerns about some aspects of the legislation.
"We can feel a certain nervousness from the majority as we begin our work," Mathilde Panot, head of the left-wing France Unbowed party in the National Assembly, told the news outleton Tuesday. "When we see this opposition growing, I understand why they are wavering."
However, journalist Marlon Ettinger, citing French Communist Party MP André Chassaigne, warned recently that "the government might try to pass the reform through a social security financing bill (known as PLFRSS), which would allow for a series of constitutional delays that would significantly limit the amount of time deputies can discuss the bill. It would also block the possibility for the opposition to present their own counterproposals."
In addition, "although Macron has no popular assent, nor a parliamentary majority for his reform, he does have constitutional tools he can use to push the package through," Ettinger explained in Jacobin. "One, known as 49.3 (after the article of the Constitution which grants the president this power), essentially lets him bypass the National Assembly. The constitution of the current Fifth Republic grants the president these authoritarian powers to hedge against any popular sentiment that might make its way into the lower house. The use of 49.3 would suspend the debate in the National Assembly, then send the bill directly to the Senate, which is controlled by Les Républicains."
Aware that such anti-democratic maneuvers are on the table, Mélenchon and other opponents of the assault on France's pension system have called on Macron to withdraw his proposal for good.
News
SUPPORT OUR WORK.
We are independent, non-profit, advertising-free and 100%
reader supported.