For Immediate Release
Contact:
Reprieve's London office can be contacted on: communications [at] reprieve.org.uk / +44 (0) 207 553 8140.,Reprieve US,, based in New York City, can be contacted on Katherine [dot] oshea [at] reprieve.org
Fears for Juveniles as Saudi Government Threatens More Executions
The Saudi government appears to be preparing to execute four prisoners convicted in the Specialized Criminal Court, raising fears for three juveniles who were sentenced to death there for attending protests.
LONDON
The Saudi government appears to be preparing to execute four prisoners convicted in the Specialized Criminal Court, raising fears for three juveniles who were sentenced to death there for attending protests.
Reports in Saudi government-affiliated media suggest that the authorities are preparing to execute four people whose death sentences have been upheld in the secretive SCC. The reports say the killings will 'complete' the mass execution of 47 prisoners in January this year, which saw several political protestors executed - including at least one juvenile, Ali al-Ribh. Following the killings, UK Foreign Secretary Philip Hammond faced criticism, after claiming that the 47 prisoners executed were "terrorists."
While details of the four in line for execution remain unclear, the reports will raise fears for three juveniles who are awaiting execution after their sentences - handed down in relation to political protests - were upheld in the SCC last year. Ali al-Nimr, Dawood al-Marhoon and Abdullah al-Zaher were arrested in the wake of protests in the country's eastern Province in 2012. All were tortured into 'confessions' that were used to convict them in largely secret trial proceedings. Ahead of January's mass execution, reports in state-affiliated media outlets had suggested that 52 prisoners would be killed, leading to fears that the three juveniles would be among them.
News of the latest planned executions follows a Saudi appearance this week at the UN's Human Rights Council, in which Saudi official Bandar al Ali claimed his government "promoted human rights", and "fights torture in all its physical and moral manifestations".
Research last year by human rights organization Reprieve found that, of those facing execution in Saudi Arabia, some 72% were convicted of non-violent crimes - including drug offences and political protest - while police torture was reported to be common.
Commenting, Maya Foa, head of the death penalty team at Reprieve, said:
"These reports are deeply worrying. January's mass execution included political protestors and juveniles - these prisoners weren't 'terrorists', but ordinary people who lost their lives for the so-called 'crime' of speaking out against the Saudi regime. It would be appalling if the Saudis now executed three further juveniles who were brutally tortured into 'confessing'. The British government and others must look beyond the Saudi propaganda machine, and do all they can to prevent January's outrages from being repeated."
Reprieve is a UK-based human rights organization that uses the law to enforce the human rights of prisoners, from death row to Guantanamo Bay.
LATEST NEWS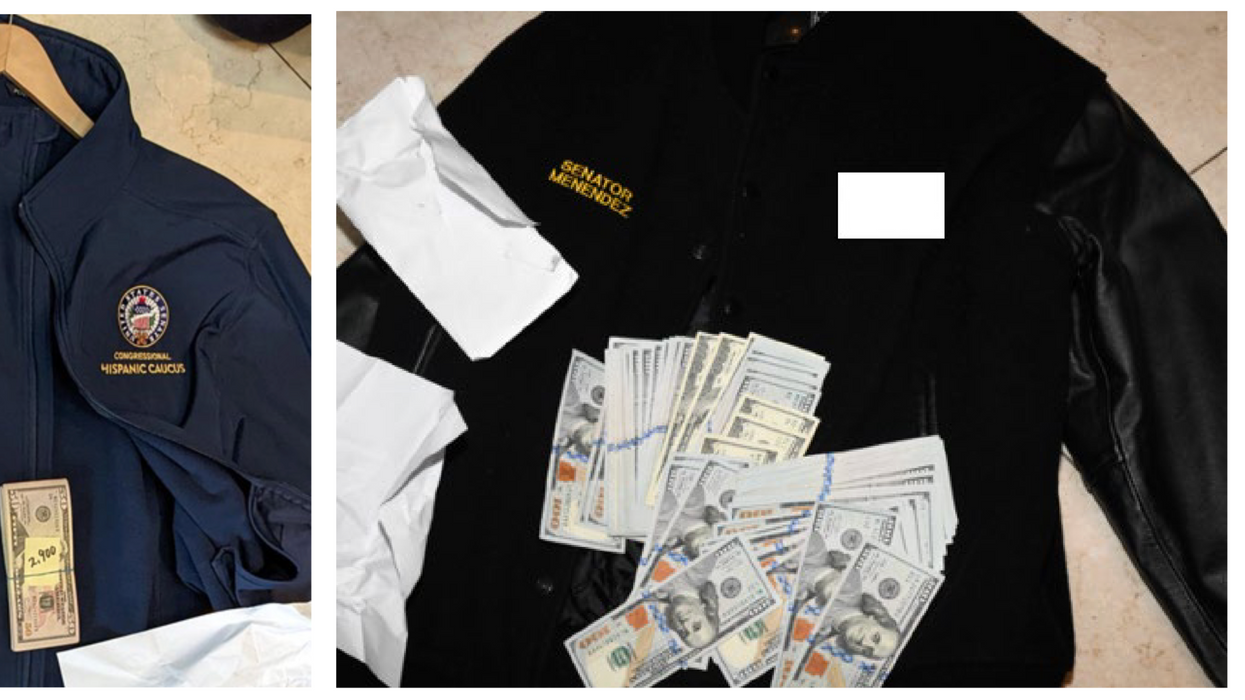 Just Foreign Policy's Aída Chávez said the charges against him "are very serious and call into question Sen. Menendez's character and ability to perform his role as chair of Senate Foreign Relations Committee."
U.S. Sen. Bob Menendez on Friday faced calls to step down from his powerful chairmanship of the Foreign Relations Committee, or resign altogether, following another damning federal indictment for alleged bribery.
The New Jersey Democrat and his wife, Nadine Menendez, are accused of engaging in "a corrupt relationship" with the businessmen—Wael "Will" Hana, Jose Uribe, and Fred Daibes—and accepting bribes in the form of "cash, gold, payments toward a home mortgage, compensation for a low-or-no-show job, a luxury vehicle, and other things of value."
Nadine Menendez and the businessmen are also facing charges. The indictment says that the senator "provided sensitive U.S. government information and took other steps that secretly aided the government of Egypt," as well as "improperly advised and pressured an official at the United States Department of Agriculture for the purpose of protecting a business monopoly granted to Hana."
The senator also used his role to "disrupt a criminal investigation and prosecution undertaken by the New Jersey Attorney General's Office" related to Uribe, the indictment adds. Menendez further recommended that President Joe Biden nominate Philip R. Sellinger as U.S. attorney for the District of New Jersey, because he believed the lawyer could be influenced regarding a federal criminal prosecution of Daibes.
"It's time for Sen. Menendez to resign. The stain of corruption continuously taints Menendez."
In June 2022 searches of the couple's New Jersey home and a safety deposit box, federal agents found "cash, gold, the luxury vehicle, and home furnishings," the document details. "Over $480,000 in cash—much of it stuffed into envelopes and hidden in clothing, closets, and a safe—was discovered in the home, along with over $ 70,000 in Nadine Menendez's safe deposit box."
The 69-year-old senator, who is up for reelection next year, was previously indicted on federal bribery charges in 2015. He temporarily stepped down as the top Democrat on the Senate Foreign Relations Committee. Due to a hung jury, the case ended as a mistrial in 2017. The following year, prosecutors decided not to seek a new trial and Menendez was reelected for his current term.
In a statement Friday, the senator said in part that "I have been falsely accused before because I refused to back down to the powers that be and the people of New Jersey were able to see through the smoke and mirrors and recognize I was innocent."
Nadine Menendez's lawyer, David Schertler, toldThe New York Times that she "denies any criminal conduct and will vigorously contest these charges in court."
The newspaper reported that while representatives for two of the businessmen could not immediately be reached for comment, a spokesperson for Hana said that "we are still reviewing the charges but based upon our initial review, they have absolutely no merit."
A spokesperson for the Southern District of New York, Nicholas Biase, told the Times that all five defendants are set to appear in Manhattan federal court on Wednesday.

Stressing that the charges against him "are very serious and call into question Sen. Menendez's character and ability to perform his role as chair of U.S. Senate Foreign Relations Committee," Just Foreign Policy communications director Aída Chávez on Friday urged the senator "to do the right thing and to step down for the duration of these legal proceedings, as he did in 2015."
Given that Menendez is accused of using his post to enrich himself while guiding U.S. foreign policy in a "harmful direction," Chávez argued, Senate leadership should consider a new chair who "is in line with the overwhelming majority of the American people—as well as presidents such as [Barack] Obama and Biden—who want a foreign policy focused on diplomatic solutions."
"Sen. Menendez is notorious for placing roadblocks in the path of efforts by diplomats to reduce tensions and avert war," she explained. "He is also among the senators most responsible for supporting [former President Donald] Trump's cruel efforts to tighten indiscriminate sanctions against innocent populations in places like Cuba and Venezuela, which is a major cause of the surge in migrants at the border and in U.S. cities."
While the senator has not publicly confirmed his plans, NBC Newsreported that "a source close to Menendez says he will step down as chair," in line with Senate Democratic Conference rules regarding felony charges against members of leadership.
Some critics are calling on him to resign as a senator. Citizens for Responsibility and Ethics in Washington (CREW) president Noah Bookbinder, a former federal corruption prosecutor, said in a statement that "with these latest revelations, it's time for Sen. Menendez to resign. The stain of corruption continuously taints Menendez."
"CREW has for years raised concerns about Menendez potentially selling his position, and the Senate Ethics Committee previously found serious misconduct by him. The conduct outlined in today's indictment and the evidence presented are even more damning," he added. "The people of New Jersey should not have to be constantly questioning whether one of their senators is taking action for them or to line his pockets. Menendez deserves a fair trial and a presumption of innocence on these latest charges, but it is not appropriate for him to remain in office. Out of respect for the institution of the Senate, he must step down."
The charges against Menendez come amid discussions of corruption on Capitol Hill due to recent revelations about multiple members of the U.S. Supreme Court—including reporting on Friday that conservative Justice Clarence Thomas secretly attended at least two donor events for the Koch network, yet another example of his ties to right-wing billionaires with business before the court.
The Debt Collective wrote on social media Friday, "Who does Bob Menendez think he is, a Supreme Court justice?"
This post has been updated with comment from CREW.

News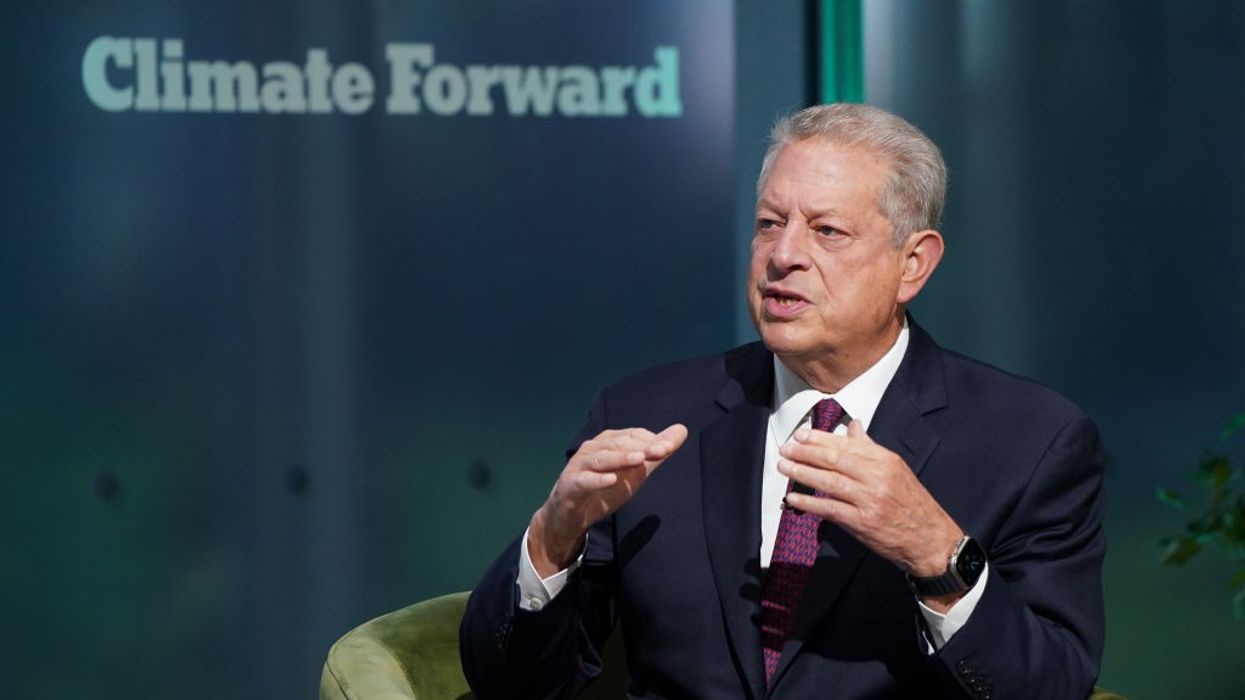 At an event coinciding with the U.N. General Assembly in New York, Gore said he used to believe the sector sincerely wanted to be part of the solution to the climate crisis, but now he thinks it's clear they are not.
Former U.S. Vice President Al Gore, a long-time climate activist, had harsh words for the fossil fuel industry on Thursday.
"Many of the largest companies have engaged in massive fraud," he said at The New York Times' Climate Forward event, as the Independent reported. "For some decades now, they've followed the playbook of the tobacco industry, using these very sophisticated, lavishly financed strategies for deceiving people."
Gore, who won the Nobel Peace Prize in 2007, criticized the industry for using their influence to lobby against effective climate action.
"The climate crisis is a fossil fuel crisis."
"The fossil fuel companies, given their record today, are far more effective at capturing politicians than they are at capturing emissions," he said.
Now, he warned, the sector had set its sights on the United Nations COP28 climate change conference in the United Arab Emirates with the appointment of the UAE's state oil company CEO Sultan Ahmed Al Jaber to lead the talks.
"That's just, like, taking the disguise off," Gore said, as The New York Times reported. "They've been trying to capture this process for a long time."
Gore's remarks reflect a recent shift in the tone of his climate advocacy. In a TED Talk filmed in July and released in August, Gore made many of the same arguments about fossil fuel lobbying and Al Jaber's appointment.
"The climate crisis is a fossil fuel crisis," he said. "The solutions are going to come from a discussion and collaboration about phasing out fossil fuels."
After listening to the talk, journalist Emily Atkin wrote in her newsletter Heated:
With this new talk, it's become clear that the man who made An Inconvenient Truth famous is no longer primarily focused on convincing people that the climate crisis is real or dangerous. He's turned a corner, and is now focused on convincing people that if they truly care about solving the climate crisis, they must turn their ire toward the fossil fuel industry—and boot them from the negotiating table before it's too late.
Gore acknowledged the shift in his thinking himself on Thursday.
"I was one of many who felt for a long time that the fossil fuel companies, or at least many of them, were sincere in saying that they wanted to be a meaningful part of bringing solutions to this crisis," Gore said, as The Independent reported. "But I think that it's now clear they are not. Fossil fuel industry speaks with forked tongue."
While he acknowledged that it was not fair to expect the industry to solve a crisis its business model encouraged it to perpetuate, "it's more than fair to ask them to get out of the way, and stop blocking the efforts of everybody else to solve this crisis," he said. "I think it's time to call them out."
Gore's remarks came as world leaders and climate activists and experts gathered in New York for the U.N. General Assembly and Secretary-General António Guterres' Climate Ambition Summit, held the day before.
He is also not the only prominent mainstream climate voice to have turned on the fossil fuel sector.
Former Executive Secretary of the U.N. Framework Convention on Climate Change Christiana Figueres, who helped negotiate the Paris agreement, said that she did not think the industry should be invited to COP28.
"If they are going to be there only to be obstructors, and only to put spanners into the system, they should not be there," she said at a conference Thursday organized by Covering Climate Now, as The Guardian reported.
Her remarks echoed an opinion piece she wrote for Al Jazeera in July, in which she said she was wrong to believe that the sector could be part of the solution.
"My patience ran out, and I say this with sadness," she said Thursday.
News
"Come on Neal, you can't be against a wealth tax? Are you?"
California Congressman Ro Khanna on Friday said he would like to debate Neal Katyal, a prominent liberal pundit and former acting solicitor general under the Obama administration, over a proposed wealth tax that is now at the heart of a case before the U.S. Supreme Court.
The case in question, Moore v. United States, focuses on the authority of Congress to tax unrealized financial gains of wealthy individuals.

As reported earlier this month by The Lever's Julia Rock, Katyal filed an amicus brief in the case on behalf of Saving America's Family Enterprises (SAFE), "an anonymously funded group—whose board includes corporate lobbyist," opposing the wealth tax.
In a tweet on Friday, Khanna, a progressive Democrat who served as national co-chair of the Bernie Sanders 2020 presidential campaign, suggested he and Katyal have a public debate on Mehdi Hasan's MSNBC show about the need for a wealth tax.
"I really was surprised by this," said Khanna, referencing the revelations about Katyal's involvement in the case, "as anyone who cares deeply about threats to our democracy as you do should recognize the problem of massive income inequality and the concentration of wealth." Both Khanna and Katyal graduated from Yale Law School.
If the Supreme Court rules in favor of the plaintiffs in Moore, experts have said it could have far-reaching implications for how certain kinds of wealth are taxed and could put significant federal revenue at risk.

Khanna said: "Come on Neal, you can't be against a wealth tax? Are you? Massive income inequality is adding flames to threats to democracy."

While many Americans likely know him from his frequent appearances on MSNBC, where he is a paid contributor weighing in on legal and judicial matters, Katyal has also had a long career as a corporate lawyer representing the interests of some of the world's most profitable and powerful companies. As Rock noted in her reporting:
In recent years, Katyal has helped Nestlé defend itself in a child slavery case before the Supreme Court and represented Johnson & Johnson in its bid to use bankruptcy to block lawsuits from cancer victims.

Listed on the Katyal-authored amicus brief alongside SAFE is the group's senior adviser, former Louisiana Democratic senator John Breaux, who also lobbies for ExxonMobil, Norfolk Southern, and Boeing—corporations whose top executives could have a financial interest in the outcome of the case. Breaux also lobbies for billionaire financial magnate and Democratic megadonor James Simons.

SAFE is organized as a so-called social welfare nonprofit, which allows it to hide the identity of its donors and avoid taxes while spending money to influence policy decisions.

Responding to Rock's reporting earlier this week, Aeon senior editor Sam Haselby said: "You'd think a lawyer arguing on behalf of child slavery in Africa and against the billionaire tax would be a far-right figure. But he's an MSNBC fixture, Yale Law alum, and Obama Democrat."
Common Dreams reached out to Katyal for comment about Khanna's invitation to debate, but did not receive a response by publication time.

News
Independent, nonprofit journalism needs your help.
Please Pitch In
Today!