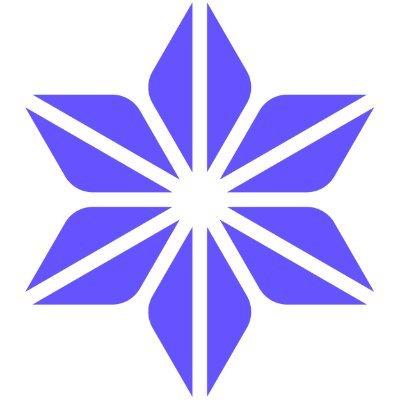 For Immediate Release
September, 08 2015, 01:45pm EDT
A New Era: Activists Celebrate a Victory for Peace, Call for A New Approach to Mid-East Policy
WASHINGTON
Jewish Voice for Peace joins supporters of peace and diplomacy worldwide celebrating another step towards securing the Congressional support to uphold the Joint Comprehensive Plan of Action negotiated between the P5+1 and Iran. After the 41st Senator announced their support for the deal today, President Obama secured the votes needed to filibuster a Congressional resolution of disapproval and avoid a veto. As Congress discusses the deal alongside bills and amendments designed to undermine it this week, we continue to urge our elected officials to do the right thing by supporting diplomacy.
At the same time, we reject proposals to reward Israel's opposition to the deal with even more military aid used to fund human rights abuses and Israel's continued illegal occupation of Palestinian land. Further, we call on all policymakers concerned about a nuclear arms race in the Middle East to demand that Israel, whose nuclear weapons capacity is well-known, sign the Nuclear Non-Proliferation treaty.
Rabbi Joseph Berman, JVP Government Affairs Liaison, stated: "The passage of the Iran deal will mark a historic moment in US foreign policy. This victory, which countless organizations and individuals contributed to, proves the power of grassroots advocacy. This achievement demonstrates that advocates of peace and justice can win over the well-financed advocates of war. This is a strong deal, one with strict safeguards and unprecedented levels of oversight, and one that is in the interest of the entire international community."
A national, grassroots organization that advocates for a more just US foreign policy in the Middle East, Jewish Voice for Peace mobilized thousands of members and supporters to take action in support of the nuclear deal with Iran. JVP members and supporters sent over 70,000 letters to their Congressional representatives, met with over 45 congressional offices, made tens of thousands of phone calls and wrote numerous letters to the editor and op-eds.
However, the fight for a more just foreign policy is far from over. Rebecca Vilkomerson, Executive Director of Jewish Voice for Peace stated: "Those of us who care about peace in the Middle East should care that this deal may well come at the cost of a significant increase in military aid to Israel. The US already gives Israel unprecedented levels of military aid, US taxpayer money which helped financed Israeli military aggression against Palestinians in Gaza last summer, aid that sustains the nearly 48-year military occupation of the West Bank, and aid that fuels the military-industrial complex both in Israel and in the US. This is a new era, Congress and the Administration have demonstrated that they can defy the Israel lobby when it comes to key issues of international diplomacy. The same courage is needed to chart a new course towards ending decades of repressing Palestinian rights and freedom."
Jewish Voice for Peace is a national, grassroots organization inspired by Jewish tradition to work for a just and lasting peace according to principles of human rights, equality, and international law for all the people of Israel and Palestine. JVP has over 200,000 online supporters, over 70 chapters, a youth wing, a Rabbinic Council, an Artist Council, an Academic Advisory Council, and an Advisory Board made up of leading U.S. intellectuals and artists.
(510) 465-1777
LATEST NEWS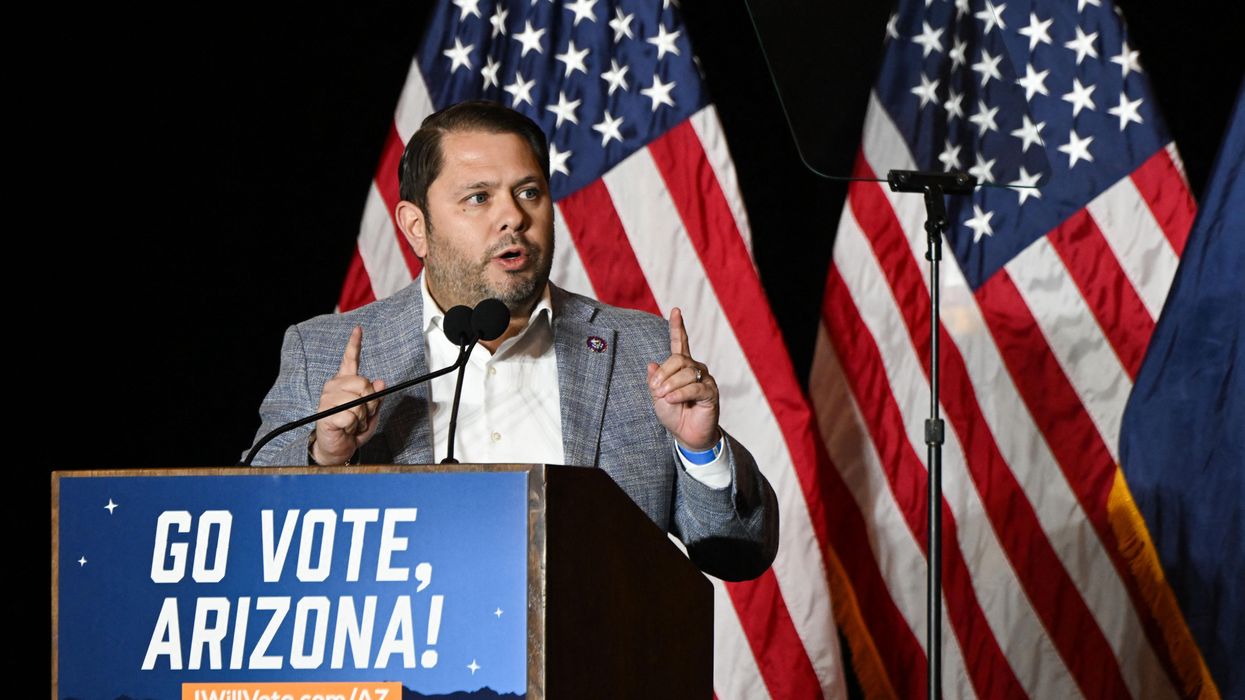 "The problem isn't that Senator Sinema abandoned the Democratic Party—it's that she's abandoned Arizona," said Rep. Ruben Gallego.
Democratic Rep. Ruben Gallego on Monday formally launched his 2024 campaign for the seat held by right-wing Sen. Kyrsten Sinema, who officially registered as an Independent in December after months of derailing the Biden administration's policy agenda and preserving tax loopholes for her corporate allies.
"The problem isn't that Senator Sinema abandoned the Democratic Party—it's that she's abandoned Arizona," said Gallego, a member of the Congressional Progressive Caucus who represents Arizona's 3rd District. "She's repeatedly broken her promises, and fought for the interests of Big Pharma and Wall Street at our expense."
"I'm running for the U.S. Senate because the rich and the powerful don't need any more advocates in Washington—but families who can't afford groceries do," Gallego added.
\u201cGrowing up poor, all I had was the American dream. It kept me going: as a kid sleeping on the floor, a student scrubbing toilets, a Marine losing brothers in Iraq.\n\nToday, too many Arizonans see their dream slipping away. I\u2019m running for the U.S. Senate to win it back for you!\u201d

— Ruben Gallego (@Ruben Gallego) 1674478803
Sinema has not yet publicly said whether she plans to run for reelection in 2024.
If she does, as The Washington Postnoted Monday, "Gallego's bid sets up a dilemma for national Democrats, who must choose whether to pour their considerable resources into backing a Democratic nominee for the seat or to support an independent incumbent."
Several Republicans—including failed gubernatorial candidate Kari Lake and failed U.S. Senate candidate Blake Masters—are also weighing 2024 runs for the seat.

A recent memo by the Democratic Party-aligned firm Public Policy Polling found that Gallego is "considerably more popular" in Arizona than Sinema and "would be a top-tier Senate candidate regardless of what she decides to do in 2024."
Other polling, including a January 2022 survey by Data for Progress, has suggested that Sinema would lose in a landslide if she runs for a second term.
Sacha Haworth, a spokeswoman for the Replace Sinema campaign at the Change for Arizona 2024 PAC, said in a statement that
"we are thrilled that there's now a Democratic candidate in this race ready to take on Kyrsten Sinema and win."
"Ruben Gallego has never backed down from fighting for Arizona, and he has what it takes to win," said Haworth. "As she jet sets with the international elite and does favors for her Wall Street donors at the expense of working Arizona taxpayers, Kyrsten Sinema shows us daily that she is only out for herself, and it's time for new leadership. We will continue to make the case as to why Arizona deserves better than Kyrsten Sinema, and do everything in our power to help Democrats win this seat."
This story has been updated to include a statement from the Replace Sinema campaign.

News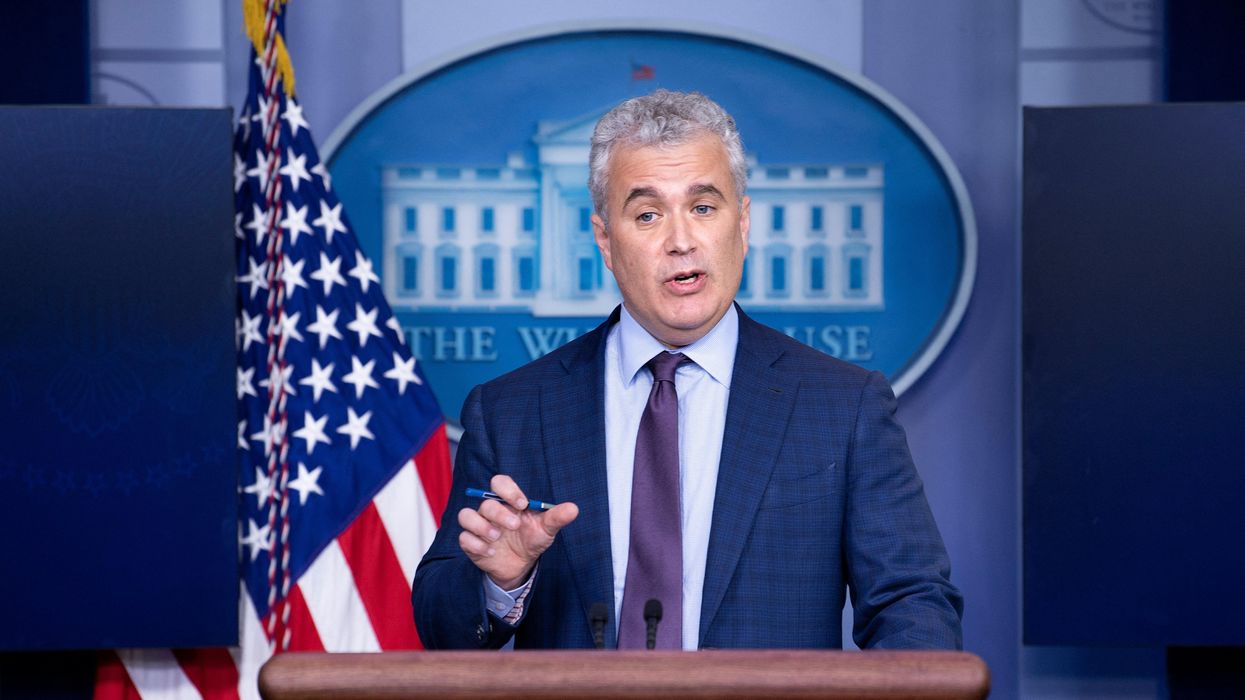 "Zients as a businessman embodies much of the corporate misconduct the executive branch led by a Democratic Party ought to be cracking down on," said one progressive strategist.

Reports Sunday that President Joe Biden has chosen Jeff Zients to replace outgoing White House Chief of Staff Ron Klain were met with alarm among progressive watchdogs, who pointed to Zients' disastrous tenure as the administration's coronavirus czar as well as his history in the corporate world—where he built a fortune investing in healthcare companies accused of fraud.
Klain, who developed a solid working relationship with progressives in Congress, is expected to depart shortly after Biden's State of the Union address on February 7.
Revolving Door Project executive director Jeff Hauser called the elevation of Zients to White House chief of staff a "catastrophic decision," saying in a statement that "the Biden administration has been at its best when it has been on the attack against corporate excesses that wide majorities of Americans find abhorrent."
"Americans are appalled by profiteering in healthcare—Jeff Zients has become astonishingly rich by profiteering in healthcare," said Hauser. "Americans are aghast at how social media companies have built monopolies and violated privacy laws—Zients served on the Board of Directors of Facebook as it was defending itself against growing attacks from both political parties."
The Revolving Door Project's Daniel Boguslaw and Max Moran wrote for The American Prospect last year that Zients—who was replaced as Covid-19 response coordinator back in April—has "controlled, invested in, and helped oversee" healthcare companies that "were forced to pay tens of millions of dollars to settle allegations of Medicare and Medicaid fraud."
"They have also been accused of surprise-billing practices and even medical malpractice," Boguslaw and Moran noted. "Taken together, an examination of the companies that made Zients rich paints a picture of a man who seized on medical providers as a way to capitalize on the suffering of sick Americans. In the end, it seems to have all paid off."
"The most egregious violation is documented in a 2015 Justice Department settlement announcement," they added. "Portfolio Logic—the investment firm Zients founded with his own money—agreed to pay almost $7 million to resolve allegations of fraudulent Medicare and Medicaid billing, involving a subsidiary (Pediatric Services of America Healthcare, or PSA) that it purchased in 2007."
"Hopefully Zients will prove us wrong—but unless that unlikely and fortuitous surprise occurs, Biden will need a quick hook."
Progressives have also been highly critical of Zients' performance in government.
In early 2022, Boguslaw urged the Biden administration to fire Zients over his failure to "provide the materials necessary to improve the U.S. response" to Covid-19 "or the guidance necessary to keep the pandemic under control."
Following news that he would be leaving the coronavirus response post, Public Citizen's Robert Weissman lamented that Zients "refused to pay appropriate attention to global solutions to the global pandemic, because of political concerns or otherwise."
"And the Zients-led Covid response refused to challenge Big Pharma's monopoly control, in the U.S. and globally, over technologies that relied crucially on public support," Weissman continued. "As a result, the United States and other rich countries failed to expand vaccine supply sufficiently to meet global need. Without adequate supply, efforts to bolster low-income country distribution and delivery systems consequently have lagged and been similarly under-resourced."

During his time as pandemic response coordinator, Zients was far and away the wealthiest member of Biden's cabinet, disclosing assets worth at least $89.3 million and as much as $442.8 million.
Citing the Revolving Door Project's work, progressive strategist Murshed Zaheed said Sunday that "Zients as a businessman embodies much of the corporate misconduct the executive branch led by a Democratic Party ought to be cracking down on."
But the Biden White House doesn't appear remotely concerned about Zients' corporate past.
With Biden expected to launch a bid for reelection in the coming weeks, The New York Timesreported that "the president could lean on" Zients to "help run the government while other advisers focus on the politics of winning a second term."
Hauser said Sunday that "hopefully Zients will prove us wrong—but unless that unlikely and fortuitous surprise occurs, Biden will need a quick hook."
News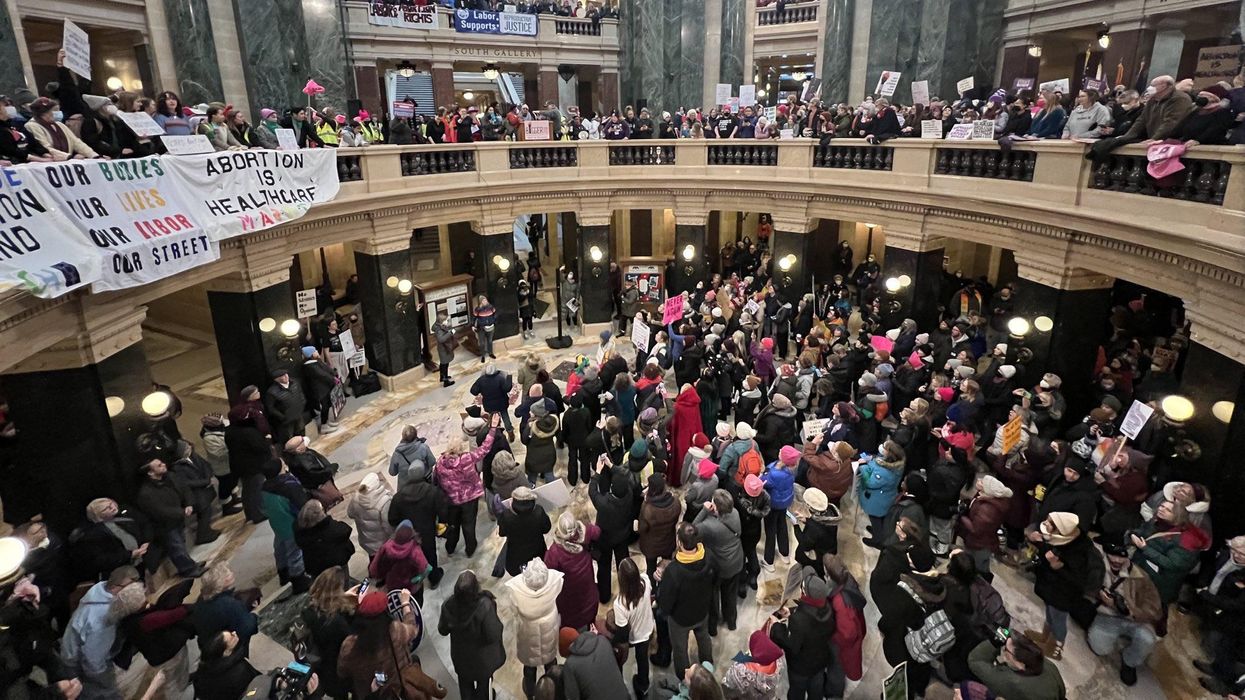 "The overwhelming majority of Americans in all states support abortion rights—and women will fight to protect our rights and our lives," said the executive director of Women's March.
Thousands of people called for reproductive freedom at rallies around the United States on Sunday—the 50th anniversary of the landmark Roe v. Wade decision that made abortion a constitutional right until the Supreme Court's reactionary majority overturned it last summer.
At more than 200 events in 46 states, demonstrators condemned the court's 6-3 opinion in Dobbs v. Jackson Women's Health Organization, which enables states to curtail or even prohibit access to reproductive healthcare. Since the ruling was handed down on June 24, Republican lawmakers have enacted deadly abortion restrictions in 26 states, including near-total bans in several.
"Fifty years after the anniversary of Roe v. Wade, a radical right-wing movement hijacked our courts and eliminated federal protections for abortions," said Rachel O'Leary Carmona, executive director of Women's March, which organized Sunday's "Bigger Than Roe" day of action.
"But as the fight turns to the states, they are going to learn that the overwhelming majority of Americans in all states support abortion rights—and women will fight to protect our rights and our lives," she added.
Carmona spoke at the Wisconsin state capitol. Women's March picked Madison rather than Washington, D.C. as the location of this year's national protest because the group wanted to send "a clear message to elected leaders and to our base—we are going to where the fight is, and that is at the state level."
"We'll start in Wisconsin, where an upcoming Supreme Court election this spring will determine the balance of power on the state's Supreme Court and the future of abortion rights in Wisconsin," the group explained.
Due to legal uncertainty around the status of Wisconsin's pre-Roe abortion ban, enacted in 1849, providers have been forced to stop offering abortion care in the state.
\u201cWe're fired up and ready to march for our rights because this fight is bigger than Roe. They thought that we would stay home and that this would end with Roe \u2014 they were wrong. \n\nWe're putting every politician on blast \u2014 if you come for our rights, we'll come for you. Period.\u201d

— Women's March (@Women's March) 1674414697
\u201cProud to be in Madison today fighting to let every politician know \u2014 if you come for our freedom, our families, or our futures, we're coming for you.\u201d

— Rachel O\u2019Leary Carmona (@Rachel O\u2019Leary Carmona) 1674417721
\u201c\ud83d\udce2 In Wisconsin today to make ourselves clear: \n\nWe will never stop fighting for reproductive freedom! \n\n #BiggerThanRoe @womensmarch\u201d

— NARAL (@NARAL) 1674422639
Women's March—with the support of nearly 50 organizations, including Planned Parenthood, Working Families Power, and the National Organization for Women—orchestrated "sister marches" in cities across the country.
"We are taking the fight to the states," organizers said. "From Wisconsin, to Nebraska, to Georgia, to Arizona and Texas, women and our allies are defending abortion rights where they still stand, and working to put measures on the ballot to regain abortion rights in places where politicians are putting their agendas over the will of the people."
News
SUPPORT OUR WORK.
We are independent, non-profit, advertising-free and 100%
reader supported.