For Immediate Release
Contact:
Reprieve's London office can be contacted on: communications [at] reprieve.org.uk / +44 (0) 207 553 8140.,Reprieve US,, based in New York City, can be contacted on Katherine [dot] oshea [at] reprieve.org
Guantanamo Detainee Heard Speaking From Inside the Prison
LONDON
Shaker Aamer can, for the first time, be heard speaking from his prison cell in Guantanamo Bay as part of a recording made by a US news channel.

Mr Aamer, one of 84 cleared men still detained in the US prison (more than half the total population of 164), was recorded by a crew filming for the CBS show 60 minutes. Mr Aamer is not pictured on camera but is heard saying: "Tell the world the truth...Please, we are tired. Either you leave us to die in peace -- or either tell the world the truth. Let the world hear what's happening." Shaker goes on to say, "you cannot walk even half a metre without being chained. Is that a human being? That's the treatment of an animal".

It is extremely rare for any recording which can identify an individual detainee to survive censorship by authorities at the prison who screen everything which goes in and out of Guantanamo. This unique recording probably survived review only because the military authorities were concerned that the consequences of censoring America's most powerful news program would outweigh the embarrassment of allowing a prisoner to tell the world what is happening there. On Sunday night Mr Aamer and his attorney Clive Stafford Smith, from the legal human rights charity Reprieve, appeared on 60 minutes to discuss his client's case.

Mr Aamer has been held in Guantanamo since 2002 and been cleared for release by both the Bush and Obama administrations, yet remains detained without charge. He has British residency, and his British wife and their four children all live in South London. Earlier this year, Prime Minister David Cameron raised Mr Aamer's case with President Obama at a G8 Summit and the British government has repeatedly stated that they want Mr Aamer returned to the UK. However, US authorities have repeatedly threatened to send Mr Aamer to his birthplace of Saudi Arabia in complete contravention to his stated wishes.

Clive Stafford Smith, said: "CBS' show gives a very rare and very shocking glimpse inside Guantanamo Bay. Everyone in the prison - the guards and the men - is suffering horribly, day after day. Obama must fulfil his promise to close the prison and Shaker Aamer must come home to his family in the UK, which is what David Cameron has said he wants."

ENDS

1. For further information, please contact Clemency Wells in Reprieve's press office: +44 (0) 207 553 8161 / clemency.wells@reprieve.org.uk

2. The full CBS 60 Minutes show can be watched here.
Sign up to join our press mailing list.
Reprieve is a UK-based human rights organization that uses the law to enforce the human rights of prisoners, from death row to Guantanamo Bay.
LATEST NEWS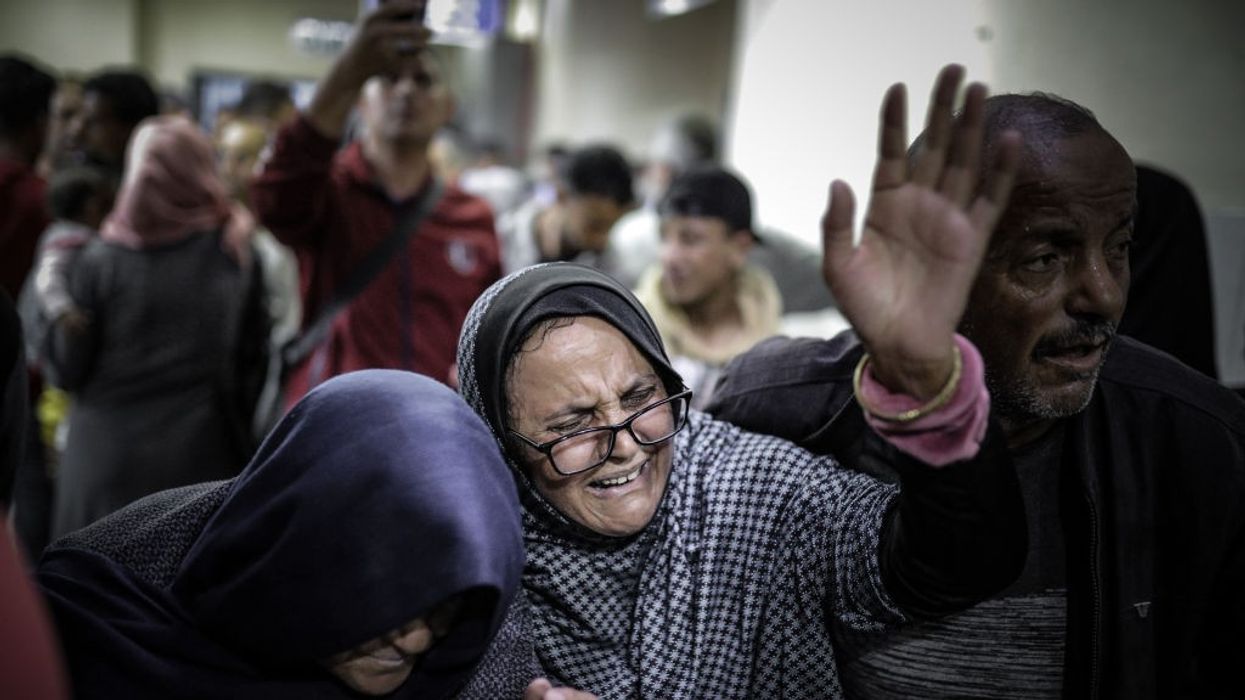 "What Israel is doing in Gaza right now is one of the most cruel tactics of war I've ever seen," said one healthcare aid worker.
More than 700 people were killed in the Gaza Strip in just 24 hours, the Health Ministry in the besieged territory said Sunday, as Israeli bombings escalated following a brief pause and wider evacuation orders stoke fears of wider displacement and carnage.
According to an Al-Jazeeradispatch:
Overnight and into Sunday, intense bombing was reported in Khan Younis, Rafah, and some northern parts targeted by Israel's air and ground attacks.

"Everywhere you turn to, there are children with third-degree burns, shrapnel wounds, brain injuries and broken bones," James Elder, UNICEF's global spokesperson, told Al Jazeera from Gaza.

"Mothers crying over children who look like they are hours away from death. It seems like a death zone right now."
The Israel Defense Force (IDF) has been dropping evacuation leaflets across the south of Gaza in cities that include Khan Younis, Rafah, and others neighborhoods where many had been told to flee by Israel prior to the recent week-long pause.
The IDF is now using a wholly invented "grid system" to tell Palestinians in Gaza which sectors might be safe and which ones will not, leading to reports of widespread confusion on the ground for those trying to keep themselves and their families safe from the indiscriminate bombing.
"What Israel is doing in Gaza right now is one of the most cruel tactics of war I've ever seen," said Rohan Talbot, director of advocacy and campaigns for the U.K.-based Medical Aid Palestine, on Sunday. "This grid system effectively means people are being chased from square to square, in constant mortal fear. Bombing happens both inside and outside 'unsafe' areas. It's terrorism."
"And they say it's about protecting civilians! People in Gaza are saying they hope to die just to be free from the fear!" Talbot declared. "I use the word terrorism in its specific sense: using violence to intimidate civilians for political aims. Israeli leaders don't hide that this is what they are doing."

In a statement on Sunday, U.N. Human Rights Chief Volker Türk called for an end of the new wave of bombardents and a return to the talks that saw Israeli and Palestinian hostages freed and an increase in humanitarian aid allowed into Gaza.
"Silence the guns and return to dialogue—the suffering inflicted on civilians is too much to bear. More violence is not the answer. It will bring neither peace nor security," Türk said.
"As a result of Israel's conduct of hostilities and its orders for people to leave the north and parts of the south, hundreds of thousands are being confined into ever smaller areas in southern Gaza without proper sanitation, access to sufficient food, water and health supplies, even as bombs rain down around them," he added "There is no safe place in Gaza."
Last week, it was reported that the Israeli military is using artificial intelligence to help generate bombing targets, a situation described as "dystopian" and the "first AI-facilitated genocide in history."

Horrifying scenes were evident across Gaza over the weekend as witnesses shared footage of children killed by the bombings along with the heartbreak and cries of survivors:
In the north, the Jabilia refugee camp, the largest in the Gaza Strip, was bombed again on Saturday.
"More than 100 Palestinians were killed Saturday in a new massacre committed by Israeli occupation forces in the Jabalia refugee camp in the central Gaza Strip," the official Palestinian news agency Wafa reported.
The agency said an Israeli missile hit a residential building belonging to the "Obaid family in Jabalia camp" and that "dozens were injured, and many others are still missing under the rubble," in that strike alone.
Meanwhile, Medicin Sans Frontier/MSF doctors reported their rescue vehicles, despite being clearly marked, were targeted by Israeli tanks.
Jason Lee, the Palestine country director for Save the Children, who was in Rafah on Friday, told the Guardian newspaper that what's being witnessed is a fresh population transfer in a country where 1.7 million people—out of an approximate total of 2.3 million—have already been displaced, with most now frantically trying to find safety in the south.
"How is it possible for people to move again? For many, this is not their first evacuation. The scale and scope of this is unprecedented," he said.
News
"Investing now in nuclear energy is an inefficient route to take to reduce emissions at the scale and pace needed to tackle climate change," said one campaigner.

Climate campaigners scoffed Saturday at a 22-nation pledge to triple nuclear power capacity by mid-century as a way to ward off the increasing damage of warming temperatures, with opponents calling it a costly and "dangerous" distraction from the urgent need for a fossil fuel phaseout alongside a rapid increase in more affordable and scaleable renewable sources such as wind and solar.
The Declaration to Triple Nuclear Energy—backed by the United States, Canada, France, the Czech Republic, and others—was announced as part of the Climate Action Summit taking place in Dubai as a part of the two-week U.N. climate talks known as COP28.
While the document claims a "key role" for nuclear energy to keep "a 1.5°C limit on temperature rise within reach" by 2050 and to help attain the so-called "net-zero emissions" goal that governments and the fossil fuel industry deploy to justify the continued burning of coal, oil, and gas, critics say the false solution of atomic power actually harms the effort to reduce emissions by wasting precious time and money that could be spent better and faster elsewhere.
"There is no space for dangerous nuclear power to accelerate the decarbonization needed to achieve the Paris climate goal," said Masayoshi Iyoda, a 350.org campaigner in Japan who cited the 2011 Fukushima disaster as evidence of the inherent dangers of nuclear power.
"There is no space for dangerous nuclear power to accelerate the decarbonization needed to achieve the Paris climate goal."
Nuclear energy, said Iyoda, "is nothing more than a dangerous distraction. The attempt of a 'nuclear renaissance' led by nuclear industries' lobbyists since the 2000s has never been successful—it is simply too costly, too risky, too undemocratic, and too time-consuming. We already have cheaper, safer, democratic, and faster solutions to the climate crisis, and they are renewable energy and energy efficiency."
When word of the multi-nation pledge emerged last month, Mark Jacobson, professor of civil and environmental engineering at Stanford University and co-founder of The Solutions Project which offers a roadmap for 100% renewable energy that excludes nuclear energy, called the proposal the "stupidest policy proposal I've ever seen."
Jacobson said the plan to boost nuclear capacity in a manner to avert the worst impacts of the climate crisis "will never happen no matter how many goals are set" and added that President Joe Biden was getting "bad advice in the White House" for supporting it.
In comments from Dubai, U.S. climate envoy John Kerry said that while he agrees nuclear will be a "sweeping alternative to every other energy source," but claimed that "science and the reality of facts" shows the world cannot "get to net-zero by 2050 with some nuclear."
Numerous studies and blueprints towards a renewable energy future, however, have shown this is not established fact, but rather the position taken by both the nuclear power industry itself and those who would otherwise like to slow the transition to a truly renewable energy system.
Pauline Boyer, energy transition campaign manager with Greenpeace France, said the scientific evidence is clear and it is not in favor of a surge in nuclear power.
"If we wish to maintain a chance of a trajectory of 1.5°C, we must massively reduce greenhouse gas emissions over the coming years, but nuclear power is too slow to deploy in the face of the climate emergency," she said.
"The announcement of a tripling of capacities is disconnected from reality," Boyer continued. Citing delays and soaring costs, she said the nuclear industry "is losing ground in the global energy mix every day" in favor of renewable energy options that are cheaper, quicker to deploy, and more accessible to developing countries.
In 2016, researchers at the University of Sussex and the Vienna School of International Studies showed that "entrenched commitments to nuclear power" were likely "counterproductive" towards achieving renewable energy targets, especially as "better ways to meet climate goals"—namely solar, wind, geothermal, and hydropower–were suppressed.
In response to Saturday's announcement, Soraya Fettih, a 350.org campaigner from France, which relies heavily on nuclear power, said it's simply a move in the wrong direction. "Investing now in nuclear energy is an inefficient route to take to reduce emissions at the scale and pace needed to tackle climate change," said Fettih. "Nuclear energy takes much longer than renewable energy to be operational."
Writing on the subject in 2019, Harvard University professor Naomi Orseskes and renowned author and psychohistorian Robert Jay Lifton observed how advocates of nuclear power declare the technology "clean, efficient, economical, and safe" while in reality "it is none of these. It is expensive and poses grave dangers to our physical and psychological well-being."
"There are now more than 450 nuclear reactors throughout the world," they wrote at the time. "If nuclear power is embraced as a rescue technology, there would be many times that number, creating a worldwide chain of nuclear danger zones—a planetary system of potential self-annihilation."
News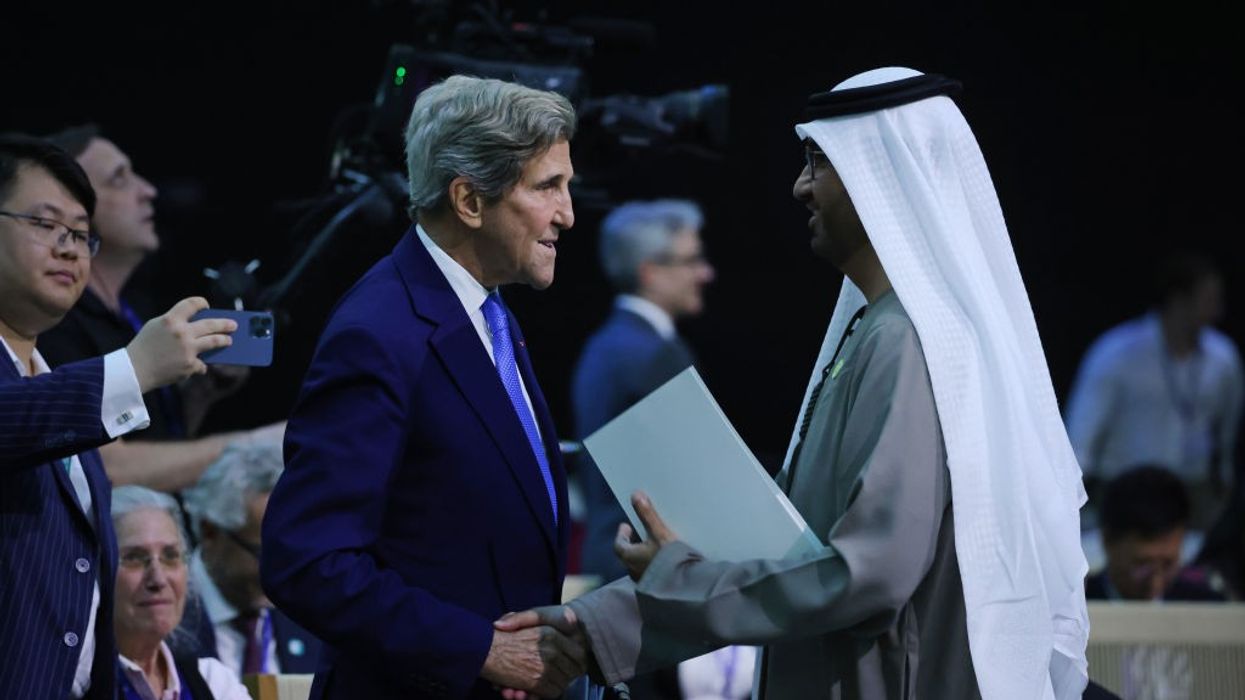 "Voluntary pledges cannot be a substitute for a formal negotiated outcome at COP28 for countries to address the root cause of the climate crisis: fossil fuels."
Hundreds of civil society groups and frontline voices from around the world on Saturday condemned a voluntary pledge heralded by government leaders and fossil fuel giants, calling the "Oil and Gas Decarbonization Charter" unveiled at the COP28 climate talks in Dubai nothing but a cynical industry-backed smokescreen and greenwashing ploy that will allow for the continuation of massive emissions of carbon, methane, and other greenhouse gases.

"The Oil and Gas Decarbonization Accelerator is a dangerous distraction from the COP28 process," warned David Tong, the global industry campaign manager for Oil Change International, in a statement from Dubai. "We need legal agreements, not voluntary pledges. The science is clear: staying under 1.5ºC global warming requires a full, fast, fair, and funded phase-out of fossil fuels, starting now."
Backed by approximately 50 state-run and private oil and gas companies, the stated aims of the pledge, also being referred to as the Decarbonization Accelerator, is to cut upstream emissions of methane to "near-zero" levels and end "routine flaring"—that is, emissions involved with production but not consumption—by 2030 while aiming for a "net-zero operations" target by 2050.
"Voluntary commitments are a dangerous distraction from what is needed at COP28. Oil and gas companies meeting to sign a pledge that only deals with their operational emissions is like a group of arsonists meeting to promise to light fires more efficiently."
What's key, say the Charter's critics, is both the voluntary nature of the scheme and the glaring fact that it does not include 80-90% of the emissions produced by the industry, namely the downstream consumption of their products—the burning of coal, oil, and fracked gas.
An open letter released by 320 groups on Saturday accuses Sultan al-Jaber, president of COP28 and the chief executive of the host nation's national oil company, of missing a "historic opportunity" by allowing the pledge to grandstand as meaningful progress while the planet experiences its hottest year in 125,000 years.
"The COP28 Presidency appears to have been encouraging fossil fuel companies to make yet another set of hollow voluntary pledges, with no accountability mechanism or guarantee the companies will follow through," the letter states. "Releasing another in the long succession of voluntary industry commitments that end up being breached will not make COP28 a success. Voluntary efforts are insufficient, and are a distraction from the task at hand."
By only aiming to reduce "oil and gas operational emissions without sharp reductions in overall fossil fuel production," the groups argue, the Charter "will fail to achieve the cuts in methane emissions necessary to avoid the worst impacts of climate change."
Citing recent findings from the International Energy Agency (IEA) and the Climate and Clear Air Coalition released in October, the letter states that the only way to meet the 1.5ºC target established by the 2015 Paris agreement is to phase out fossil fuels completely—and rapidly.
"Cutting methane pollution from the oil and gas supply chain is an important component of near-term emissions reductions—but it is not enough on its own," the letter states.
Alongside the industry-backed Charter, 118 nations on Saturday also pledged a tripling of renewable energy by 2030, but green groups say that while welcome, this kind of effort means so much less if fossil fuels are not phased out during that same period.
"The future will be powered by solar and wind, but it won't happen fast enough unless governments regulate fossil fuels out of the way," said Kaisa Kosonen, leading Greenpeace International's COP28 delegation in Dubai.
Oil Change's Tong also pointed to national promises on renewables in the context of the overall greenwashing effort underway trying to tell the world it can have a renewable energy revolution while also allowing the fossil fuel industry to continue its existence.
"If your company digs stuff up and burns it, you're the problem. It's time to wind down your business."
"Bundling up the Oil and Gas Decarbonization Charter with a renewable energy commitment appears to be a calculated move to distract from the weakness of this industry pledge," Tong said.
"Promising to triple renewable energy and double energy efficiency is welcome and indicates momentum for a final agreement at this year's U.N. climate talks," he added, "but voluntary pledges cannot be a substitute for a formal negotiated outcome at COP28 for countries to address the root cause of the climate crisis: fossil fuels."
Journalist and veteran climate organizer Bill McKibben, co-founder of 350.org and now Third Act, said it "isn't hard" to know what needs to be done or to identify who is at fault for the current crisis.
"If your company digs stuff up and burns it, you're the problem. It's time to wind down your business. Past time," McKibben said.
The green critics of the Charter are clear that the chief culprits should have little say in the way governments and society at large choose to manage the transition from a dirty energy economy to a more sustainable and clean one.

As the letter from the coalition argues, "Voluntary commitments are a dangerous distraction from what is needed at COP28. Oil and gas companies meeting to sign a pledge that only deals with their operational emissions is like a group of arsonists meeting to promise to light fires more efficiently."

News