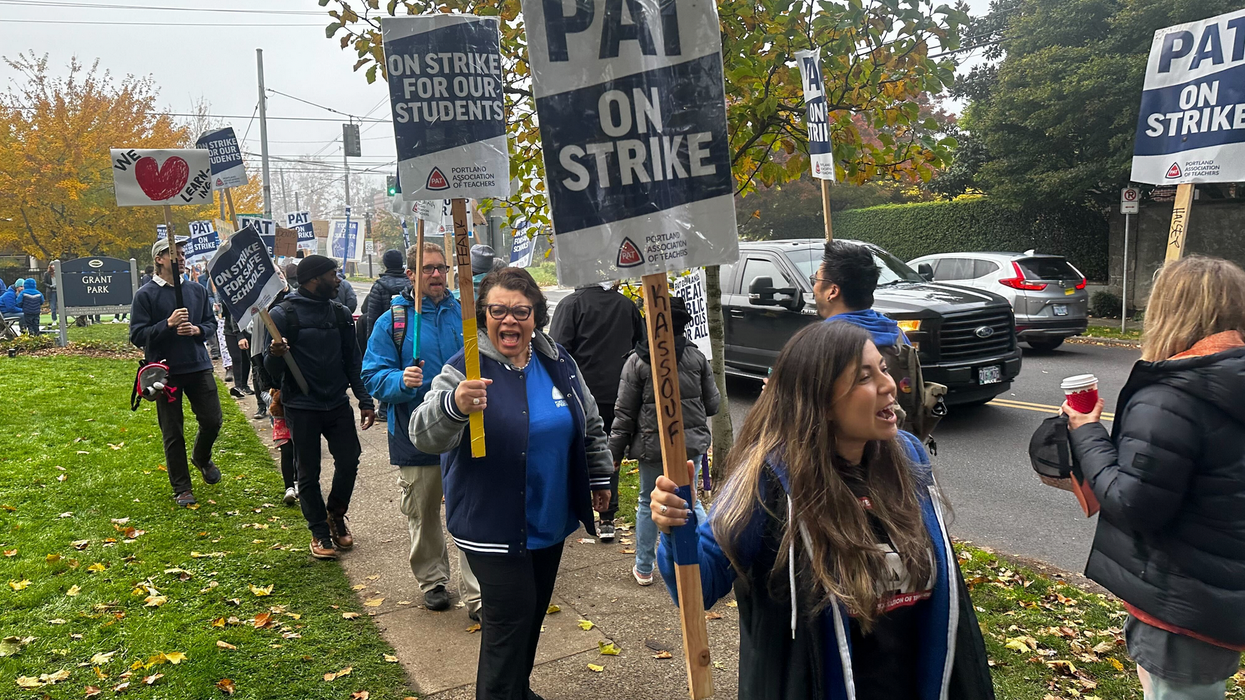 "Educators walked picket lines alongside families, students, and allies—and because of that, our schools are getting the added investment they need," said the president of the Portland Association of Teachers.
Teachers in Portland, Oregon and their supporters celebrated Monday after the local teachers union reached a tentative deal with the school district following a strike that lasted more than three weeks—paving the way for a finalized contract that the union said would provide "historic" investments in mental healthcare for students, reduce class sizes, and ensure teachers earn a fair wage.
Students returned to school on Monday for the first time since October 31, when the Portland Association of Teachers (PAT) began its first strike ever following contract negotiations that had gone on for months with Portland Public Schools (PPS) without reaching an agreement.
The previous contract for about 3,700 members of the union had expired in June.
The tentative deal includes a cost-of-living raise that will reach 13.8% over three years, starting with a 6.25% raise this year. The PAT had originally called for a 20% cost-of-living adjustment, while the district offered less than 11%.
Teachers earn $50,000 per year as a starting salary in Portland, where the cost of living is 24% higher than the national average and housing costs 62% more than the average in the rest of the country, according to compensation research firm PayScale. The union said teacher pay had not been keeping up with inflation.
The tentative contract, which union members still need to ratify and the school board will need to approve at a Tuesday meeting, would represent "a watershed moment for Portland students, families, and educators," PAT president Angela Bonilla toldOregon Public Broadcasting.

"Educators walked picket lines alongside families, students, and allies—and because of that, our schools are getting the added investment they need," said Bonilla.
Teachers won non-pay-related concessions from the district including an increase to teacher planning time by 90 minutes each week for elementary and middle schools, additional classroom time for those grades, and a commitment from the district that it will triple the number of staffers who support students' mental and emotional health needs.
A sticking point in the negotiations that persisted over the weekend before the deal was reached was the question of assembling committees of parents and teachers who would tackle the problem of overcrowded classrooms.
PAT said the two sides had reached a deal including "shared decision-making committees involving educators and parents," but did not release specific details about the proposed committees.

"We know that the best solutions to problems that we have in our schools come from the folks who actually attend them, who work at them and who send their students to those places," Bonilla said at a press conference Sunday evening.
The tentative deal was announced days after Portland teachers and supporters escalated the fight by marching across the Burnside Bridge and halting traffic for about 15 minutes around 9:00 am last Tuesday.
PAT garnered support from celebrities including stars of the public education-themed sitcom Abbott Elementary, despite labor opponents' attempts to "villainize" the teachers, as one author and PPS parent, Madeline Lane-McKinley, said.
Despite claims that teachers were "depriving" students of classroom time, said Lane-McKinley, "my kid and so many others are showing up to support their teachers at the picket lines, getting a political education they will never forget."

Julia Silverman, an education reporter for The Oregonian, added that the nearly month-long strike "focused attention on whether it is time, after three decades, to fundamentally reconsider how the state of Oregon funds education."

PPS said during negotiations that state education funding limits the district's budget, and on Sunday said it will have to find $100 million in its budget to fund the contract. The school board said it would encourage voters to support the renewal of a property tax levy to help fund the deal.

Statewide attention on Oregon's school funding structure "absolutely wouldn't have happened without this strike," said one supporter. "Collective action sets the electoral agenda, not the other way around. Intense gratitude to Portland teachers."

News