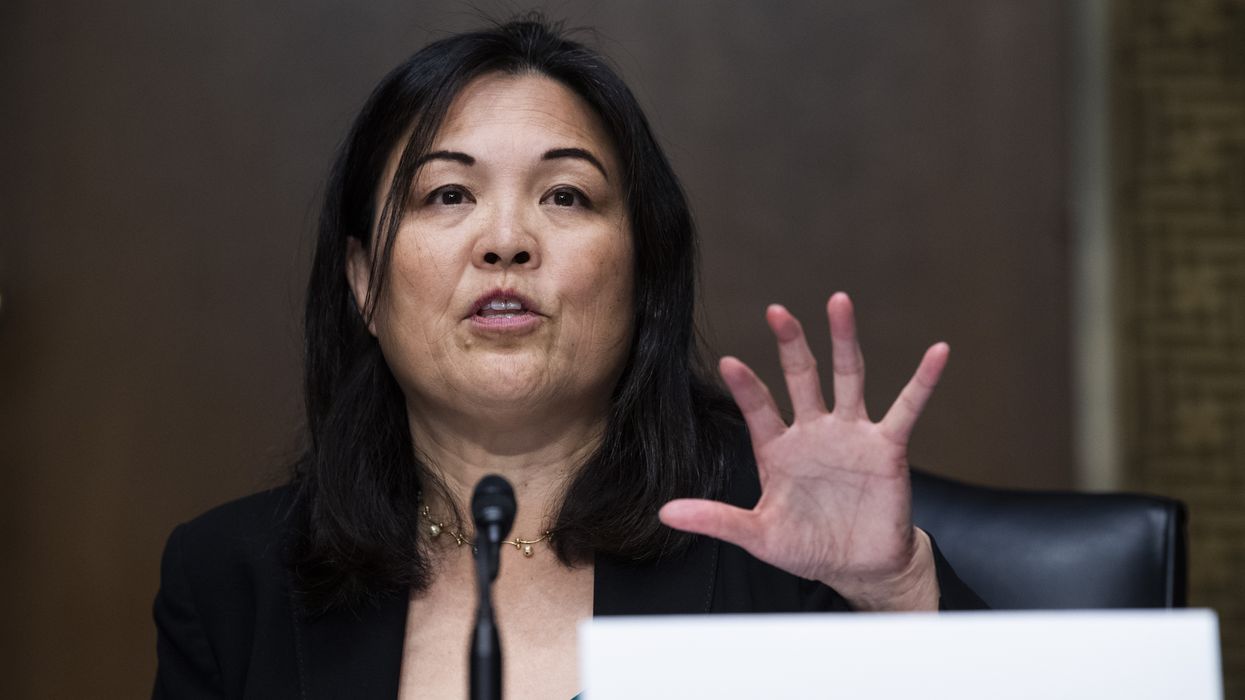 "She's really been a champion her entire career for all workers, regardless of immigration status, regardless of economic status," said one advocate.
Progressives on Tuesday applauded as U.S. President Joe Biden nominated Julie Su to succeed outgoing Labor Secretary Marty Walsh—a choice the nation's largest federation of unions said will "continue the Department of Labor's historic legacy of pro-union leadership."
"Julie Su is a leader who stands up for dignity, safety, and fair pay for all working families including immigrant and marginalized communities," continued the AFL-CIO, calling on the U.S. Senate to promptly confirm Su, who is currently Biden's deputy labor secretary.
The president noted that before working in the Biden administration, Su "led the largest state labor department in the nation" as California's labor commissioner from 2011-18.
In that role, Su oversaw "a renaissance in enforcement activity" against employers who violated labor laws, according to the U.S. Labor Department. She launched a historic, multilingual "Wage Theft Is a Crime" campaign, using multimedia to reach low-wage workers, inform them about their rights, and encourage them to feel safe speaking out against abuses of labor law.
"Julie Su is the real deal and she will do everything in her power to put working people central to the agenda."
Years before leading California's Labor Department, in the mid-1990s as a recent law school graduate, Su helped defend more than 70 Thai undocumented immigrants who had been enslaved in a garment sweatshop in El Monte, California. The case is widely studied in law school classes and by advocates and rights organizers, NBC News reported in 2021 when Su was nominated to serve as deputy labor secretary.
"What an inspiring pick," Helen Brosnan of the advocacy group Fight Corporate Monopolies tweeted, noting Su's anti-slavery case.
Biden said Su has proven herself to be "a champion for workers" as she has "cracked down on wage theft, fought to protect trafficked workers, increased the minimum wage, created good-paying, high-quality jobs, and established and enforced workplace safety standards."
The president selected Su after reportedly being urged by House Speaker Emerita Nancy Pelosi (D-Calif.) to nominate former Democratic Congressional Campaign Committee (DCCC) Chair Sean Patrick Maloney, who was a member of the corporate-friendly New Democrat Coalition before losing his reelection campaign last year and who has been blamed for allowing the Democrats to lose control of the U.S. House.
"Great to hear that we won't see Sean Patrick Maloney return to power anytime soon," said organizer Joshua Sauberman.
A number of progressives strongly urged Biden to nominate Sara Nelson, international president of the Association of Flight Attendants-CWA, to succeed Walsh, with Sen. Bernie Sanders (I-Vt.) telling the president in a letter that Nelson "has been a leading voice for worker rights and is a very strong communicator of progressive values."
Nelson has been a vocal critic of a widening gap between CEO and worker pay and was a key negotiator of provisions in the pandemic-era CARES Act, which temporarily banned airline stock buybacks and capped executive compensation.

Despite his support for Nelson, Sanders was one of the first lawmakers to respond to the news of Su's nomination, expressing confidence that she "will be an excellent secretary of labor."
\u201cI\u2019m confident Julie Su will be an excellent Secretary of Labor. I look forward to working with her to protect workers\u2019 rights and build the trade union movement in this country.\u201d

— Bernie Sanders (@Bernie Sanders) 1677608523
Nelson also expressed strong support for Biden's choice, saying the nomination is "fantastic news for the country!"
\u201cFantastic news for the country! Julie Su is the real deal and she will do everything in her power to put working people central to the agenda! I am so proud of her work, her sisterhood and solidarity, her commitment to promote a labor movement for all working people! TY, @POTUS!\u201d

— Sara Nelson (@Sara Nelson) 1677610265
Other labor advocates shared their hope that as secretary of labor, Su will push forward efforts to strengthen workers' rights in the fast-growing renewable energy sector.
"Renewables workers—and our planet—need someone like Su at the helm of the Department of Labor to push for and deliver on much-needed change. Right now, renewable energy jobs are scaling up across the country to meet the demand of the Inflation Reduction Act's unprecedented investment in clean energy," said Matthew Mayers, executive director of the Green Workers Alliance. "But the industry still relies on low-road subcontractors and temp agencies, who frequently short-change workers and promise jobs that never materialize."
"This industry—and many more across America—will need to fundamentally change," Mayers added. "Julie Su knows this from first-hand experience. She has been a fighter to win these changes, and we look forward to working with her as we demand more and better green jobs."
Immigrant rights groups have also pushed Biden to nominate Su, with the National Immigration Law Center (NILC) saying earlier this month that her "track record shows her commitment to protecting everyone's fundamental rights at work."
"She's really been a champion her entire career for all workers," Raha Wala of the NILC toldBloomberg Law Tuesday, "regardless of immigration status, regardless of economic status."

News