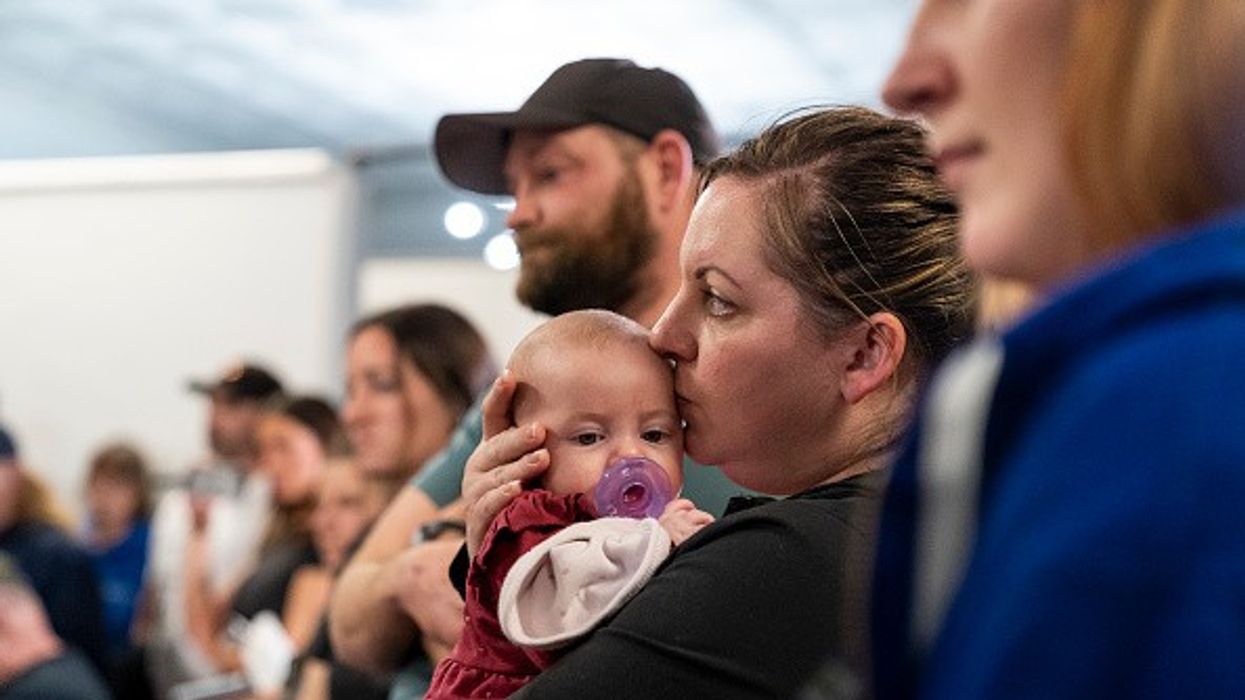 "Voters across party lines are in favor of increased safety measures," according to think tank Data for Progress.
Almost half of U.S. voters surveyed by progressive think tank Data for Progress blame rail company Norfolk Southern for the February 3 train derailment in East Palestine, Ohio which forced 1,500 residents to evacuate, contaminated soil and water, and has been blamed for causing a number of symptoms even as officials claim air and water monitoring hasn't shown dangerous levels of pollution.
Forty-nine percent of the 1,243 people surveyed by Data for Progress from February 17-22 said they believed Norfolk Southern was responsible for the crash, including 50% of Democrats, 52% of Independents, and 47% of Republicans.
Nineteen percent said they didn't know who to blame, while 10% blamed the U.S. Department of Transportation.
\u201cNEW POLL: After the train derailment in East Palestine, Ohio, voters blame train operator Norfolk Southern for the crash and strongly support requiring railroad companies to improve working conditions and upgrade their braking systems.\n\nhttps://t.co/JeTnZ1ugxl\u201d

— Data for Progress (@Data for Progress) 1677251896
The poll was taken as the National Transportation Safety Board (NTSB) released its preliminary assessment of the derailment of the train, which was carrying hazardous materials including vinyl chloride. As Common Dreamsreported Thursday, the report found the crash was likely caused by a wheel bearing failure due to overheating.
Eddie Hall, national president of the Brotherhood of Locomotive Engineers and Trainmen (BLET), pointed out after the report was released that rail companies have aggressively pushed to loosen safety regulations, spending "nearly a half billion dollars lobbying Congress" in the past two decades as they attempt to reduce train crews to just one person and pushed back as the Obama administration sought to require more modern braking systems on trains carrying hazardous materials.
Rail workers have also blamed major rail companies' use of Precision Scheduled Railroading (PSR), which requires train to run on strict schedules and cuts back on equipment and train crews, for the crash and others like it.
NTSB Chair Jennifer Homendy said Thursday the board is now examining Norfolk Southern's use of "wayside defect detectors," which did not alert the train crew quickly enough to the overheated wheel bearing, and said the board could issue safety recommendations to regulators or the rail company.
ProPublicareported on Wednesday that Norfolk Southern has at times instructed train crews "to ignore alerts from train track sensors designed to flag potential mechanical problems"—a policy union leaders say is "emblematic" of PSR. The NTSB did not suggest that was the case with the derailment in East Palestine.

Fifty-eight percent of respondents to the Data for Progress survey said they believe there are not enough safety regulations in place for railroad companies that transport hazardous material.
"Voters across party lines are in favor of increased safety measures, including 89% of voters who support setting higher standards for maintenance on railroads and strengthening safety regulations on railroad cars carrying explosive substances," reported the group. "Eighty-six percent of voters support placing limits on the length and weight of freight trains carrying hazardous materials."
The poll results were released as Rail Workers United (RWU), an inter-union caucus of rail workers, demanded that regulators and lawmakers take action to stop companies like Norfolk Southern from prioritizing speed and profits over safety.
"Every day we go to work, we have serious concerns about preventing accidents like the one that occurred in Ohio," RWU general secretary Jason Doering said. "As locomotive engineers, conductors, signal maintainers, car inspectors, track workers, dispatchers, machinists, and electricians, we experience the reality that our jobs are becoming increasingly dangerous due to insufficient staffing, inadequate maintenance, and a lack of oversight and inspection."
News