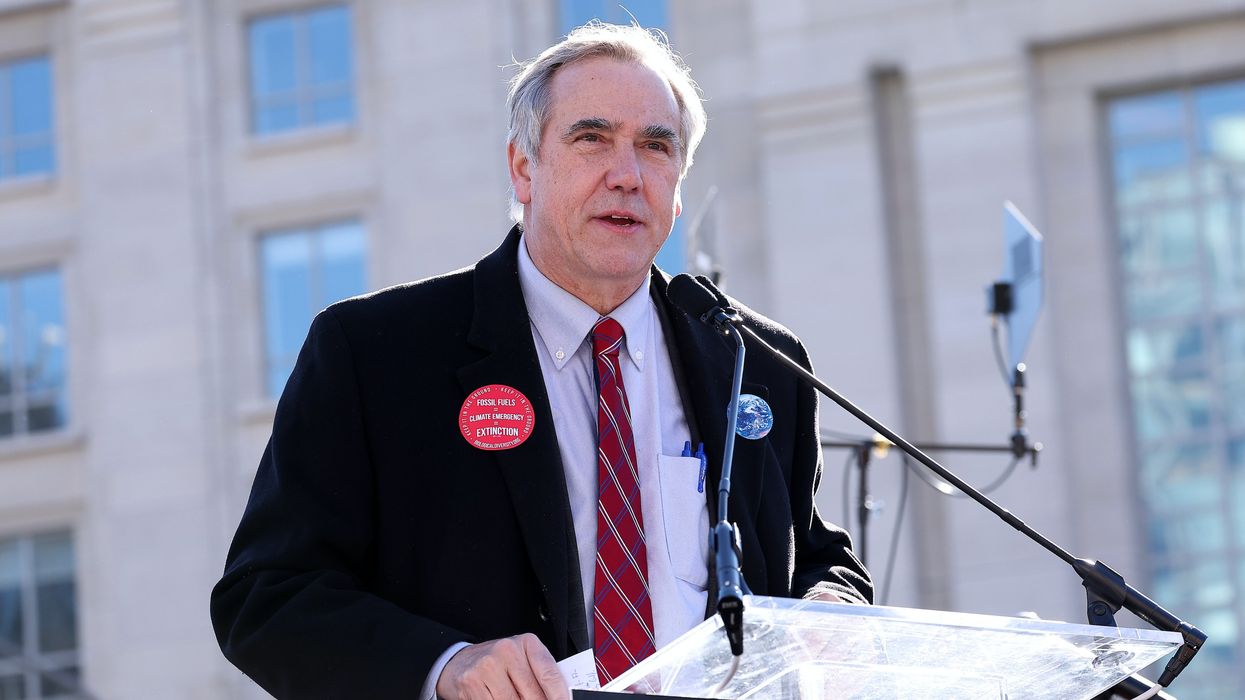 "We are in a climate emergency," said Oregon Democrat Jeff Merkley. "We can't take a piecemeal approach to the massive crisis we face."
Citing the extreme temperatures baking much of the United States during July—which is set to be the hottest month ever recorded on Earth—Democratic U.S. Sen. Jeff Merkley of Oregon on Thursday called on President Joe Biden to stop approving new fossil fuel projects and declare a climate emergency.
During his Thursday speech on the heat, Biden asked the Labor Department to increase efforts to protect workers from extreme temperatures and to announce new Interior Department water storage investments in Western states. However, the president did not unveil any new measures to combat the planetary emergency. He didn't even mention fossil fuels, the main driver of global heating.
"Americans are roasting and suffering under extreme heat and smoke in nearly every corner of our country. In Arizona, people are getting third-degree burns just from falling on the ground, while even East Coast states are experiencing air clogged with smoke from forest fires," Merkley said in a statement.
"In July, average temperatures for the entire globe have been the highest on record," he continued. "Add that on top of the last nine years being the nine warmest years on record. We are in a climate emergency. We can't take a piecemeal approach to the massive crisis we face."
"July should be a wake-up call for everyone," Merkley asserted, calling on Biden to first direct the Federal Emergency Management Agency (FEMA) "to unlock its authority to allow governors to address extreme heat and smoke events, and ask Congress to fund it robustly in an emergency disaster supplemental."
"Second, President Biden should develop a plan to end the reliance on fossil fuels that is causing this crisis," the senator added. "Any plan should start by ending approval of new fossil projects."
"Finally, the president should use his broad and crucial powers by declaring a climate emergency under the National Emergencies Act," Merkley stressed. "Under a climate emergency, the president can move decisively and swiftly to address the climate chaos happening all around us."
"Declaring a climate emergency is the best way for us to holistically protect the environment, public health, the planet, American workers, American consumers, and our national security from the worst effects of climate chaos," he argued.
Merkley's call echoes that of other progressive lawmakers and activists, including 21-year-old Elise Joshi, executive director of the advocacy group Gen Z for Change and a major social media influencer focusing on climate.
On Thursday, Joshi interrupted White House Press Secretary Karine Jean-Pierre during a speech to declare that "a million young people wrote to the administration pleading not to approve a disastrous oil drilling project in Alaska, and we were ignored." The climate campaigner called on Biden—who has approved fossil fuel projects "at a faster rate than the Trump administration"—to "stop approving new oil and gas projects and align with youth, science, and frontline communities."
News