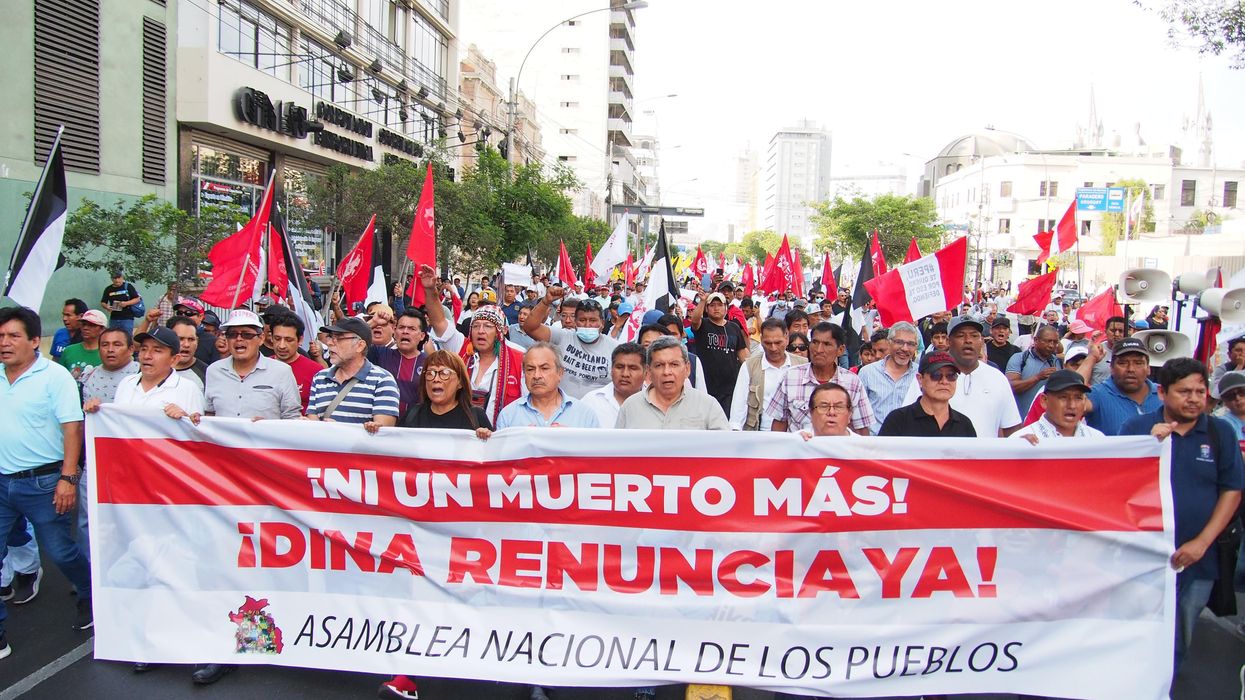 In Latin American, the neoliberal agenda and how it has been implemented in ways that are not entirely democratic has a structure that can be painfully familiar.
Since December 2022, Peruvians have been on the streets demanding early elections and the resignation of President Dina Boluarte.
Yet in Peru elections are more than a desired constitutional process—they are about resisting exploitation and neocolonialism that are threatening to intensify their grip on the country's marginalized communities.
The protests began last December when Peru's first leftist president, Pedro Castillo, was removed from office after dissolving Congress and declaring a state of emergency. It was the third attempt by Congress to impeach the president—this time successful—after which Castillo was arrested under charges of rebellion.
The state violence unleashed on its people did not seem to spare anyone and targeted the most vulnerable populations.
Then the country's vice president, Boluarte, was sworn in and has refused to hold early elections to this day.
What Happened Next?
First, the protests broke out in Peru's southern areas where its indigenous Quechua and Aymara communities live; these are the poorer areas that voted for Castillo, a teacher and union leader and a son of a peasant farmer himself.
The protests then spread to other areas of the country including the capital, and it was becoming clearer that the dissatisfaction with the government was as widespread: In February, the disapproval rating of Boluarte was 77%, and the disapproval rating of the Peruvian Congress was 90%.

How the government chose to respond was not to call for new elections, which is still one of the demands of the protesters. Instead, it has been to employ violence and deem the ones protesting "terrorists."

The state violence unleashed on its people did not seem to spare anyone and targeted the most vulnerable populations. In May, Amnesty International released its report documenting cases of 49 civilians—including children and youth—killed by Peruvian forces in the country's poorer areas, and called them extrajudicial executions.
You might have heard of one such executions: the Juliaca massacre, a brutal and deadly assault on Peru's predominantly indigenous protesters, where 18 civilians were killed.
The demands of the protesters have not been just about Castillo, new elections, and replacing the county's Constitution (the latest one was written in 1993, after the then-President Alberto Fujimori's coup in 1992). As Nicolás Lynch explains in his article at NACLA, the protesters' demands stem from decades of dissatisfaction:
The popular rage can be explained by three structural issues: the plundering of our natural resources, which has only deepened in the last 30 years; the exploitation of workers, evident in 80% of the economically active population with informal employment; and the resurgence of oligarchic abuse expressed in particular through rampant racism, especially now when the protesters are mostly Quechua or Aymara. It is no coincidence that the movement is concentrated in regions with gas deposits and in the mining corridor—from Huancavelica to Puno—which have been especially impacted by the neoliberal attack.
Peru's mining corridor is rich in lithium that, once exploited, would join what is called the Lithium Triangle, which is comprised of Chile, Bolivia, and Argentina. It is concentrated in the country's southern region that is more rural, Indigenous, and poor.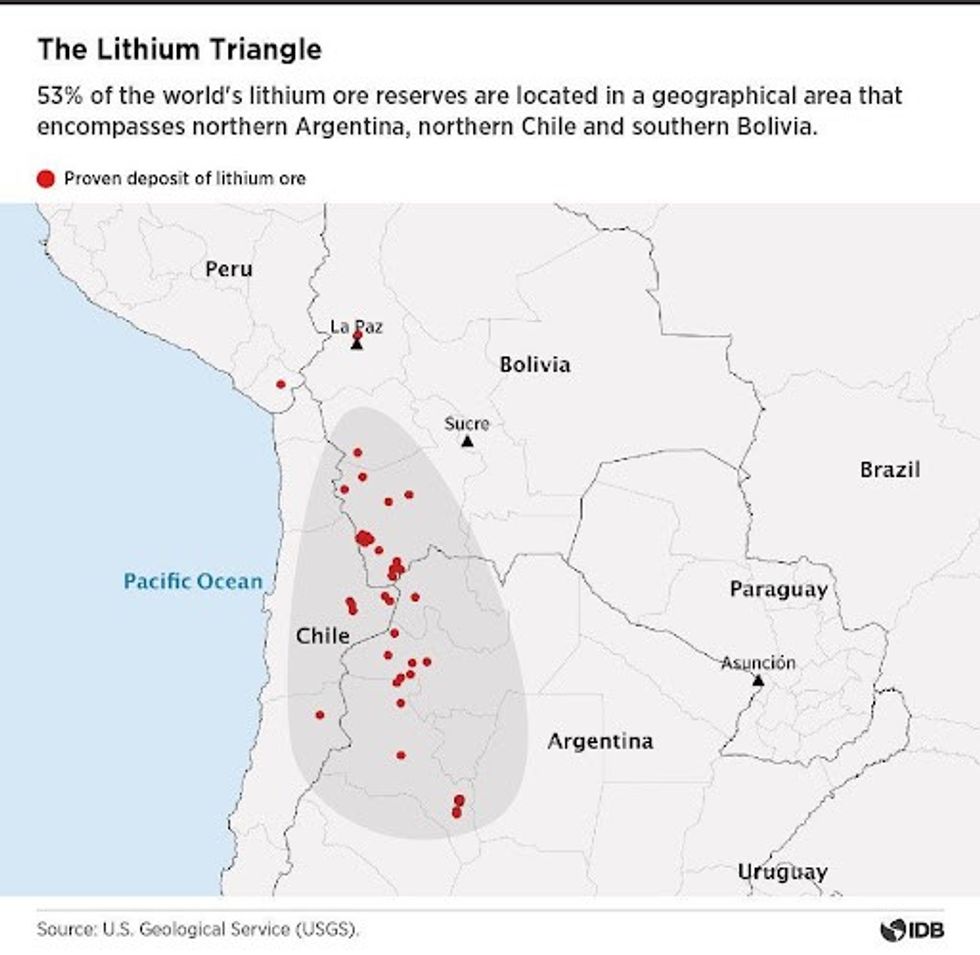 Initially, as part of his presidential campaign, Castillo had made promises to nationalize Peru's lithium resources (which the country has not started exploring yet) but in a meeting with representatives of the mining industry in October 2022 supposedly reversed his stance.

What policies Castillo would have pursued we cannot know now. Yet what was not difficult to predict knowing the extractivist history of the continent and right-wing parliamentary coup precedents in neighboring countries (let me come back to that in a moment), is what followed next.
In April, Peru's Minister of Energy and Mines, Óscar Vera, announced that the government would
Set to grant permits to a Canadian mining subsidiary for lithium exploration in the southern region of Puno, near the border with Bolivia.

Vera also reported that the authorities were working to reduce license approval time for copper mining projects from about two years to about six months.

In May, exploration rights were sold to Canadian Lithium, a subsidiary of American Lithium, which already operates another project in Peru: the Macusani uranium project in the same southern region of the country.
Soon after, in June, Boluarte's government invited over 1,000 U.S. soldiers to come to Peru and train its military and national police.
As TeleSur reported,
The U.S. military will arrive in various groups, between June 1 and December 31. The largest group will be made up of 970 members of the U.S. Air Force, Space Force, and Special Forces.

Besides carrying their personal regulation weapons, they will arrive in Peru with planes, trucks, and rapid response boats to take part in the "Resolute Sentinel 2023" maneuver.

What Does This All Remind Us Of?
Every country is different and has its own political forces; Peru is not Brazil, Colombia, or Chile. Yet the neoliberal agenda and how we have seen it being implemented, in ways that are not entirely democratic, in Latin America has a structure that can be painfully familiar. It would be completely ahistorical to disregard the common history of right-wing coups installed by CIA-backed militaries in the second half of the 20th century—but we do not have to go that far back in history.
Here I want to say what the levers former President Castillo was pulling to avoid impeachment should be assessed by legal scholars. If an abuse of power is real, it should be condemned no matter who the person in question in this case is. At the same time, the reasons behind Castillo's impeachment, the arrest of the president, and, perhaps most importantly, the actions of Congress and Boluarte following the impeachment, have to be inspected through the same lens of democratic practices.
It is almost impossible not to draw parallels to what happened to Dilma Rousseff in Brazil in 2016 when she was impeached by the Brazilian Congress although no crime calling for her impeachment was committed, as concluded by the Senate itself, making it clear it was a politically motivated move. What followed was a period of neoliberal reforms and a downward spiral of weakening Brazilian democracy from within.
An impeachment of Castillo did not have to mean the same for Peru.

But when we look at police brutality, the refusal to call for early elections, the beginning of the country's privatization of its lithium resources, and calling for foreign military support, it looks like this is where the country is heading.

At this point, we can't say that the only crime Castillo committed was daring to challenge the powerful and be the voice of the historically marginalized. For that, a due legal process should be set in place; a impartial investigation and a fair trial should follow (something we now know did not happen in Brazil to Luis Inácio Lula da Silva in 2017).
Yet what the current government is doing surely looks criminal.

And it is not being seen as more acceptable by the Peruvians themselves: As of August 2023, the disapproval rating of Congress is at 90% while approval for Boluarte is at 11%.
So where could changes begin?

Professor César Landa, a legal scholar, says a new Constitution, something the protesters have been demanding, could be a good start:
Channeling the historical demands of citizens requires a constituent process that could create dialogue and restore social consensus based on the necessity of incorporating new subjects, the protection of new rights, and better control of the traditional public and private powers.
The alternative is grim. It is more state violence needed to suppress dissent, prolonged periods of suspension of democratic practices, and continuous exploitation without which neocolonialism cannot operate.

In a continent whose riches have been violently robbed from it for the last five centuries and whose raw materials continue to be exported to make profits for foreign corporations, this is all extremely concerning.


Opinion