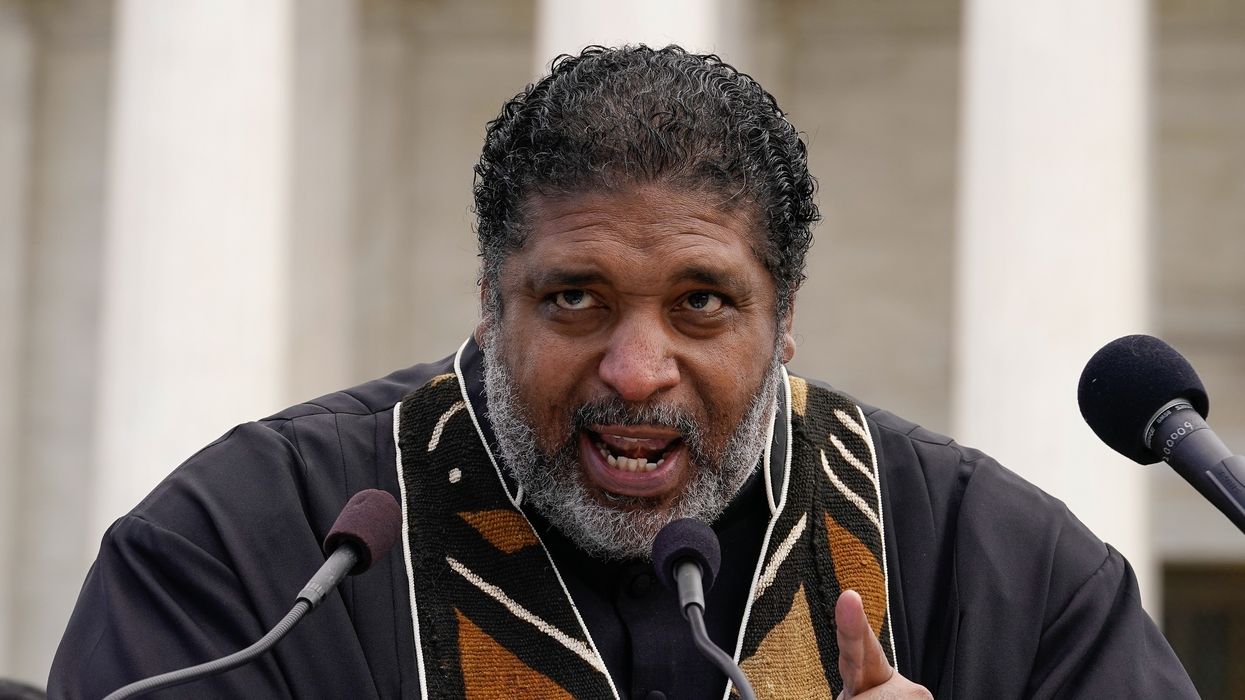 "This is no time for foolishness, photo-ops, and flaky commitments," declares a letter from faith leaders including Bishop William Barber II and Rev. Dr. Liz Theoharis of the Poor People's Campaign.
"Selma is sacred ground. It is, in a very real sense, the delivery room where the possibility of a true democracy was born. It is no place to play or to be for political pretense. Either you're serious or not. If you're coming, come on Sunday, the actual day of remembrance. If you're coming, come with a commitment to fight for what these people were willing to give their lives for."
That's the message that faith and rights leaders sent in a Monday letter to U.S. President Joe Biden and members of Congress ahead of the anniversary of Bloody Sunday—when white police officers violently assaulted civil rights advocates, including future Congressman John Lewis (D-Ga.), as they marched across the Edmund Pettus Bridge in Alabama on March 7, 1965.
The sign-on letter is led by the co-chairs of the Poor People's Campaign: A National Call for Moral Revival—Bishop William Barber II and Rev. Dr. Liz Theoharis—along with former Democratic Alabama state Sen. Hank Sanders, Faya Rose Touré, Rev. Mark Thompson, Rebecca Marion, and Rev. Carolyn Foster. It is open for signature on the Repairers of the Breach website.
"#SelmaIsSacredGround, not a place for political pretense."
"This is a critical year in the life of our country," the seven initial signatories wrote. "On the one hand, the president and progressive members of Congress have fought to pass policies that have lifted up Americans in many ways. From Covid relief measures to infrastructure investments to child tax credits that lifted millions of children out of poverty (for a brief moment) to the appointment of the first Black woman Supreme Court Justice, we can celebrate some real progress."

"But, on the other hand, with a Democratic president and control of the House and Senate for two years, Democratic leadership was unable to raise the federal minimum wage," they continued, also noting that a few obstructionist Democrats repeatedly helped Senate Republicans block efforts to restore the Voting Rights Act by supporting the filibuster.
That obstruction, they explained, enabled "regressive legislative bodies across the nation to pass more voter suppression bills than any time since Jim Crow and to go through another round of dangerous redistricting, which nullifies the potential power of progressive voting coalitions by stacking and packing votes in certain districts to predetermine outcomes before any vote is cast."
\u201cAhead of the 58th anniv. of Bloody Sunday, @brepairers is joined in this call by Rev. Liz Theoharis @liztheo, Hank Sanders, Faya Rose Toure, Rev. Mark Thompson @ministter, Rebecca Marion, Board Chair, Bridge Crossing Jubilee, Rev. Carolyn Foster of the @AlabamaPPC, and others.\u201d

— Rev. Dr. William J. Barber II (@Rev. Dr. William J. Barber II) 1676925038
Highlighting research that shows tens of millions of Americans face some form of voter suppression, the letter leaders argue that if Biden and other politicians plan to visit Selma—which was recently devastated by a tornado—for the Bloody Sunday anniversary, they should "declare that the fight for voting rights and the restoration of what they marched across that bridge for is not over."
The letter also demands urgent action on living wages and investments in rural areas, stressing that millions of people—particularly in Southern states—live "in poverty and low-wealth conditions" and remain "uninsured or underinsured at a time when we have more people on healthcare than ever before," three years into the Covid-19 pandemic.
"Those of us who are planning to be in Selma to honor the struggle for voting rights and economic justice should be willing to protest and engage nonviolently if politicians attempt to do moral harm to the memory and the sacredness of what happened on Bloody Sunday," declares the letter. "This is no time for foolishness, photo-ops, and flaky commitments."

"Let us be clear: To honor the memory of Bloody Sunday is to work for the full restoration of the Voting Rights Act, the passage of the original For the People Act that John Lewis helped to write, not the bill that was watered down by Joe Manchin," the letter continues, calling out the pro-filibuster West Virginia Democrat infamous for thwarting his own party's agenda.
"To commemorate Bloody Sunday," the letter adds, "is to commit to raising of the minimum wage to a living wage, to ensuring that every American has adequate healthcare, and to enacting economic development that touches poor and low-wealth communities."
News