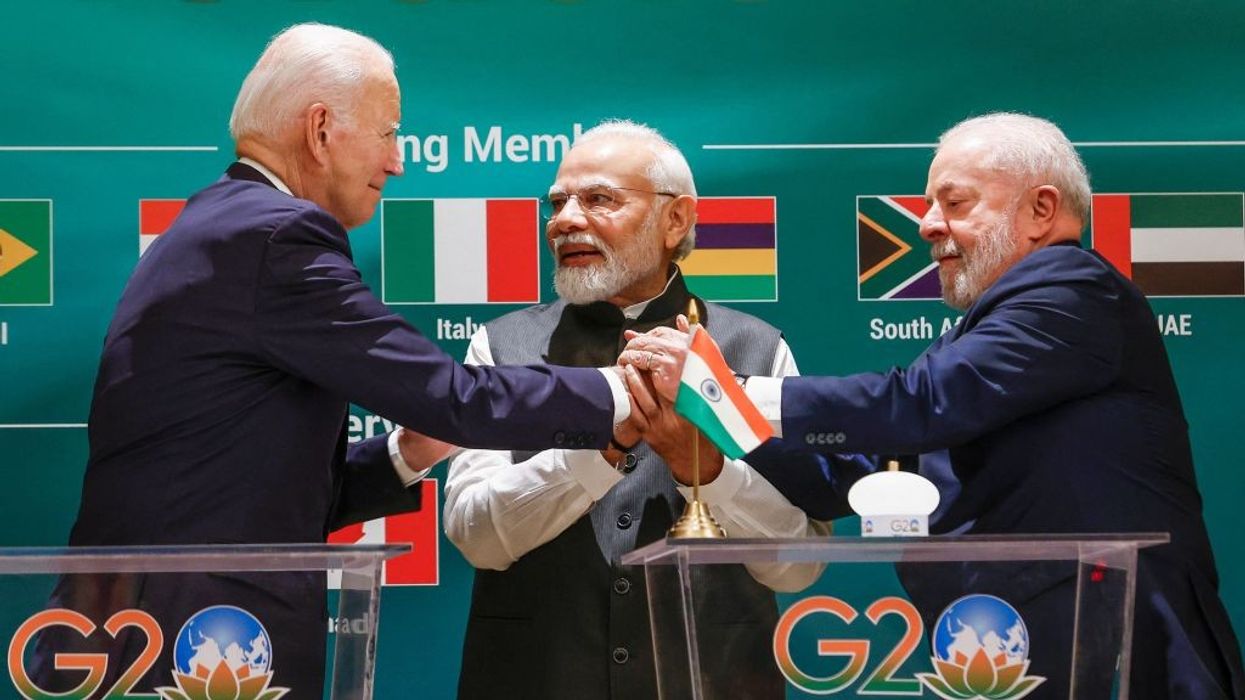 "All G20 members must work towards the elimination of nuclear weapons as an urgent priority," said ICAN executive director Melissa Parke.
A renunciation of the threat posed by nuclear weapons by G20 leaders in New Delhi this weekend must be matched by action that would actually reduce such a threat and lead the way to the full abandonment of atomic weapons worldwide, according to one of the world's preeminent anti-nuclear organizations.

While the the G20 'New Delhi Declaration' released Saturday states that the "use or threat of use of nuclear weapons is inadmissible" in the context of the Russia-Ukraine war, the International Campaign to Abolish Nuclear Weapons (ICAN), which won the peace prize in 2017, said that does not go far enough.
ICAN's exective director Melissa Parke said in a statement that while the G20 leaders "reaffirmed the obvious truth that the use, or threat of use, of nuclear weapons is unacceptable," it is now vital that they "put these words into action."
"All G20 members must work towards the elimination of nuclear weapons as an urgent priority, including, for those who haven't done so already," said Parke, "by signing and ratifying the Treaty on the Prohibition of Nuclear Weapons without delay."
The official Treaty on the Prohibition of Nuclear Weapons (TPNW), adopted by the United Nations in 2017 and implemented in 2020, bans signatories from the use, possession, testing, and transfer of nuclear weapons.
None of the nuclear powers in the world—including Russia, the United States, Israel, the United Kingdom, India, or China—have signed or adopted the TPNW, and Ukraine, along with the majority of NATO and G20 members, have also not supported or adopted the treaty.
Since its invasion of Ukraine in early 2022, numerous Russian officials have invoked the specter of a nuclear exchange or possible use of atomic weapons if Moscow deemed it necessary. Peace advocates calling for urgent diplomacy to help end the war have continued to cite the possibility of a nuclear escalation as a chief concern.
Last month, former president and current senior official Dmitry Medvedev said Russia would have no choice but to use nuclear weapons if Ukraine's counter-offensive, backed by NATO forces, took land claimed by Moscow.
"Just imagine that the offensive… in tandem with NATO, succeeded and ended up with part of our land being taken away. Then we would have to use nuclear weapons by virtue of the stipulations of the Russian Presidential Decree," said Medvedev.
"There simply wouldn't be any other solution," he added. "Our enemies should pray to our fighters that they do not allow the world to go up in nuclear flames."
News