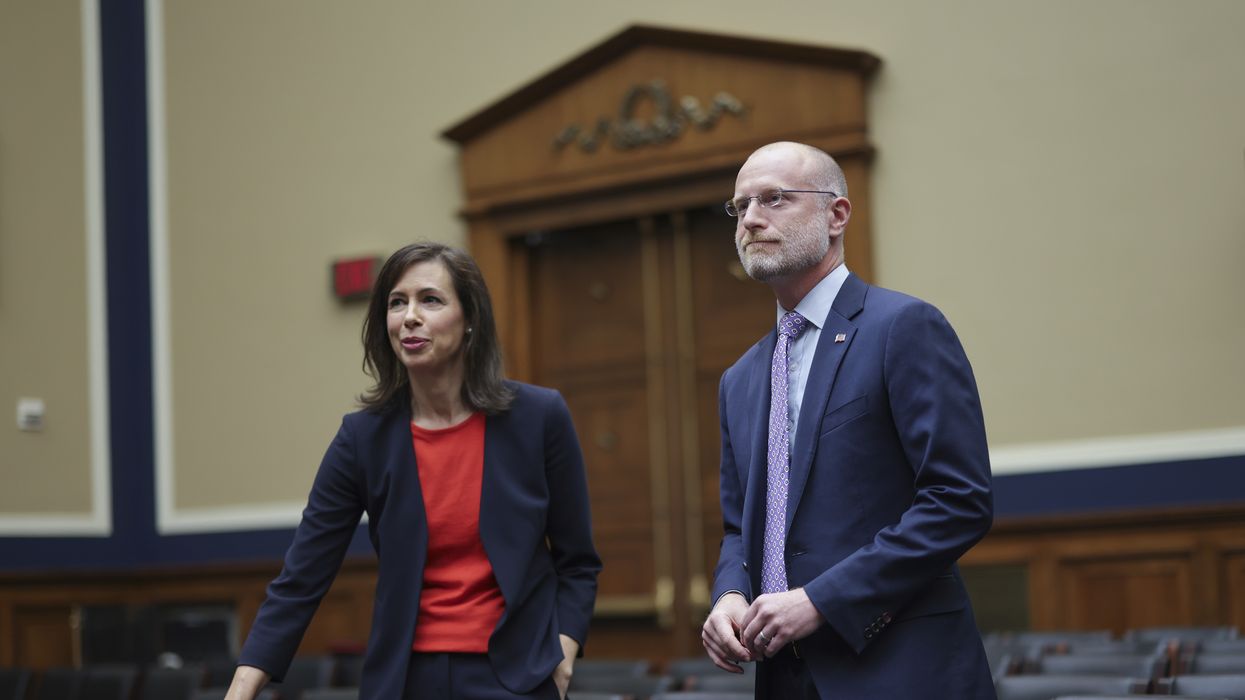 The president is under pressure to choose a candidate who "is free of industry conflicts of interest, someone who will prioritize net neutrality, privacy, network competition, broadband maps, and the digital divide."

More than five dozen advocacy organizations on Friday implored U.S. President Joe Biden to swiftly select a Federal Communications Commission candidate who will serve the public interest, not the telecommunications industry.
The coalition's letter stresses that a fifth commissioner is urgently needed to end the current 2-2 deadlock and enable the FCC to "increase digital equity and media diversity, bolster online privacy and safety protection, and reassert its rightful authority over broadband to ensure everyone in the United States has access to this essential service."
The message to Biden comes after Gigi Sohnremoved herself from consideration last week, citing the "legions of cable and media industry lobbyists, their bought-and-paid-for surrogates, and dark money political groups with bottomless pockets" who distorted her "over 30-year history as a consumer advocate into an absurd caricature of blatant lies."
"We call on you to immediately put forth a new nominee—specifically, one who has a history of advocacy for the public interest and is free of industry conflicts of interest."
Sohn, the new letter states, "was eminently qualified to serve as a commissioner. But after 16 months of organized and well-funded attacks by dark-money groups—which were carried out by lobbyists, enabled by complicit elected leaders, and amplified in partisan media—Sohn made the understandable decision to withdraw from consideration."
Organizations behind the letter—including Common Cause, Demand Progress Education Fund, Electronic Frontier Foundation, Fight for the Future, Free Press Action, Our Revolution, Public Knowledge, Revolving Door Project, and RootsAction.org—were outraged over both the telecom industry smear campaign against Sohn and top Democrats' refusal to fiercely defend the nomination. Her withdrawal has sparked fears that Biden will choose an industry-friendly candidate.
"Now, we call on you to immediately put forth a new nominee—specifically, one who has a history of advocacy for the public interest and is free of industry conflicts of interest; demonstrates a clear commitment to championing the rights of low-income families and communities of color; and supports Title II oversight and laws that ensure the FCC the authority to prevent unjust discrimination and promote affordable access," the coalition wrote to Biden.
"We ask you to actively press the Democratic majority in the Senate to swiftly confirm your nominee," the groups added. "We cannot permit senators to prevent forward progress any longer at the behest of the very corporations the FCC is meant to regulate."
Free Press Action president and co-CEO Craig Aaron similarly argued in a Common Dreams opinion piece last week:
We must oppose and reject any return to business as usual that furthers industry capture of the FCC.

Instead, we need to demand an independent candidate with public-interest bona fides and a clear commitment to racial justice and civil rights. They must show they're willing to stand up to lies. They must be unequivocal in their support for restoring the FCC's authority, and making sure that the internet is open, affordable, available, and reliable for everyone. They must demonstrate a commitment to engaging the public, not just meeting with lobbyists.

Sohn's defeat also "has implications that go far beyond the FCC," Aaron noted. "The Republicans and their Democratic enablers are setting out markers for who's allowed to serve in government."
"They made clear that public servants will be pilloried while ex-corporate lobbyists sail through," he wrote. "Women and LGBTQIA+ folks—Sohn would have been the first lesbian to serve as an FCC commissioner—will be slandered. Tweeting about police violence can be disqualifying (in the Senate, retweets do equal endorsements). Questioning the propriety of Fox News—even as it's being exposed for aiding and abetting election lies and insurrection—is unacceptable. A basic understanding of U.S. history and racism may be disqualifying."
Sohn "deserved better," Aaron tweeted. "But I hope we—and the White House and Democratic Party, especially—can learn so it doesn't happen again."
News