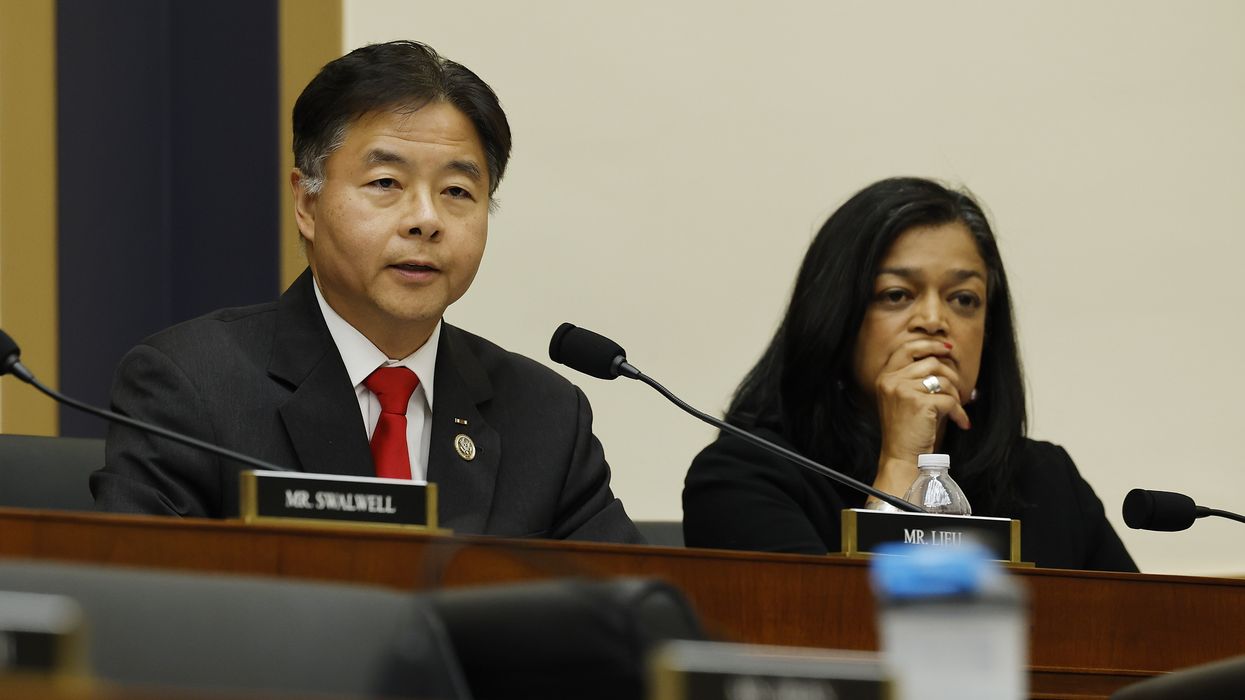 "Justice Thomas' alleged actions don't just appear corrupt, they are corrupt," said Rep. Ted Lieu.
Several House Democrats on Thursday pushed U.S. Supreme Court Justice Clarence Thomas to immediately resign after the investigative outlet ProPublica revealed fresh details about the powerful judge's billionaire-funded—and undisclosed—luxury vacations.
Rep. Ted Lieu (D-Calif.), a member of the House Judiciary Committee, said in a statement that Thomas' "alleged actions are not just shocking, they are illegal."
"Disclosure laws like the ones Justice Thomas allegedly violated are meant to provide transparency and prevent corruption," Lieu added. "Justice Thomas' alleged actions don't just appear corrupt, they are corrupt because of the unprecedented scale of his ethical and legal violations. Justice Thomas has brought shame upon himself and eroded the credibility of the Supreme Court. Justice Thomas should resign immediately."
ProPublica reported Thursday that Thomas has taken at least 38 luxury trips on the dime of ultrawealthy executives and Republican donors, some of whom have had business interests reach the high court.
The outlet noted that "while some of the hospitality, such as stays in personal homes, may not have required disclosure, Thomas appears to have violated the law by failing to disclose flights, yacht cruises, and expensive sports tickets."
ProPublica's detailed account of the gifts Thomas has received for decades from a group of right-wing executives renewed outrage over the Supreme Court's lack of ethical standards. Unlike every other federal court in the U.S., the Supreme Court does not have a binding code of ethics, providing an opening for justices to take dozens of private jet flights and stay at luxury resorts with the help of conservative billionaires.
"No justice should accept these types of gifts," Rep. Gerry Connolly (D-Va.) said Thursday. "Thomas has repeatedly brought dishonor and ethical malpractice to our highest court. I reiterate my call that he must resign. This is exactly why we need SCOTUS ethics reform."
Rep. Pramila Jayapal (D-Wash.), the chair of the Congressional Progressive Caucus, called Thomas' conduct "unprecedented," "stunning," and "disgusting," writing that it is "the height of hypocrisy to wear the robes of a SCOTUS [justice] and take undisclosed gifts from billionaires who benefit from your decisions."
"Resign," she added.
Rep. Bill Pascrell (D-N.J.) joined his colleagues in demanding Thomas' resignation, slamming the right-wing justice as "corrupt as hell."
Thomas insists that he has "always sought to comply with the disclosure guidelines," but the justice has a long history of failing to disclose key items, such as income that his wife has received from right-wing organizations.

In April, after ProPublicareported that Thomas has been taking undisclosed yacht and private jet trips funded by billionaire GOP megadonor Harlan Crow for more than two decades, Rep. Alexandria Ocasio-Cortez (D-N.Y.) toldThe Lever that she would be willing to draft articles of impeachment against Thomas if no other House member did so.
To date, no House lawmaker has unveiled articles of impeachment even as the Supreme Court's ethical crisis spirals further out of control. An impeachment vote against Thomas would stand no chance in the House, which is controlled by Republicans.
A few House Democrats nevertheless voiced support for an impeachment vote on Thursday.
Rep. Summer Lee (D-Pa.) noted that she "called for a vote to impeach Justice Thomas if he would not resign back in April—before we even knew just how much farther his corruption goes thanks to ProPublica's reporting."
Rep. Rashida Tlaib (D-Mich.), for her part, wrote Thursday, "Today's a good day to impeach Clarence Thomas."

News