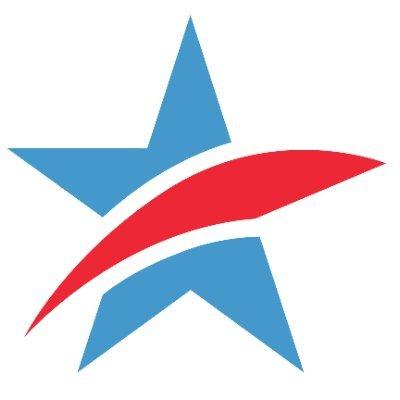 Statement of Aunna Dennis, Executive Director of Common Cause Georgia
ATLANTA
Yesterday, two US Senate candidates called for the resignation of Secretary of State Brad Raffensperger, alleging "the management of Georgia elections has become an embarrassment for our state." Both candidates will be participating in January 5, 2020 runoff elections.
Statement of Aunna Dennis, Executive Director of Common Cause Georgia:
Questioning the results of our elections does a grave disservice to Georgia's voters--and also to the tens of thousands of people who worked to ensure that our November 3 election was conducted safely and securely in the middle of a pandemic.

A record number of Georgia's voters participated in this election, despite COVID 19. Just as in previous elections, the decisions of 'The People' must be respected and accepted. We need to move forward and ensure that the runoffs on December 1 and January 5 go as smoothly as possible.

The inflammatory political rhetoric heard this week also underscores the fact that some folks who are talking about our elections simply don't know what they're talking about.
In Georgia, elections are run by each of the 159 counties. Most counties' Board of Elections members are volunteers, or receive only a small stipend. They are members of our community, serving the public, making the best decisions they can in the context of limited budgets and politicized environments.

The State Election Board is tasked with issuing rules and regulations "so as to obtain uniformity" in elections throughout the state, "as well as the legality and purity in all primaries and elections." Although the Board is technically bipartisan, its current membership is majority-Republican.

Georgia's Secretary of State has some organizational and oversight responsibilities, and his office maintains the statewide voter registration database. But he doesn't singlehandedly "manage" our elections.

More than 20,000 Georgians did the bulk of the work, serving as poll workers during Early Voting and on Election Day. Many of them stepped forward, despite pandemic health risks, to replace poll workers who would be at even greater risk from COVID.

After voting was over, thousands of bipartisan adjudication teams across the state made hard decisions about whether or not to count questionable ballots. One Democrat and one Republican on each team. Again - local community members, serving the public, making the best decisions they can.

Hundreds more local community members helped open envelopes and run the machines that count the ballots.

Hundreds more served as nonpartisan "Election Protection" volunteers, answering voters' questions and helping resolve problems at polling sites across the state. Hundreds more volunteers scanned social media posts and answered voters' questions online.

Elections in Georgia are a community endeavor.

Anyone who tries to cast doubt on the results of our elections is devaluing the work of all these tens of thousands of Georgians who stepped forward to make sure our elections could go smoothly in the middle of a pandemic.

All these Georgians--Republicans and Democrats--literally put their lives on the line to conduct these elections. They deserve better than to have their efforts cheapened by people who don't like the elections' outcomes.
Common Cause is a nonpartisan, grassroots organization dedicated to upholding the core values of American democracy. We work to create open, honest, and accountable government that serves the public interest; promote equal rights, opportunity, and representation for all; and empower all people to make their voices heard in the political process.
(202) 833-1200
LATEST NEWS
The heat pump target is part of a broader push to decarbonize buildings—which currently contribute more than 30% of the U.S.' climate-heating emissions.
The U.S. Climate Alliance—a group of 25 governors leading states that make up 60% of the U.S. economy and 55% of its population—pledged Thursday to quadruple the number of heat pumps installed in their states by 2030.
Heat pumps work by either pumping hot air in during winter or hot air out during summer, The Associated Press explained. Because they don't have to first work to heat a coil or other device, they are more energy efficient than other heating methods. They also run on the electric grid, so they don't use extra fossil fuels like oil or gas furnaces.
They're "almost a miraculous solution," Washington Gov. Jay Inslee, one member of the alliance, told AP, adding that they solve the problems of "heating in the winter, cooling in the summer, and a reduction of carbon pollution."
"This coalition continues to prove that when we come together, we can make a greener future more equitable and accessible for all."
The alliance made their announcement at Climate Week NYC Thursday. The heat pump target is part of a broader push to decarbonize buildings—which currently contribute more than 30% of the U.S.' climate-heating emissions.
"We are in a climate emergency and the window to act is closing," Inslee said in a statement. "U.S. Climate Alliance states get that."
The heat pump commitment means that participating states will install 20 million heat pumps by the end of the decade, up from 4.8 million today, according to energy transition nonprofit RMI.
"Heat pumps and heat pump water heaters are core decarbonization technologies that allow buildings to switch from burning fossil fuels for heating and hot water to using electricity instead," the group wrote in response to the news. "Making this switch can reduce home heating emissions in every US state by 35–93% while saving lives through improved air quality and protecting residents from volatile gas commodity prices."
U.S. Climate Alliance members also pledged to ensure 40% of the benefits from the green-buildings mobilization go to marginalized communities.
"This coalition continues to prove that when we come together, we can make a greener future more equitable and accessible for all," New York Gov. and alliance member Kathy Hochul said in a statement.
Fellow alliance member and Maine Gov. Janet Mills spoke of her state's positive experience with heat pumps. Maine set a goal in 2019 of installing 100,000 by 2025 and ended up significantly overshooting that, installing 104,000 by the end of August, as The Cool Downreported at the time.
"Transitioning to heat pumps in Maine is creating good-paying jobs, curbing our carbon emissions, cutting costs for families, and making people more comfortable in their homes," Mills said Thursday, adding that her state would ramp up its target to 275,000 installations by 2027.
The alliance, which was first formed by Washington, New York, and California in response to former President Donald Trump's decision to pull the U.S. from the Paris agreement, is partnering with the Biden administration for their new endeavor.
Other goals include supporting the development of codes and standards for net-zero buildings, working to speed the process of retrofitting homes and businesses to electrify them and make them more efficient, and creating well-paying career-track green building jobs.
"Combined with President Biden's historic climate leadership, these bold commitments by governors to cut emissions from buildings will have a catalytic impact across America," White House National Climate Advisor Ali Zaid said in a statement Thursday. "It will clean up the air our children breathe, save hardworking families money on their monthly energy bills, strengthen America's climate resilience, and create good-paying jobs in every corner of the country."
News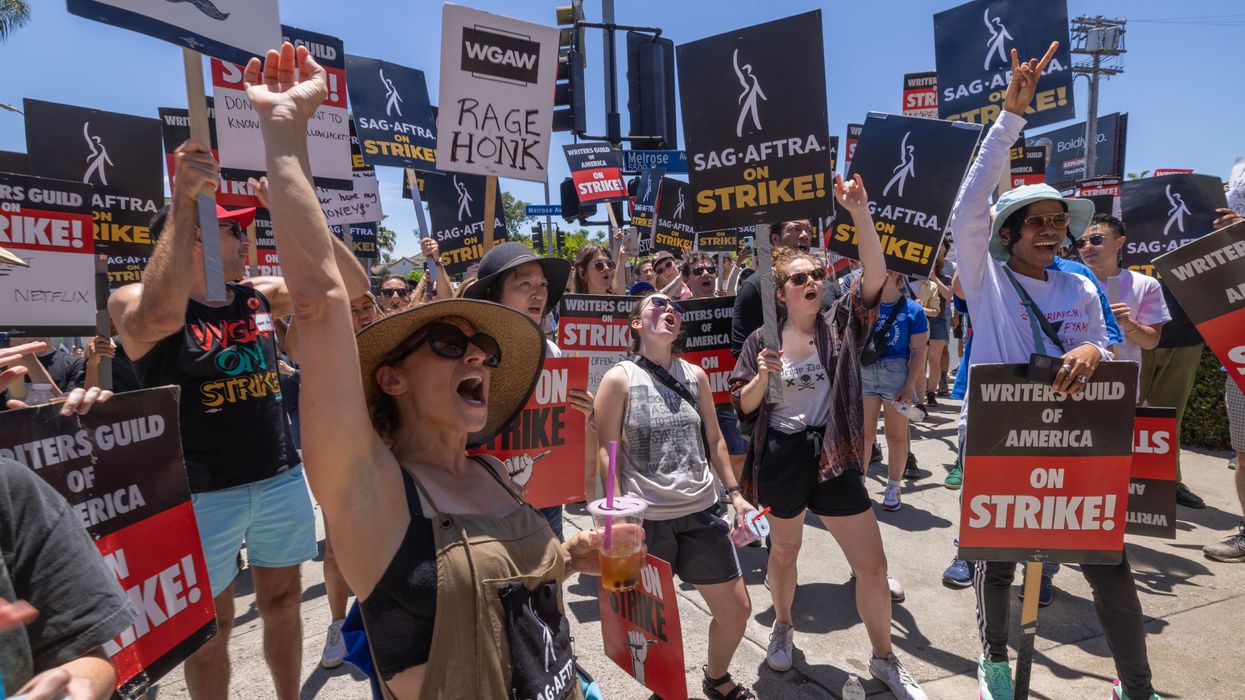 "For the first time in a generation the labor movement is held in high esteem by the American public. It is widely understood that working people need the protections only collective bargaining can provide."
Even as Republicans vying for the 2024 presidential nomination publicly promote their union-busting vision for the country, a new poll shows that U.S. voters across the political spectrum support Hollywood writers and actors as well as autoworkers currently on strike in demand for better pay and conditions.
The new Reuters/Ipsos poll out Wednesday found that 58% of voters, regardless of partisan affiliation, approve of the strike by the United Auto Workers (UAW), while a full 60% support the dual strike by writers and performers underway by the Writers Guild of America (WGA) and the Screen Actors Guild - American Federation of Television and Radio Artists (SAG-AFTRA).
Among those not in favor of the UAW strike, 32% actually opposed the walkout, while another 10% were unsure. In terms of the writers and actors strike, just 27% opposed while 13% remained unsure. Overall, support for both strikes was higher among self-identified Democrats, with 72% backing the UAW and 79% in support of those working in the TV and film industries.
New reporting Thursday suggests that the strikes in Hollywood could be having their desired impact and heading for a conclusion as fresh talks between union negotiators and studio owners may be inching towards an agreement. Meanwhile, the autoworkers strike remains much more in its infancy stage, with UAW president Shawn Fain this week saying that more union locals are ready to join the walkout Friday if the union's demands are not met.
But as the new poll shows broad public support for the workers standing their ground, Republican presidential hopefuls this week have been outspoken in their hostility to unions trying to improve their members' lives.
On Monday, Sen. Tim Scott (R-S.C.) invoked former president and infamous strike-breaker Ronald Reagan—who terminated over 11,000 striking air-traffic controllers in 1981—to explain what he would do if he were president.

"Ronald Reagan gave us a great example when federal employees decided they were going to strike," Scott said during a campaign event in Fort Dodge, Iowa. "He said, 'You strike, you're fired.' Simple concept to me. To the extent that we can use that once again, absolutely." While Scott didn't remark on the fact that autoworkers are not federal employees, his campaign team later emphasized that distinction to reporters.
Not to be outdone, former Republican governor and Trump appointee Nikki Haley told Fox News last weekend that she was a proud "union-buster" when leading South Carolina. "I didn't want to bring in companies that were unionized simply because I didn't want to have that change the environment in our state," Haley said.
Donald Trump, meanwhile, as Common Dreamsreported Wednesday, is under fire over his plans to parachute into Michigan next week as a hero to struggling families and the working class despite his "viciously anti-worker" record when he was in the White House.

In a Los Angeles Times op-ed published Wednesday, Les Leopold, the executive director of the Labor Institute, argued that instead of blaming workers for demanding better wages and working conditions, anyone upset about the ongoing strikes should aim their ire at Wall Street greed and a financial system that rewards profit-seeking over all else.
"For the first time in a generation the labor movement is held in high esteem by the American public. It is widely understood that working people need the protections only collective bargaining can provide," argued Leopold. "This puts unions like the UAW at the forefront of the struggle to protect jobs and the environment."
News
"More kids are losing access to books, more libraries are taking authors off the shelves, and opponents of free expression are pushing harder than ever to exert their power."
A new report released Thursday by the free expression group PEN America warns that the Republican-led book banning movement is intensifying nationwide, with U.S. classrooms and libraries prohibiting more than 1,500 unique titles during the 2022-23 school year.
PEN recorded 3,362 total instances of book bans across the U.S., a 33% increase compared to the previous school year. More than 40% of all book bans in the U.S. in 2022-23 took place in Florida, where Republican Gov. Ron DeSantis—a GOP presidential candidate—has launched a massive assault on public education.
"Florida isn't an anomaly—it's providing a playbook for other states to follow suit," said Kasey Meehan, director of PEN America's Freedom to Read program and lead author of the new report. "Students have been using their voices for months in resisting coordinated efforts to suppress teaching and learning about certain stories, identities, and histories; it's time we follow their lead."
PEN noted that officials and outside groups pushing for book bans often deployed "hyperbolic and misleading rhetoric about 'porn in schools' and 'sexually explicit,' 'harmful,' and 'age inappropriate' materials led to the removal of thousands of books covering a range of topics and themes for young audiences."
"Overwhelmingly, book bans target books on race or racism or featuring characters of color, as well as books with LGBTQ+ characters," the group found. "This year, banned books also include books on physical abuse, health and well-being, and themes of grief and death. Notably, most instances of book bans affect young adult books, middle-grade books, chapter books, or picture books—books specifically written and selected for younger audiences."
Suzanne Nossel, PEN America's chief executive officer, said in a statement that "the toll of the book banning movement is getting worse."
"More kids are losing access to books, more libraries are taking authors off the shelves, and opponents of free expression are pushing harder than ever to exert their power over students as a whole," said Nossel. "Those who are bent on the suppression of stories and ideas are turning our schools into battlegrounds, compounding post-pandemic learning loss, driving teachers out of the classroom, and denying the joy of reading to our kids. By depriving a rising generation of the freedom to read, these bans are eating away at the foundations of our democracy."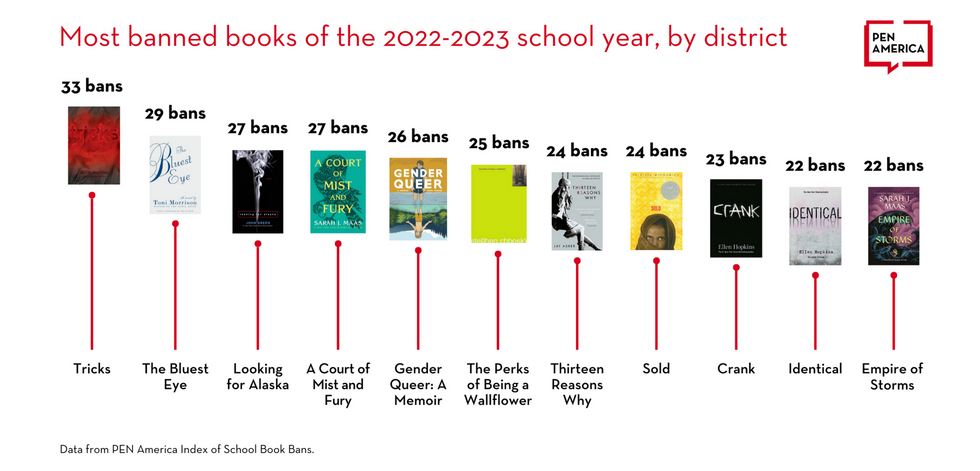 PEN's report comes days after the American Library Association said that a record number of library books—1,915—have been challenged during the first eight months of this year.
As The Associated Pressreported earlier this week, "The most sweeping challenges often originate with such conservative organizations as Moms for Liberty, which has organized banning efforts nationwide and called for more parental control over books available to children."
PEN noted that 80% of the U.S. school districts that banned at least one book during the 2022-23 school year "have a chapter or local affiliate nearby of one or more of the three most prominent national groups pushing for book bans—Moms for Liberty, Citizens Defending Freedom, and Parents' Rights in Education."
"These districts are where 86% (2,902) of book bans have occurred," PEN found.
But the group stressed that book bans aren't just happening in traditionally conservative areas, noting that 42% of the states with book bans during the 2022-23 school year voted Democratic in the 2020 presidential election.
"However, Republican-leaning states had more districts banning books than Democratic-leaning states; 50 districts out of 153 (33 percent) are in states that voted Democratic in the 2020 presidential election, while 103 districts are in states that voted Republican," the group added. "These 103 districts account for 88 percent of all book ban cases in the 2022–23 school year."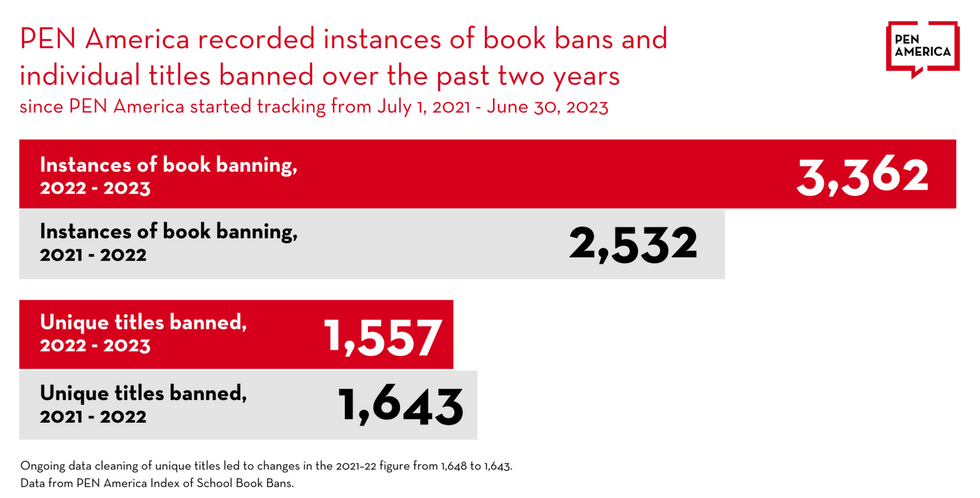 Author John Green—whose bestselling book "Looking for Alaska" was the third-most banned book in U.S. schools during the 2022-23 school year—said in a statement that "it's disappointing to see such a steep rise in the banning and restriction of books."
"We should trust our teachers and librarians to do their jobs," said Green. "If you have a worldview that can be undone by a book, I would submit that the problem is not with the book."
Hundreds of other authors, artists, celebrities, and activists signed an open letter earlier this week echoing that sentiment and urging "everyone to join us in pushing back against these book bans."
"We cannot stress enough how these censorious efforts will not end with book bans," the open letter states. "It's only a matter of time before regressive, suppressive ideologues will shift their focus toward other forms of art and entertainment, to further their attacks and efforts to scapegoat marginalized communities, particularly BIPOC and LGBTQ+ folks."
"We refuse to remain silent as one creative field is subjected to oppressive bans," the letter continues. "As artists, we must band together, because a threat to one form of art is a threat to us all."
News
Independent, nonprofit journalism needs your help.
Please Pitch In
Today!