For Immediate Release
Contact:
Sam Husseini, (202) 347-0020; or David Zupan, (541) 484-9167
Legacy of Iraq War Myths Ten Years Later
WASHINGTON
NORMAN SOLOMON, [email]
Solomon, who wrote the piece "Ten Years Ago and Today: A Warfare State of Mind," is author of War Made Easy: How Presidents and Pundits Keep Spinning Us to Death and founding director of the Institute for Public Accuracy. He said today: "The tenth anniversary of the Iraq invasion comes at a time of chilling statements from the top of the U.S. government. Days ago, speaking of possible actions against Iran, President Obama told an Israeli TV reporter: 'I continue to keep all options on the table.' Earlier this month, Vice President Biden told the AIPAC annual conference that Obama 'is not bluffing' and declared that 'all options, including military force, are on the table.' These statements are similar to the threats uttered by President Bush and Vice President Cheney prior to the invasion of Iraq."
Solomon added: "Despite the myth that just about everyone believed there were weapons of mass destruction in Iraq, many experts and independent groups in the United States -- including the Institute for Public Accuracy -- thoroughly debunked such claims during the year before the invasion." For examples of pre-invasion news releases and public reports refuting U.S. government claims of Iraqi WMDs, click here, here and here.
For video of a live televised debate last month between Solomon and Lawrence Wilkerson, former chief of staff to Secretary of State Colin Powell, click here.
Available for radio use: historic audio from "War Made Easy" documentary film.
SAM HUSSEINI, [email], @samhusseini
Communications director for the Institute for Public Accuracy, Husseini said today: "It's common to simply blame Bush and Cheney for the Iraq war, but it's not accurate. Many voted for or otherwise backed the Iraq war -- including Obama's entire foreign policy team from Kerry to Hagel; from Clinton to Rice to Biden. Even among those who voted against the war, many facilitated it, like Pelosi, who claimed during the buildup to the Iraq invasion that 'there was no question Iraq had chemical and biological agents.' None of these individuals have ever seriously come clean about their conduct during this critical period (and I've questioned most of them) -- so there's never been a moment of reckoning for the greatest foreign policy disaster of this generation. The elevation of Democrats who did not seriously question the war likely facilitated Bush and Cheney never being held accountable for their conduct.
"Persistent myths include that after the invasion, we learned that Bush deceived about Iraqi WMDs. In fact, it was clear before the war that the Bush administration was engaged, as an Institute for Public Accuracy news release headline put it the day before the bombing campaign started, in a 'Pattern of Deceit.' Some of these falsifications were brazen, like claiming the UN weapons inspectors were dissatisfied with Iraqi compliance, when they were saying Iraq was making progress and they wanted more time to complete their job. Bush's deceptions were helped along by the fact that the Clinton administration had also deceitfully hyped Iraqi WMDs, maintained sanctions and a belligerent stance for nearly a decade -- a pattern that the Obama administration seems to be repeating in many respects now with Iran and North Korea. Tragically, the peace movement, which took center stage with quasi-global protests on Feb. 15, 2003, went on to marginalize itself by focusing on Bush rather than building a serious global movement for peace and justice."
See FAIR's 2007 report "Iraq: A Critical Timeline," which documents much of the media drumbeat for war, as well as notable exceptions.
A nationwide consortium, the Institute for Public Accuracy (IPA) represents an unprecedented effort to bring other voices to the mass-media table often dominated by a few major think tanks. IPA works to broaden public discourse in mainstream media, while building communication with alternative media outlets and grassroots activists.
LATEST NEWS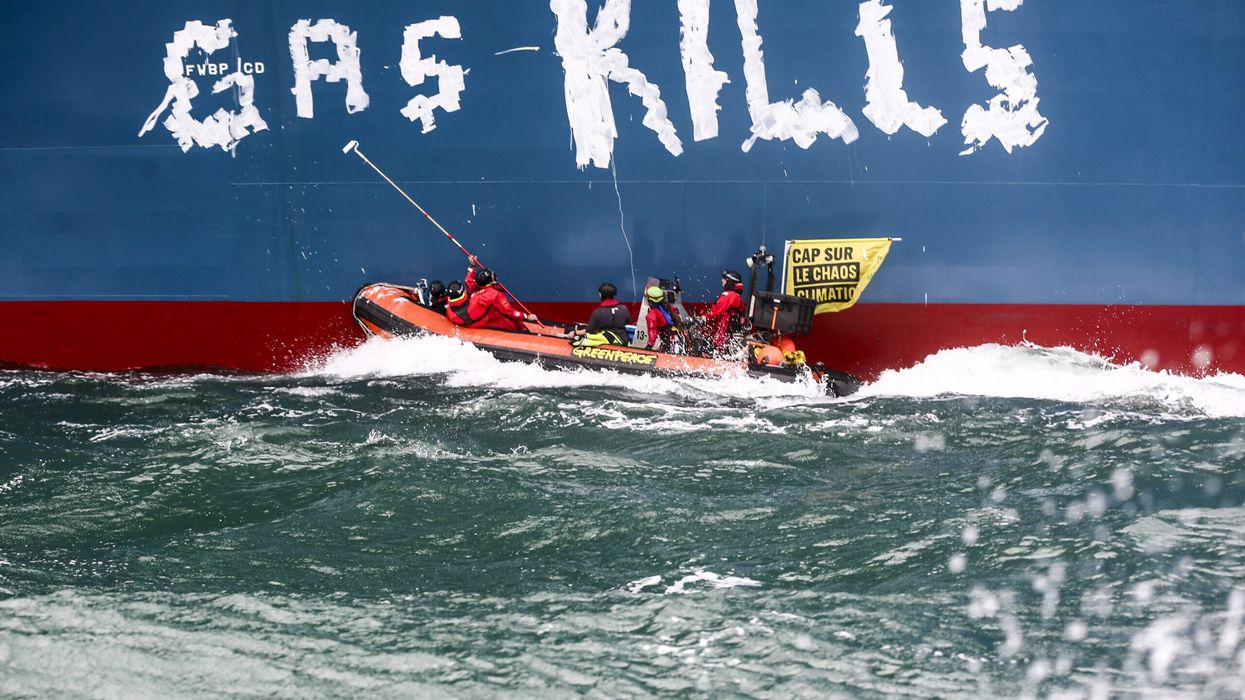 Gas companies "cynically used... the Russian invasion of Ukraine to frighten governments into massive, unneeded investment into and expansion of fossil gas imports and infrastructure," one campaigner said.
As part of the Global Fight to End Fossil Fuels, activists from Greenpeace France attempted to block a new TotalEnergies liquefied natural gas terminal from entering the port of Le Havre Monday morning.
Kayakers paddled between the port entrance and the tanker carrying the terminal—the Cape Ann—and wrote "Gas kills" in white paint along its side, Reuters reported.
"This LNG terminal is yet another blatant example of 'shock doctrine,' where gas operators shifted their public messaging and lobbying from 'energy transition' to 'energy security' and cynically used the opportunity after the energy supply concerns triggered by the Russian invasion of Ukraine to frighten governments into massive, unneeded investment into and expansion of fossil gas imports and infrastructure," Greenpeace France oil, transport, and ocean campaigner Hélène Bourges said in a statement.
The LNG floating storage regasification unit did arrive at the port in Western France Monday morning, TotalEnergies told Reuters.
But the Greenpeace activists argue its arrival contradicts French President Emmanuel Macron's 2022 promise to make France the first major nation to abandon the fossil fuels driving the climate emergency. What's more, the gas is mostly U.S. shale gas, obtained by fracking—a method banned in France because of the harm it does to the global climate and the health and environment of local communities.
The activists in kayaks carried banners reading "Total: shale dealer," "Macron: shale dealer," and "End Fossil Crimes."
Members of Scientists in Rebellion also came to Le Havre to support the action.
"This LNG terminal is a sham that responds neither to the crisis nor to energy sovereignty and pushes us into a scenario of climate chaos," the group wrote on X, formerly Twitter.
Greenpeace challenged the narrative that increased LNG is necessary to help France and the rest of Europe meet their energy needs in the wake of Russia's invasion of Ukraine. In a report copublished in June with Disclose, Greenpeace France pointed out that the country's existing LNG terminals did not use their maximum capacity in 2022 and were underutilized during the first half of 2023.
"If France really suffered from a gas supply crisis in 2022 that was severe enough to justify the new floating terminal in Le Havre, it's surprising that the capacities of existing terminals, particularly the ones at Dunkerque and Fos Tonkin, were underutilized," the report authors wrote.
"This summer's extreme weather events have highlighted the urgency of moving away from fossil fuels."
Instead, they argued that the LNG increase was the result of lobbying from the oil and gas industry.
"The only beneficiaries of the LNG gas infrastructure in Le Havre are TotalEnergies, the operator of the floating terminal, and its shareholders, whose private interests and gains prevail over climate action and people's health, with the complicit support of the French government that granted an unprecedented legal preferential regime to set up this operation," Bourges said in a statement.
Greenpeace's action followed a summer of deadly heatwaves, fires, and floods and a global mobilization to end fossil fuels from September 15-17.
"This summer's extreme weather events have highlighted the urgency of moving away from fossil fuels," Greenpeace France wrote on social media.
The group said it had two demands for Macron: to prevent the new terminal from being used and to kill any other fossil fuel projects under consideration.
News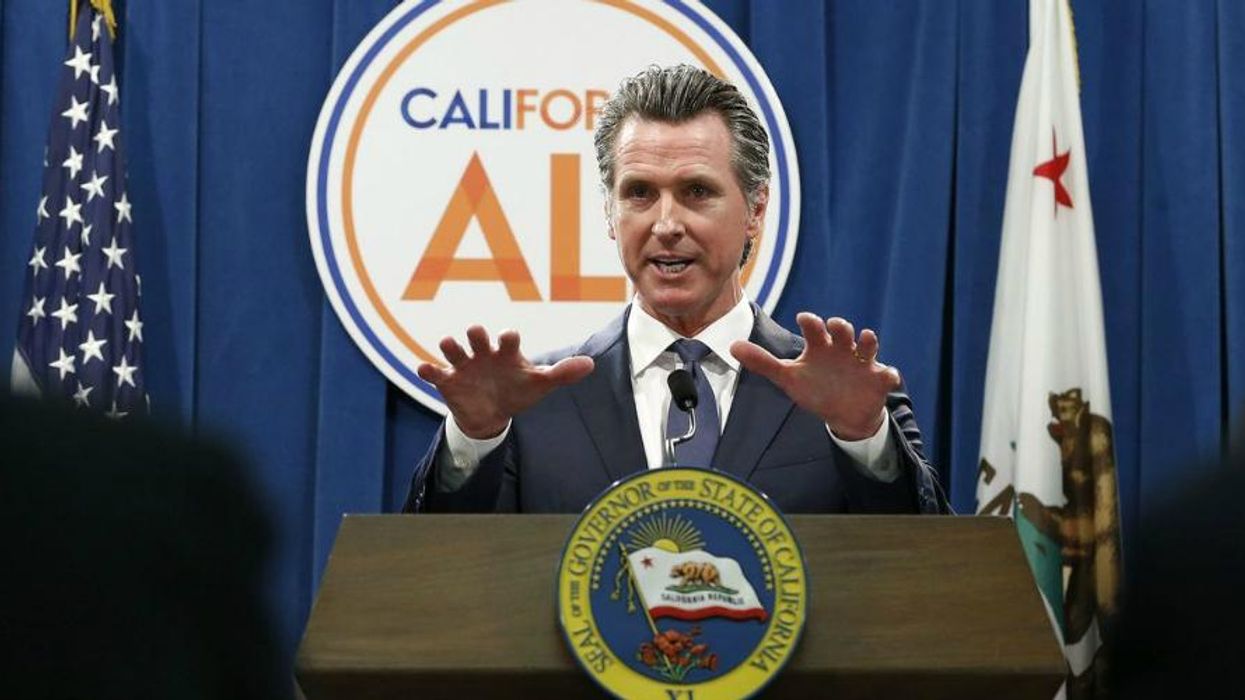 "These two first-in-the-nation bills will provide unprecedented insight into corporate climate emissions and financial climate risk," said one advocate.
Climate advocates expressed hope Monday that California Gov. Gavin Newsom would help usher in a new era of accountability for corporate polluters nationwide after he confirmed plans to sign legislation forcing companies to publicly disclose their climate-related risks and more complete accounting of their total emissions.
At a Climate Week event in New York on Sunday, Newsom said he wants to maintain California's status as a state leading the way to confront the climate crisis and that signing Senate Bill 253 is part of that effort.
The bill would require companies operating in California and earning at least $1 billion per year to disclose the climate risks at every stage of their supply chains and disclose all greenhouse gas emissions, including investments, attributable to their business practices.

"Would I cede that leadership by having a response that is anything but, 'Of course I will sign that bill?'" the Democratic governor said to a reporter at a panel discussion. "No, I will not."
Newsom said he also plans to sign S.B. 261, which would require companies in California to submit climate-related risk reports, detailing costs for increased compliance and insurance.
The governor noted that his office plans to do "some cleanup on some little language" in the bills but did not say what changes would be made.

S.B. 253 would be the first measure in the U.S. to require companies to disclose their fossil fuel emissions in scopes 1, 2, and 3 in their supply chains.
Scope 1 emissions refer to those caused directly by a company as it runs machinery to make its products, while scope 2 emissions are those created by products or equipment that a company purchases, such as fossil fuel-generated energy for its facilities.
Advocates say scope 3 emissions, which are produced by customers who use the company's products, are often overlooked by big polluters when they make climate pledges, but make up the bulk of corporate emissions.
Requiring the accounting of all emissions in a company's supply chain, said California Environmental Voters, "is nothing short of historic."
Around 5,000 companies will be required to comply with the law, illustrating where the majority of emissions are coming from in their supply chains.
In contrast, federal rules proposed by the Securities and Exchange Commission would apply only to publicly traded companies and wouldn't require them to disclose scope 3 emissions.
Mindy Lubber, president and CEO of sustainability advocacy group Ceres, expressed hope that California's new laws will "set another leading standard to increase corporate transparency and help to mitigate financial and climate risk."
"These two first-in-the-nation bills will provide unprecedented insight into corporate climate emissions and financial climate risk," said Lubber. "This is exactly the kind of policy framework that investors have long sought to better understand how companies are working to manage and mitigate the immense financial impacts of the climate crisis."
Lubber noted that the legislation has "support from dozens of leading businesses that recognize the massive opportunity of the shift to a low-carbon economy and deserve a standardized and consistent platform to showcase their efforts."
The Greenlining Institute, which is based in Oakland, California and advocates for communities of color that are disproportionately impacted by fossil fuel emissions, called Newsom's commitment to signing the bills "a huge win."
Last year, the Biden administration proposed strict limits on vehicle pollution based on standards set by California.
Lynn LoPucki, a law professor at the University of Florida, told Capital & Main last week that S.B. 253 "is really a national bill" that will force nearly every major company that does business in California to report its emissions.
"The idea is that companies will make a greater effort to reduce their greenhouse gas emissions once they're reporting them. They know investors care, and they also, I think, know that consumers and the public care," LoPucki told the outlet. "Virtually every company is doing corporate social responsibility reporting, or webpages in which they profess concern about corporate social responsibility. And today, that means reducing greenhouse gases."
News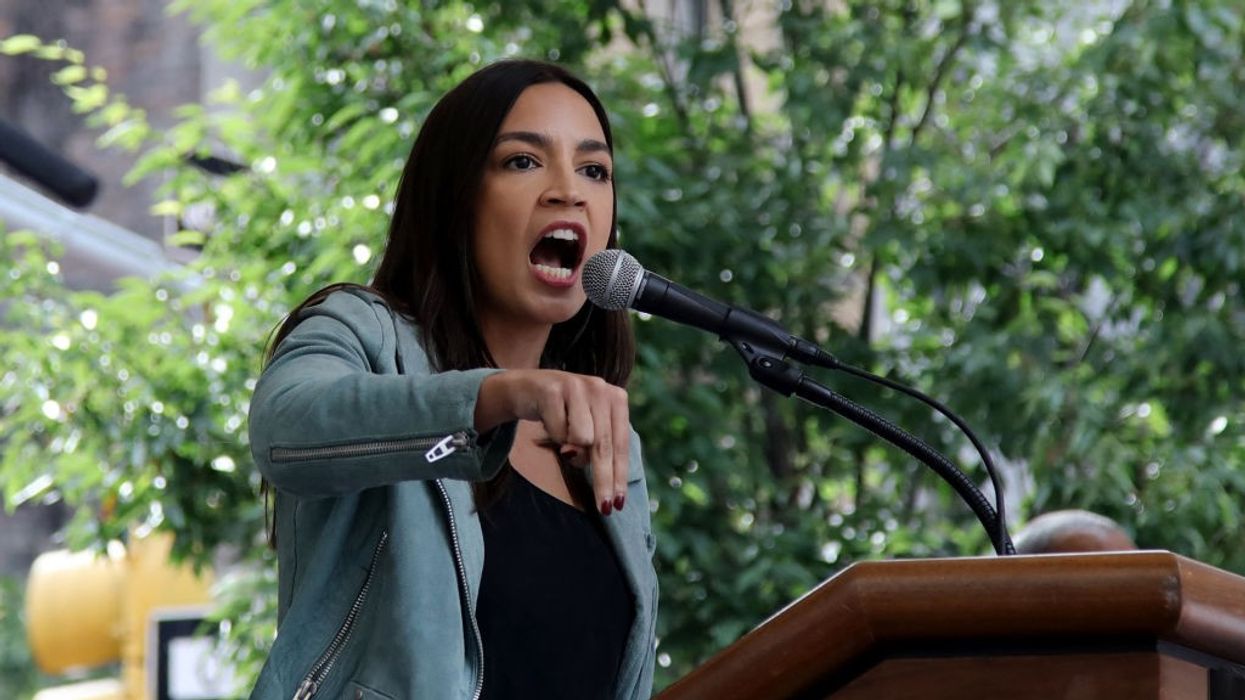 "We have to send the message that some of us are going to be living on this planet 30, 40, 50 years from now and we will not take no for an answer."
Congresswoman Alexandria Ocasio-Cortez issued a fiery speech to the tens of thousands of climate marchers who took to the streets of New York City on Sunday, telling the crowd that "it means something" when people show up in force because now is the time for elected leaders in the United States and around the world to finally show "urgency" on the issue of soaring global temperatures that are driven by the burning of fossil fuels.
"The way that we create urgency on the issue of climate," declared Ocasio-Cortez, "is when we have people all across the world in the streets—in the streets!—showing up, demanding change, and demanding a cessation of what is killing us. We have to send the message that some of us are going to be living on this planet 30, 40, 50 years from now and we will not take no for an answer."
Over 75,000 are estimated to have marched Sunday ahead of the rally that capped off days of organized action in New York and elsewhere in the country and around the world. All of the coordinated activities came ahead of this week's United Nation's General Assembly, including a Climate Ambition Summit initiated by U.N. Secretary-General António Guterres slated for Wednesday.
Calling the climate crisis "the biggest issue of our time," the New York Democrat said the organized movement demanding bold change "must be too big and too radical to ignore."
Alexandria Ocasio-Cortez Speaks at the 2023 Climate March in NYCwww.youtube.com
Ocasio-Cortez touted her 2019 Green New Deal legislation that called for a 10-year time period for rapid decarbonization alongside a shift to renewable energy that also includes a just transition for workers impacted by the shift away from good-paying and reliable jobs in the oil, gas, and coal industries.
"We are demanding a change," she said, "so that working people get better jobs and lower bills under a renewable energy economy—that is what we are here to make sure we achieve!"
Further, Ocasio-Cortez slammed the U.S. government under the Biden administration for approving a record number of oil and gas drilling leases and told the crowd "that has got to end today" as she applauded the climate movement for starting to "crack the grip" which the fossil fuel industry holds on the nation's political economy.
"That's because of you," she said to those in the crowd. "Don't let the cynics win. The cynics want us to think that this isn't worth it. The cynics want us to believe that we can't win. The cynics want us to believe that organizing doesn't matter; that our political system doesn't matter; that our economy doesn't matter. But we're here to say that we organize out of hope! We organize out of commitment! We organize out of love! We organize out of the beauty of our future! And we will not give up. We will not let go! We will not let cynicism to prevail!"

News
Independent, nonprofit journalism needs your help.
Please Pitch In
Today!