For Immediate Release
Contact:
Steve Fox, MPP director of government relations 202-905-2042 or sfox@mpp.org
World Leaders Encourage Countries to End Marijuana Prohibition
Global Commission on Drug Policy Releases Report Suggesting Nations Remove Penalties, Experiment with Legal Market for Marijuana
WASHINGTON
Today, the Global Commission on Drug Policy, an international organization consisting of high level current and former heads of state and policy experts, released a report suggesting world governments give up the war on drugs and consider more rational harm-reduction policies, including removing all criminal penalties for the possession and use of marijuana. The Commission, which included former U.N. Secretary General Kofi Annan and former U.S. Secretary of State George Shultz, among many others, urged leaders to consider alternatives to incarceration for drug use to shift their focus toward treatment of drug abusers, rather than punishment and interdiction for recreational users.
"These prominent world leaders recognize an undeniable reality. The use of marijuana, which is objectively less harmful than alcohol, is widespread and will never be eliminated," said Rob Kampia, executive director of the Marijuana Policy Project. "They acknowledge that there are only two choices moving forward. We can maintain marijuana's status as a wholly illegal substance and steer billions of dollars toward drug cartels and other criminal actors. Or, we can encourage nations to make the adult use of marijuana legal and have it sold in regulated stores by legitimate, taxpaying business people. At long last, we have world leaders embracing the more rational choice and advocating for legal, regulated markets for marijuana. We praise these world leaders for their willingness to advocate for this sensible approach to marijuana policy."
This study comes as Portugal enjoys the tenth year of its experiment with decriminalizing all drugs. Since making the bold policy move in 2001, Portugal has seen crime, use rates, addiction rates, overdose deaths, and blood-borne disease all decrease significantly. The study released today suggests that a similar model could be adopted successfully elsewhere. It also stresses the damage that prohibition policies do to society, including massive government expenditure, enrichment of criminal organizations, and interference with treatment and prevention of diseases like HIV/AIDS.
The Marijuana Policy Project (MPP) is the number one organization in the U.S. legalizing cannabis. We passed 13 medical cannabis laws in the past 15 years, and we ran winning campaigns in eight of the 11 legalization states. No organization in the movement has changed as many cannabis laws, impacted as many patients and consumers, created as many new markets, or done more to end cannabis prohibition in the U.S. than MPP.
LATEST NEWS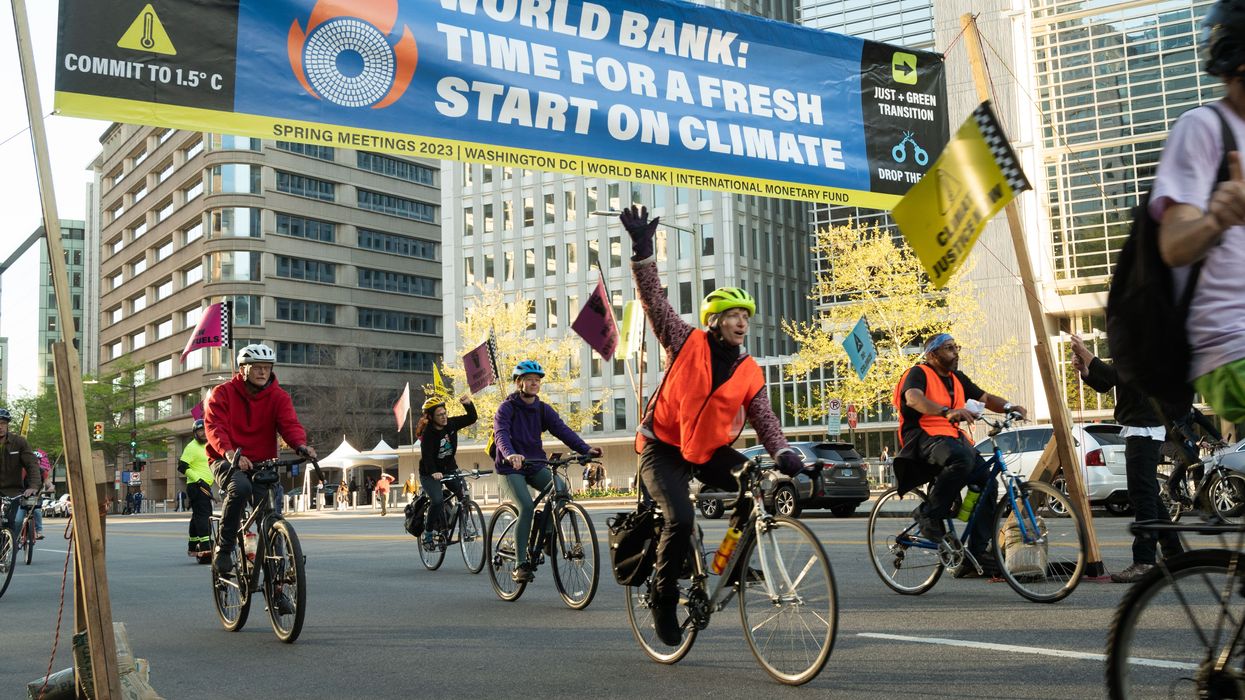 Exploiting a "trade finance" loophole, the bank dumped an estimated $3.7 billion into oil and gas projects in 2022.
An analysis released Tuesday by the German nonprofit Urgewald estimated that the World Bank spent nearly $4 billion on fossil fuel financing last year, when it was under the leadership of a climate denier nominated by former U.S. President Donald Trump.
The World Bank pledged in 2017 to end financing for upstream oil and gas—with narrow exceptions—after 2019. But Urgewald observed in its new report that the World Bank's pledge applied only to direct finance, allowing the powerful institution to funnel cash to oil and gas projects through "trade finance" dished out by its private-sector arm, the International Finance Corporation (IFC).
"Despite trade finance's vast and still-growing share of the IFC's budget, over 70% of it is given out in secrecy," Urgewald noted. "The types of goods and businesses it is funding are not even reported to the World Bank's shareholders, i.e., our governments. The public has a right to know where all this money is going."
Citing the IFC's "severe lack of transparency," Urgewald stressed that it was only able to "formulate an estimate" for oil and gas transactions. The group calculated that the World Bank spent roughly $3.7 billion on oil and gas trade finance in 2022.
"This would more than triple the current annual level of fossil fuel finance attributed to the World Bank and cast serious doubts on Bank claims of alignment with the Paris Climate Agreement," Urgewald's Heike Meinhardt said in a statement.
"The easiest way for a big oil company or coal operation to escape attention surrounding public assistance is to cloak it in trade finance."
The World Bank has long been accused of reneging on its climate commitments. A report released last year by Big Shift Global estimated that the World Bank has spent nearly $15 billion supporting fossil fuels since the adoption of the Paris Climate Agreement in 2015.

Late last year, former World Bank President David Malpass sparked global outrage by saying he's not sure whether he accepts the scientific consensus that climate change is caused by the burning of fossil fuels, further validating climate activists' longstanding calls for systemic reforms at the bank.
"I don't know," Malpass said in response to a reporter's question about his views on climate change. "I'm not a scientist."
The comments prompted widespread calls for Malpass to step down, which he did in June. Current World Bank President Ajay Banga, who U.S. President Joe Biden nominated to replace Malpass, is a former private equity executive who has worked for Nestlé, PepsiCo, and Citibank.
Urgewald warned in its report Tuesday that the World Bank will remain a major source of funding for the fossil fuel industry until it enacts reforms that prevent the IFC from bolstering oil and gas under the guise of "trade finance."
"The easiest way for a big oil company or coal operation to escape attention surrounding public assistance is to cloak it in trade finance," the group said. "It is a huge loophole that must be closed and evaluated through public disclosure."
Urgewald added that "there is no doubt" the World Bank and IFC "are going to deny" its findings and "claim the figures are inaccurate."
That's exactly what an IFC spokesperson did on Tuesday, tellingThe Guardian that "Urgewald's report contains serious factual inaccuracies and grossly overstates IFC's support for fossil fuels."
"IFC regularly reports accurate and timely project information through various channels," the spokesperson added.
Urgewald disputed that narrative in its report, asserting that the "continued secrecy surrounding trade finance makes it impossible to determine how much fossil fuel business the IFC is ultimately facilitating and whether the World Bank is actually aligned with the goals of the Paris Climate Agreement."
"An exorbitant amount of IFC money, i.e., more than half its budget, is streaming through banks without any oversight by the [World Bank Board of Directors], without any opportunity for public scrutiny, without any accountability," the group said.
News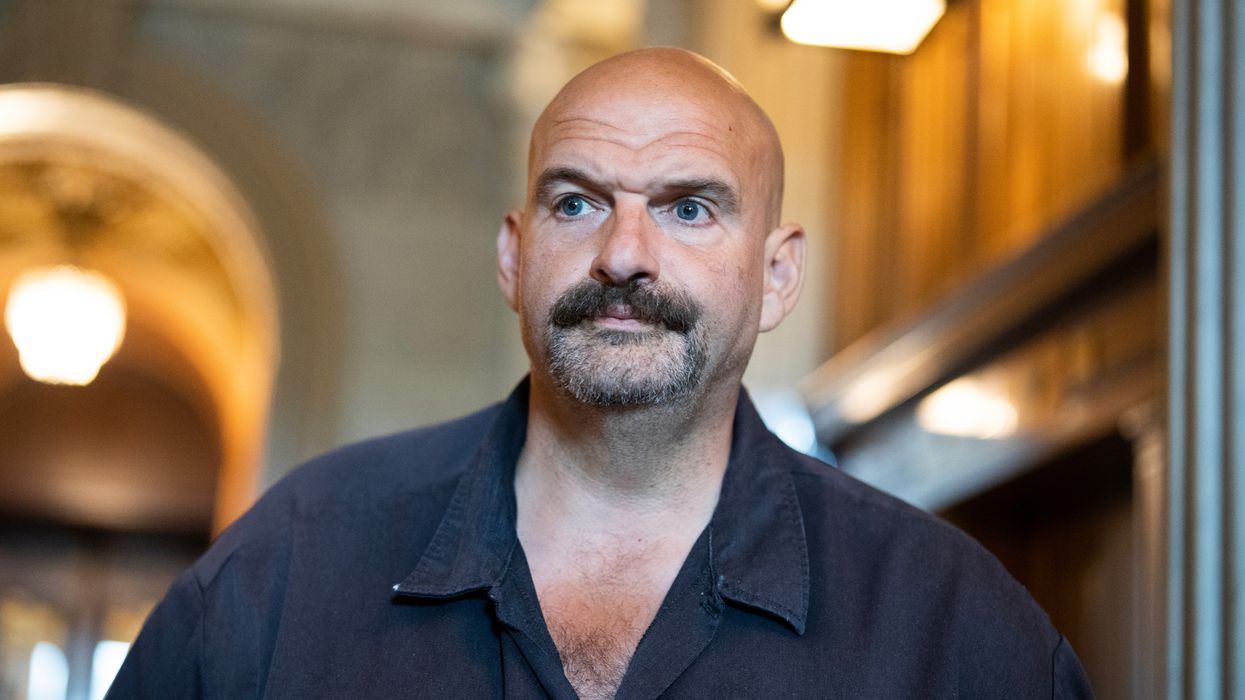 "If the Big Three can find money in the couch cushions to bump executive pay by 40% over the past few years, they sure as hell can find the money to give hard-earned raises to the people who actually build the cars and trucks."
With a potential strike just two days away, Democratic U.S. Sen. John Fetterman ripped the Big Three car manufacturers on Monday for being unreasonable in high-stakes contract negotiations with the United Auto Workers, arguing the companies' executive compensation packages make clear that they have plenty of resources to pay workers fairly.
"If the Big Three can find money in the couch cushions to bump executive pay by 40% over the past few years, they sure as hell can find the money to give hard-earned raises to the people who actually build the cars and trucks Pennsylvanians drive," Fetterman said in a statement.
General Motors CEO Mary Barra, the highest-paid Big Three CEO, took home nearly $29 million in total compensation last year.
Ford chief executive Jim Farley received total compensation of almost $21 million in 2022, while Stellantis CEO Carlos Tavares received nearly $25 million.
"It is time for the Big Three to come to the table in good faith and work with UAW to strike a fair deal," Fetterman said Monday. "UAW is ready, but these companies are being completely unserious."
The UAW's contracts with General Motors, Ford, and Stellantis are set to expire on Thursday, just before midnight. An overwhelming majority of participating UAW members voted late last month to authorize a strike if management doesn't agree to a fair contract by September 14, and recent polling shows the roughly 146,000 autoworkers would have a majority of the U.S. public on their side if they do strike.
"CEO pay went up 40%. No one said a word. No one had any complaints about that. But now, God forbid that workers actually ask for their fair share."
In an appearance on CNN late Monday, UAW president Shawn Fain said that while the two sides have "made some progress," there's still "a long way to go" and "a lot of issues" to resolve.
Ford has been prepping for a possible strike by readying non-union salaried employees to staff key parts distribution centers.
"Stellantis has been making its own preparations to weather a strike by stockpiling parts at a facility in Belvidere, Illinois, near its recently shuttered Belvidere Assembly Plant," Labor Notesreported Monday. "The company has been staffing the warehouse with newly hired non-union workers—which Stellantis is trying to keep secret because there are 1,300 laid-off UAW members from the assembly plant who still live in the area."
The UAW rejected initial contract proposals from GM, Ford, and Stellantis as "insulting" and "deeply unfair." GM and Ford offered wage increases of 10% and 9% respectively over four years, and Stellantis proposed a 14.5% wage hike with no cost-of-living adjustment.

UAW initially called for a 46% wage increase for autoworkers along with other demands, from an end to tiered compensation structures that harm newer workers to a 32-hour workweek with 40 hours of pay.
The union has since lowered its wage-hike demand to 36% over four years, according toBloomberg. "It is now asking for a series of increases over nearly five years that would start with an 18% boost and then alternate between 5% and 4% annually over the subsequent years of the contract," the outlet reported, citing unnamed people familiar with the UAW's offer.
Autoworkers' average hourly wages in the U.S. have fallen by 30% over the past two decades, and the UAW has pointed to major sacrifices autoworkers made during the industry's crisis in the late 2000s as a reason for its ambitious contract demands. The union agreed to give up retiree healthcare for new hires and cost-of-living adjustments for all members as automakers pushed for a federal bailout in 2008.
"It's amazing to me how analysts, when workers ask for their fair share, it's always the end of the world," Fain told CNN's Jake Tapper on Monday. "CEO pay went up 40%. No one said a word. No one had any complaints about that. But now, God forbid that workers actually ask for their fair share of equity in the fruits of the labor and the product they produce."
News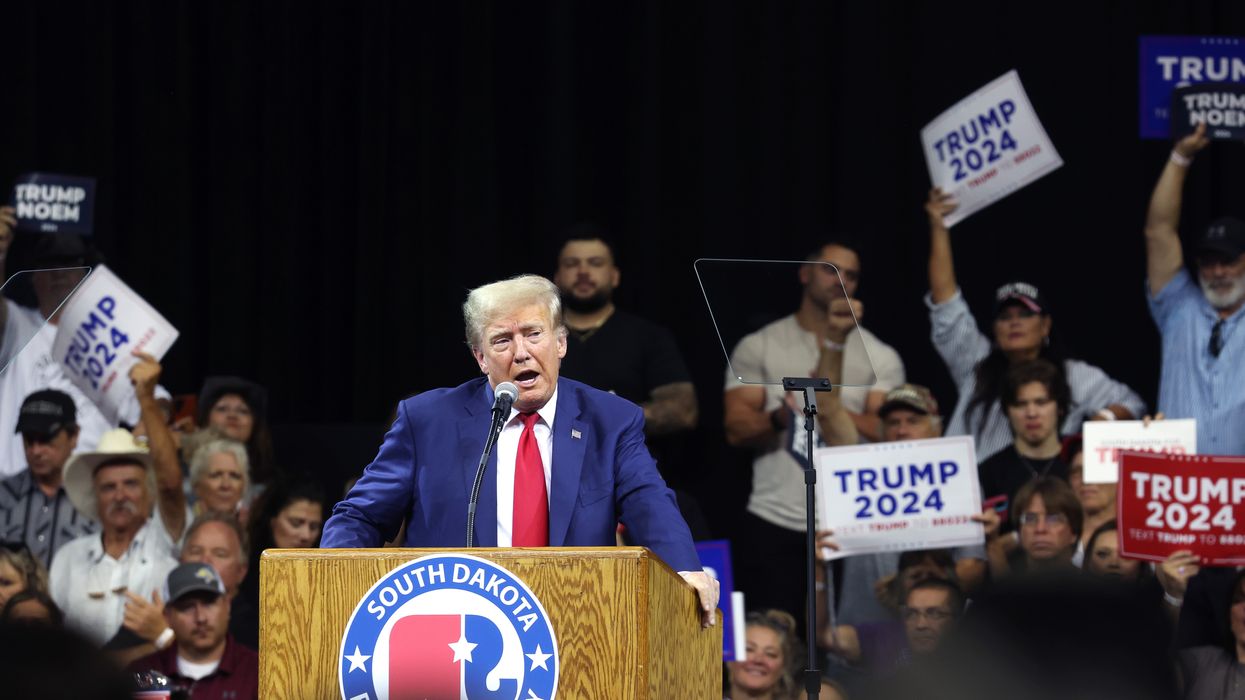 Legal experts dismissed the move, which comes after the judge rejected an attempt by the GOP ex-president and current presidential candidate to delay the trial until 2026, after the 2024 election.
Former U.S. President Donald Trump's legal team on Monday asked the judge overseeing his federal election interference case—stemming from his efforts to overturn the 2020 results and him provoking the January 6, 2021 insurrection—to recuse herself, citing comments she made during cases involving some of his supporters who stormed the Capitol.
"The recusal motion was a risky gambit by Mr. Trump's legal team given that the judge, Tanya S. Chutkan, will have the initial say about whether or not to grant it," The New York Timesnoted. "Mr. Trump's lawyers have tried this strategy before, attempting—and failing—to have the judge overseeing his state felony trial in Manhattan step aside."
Along with those two cases, Trump faces an election interference case in Georgia and second federal case that, like the one overseen by Chutkan, is spearheaded by Special Counsel Jack Smith due to his presidential campaign. Trump remains the front-runner in the GOP's 2024 primary race despite being indicted four times this year.
A grand jury indicted Trump in the federal election case early last month, hitting him with what one watchdog group called his "most significant charges yet." His attorneys pushed for a 2026 trial—well after next year's election—but Chutkan, an appointee of former President Barack Obama who was randomly assigned to the case, scheduled it for March 4, 2024.
"Judge Chutkan has, in connection with other cases, suggested that President Trump should be prosecuted and imprisoned. Such statements, made before this case began and without due process, are inherently disqualifying," Trump's lawyers argued in the Monday motion. "Although Judge Chutkan may genuinely intend to give President Trump a fair trial—and may believe that she can do so—her public statements unavoidably taint these proceedings, regardless of outcome."
The motion points out that during a December 2021 hearing for Robert Palmer, Chutkan said: "Mr. Palmer—you have made a very good point, one that has been made before—that the people who exhorted you and encouraged you and rallied you to go and take action and to fight have not been charged... So you have a point, that the people who may be the people who planned this and funded it and encouraged it haven't been charged, but that's not a reason for you to get a lower sentence."
The filing adds that during an October 2022, the judge told another defendant, Christine Priola:
This was nothing less than an attempt to violently overthrow the government, the legally, lawfully, peacefully elected government by individuals who were mad that their guy lost. I see the videotapes. I see the footage of the flags and the signs that people were carrying and the hats they were wearing and the garb. And the people who mobbed that Capitol were there in fealty, in loyalty, to one man—not to the Constitution, of which most of the people who come before me seem woefully ignorant; not to the ideals of this country; and not to the principles of democracy. It's a blind loyalty to one person who, by the way, remains free to this day.
Responding to Trump's motion on social media, University of Alabama law professor Joyce Vance, who is also an NBC News and MSNBC legal analyst, said Monday that it is "unsurprising that he would do this" but it "seems unlikely to succeed."
"The case for refusing Judge [Aileen] Cannon in Florida would be far stronger and so far, the [government] has not chosen to bring it," Vance added of the Trump appointee overseeing the other federal case, which involves classified documents.
Stephen Gillers, a legal ethics professor at New York University School of Law, reached a similar conclusion.
"I understand why Trump would like another judge, and I understand why Trump would like another venue," Gillers told The Washington Post, "but nothing I've heard—including the fact that Judge Chutkan has sentenced harshly other January 6 defendants—would warrant a recusal."
"Things such as what is said or done within the four corners of a case before her as a judge cannot be a basis for recusal because she's doing her job," he continued. "That's what judges do."
Some legal scholars and advocacy groups argue that regardless of the results of the four criminal cases, the 14th Amendment to the U.S. Constitution disqualifies Trump from holding office again because he incited an insurrection. A watchdog and lawyers for six Republican and unaffiliated Colorado voters filed a related lawsuit last week.
News
Independent, nonprofit journalism needs your help.
Please Pitch In
Today!